Easter Flowers: Pretty Flowers Associated with Easter
Springtime comes and pretty perennials seem to be popping up everywhere! These brightly colored Easter flowers are the messengers of spring, letting us know warmer days are on the way. In case you want to brighten your own space or bring cheer to someone you love, here's a post about the most popular flowers associated with Easter.
Easter flowers look gorgeous sprouting through the flowerbeds after a long and chilly winter. Potted Easter flowers bring that optimistic beauty indoors as a dinner table centerpiece or other cheerful accent.
Consider these traditional Easter plants for your own home or as gifts for special people in your life.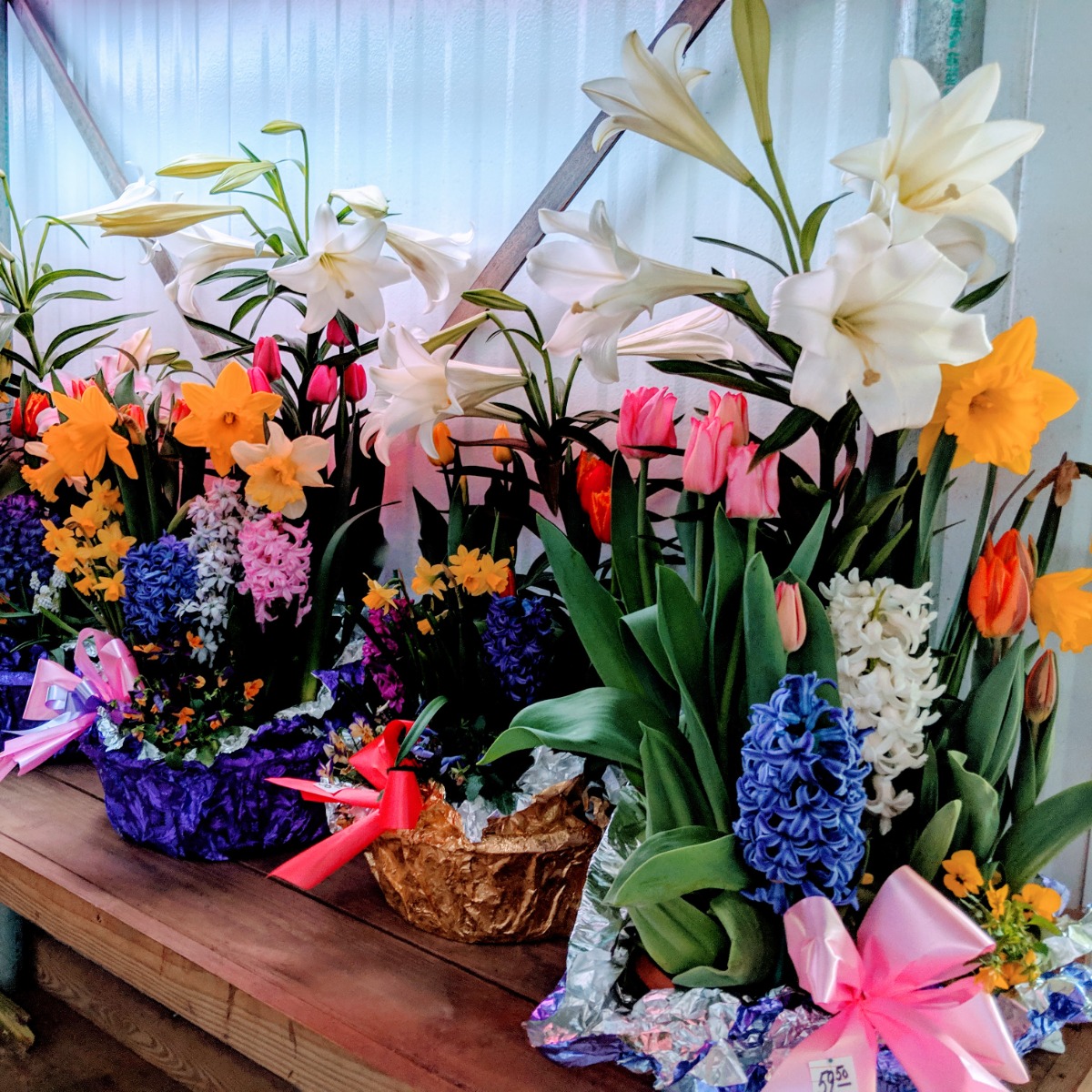 Best Easter Plant Gifts
When visiting family or friends this time of year, consider bringing one of these lovely Easter plant gifts as a hostess gift.
Potted Easter flowers make such an excellent choice as compared to fresh-cut flowers this time of year. When the blooms are done, the gift recipient can merely plant the bulbs in their garden for renewed beauty every spring!
Easter Lily (lilium longiflorum)
Perhaps the best-known Easter flower, the white lilium longiflorum Easter lily holds sweet meaning for the holiday. The stunning white trumpet flowers announce the arrival of spring and the resurrection.
Potted Tulips
If you want to say Happy Easter, tulips bring delicate beauty and ongoing cheer year after year. Bright, eye-catching colors of the rainbow create a cheerful display in your springtime garden. Tulips symbolize love and forgiveness, and even meanings of rebirth – perfect messaging for Eastertime flowers!
Choose potted tulips for a beloved family member or friend, and encourage them to plant them when they're done blooming. Enjoy the beauty for many years to come!
Daffodils (Narcissus)
Daffodils are another flower associated with Easter. For me, it's because my daffodils always seem to be blooming here in PA zone 6b right around the time the Easter Bunny comes. Daffodils tend to be a sign of new life.
Hyacinths
There's no mistaking the intoxicating fragrance of hyacinths! Whether it's from a grocery store display, your front flower bed, or a vase on your kitchen table, the incredible scent lingers and brightens the mood. Gorgeous blooms of white, purple, and pink feature a multitude of small, trumpeted flowers.
Crocus
Perhaps the earliest arriving spring perennial, crocus also announces the arrival of spring. Lovely tones of purple, white, and yellow bedeck garden spaces where crocuses bloom, sometimes even erupting through a delicate blanket of snow.
Easter Shrubs & Bushes
Think about bushes that bloom beautifully in the springtime. Easter shrubs can become long-lasting parts of the landscape. Consider these:
Azalea
Forsythia – Our neighbor's yellow shrubs often bloom right in time for Easter photos along the fence!
Rhododendron
Hydrangea
Easter Egg Emu Bush – I just learned about this one and can't wait to research it more!
Indoor Easter Plants
Besides the potted Easter flowers you can transplant outside, you may also enjoy a variety of indoor Easter plants.
Easter Cactus
Botanically known as Schlumbergera gaertneri, the Easter cactus makes a lovely houseplant. If you've already got a Christmas cactus, you can enjoy spreading the blooms to the springtime, too.
Blooms may burst open in shades of red, pink, orange, purple, or white, nicely aligned with the Easter holiday. If you aren't sure which cactus you have, watch to see when it blooms and check the leaf shapes for clues.
Orchids
Popular throughout the year for many different occasions and among avid growers, orchids come in so many styles and colors. Often popular as an Easter plant gift, orchids do well as houseplants when they receive the proper care.
In fact, three delightful orchids are commonly known as an Easter orchid: Cattleya mossiae, Cattleya schroederae, and Earina autumnalis, hailing from Venezuela, Colombia, and New Zealand, respectively.
Flowers for Easter
Flowers associated with Easter make lovely hostess gifts this time of year, especially potted Easter plants that can later grow in the garden.
Speaking of, feel free to check out my posts on exactly that!
Do you have any pretty Easter flowers to add to this list? Any questions or feedback?
Feel free to hit me up in the comments – I always love hearing from you.
Happy Easter and Happy Gardening!