Amazing Tips on Reusing Old Candle Jars in Kids Crafts
Reusing a candle jar may seem like a little thing, but it can truly make someone's day! Today we are sharing a post about how to make kids' Valentine's Day themed vases by reusing old candle jars.
During the summer, my daughters love to pick flowers from our gardens. In previous years, we enjoyed going to Renninger's Farm for pick-your-own flowers as well!
When we grow our own flowers for a cutting garden, we try to brighten someone's day with a surprise vase of flowers!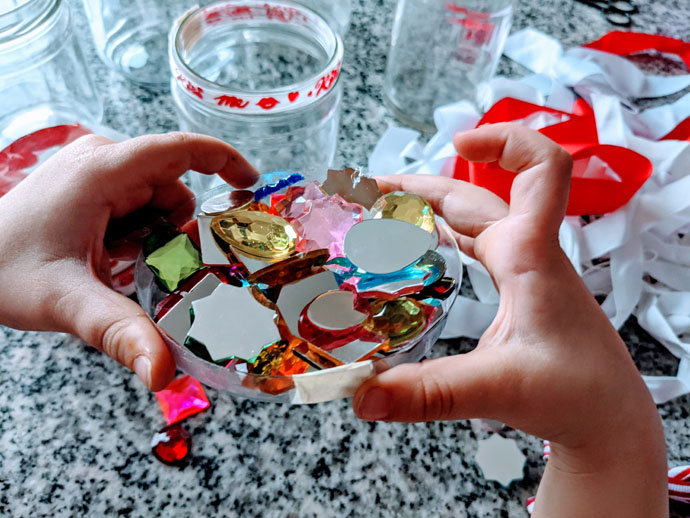 Reusing Empty Jars
Last year on a whim, we delivered flowers to two friends across the street. We used an empty Tostitos Salsa jar for one vase and had to use an empty Claussen Pickle jar for the other!
(Don't worry – we washed it out really well!)
We've been burning a lot of candles lately to help with stress relief during the pandemic. Due to this, we've amassed quite a few old candle jars!
We recycled some before I even through to upcycle old candle jars. Then I noticed a really nice candle jar and decided to start saving them for crafts.
We're going to surprise our friends and neighbors again this year, but with nicer vases for the fresh-cut flowers from our cutting garden!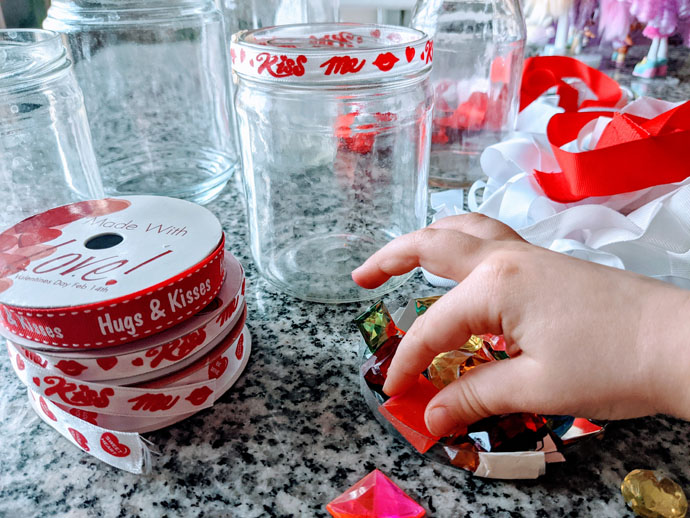 Use Old Candle Jars to Make a Valentine Vase
The other day we decided to do a craft with some empty, used candle jars. First we had to clean out the wax from the candle jars. Here's how it went down:
How to Get Wax Out of Candle Jar
Remove old wax from candle jars to recycle or reuse the jars. The easiest way to get candle wax off glass is to put the candle jar in the freezer for a few hours. Then, remove the jar and use a dull knife to gently break up the wax. It should slide right out of the jar. Wash with soapy water.
How to Clean Candle Jars
Cleaning out candle jars is easier than you might expect after removing the wax. If you find your candle jar turning black, clean any black smudges with a paper towel. Then, wash the entire jar in warm soapy water. Avoid getting wax down the drain. Use a paper towel to check for more wax and to dry the jar.
DIY Valentine's Day Vases with Old Candle Jars
Recycling Yankee Candle jars into vases (and other candle jars into vases) can be a great Valentine's craft for your kids. First gather up your materials.
Here's what we chose when using old candle jars to make vases.
Old candle jars, empty sauce jars, and empty Tostitos Queso jar (all washed)
Valentine's Day themed and love themed ribbons
Rhinestone gems
Hot glue gun and hot glue sticks
Scissors
Masking tape (for staging)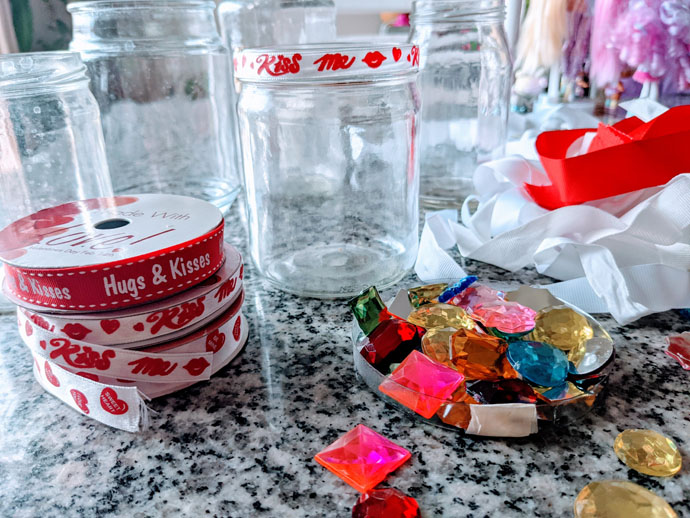 Instructions: Reusing Old Candle Jars to Make Vases
Take a clean, dry, empty old candle jar or other glass jar. 
Choose some ribbon to go around the mouth of the jar. You can also create ribbon trim at the bottom, middle, or elsewhere to your liking.
Use masking tape to hold the ribbon on the jar temporarily.
Decide if you like it as it is or if you wish to move the ribbon or try a different style.
Once you are happy with the look, use the hot glue gun to secure the ribbon. Glue all the way around the mouth of the jar and stick the ribbon on carefully.
Next, decide where you will add rhinestone gems for a fancy look.
Glue the back of the gem and stick it carefully on the outside of the old candle jar.
Decide if you will add any other pieces of ribbon, gems, or adornments.
Set the jar out and enjoy! (You can also wrap it and put it in storage if you plan to surprise neighbors and friends with fresh flowers in the summer!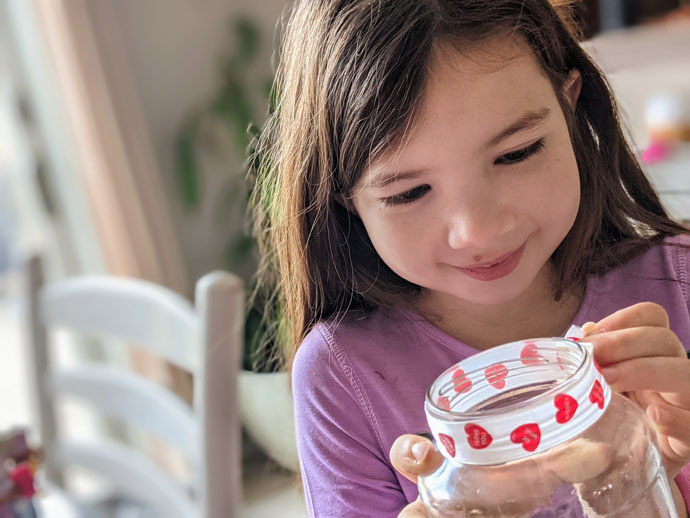 What Kinds of Jars Work Well for DIY Flower Vases?
We are hoping to surprise a lot of people with fresh flowers this summer! I may even let my girls sell some flowers locally if we get enough.
The best jars for making DIY vases have been Tostitos brand salsa and queso jars. We like both the tall and short Tostitos jars. The wide mouth is roughly the same as the rest of the jar, making it a lovely, visually appealing cylinder. It has a lot of room to put quite a few flowers stems!
That being said, we've also used these other empty jars to make DIY vases:
Old Candle Jars
Jam and Jelly Jars
Pickle Jars
Sauce Jars
By the way, if you liked this craft, you might also enjoy making recycled flower pots with your kids. Be sure to check out my Flower Pot Craft with Plastic Bottle post.
We'll be on the lookout between now and summer for more empty jars to turn into surprise flower vases!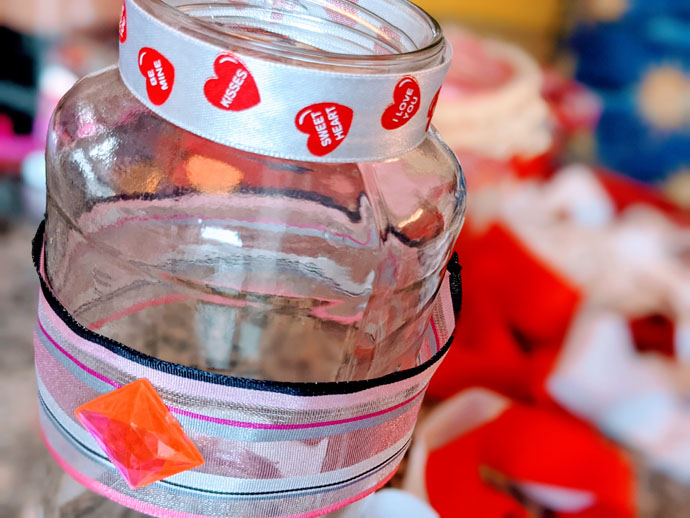 Please let us know in the comments if you try this craft and how it works out for you! You can also feel free to share the love by linking out on social media or sending to your friends.