How to Rescue Plants from Garden Centers
Who doesn't love a good treasure hunt for plants on clearance?! Discovering how to rescue plants at a great price from garden centers like Lowes, Home Depot, even Walmart and smaller nurseries can help fill your beds with perennials, fruit, and more for years to come.
A few weeks ago, I took a quick trip to Lowes and couldn't believe my eyes. It was like a gardener's Christmas in July! Rack after rack of clearance plants lined the back of the Quakertown, PA Lowes store. I was so excited to rescue plants for my garden.
(Truthfully, I may have gone a little overboard.)
Check out my Rescue Plants from Lowes!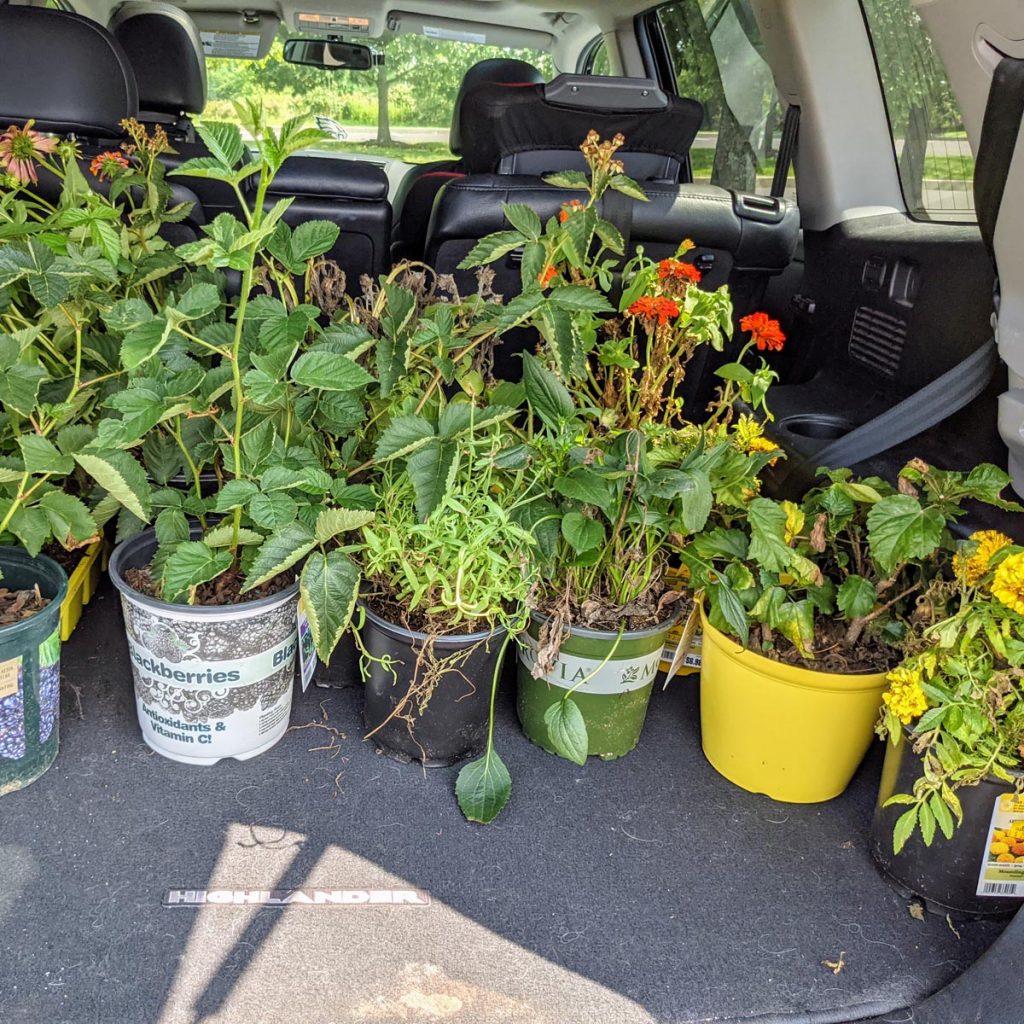 I rescued these plants:
African Marigolds (2 @ $2 each)
Mini Bush Sunflowers (2 @ $2 each)
Red Hibiscus ($2)
Cheyenne Spirit Coneflower ($10)
Lavender ($4)
Wild Berry Coneflower ($4)
Orange Zinnias ($4)
Flat of Begonias ($4)
Blackberry plants (2 @ $6.50 each)
Plus one other plant I can't recall its official name.
In hindsight, I would not have purchased the African Marigolds. These poor things were too far gone and I'm having a terrible go at rescuing these plants.
At the very least, my five-year-old daughter loved collecting the dried marigold seed heads and harvesting the seeds so we could grow them next year.
I do have two of the African marigolds hanging on – we'll see what happens in time.
The rest of the plants are doing much better after a little TLC!
If I can do it, you can do it! I'm happy to share my process for how to rescue plants from garden centers on clearance.
What Is Rescue in Plants?
Rescue in plants is the act of trying to save a dying or struggling plant that is typically found on a plant clearance rack for a discounted price. Oftentimes in nurseries and garden centers, some of the plants may not receive adequate water or perhaps they've received too much. These plants could have stunted growth, poor leaf condition, dropping blossoms, or simply be out of season or overstocked.
Like pets, plants sometimes need some TLC to get them back to optimal health. This is what we call rescue in plants.
What to Check Before Buying Discounted Plants
I know! It's just so tempting to buy all the clearance plants. Isn't it amazing how quickly $2 and $4 turn into $40?!
But. We. Need. All. The. Plants!
But hold up! I have a few things I want you to check before you push that huge cart of plants up to the checkout line.
I promise I fully support your plant rescuing intentions.
Just let me explain.
Sometimes plants may be too far gone to rescue easily.
And sometimes they may have a pest, disease, or other problem that you can bring home to your garden. That could be very bad if said issue infects your other plants!
Before you decide to rescue plants, take some time to inspect each plant thoroughly before it makes it into your cart.
Tips for Screening Clearance Plants
Check for these vital issues before rescuing clearance plants.
Inspect the clearance plant's soil for pests. You may find bugs, slugs, or even spotted lanternflies. I promise you almost certainly don't want to introduce more pests into your garden!
Look for powdery mildew. I recently bought a zinnia from Lowes and looked closely before making the purchase. I noticed other zinnias there had signs of powdery mildew, but mine did not. Until several days later at home, that is. This fungus is contagious and may spread by wind or water splashing on the plants.
Check the stems closely. Some green leaves or even flower buds are a positive sign. However, the stems will show you how bad the damage is when it comes to overwatering plants, underwatering plants, or other issues.
Consider the price tag and your disappointment if it doesn't work out. If this is a plant you don't necessarily need, maybe you should wait until another time and focus on plants you truly had on your wish list.
How to Rescue Dying Plants
Knowing how to rescue dead plants or those on the way out is sometimes just as much luck as it is talent.
Choosing rescuable plants is the first step. Don't be too hard on yourself if it doesn't work out for every single plant.
As you become more experienced in the garden, you'll get a better idea of how to rescue plants and which ones are actually salvageable.
Rescuing Plants
Try these tips on how to rescue plants from the clearance rack.
Deadhead and Prune – When you first get the plants home, snip off any dead flower heads. Deadhead and prune your plants to remove brown, crispy leaves and any other unsightly defects.
Water – Check the moisture of the soil. Likely it is dry. If this is the case, water the plants sufficiently.
Place in the Shade for 1 Week – Avoid shocking your plant. Place the pot where it will receive part or full shade for the better part of a week. Check your rescue plants each day to see how they're coming along. If you bought it from a sunny location, the plants may tolerate more sun than those from the bottom of a rack indoors.
Plant in the New Home – Give your rescue plant a nice new home in your garden. Perennials on clearance in the summer make wonderful longtime plants for your flowerbeds. Keep in mind any other bulbs and rhizomes that may be buried in your garden.
Lots of TLC – Give your plants lots of attention and check on them frequently when you first bring them home. You should see new growth generally in 3 to 5 days after you prune and deadhead the rescue plants.
Feed the Plant – At some point you may wish to fertilize your rescue plant. A bit of fertilizer can help to encourage new growth and better health. Research what fertilizer is best to feed the specific plant.
You may also want to check if the plants are rootbound, or if they've outgrown the pot they came in.
With some extra care, your rescue plants should be coming back to life shortly!
Final Thoughts: How to Rescue Plants on Discount
It's so exciting to find a rack of discounted plants! Plant shopping is one of my favorite adventures these days, as you just never know what you're going to find.
Sometimes it's hard not to come home with all the plants. When I have to decide between a few, these are the things I consider:
How will this plant enrich our garden or our life?
Is it a perennial we can enjoy from now into the future?
Does the plant look healthy enough to truly survive and thrive?
At the very least, are there any seed heads we can harvest if the plant dies?
These questions can help me reduce my clearance plant bill from about $40 down to $34, and then I feel like it opens the door to more plant clearance shopping possibilities!
After all, it's so hard to resist!
If you're trying to learn how to rescue plants from the clearance rack on discount, I am hopeful these tips will help you bring the plants back to their full potential of health and beauty.
Do you have any other tips and best practices for trying to rescue discounted plants from garden centers? Do you have questions about rescuing plants?
Please share both tips and questions in the comments below – we'd love to hear from you!
Happy Gardening!