Airlie Gardens: Visiting an Enchanting Botanical Garden in NC
Wilmington, NC turned out to be the perfect destination to practice a little casual flower photography at Airlie Gardens. Add in a lovely nature walk and my two best girls and we had a perfect morning activity.
My daughters and I enjoyed our trip to North Carolina for the beaches and beyond. We loved seeing all the plants, trees, and unique displays in this popular botanical garden with its wondrous attractions. Airlie was worth the spot we found for it in our schedule!
If you've never been to Airlie Gardens, it's definitely worth a trip – especially if you live close enough to North Carolina!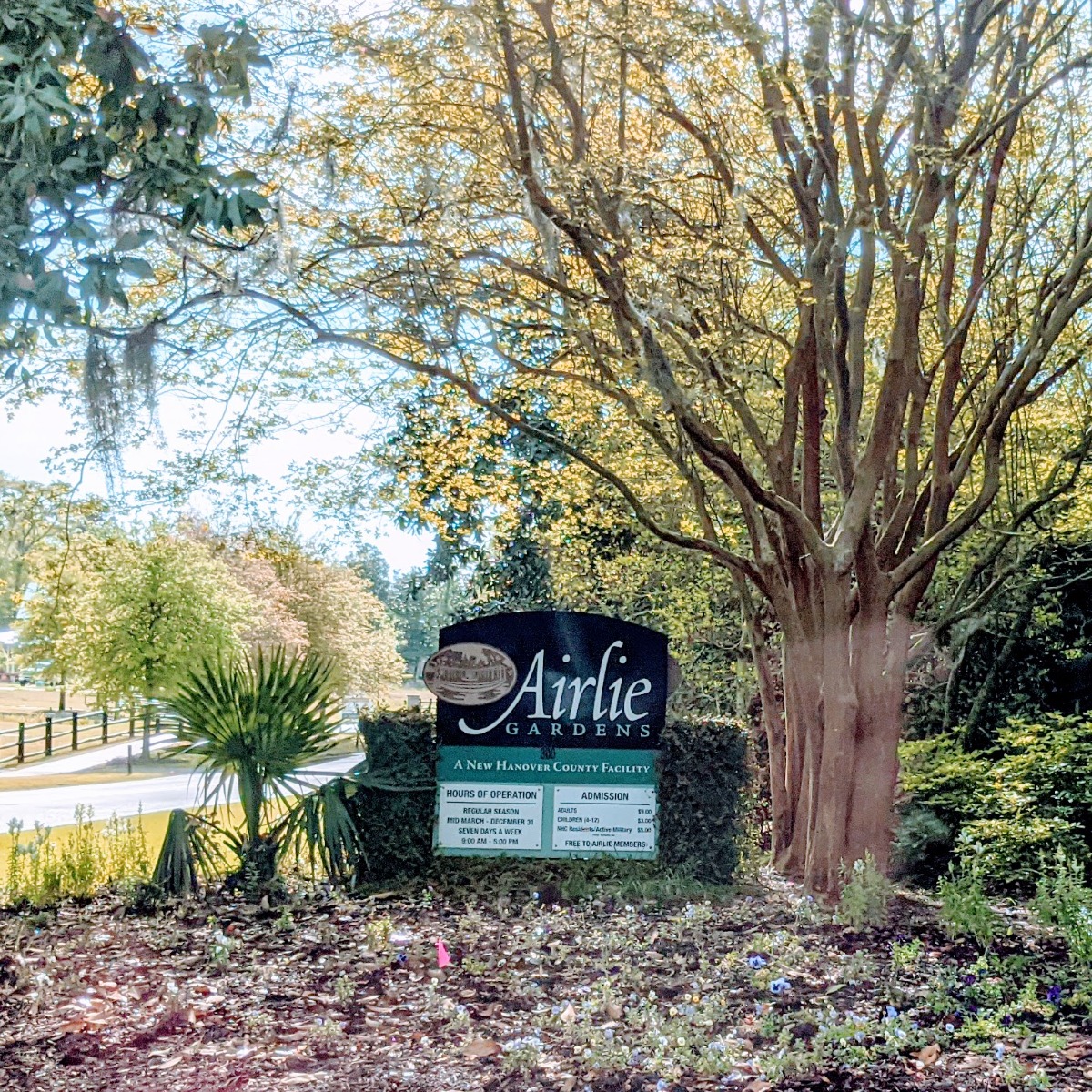 Here's a recap of our trip to Airlie Garden and some details to help you plan your own visit!
What is Airlie Gardens?
As a 501(c)(3) non-profit organization, Airlie Gardens is a historic public garden and botanical destination in Wilmington, NC. Brimming with 67 acres of garden spaces, the original gardens date back to 1884 under the ownership and creativity of Pembroke and Sarah Jones. The garden runs trams fairly regularly for those who would like a lift.
In 1999, New Hanover County (North Carolina) purchased the property in connection with a grant from the Clean Water Management Trust Fund and dedicated New Hanover County Commissioners. Support from the local community and travelers from all over helps to keep the garden restoration projects in motion.
You can learn even more about the rich history of Airlie Gardens on the venue's About page.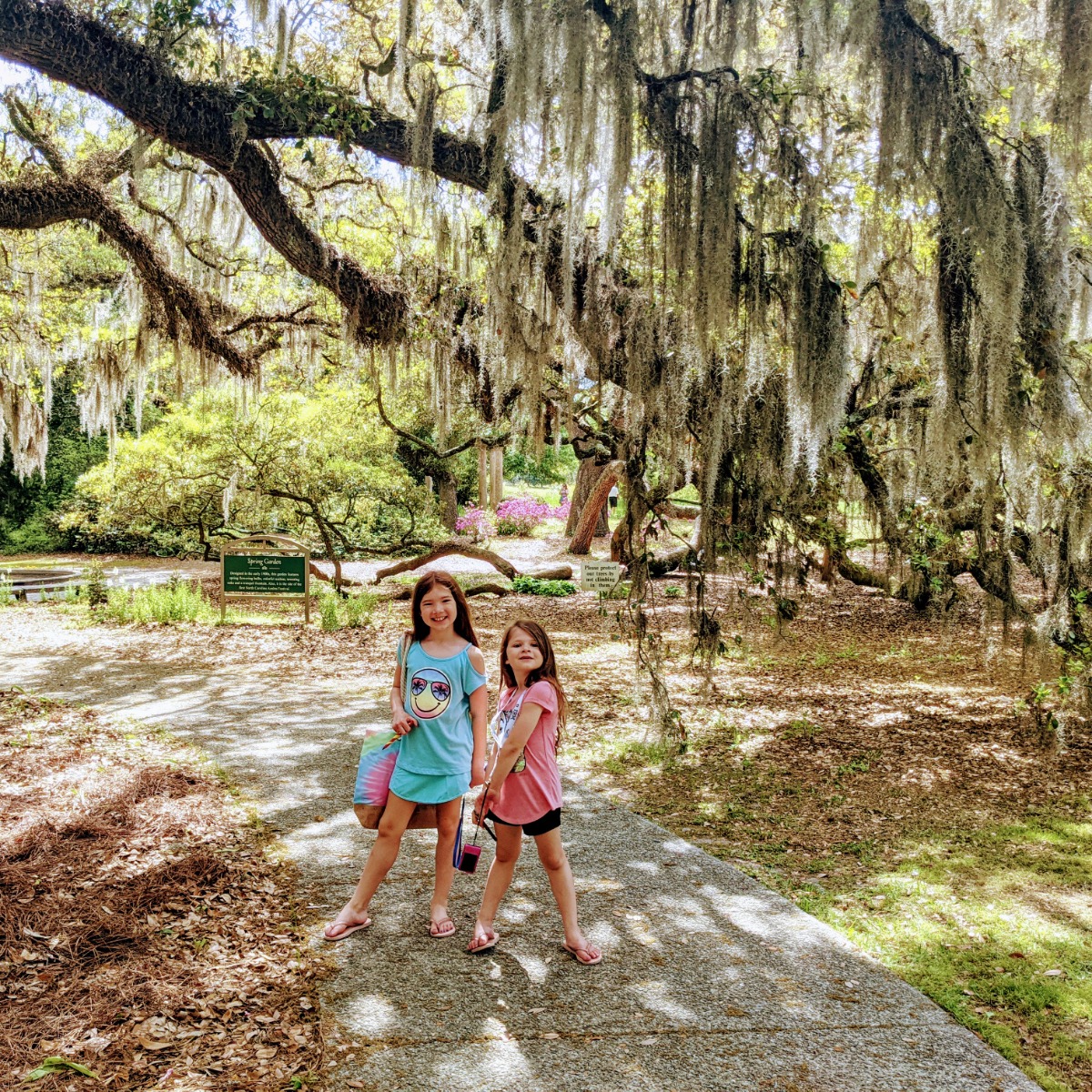 How much does Airlie Gardens cost?
Visiting Airlie Gardens is not expensive. Adults can visit the botanical garden for $9 each while New Hanover Residents and Military members can visit for $5 (ID required for both). Kids are only $3 each! (Totally worth it!) if you wish to become Airlie Gardens Members, you can visit for free as often as you like.
Where is Airlie Gardens?
Airlie Gardens is located at 300 Airlie Road Wilmington, NC 28403. It is a close drive from Wrightsville Beach, Carolina Beach, Kure Beach, and other popular beaches in southern coastal North Carolina. If you live in North Carolina or plan to visit, consider checking out Airlie Gardens during your free time.
Favorite Photo Ops at Airlie
When we went for our visit to Airlie Gardens, we were on a bit of a time crunch. We planned to visit Wrightsville Beach shortly after the garden to meet our friends.
We truly enjoyed our walk through the botanical gardens, and would absolutely do it gain. Of course, we also got to the point (with a 9-year-old and a 6-year-old) where the kids were just done.
(Of course, to their dismay, by this time, the tram was nowhere to be found! lol)
With kid travel attention spans in mind, here are our must-see attractions at Airlie Gardens if you are pressed for time!
Pollinator Garden
We loved the honeybee heart art sculpture in Airlie's pollinator garden! It was definitely one of our favorite photo ops of the entire venue.
Perhaps I'm a bit sweet on it due to my affinity for gardening and pollinators. Either way, the honey-themed heart on one side and butterfly theme on the other side makes for a lovely memory and family photo.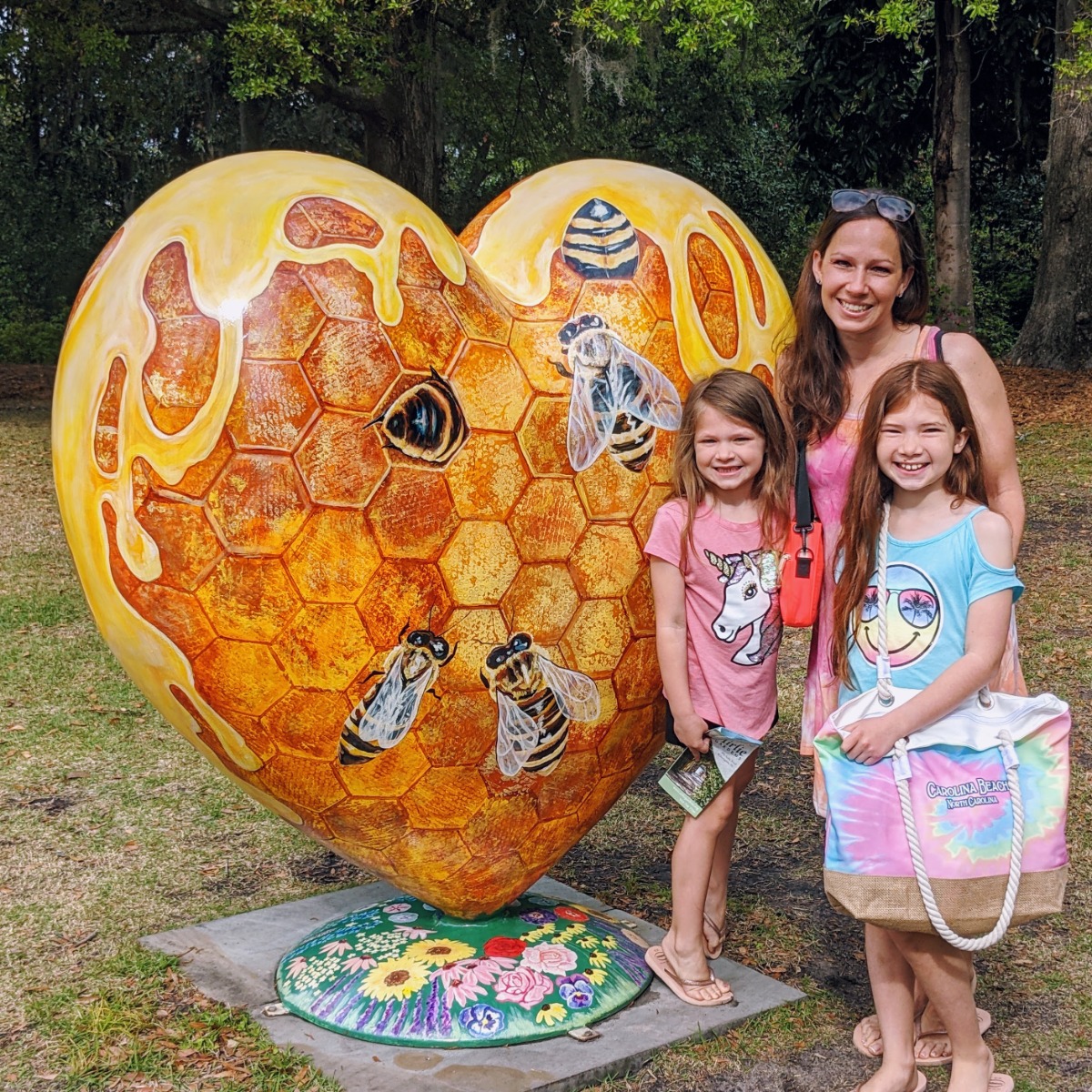 Pergola Garden
Known for its popularity as a wedding venue, the Pergola Garden boasts gorgeous arbors and a fountain with a reflecting pool.
This serene atmosphere would be absolutely perfect for your wedding photos, engagement portraits, or prom photos.
(Be aware you need a special license / admission for professional photography or posed portraits at Airlie!)
Bottle Chapel
We almost left Airlie without checking out the Bottle Chapel. Luckily, a staff member mentioned it to us as a must-see attraction and photo opportunity at Airlie Gardens.
It ended up being one of our favorites! You really have to see this one in person! It's quite amazing what the artist(s) did with glass bottles to create different unique scenes on the entire chapel structure.
Butterfly House
We visited Airlie during the off-season, so we missed the butterflies in all their glory. Just looking at the butterfly house and the many gardeners at work in that area, I can only imagine how amazing it is when the butterflies arrive!
Still, we loved the metal butterfly sculptures and the looks of the butterfly house from outside.
Planning Your Own Visit to a Botanical Garden
If you'd like to visit Airlie Gardens, you can really enjoy a few hours there at a pretty small cost.
Here are a few things to keep in mind when planning your trip:
Bloom Times – Different flowers will be in bloom at different times. Keep this in mind when choosing your dates.
Sun Protection – Bring hats, sunglasses, and sunscreen to protect your skin and eyes from the sun. Some of the walk is shaded but enough of the trail is sunny that we ended up applying sunscreen.
Water – Your family may work up a good thirst during a brisk walk or a peaceful stroll through the gardens. Bring bottled water in a small backpack for convenient carrying and thirst quenching.
Prepay Online – Order your tickets online from your phone. You are not required to choose a certain day or time when booking your Airlie Gardens tickets.
Special Sell-Outs – Some special event dates can and do sell out. Check if the botanical garden is hosting a special event open to the public – like a children's egg hunt or birding experience. If so, plan ahead to purchase the appropriate tickets.
Becoming a Member – If you live close enough to Airlie Gardens, consider becoming a member. I can truly see the value in this. You'll gain convenient access to the grounds throughout all the seasons, plus other perks. The ability to go for daily or weekly walks here would be worth the cost alone, in my humble opinion!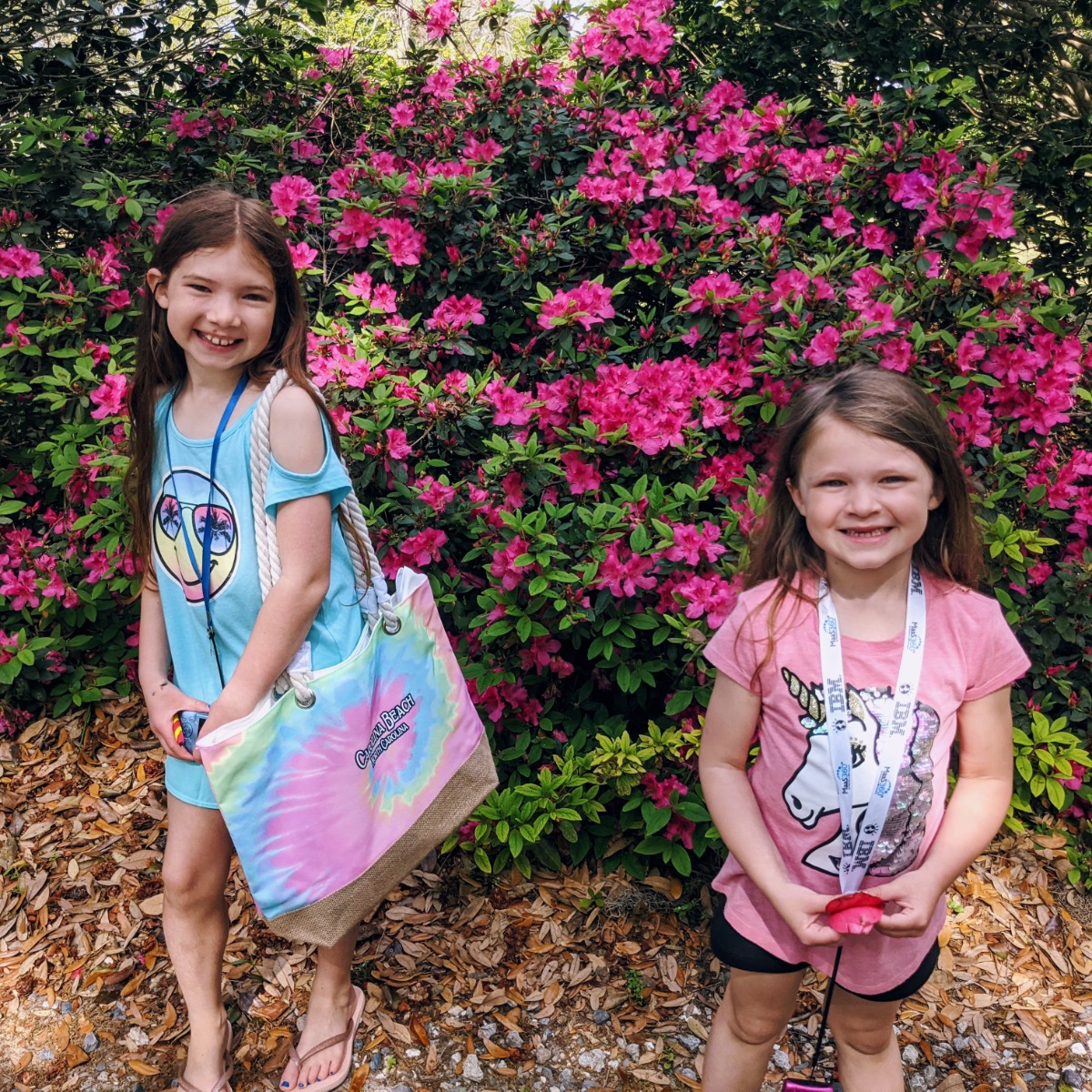 For more information about Airlie Gardens, check out AirlieGardens.org. You can plan your visit with regard to the hours of admission, expected closures, and special events.