Kids' Flower Pot Craft with Plastic Bottle from Gatorade
Kids' Recycled Planter from a Gatorade Bottle
When it comes to creative art for preschoolers, painting is high on the list! Our daughter loved making this flower pot craft with plastic bottle, recycled for use in our garden. Your kids can try this flower pot crafting recipe, too. It's relatively quick and we loved enjoying these planters on the fence in the garden all season long.
This Kids' Recycled Planter is one of my favorite quarantine projects we've done so far. During Summer 2020, we made this DIY recycled bottle flower pot craft into a fence herb garden! We made these as Earth Day crafts; preschool friendly flower pots made from recycled Gatorade bottles.
The process is easy and the plastic bottle hanging planters turned out beautiful. I could be a bit partial, but I'm so excited for this creative and colorful addition to my garden!
Benefits of Plastic Bottle Planters
More and more I find myself preferring these gorgeous, handmade flower pots by my kids (and myself). Plastic bottle planters offer quite a few benefits if you think about it!
Here are some of my favorite benefits of this flower pot crafting recipe:
Recycled Materials
Attractive Designs
Usefulness and Convenience
Kids' Involvement in the Garden
Easy to Make
Fun DIY Idea
I love to look at these plastic bottle planters as opposed to the green, black, and terracotta colored pots from the nurseries.
The plastic bottle hanging planter design came to me all on my own and I'm rather proud it worked out as intended. I love the way they look hanging on my fence, with oregano spilling out or basil climbing high.
And, you better believe I'll be saving empties so my kids can make me more DIY planters to "pot up" our seedlings as they grow!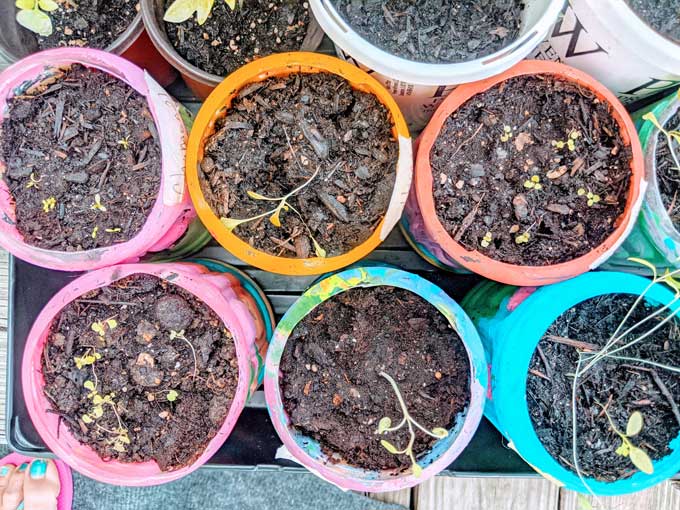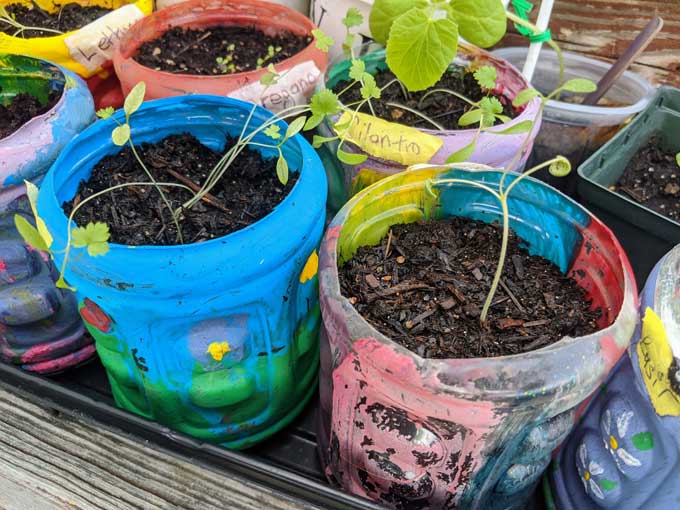 '
Speaking of empties, don't throw out those old candle jars and empty salsa jars! Instead, check out our blog post on Reusing Old Candle Jars for fun kids' crafts!
Kids' Flower Pot Craft with Plastic Bottle (Gatorade Planters)
While we made these as Earth Day crafts, preschool and school aged kids can make these homemade garden planters any time.
A flower pot plastic bottle recycling project makes a great craft to inspire kids of all ages to spend some time with nature.
It's such a fun craft and it only takes a brief chunk of time.
Here are the steps we used to make this fun flower pot craft with a recycled Gatorade bottle.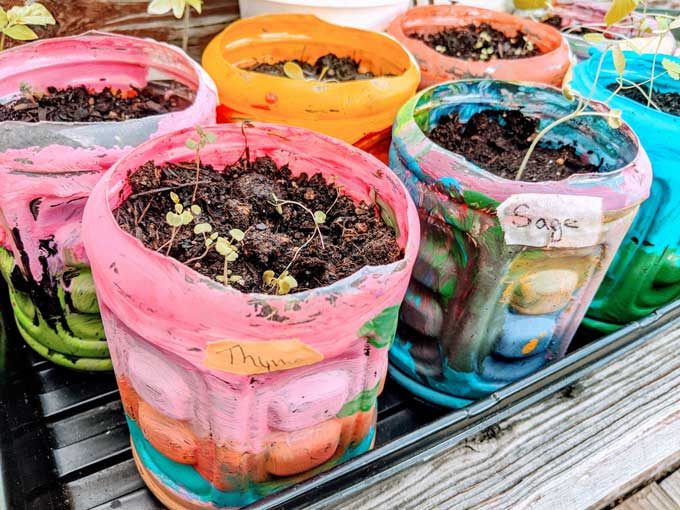 How to Make Flower Pots out of Plastic Bottles
First, cut off the top of the Gatorade bottle to desired flower pot height.
Next, drill or cut holes into the  bottom of the recycled bottle for drainage.
Paint the outside of the bottle as desired. Use different sized brushes for backgrounds vs. details. Be creative!

Some ideas:

Flower designs
Fruit and veggie designs
Animals and nature designs
Abstract art
Your children's current hand prints – wish I'd thought of this sooner!

Allow the kids' recycled bottle flowerpots to dry for several hours or overnight.
Drill or punch a hole in the top of the planter near the lip. Keep in mind the part with the hole will be the back and the side without the hole will be the front.
Attach a carabiner clip or shower curtain hook through the hole in the planter so you can easily connect it to your fence. (photos coming soon!)
Hang these fun crafts on your fence to enjoy all growing season long! When your kids recycled plastic bottles into flower pots – rest assured they'll be ones that you are sure to love for years to come. One of the best Earth Day crafts kids can complete over and over again throughout the year. Enjoy!
This plastic bottle planter craft works well for kids of all ages with the appropriate amount of parental guidance or assistance. Enjoy making a fun garden craft as well as a special memory.
Fence Herb Planters
The original purpose of these DIY pots was for them to be fence herb planters. I had a vision of cute painted pots hanging on my wire and split rail fence, staggered every foot or so.
Like a dream come true, these fence herb planters looked adorable and perfectly served their purpose!
Bonus – these plastic hanging pots for fences were easy to unhook when we got an unexpected late spring freeze here in zone 6b!
Such a fun DIY reduce-reuse-recycle project to do with the kids – my oldest daughter already wants to start saving Gatorade bottles and making fence herb planters!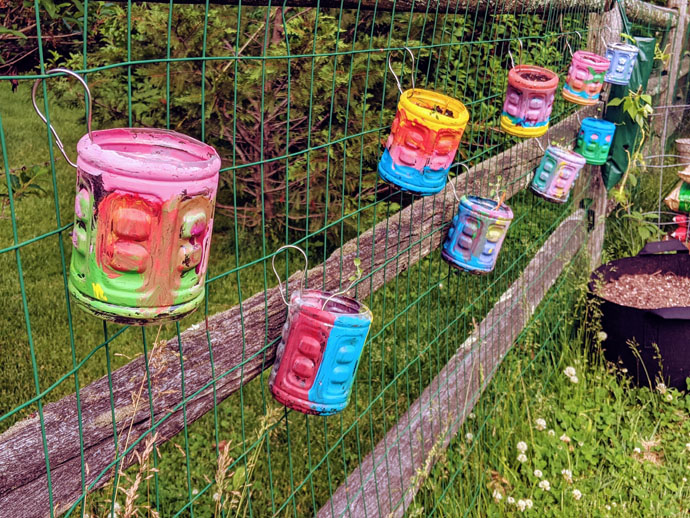 Other Recycling Projects for Kids
Kids love making fun crafts to pass the time. Let them create their own "maker space" with items they can upcycle into masterpieces. Paper towel and toilet paper rolls, egg cartons, and other waste items make for excellent recycling projects for kids. Here are a few ideas for kids recycled item projects.
Take apart an old photo frame and let your kids redesign it. Use paint, decoupage, or other fun techniques.
Make some handmade paper by blending up your shred pile with a little water. Press the pulp down on a screen and press out the water with a sponge. Set aside to dry and enjoy the fun new look and texture.
Turn seashells and river rocks into garden plant markers and row markers. Paint them to personalize.
Make a homemade fairy garden out of items in your recycling bin. Use your hot glue gun and your imagination!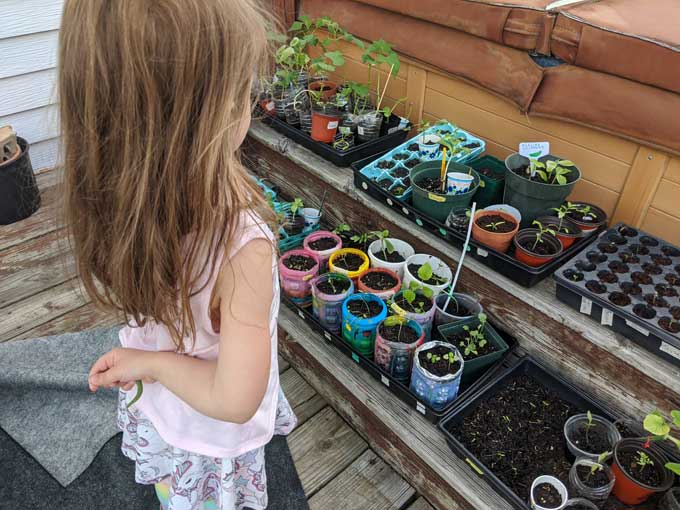 These children's plastic bottle flower pot craft planters worked out well all season long and our herb garden even outgrew some of the pots!
Do you know of any other recycled crafts for kids? Please be sure to share your garden craft ideas and kids' recycling projects in our comments below! We'd love to try your fun crafts for kids in the garden and beyond.
11/19/21 – Converted to Blocks format. Added section on benefits. Minor text changes throughout.