Pen Roses DIY – Fun Craft Making Flower Pens
Looking for a fun Valentine's Day craft for my girls, we decided to make some DIY pen roses. The craft is quick, easy, and produces beautiful flower pens you can keep and use yourself or give as a gift to someone special.
Truth be told, I was inspired to make these by my best friend's little boy who deserves all the credit. He made me a flower pen as a special little gift I wasn't expecting. It was truly the sweetest thing and really brightened my day!
I think we completed the tape and pen roses project in just about 5-10 minutes. It definitely would have gone quicker without me stopping to take tons of photos throughout the process, too.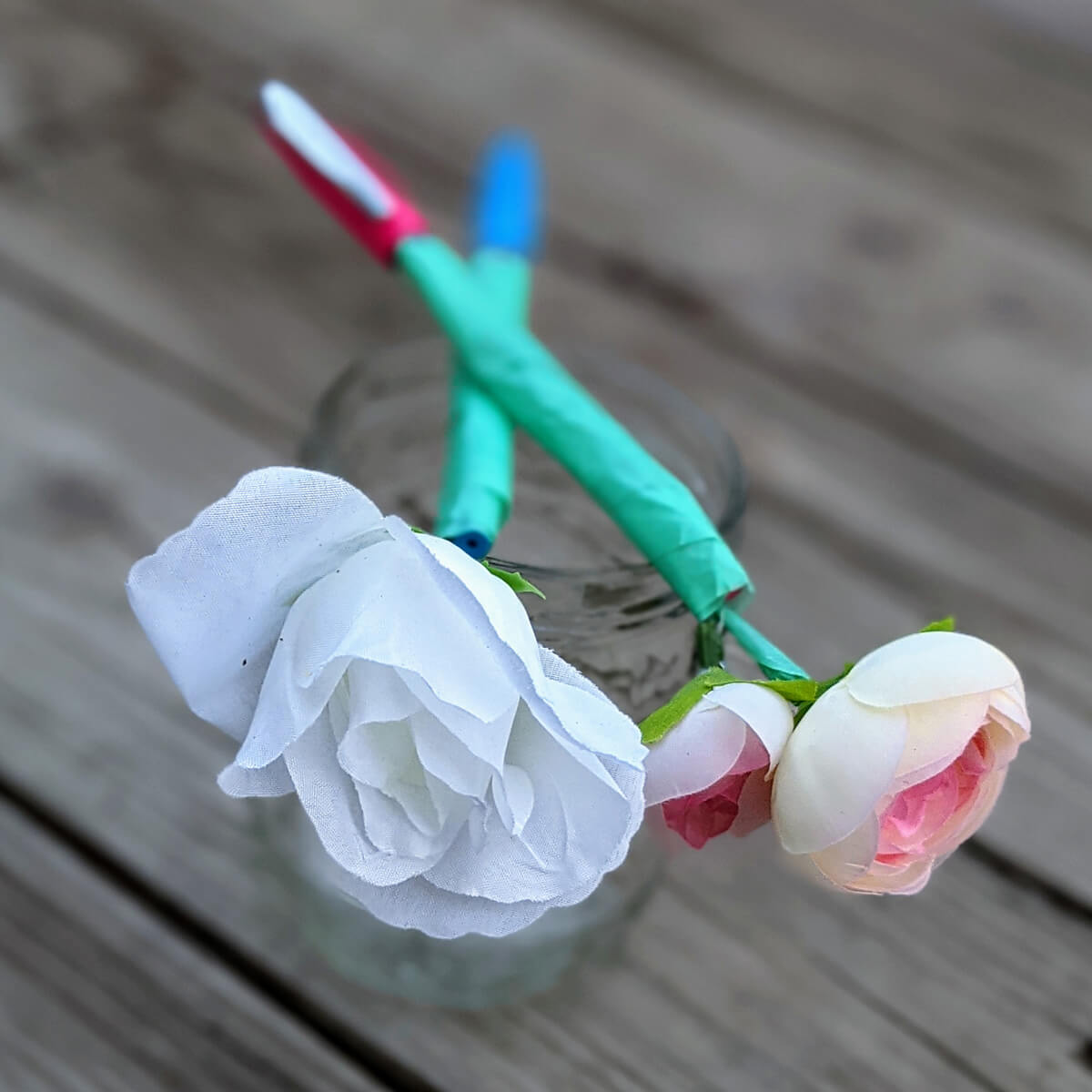 I highly recommend this lovely fake flower craft, especially for kids. The pen roses turn out beautiful and would make a lovely handmade Valentine's gift for a teacher, parent, or friend.
Let's get started making your own beautiful fake rose pens!
How do you make pen roses?
Rose pens are both quick and easy to make! Choose a fake flower like a rose, cut the stem, and then wrap tape all around the pen and the rose at the same time. When you get to the bottom, cut the tape and press it down to finalize the design. Keep reading for more specific step-by-step instructions on making flower and rose pens.
Materials for Making Rose Pens
Gather these materials to make your own flower pens with faux roses, daisies, sunflowers, or whatever fake flowers you like.
Ballpoint pens with caps – We chose fun pens with colored ink! We did not use clicky pens but rather the ones with caps.
Green masking tape – turquoise or a sea foam green kind of color, or whatever you like!
Faux flowers – We used fake white roses and pink-edged white ranunculus flowers.
Wire cutters or scissors – In most cases, you will need to snip apart the fake flowers to make individual stems for flower pens.
Making Flower Pens with Tape
Try making flower pens with floral tape or solid colored tape to brighten someone's day! Making rose pens is easy with these simple steps.
Choose a fake flower that you wish to turn into a flower pen.
Measure the length of the flower stem next to the pen. It should reach just above the bottom of the barrel of the pen so that the cap can still fit.

Use wire cutters or scissors to cut the fake flower stem at the appropriate length.
Remove any extra leaves along the stem, or push them all the way to the top of the stem.
Hold the flower so the top of the stem right near the blossom lines up with the end of the pen (not the writing tip).
Start wrapping the tape around the pen, starting at the top. Keep increasing the angle bit by bit so that the entire pen gets covered down to the bottom of the barrel.

Cut the tape and press it firmly across the already-taped barrel of the pen. Voila! You're done!

If you wish, you can make several pens with roses or other kinds of flowers for a nice variety. Then, place them all the pen roses and others together in a glass jar or a small vase.
Enjoy your flower pen bouquet!
Cute Pens DIY for a Classroom Party Project
This idea to create and craft tape pens with flowers only takes a few moments and would be an excellent class party project as well. You'll only need minimal supplies, like a flower, pen and tape, for each student, plus a bit of adult supervision.
Flower Pen Preparation
For best results, cut all the fake flower stems to the proper lengths ahead of the class party or event.
Remove the wrappers from the tape so it's ready to use. Best to have a few rolls available since it's easier to wrap the pens while the tape is still on the roll.
Consider setting up other stations and breaking into smaller groups to limit waiting time between turns.
Set out the pens spaced apart where you want each child to sit or stand.
Assist each student with wrapping, tape and pen, alignment with flower, and other tiny tasks as needed.
Consider this as a Valentine's Day class party activity or even a surprise gift for students to make around Mother's Day.
Kids of all ages will be sure to love making pen roses, daisies, sunflowers, and other lovely pen crafts.
DIY Pen Roses & Flowers
Making a fun flower pen craft with roses and other blossoms allows great creativity as well as practice with motor skills.
Once finished, these lovely flower pens make great surprise gifts for special people. A teacher, grandparent, parent, or friend would be surprised and happy to receive a thoughtful little gift like this.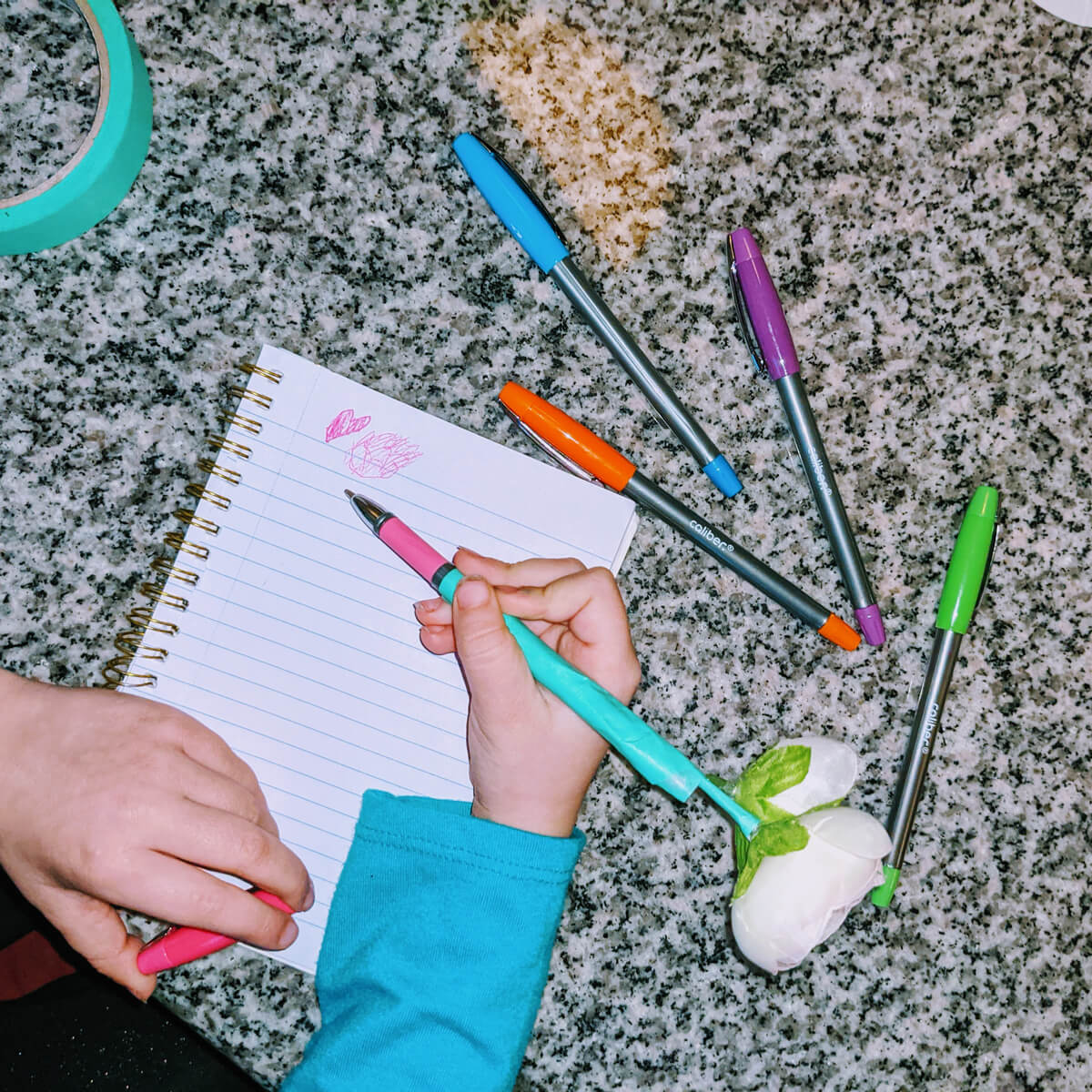 By the way, if you enjoyed this post, you might also like our other gardening activities and crafts!
Have you made flower pens before? Do you have any questions or ideas for other ways to make pen roses and flowers?
Feel free to chat in our comments below! We always love hearing from you.