Garden Stakes – 12 Plant Stakes Ideas to Try
When you don't have a lot of room for gardening, or you really want to maximize on your space, try growing vertically! Garden stakes and trellises make it easy to train your favorite plants and food crops to grow upwards.
Stakes for gardening come in lots of different shapes, sizes, and materials. You can enjoy decorative garden stakes such as those featuring birdhouses, beadwork, or other designs.
For a more functional style, try sturdy, durable plant stakes or poles that offer strength as well as height. Give your tomatoes, beans, and other vertical crops something to climb on.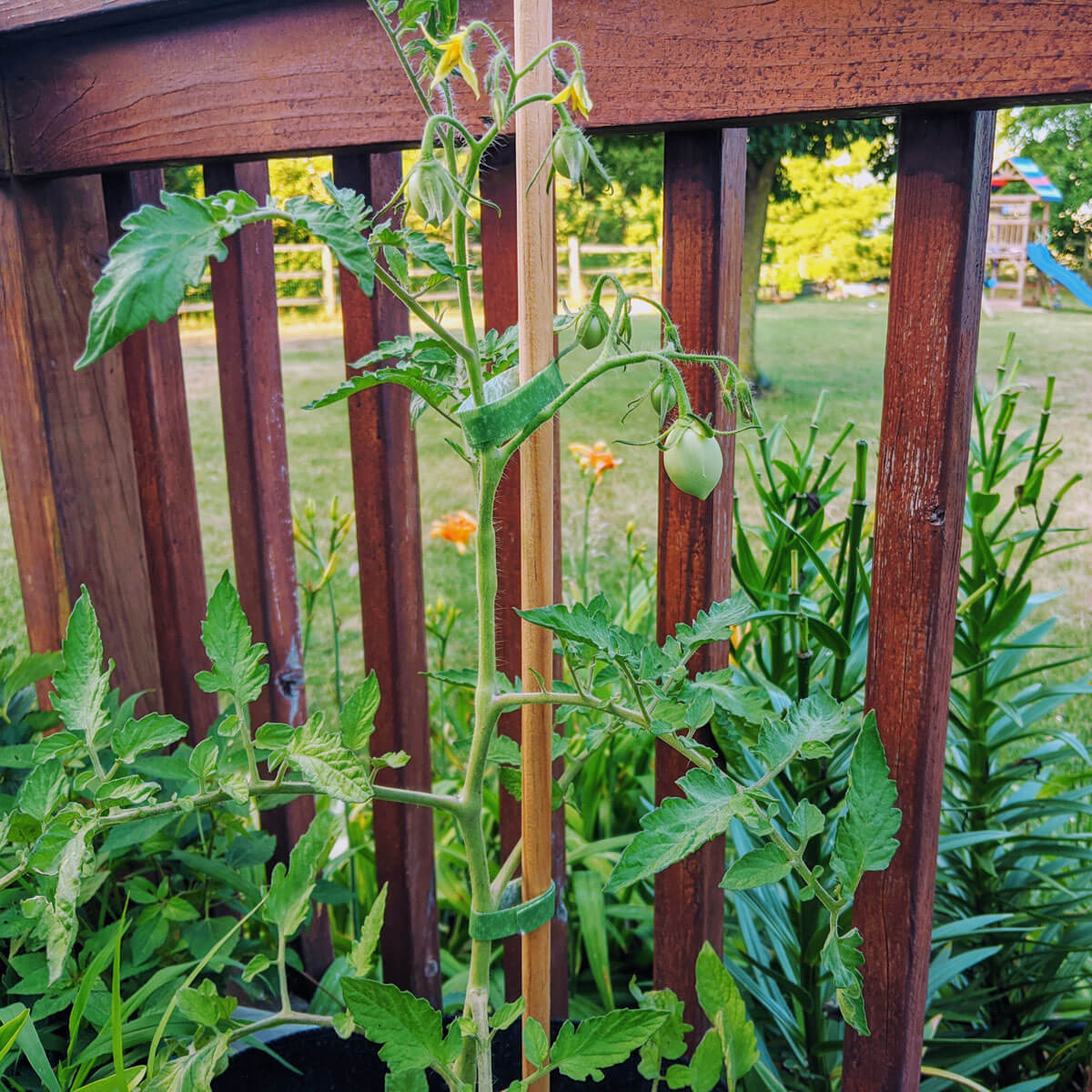 Best Garden Stakes for Raised Beds, Containers, & Garden Plots
When you're growing plants that need a little extra support, look for useful and attractive garden stakes. These must-have garden accessories make it easy to give support to climbing plants and those needing something to lean on.
Here are some of the best garden stakes to try in your home garden.
Natural Bamboo (Fresh-Cut) – Best for Tall Garden Stakes
If you're lucky like me and happen upon a neighbor getting rid of their bamboo stand, congrats! There's nothing like free bamboo for the taking! Outfit your raised beds with bamboo teepees for pole beans and other tall plant stakes as needed.
Keep in mind – growing your own bamboo may not be the best idea as it quickly becomes invasive and very difficult to remove.
Bamboo Stakes
One of the most beloved of garden stakes, bamboo canes often come in a convenient package and can support many different kinds of plants. If you can't get your hands on fresh-cut bamboo, the store-bought bamboo garden stakes are the next best thing.
Hardwood Dowels
When looking [unsuccessfully, I might add] for bamboo garden stakes back in 2020, I received the recommendation to try hardwood dowels instead!
I found hardwood dowels in many different sizes at the Home Depot for curbside pickup. I added some potting soil to my order and I was good to go! What I love about the hardwood dowels is that they are solid all the way through and they don't bend or break as easily.
The durability is worth the per-piece cost!
I do recommend removing them and storing them in a shed or garage over the winter to prolong durability.
Tomato Cages
Traditional tomato cages can get the job done fairly well! Today's gardeners find countless creative uses for tomato cages in the garden, from actual tomatoes to cucumber trellises, peony supports, and more.
You can use tomato cages for much more than tomatoes! Tomato cages work especially well on plants that need to be supported on multiple sides.
Try tomato cages instead of plant stakes for blueberry bushes and other fruit crops. When you need to protect berries from birds and wildlife, simply use twist ties to connect wildlife netting around the tall tomato cages. Voila! Your berries are safe!
Companion Planting with Corn or Sunflowers
Corn, popcorn, and sunflowers can serve as a natural garden stake for climbing plants. Simply plant the corn or sunflowers a few weeks before you plant the plant needing the support.
As the vining plants grow, you can train them up and around the corn stalks or sunflower stems. These natural plant stakes work out to be a beautiful symbiotic relationship in the garden.
Consider training beans, snow peas, cucumbers, and pickling cucumbers up natural plant trellises.
Existing Fences or Other Structures
A fence around the yard or a pool deck may serve as a perfect support wall for flowers and plants. Try growing morning glories or another lovely bloom.
You can also grow countless food crops up the fence, from beans and tomatoes to luffa, cucumbers, and melons. Use twist ties to help train your plants to climb the fence whichever way you wish.
Swing Sets and Playsets
If the kids are into it, have fun training some garden plants up the swing set instead of using plant stakes. You can hang hanging baskets off the side of the play set or anyplace, really. We grew cucamelons up the supports of the kiddie clubhouse.
Coated Steel Plant Stakes (Green Garden Stakes)
Available for sale online and in many garden centers, the green garden stakes are often a popular choice. I almost bought them last year myself, but happened to see a Prop 65 warning on the package about the chemicals used to make them, so I opted for a more natural approach. I know sometimes those stickers show up on anything and everything, but I'm extra cautious with my two kids at home.
Green garden stakes are sturdy, durable, and readily available at many garden centers.
Metal Fence Posts
Metal fence posts from the store can serve as super strong stakes for the plants. Your plants will love growing tall and strong as they wind around this type of garden support structure.
Beaded Garden Décor
Gorgeous hand-beaded garden stakes make an attractive statement in your favorite outdoor spaces. These plant stakes may be more useful as decoration than actual plant staking, but see what you can find and whether it's a good fit for your needs. You may even be able to get your kids involved in making some custom, handmade stakes for the garden.
Decorative Garden Stakes
Other unique garden supports can add to the beauty of your gardens and landscaping. Try searching for garden stakes and you may be surprised at the wide array of styles you can find. Birdhouses, flowers, and garden friends and other designs abound for plant stakes and garden appeal.
Trees!
Buddy up with your yard's existing trees for plants that don't mind a little shade. In our 2020 garden, we grew snow peas up the trunks of a maple tree in our yard. If it werent for the squirrels and the wooly aphids, we would've had an amazing crop to enjoy!
TIP – Use clear fishing line to help the plants climb up trees, deck rails, or other structures. It creates an invisible extra layer of support for climbing plants.
Use Garden Stakes to Create Teepees and Trellises
Different kinds of stakes can also combine to make targeted structures like teepees and trellises. Use some jute twine or another material to fasten and connect the individual poles or posts into a solid frame.
Browse through social media to see how other gardeners are trellising their plants for inspiration. You can get creative and build a trellis, teepee, or other garden support structure that works for your plants and crops.
Points to Keep in Mind When Choosing Garden Stakes
Pay close attention to these key points when looking for the best garden stakes for your crops and flowers.
Type of Plant – What you're growing may make all the difference as far as what type of stakes would work best.
Food Safety – If your stakes are for tomatoes or other food crops, be sure to read fine print on the packaging or online descriptions. Some stakes may contain chemicals that make them unsafe for a fruit or vegetable garden.
Length of Stakes – Lots of times the garden stakes are only about three feet tall. In cases of tomatoes and pole beans, you often need much greater heights for plants to reach their full potential.
Diameter – The thickness of the stakes determines how heavy of a plant they can support. Choose wooden dowels or other stakes that are at least ½ to ¾-inch in diameter at a minimum for most hearty plants like tomatoes.
Finding the Best Garden Stakes
Depending on whether you need decorative or functional garden stakes, you can find the perfect choice to meet your needs. Keep the points above in mind as you prepare your garden to support the plants you've decided to grow.
You can find garden and plant stakes at the local hardware store, shops like Amazon, or for sale or as discards from local neighbors. (Be sure to check Facebook Marketplace for the bamboo!)
Get creative – you probably already have something you can use as container garden or raised garden bed stakes!
Do you have any other suggestions for good garden supports? Shout out in the comments below with any questions or tips you'd like to share.
Happy Gardening!
04.22.22 – Updated to include Trees section (now 12 ideas) and a few extra tips. Also resized photos to full size.