Growing Strawflower from Seeds | Everlasting Flower
Strawflower brings unique beauty to the garden that endures far beyond bloom time. Many gardeners will save and dry strawflowers for pretty indoor arrangements and crafts.
We are so excited to be growing strawflowers, scientifically known as Xerochrysum bracteatum, for the first time this year!
We planted the seeds in an egg carton and they are growing very well. Such a nice low-maintenance flower to grow from seed!
Last year we purchased strawflower seeds from Dollar Seed, and germination was terrible. I think we got one or two seeds to germinate and then they promptly died.
I chalked this up to either strawflower being tough to grow or having received a bad batch of seeds.
Based on my experiences so far this gardening season, I'm betting on the latter. So far that batch of seeds still hasn't sprouted, while many other different seeds have.
We are having so much success and fun with our strawflower seedlings this year. So many have sprouted and they're doing great!
I'm excited to share our journey and best tips so far for growing strawflower from seed.
First things first, it's important to understand what strawflower seeds look like. If you're growing this flower, you should absolutely plan to save some seeds for next year.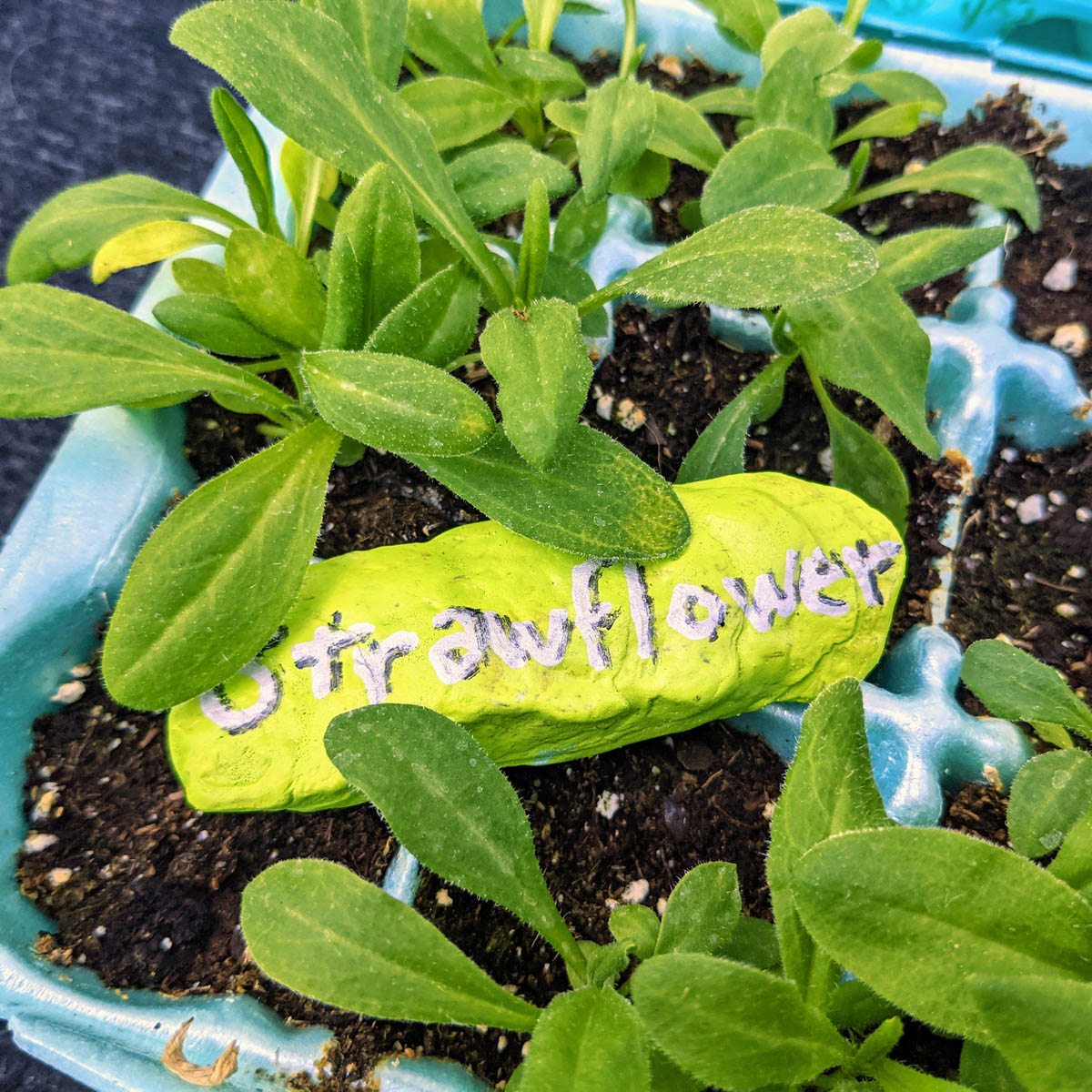 Strawflower Stats
Strawflower's common name is everlasting flower. It belongs to the Asteraceae family and is native to Australia.
Previously known for many years as Helichrysum bracteatum, strawflowers switched to their current genus, Xerochrysum, in 1990.
Also known as golden everlasting, you may find strawflowers in a wide range of hues, from golden yellow, to white, orange, pink, red, or wine maroon.
Scientific Name – Xerochrysum bracteatum
Average Height – 2-3 ft tall
Mature Size – 6 – 18" wide
Strawflower Spacing – 10-12"
Type – Annual in most places / Herbaceous Perennial in zones 8-10
Position – Full Sun Exposure
Bloom Time – June to frost
Water – Dry to medium once established; keep seedlings moist
Maintenance – Low
Notes – Strawflower makes a great dried flower.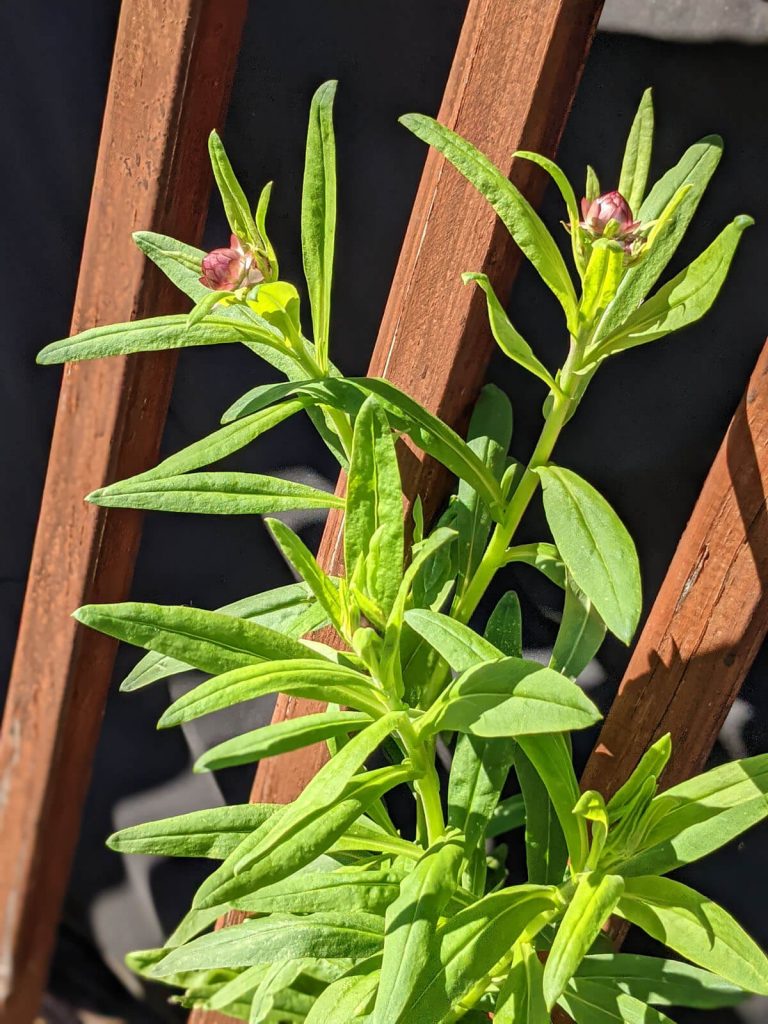 What Do Strawflower Seeds Look Like?
Strawflower seeds are generally tan in color and shaped like tiny, delicate cylinders. These seeds are small and lightweight.
If you've received strawflower seeds in a seed swap, you might also receive quite a bit of chaff. The chaff may appear similar to crushed seeds, but look for those small cylinders. That's the part you want to plant.
Some helichrysum seeds – particularly those from Dollar Tree – are small black chunks instead of tan cylinders. The seed appear very different from each other for two different kinds of seeds labeled as "strawflower."
I'll be very interested to see the differences in strawflower blooms!
Growing Strawflower from Seed Indoors
As noted, my first attempts at growing strawflowers indoors were met with failure last year. This year, everything is looking much better!
I recommend starting strawflowers from seed 6 to 8 weeks before your region's last frost date. These seedlings have been slow growers for me so far.
Follow these steps to plant strawflower seeds indoors:
Poke holes in the bottom of an empty egg carton.
Fill each compartment with fresh potting soil.
Lightly spray the potting soil to dampen it, preventing flyaway bits.
Gently press a strawflower seed into the top of the potting soil, adding a few more seeds spaced around the cell.
Lightly mist the seeds in each completed cell.
Label each cell with the name of the strawflower variety using a pen or Sharpie.
Repeat until you've planted in all the seed cells.
Make sure all cells are evenly moist and set the tray in the sun or under grow lights.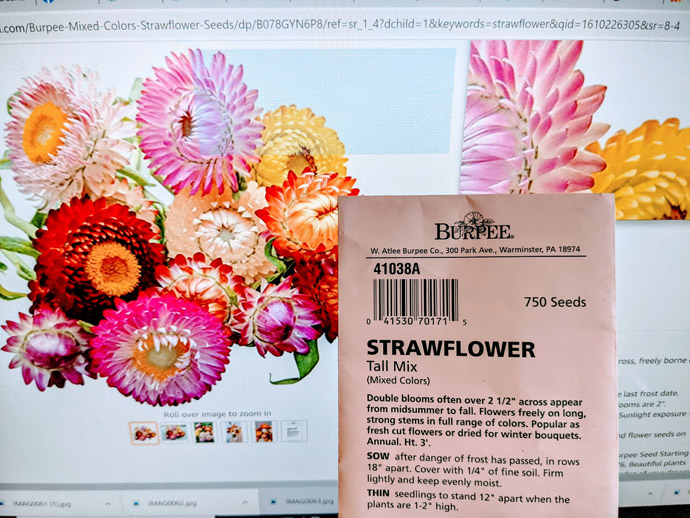 Tips for Success: Caring for Strawflower Seedlings
Follow these tips to help your strawflower plants grow to the best of their potential:
Keep the seeds and soil surface moist. I lightly spray our strawflower seedlings at least twice per day. Check in the morning and again before bed.
Check moisture when hardening off outside. Plan to water a bit more when hardening off the seedlings outside as the soil will likely dry quicker.
Consider bottom watering. I didn't need to do this with our strawflowers, but I've heard some gardeners swear by watering this flower from beneath the plants.
Separate and pot up as needed. I waited for one or two sets of true leaves to begin potting up strawflower seedlings. Transplanting into larger pots will allow strawflowers to grow larger more quickly.
Consider pinching. I've heard pinching the tops of strawflowers will allow them to become bushier and fuller. Wait until the seedlings are six to eight inches high to gently pinch off the top.

Note: I've also heard some pinched tops will reroot – particularly snapdragons and cosmos. I don't know if this is also true of strawflowers but I'll be excited to test it.

Transplant outside after the danger of frost. For best results, give strawflowers spacing of about 10 to 12 inches between plants.
Harvest often. Cut flowers just after opening to encourage more blooms and for best dried strawflower success.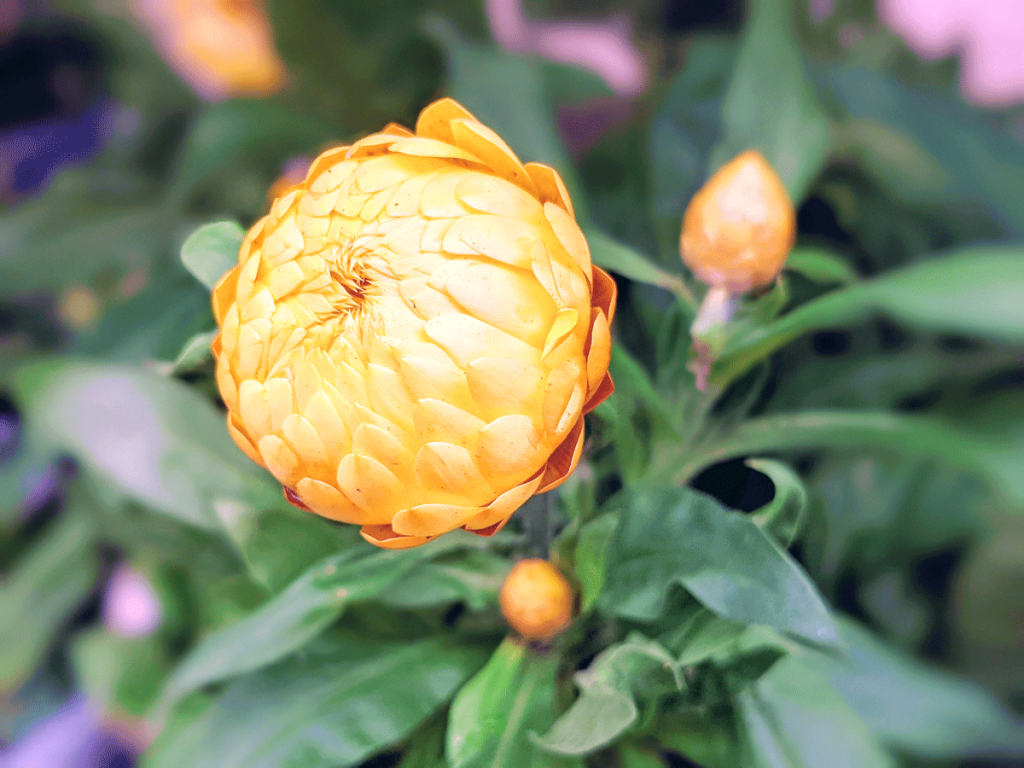 Types of Strawflowers
We've been very fortunate through seed swapping to receive quite a variety of strawflower seeds to grow for our cut flower garden.
These are the strawflower varieties we are growing, as well as notes on their germination and vigor.
Strawflower Apricot Mix by Floret Flowers – Decent germination
Johnny's Copper Red Strawflowers
Johnny's Silvery Rose Strawflowers
Strawflower Tall Double Mix
Burpee Strawflowers
Dollar Tree Helichrysum Strawflower (black seeds)
Dollar Seed Strawflowers – Poor germination or none at all
Many strawflower seedlings germinated within the first week and our tray was quite full by the second week. Some cells remained totally devoid of any seedlings – the tall mix and Dollar Seed strawflowers.
Final Thoughts on Growing Dried Flowers
It's so exciting to be growing strawflowers – a unique flower variety that will allow us to enjoy color all year long!
There's so much to love about the strawflower plant – vivid colors, unusual papery texture, ability to dry successfully for longstanding blooms.
I am actually planning to leave quite a few strawflowers on a few plants long enough to produce seeds for next year. This was a popular seed swap flower!
09/24/21 Edit – The groundhog has severely depleted my flower beds this year and I have yet to enjoy a single strawflower bloom. Luckily I think they're taking it as a pruning. Some were getting close to flowering and I came out a day or two ago and found the plants chomped. 🙁 It could also be rabbits in the garden, but we see the groundhog decimating everything frequently. #sendhelp
11/01/21 Edit – The first frost held off through the beginning of November! October was amazing! The frost waited *just* long enough for one of our strawflower plants to bloom! I am not sure which variety it is, but we enjoyed these dusty rose colored blooms. The petals are papery and I wish we had more time so the other plants could bloom, too. I will plant them earlier outdoors next year!
Collecting seeds from these flowers is rumored to be not easy, but I am up to the challenge and know our girls will be, too. I'm planning to put together a post on how to harvest seeds when the time comes.
Besides that, I am hoping some strawflower blooms will hold their brilliant color through the winter so I can enjoy them with a fresh blanket of snow in our yard. #goals!!
By the way, if you are into dried flowers and making crafts with dried flowers, check out my post on What to Do with Rose Petals | 17 Rose Petal Uses!
What are your experiences growing strawflowers? What tips can you share? We'd love to chat in the comments below!