8 Winter Gardening Ideas for the Off-Season
All locations aren't suitable for gardening in winter or all year long, for that matter, unfortunately. Here in PA Zone 6b, our outdoor gardening season ranges from around Mother's Day weekend to mid-to-late October. Luckily, winter gardening is still possible with the right ideas and equipment!
Even despite the cold, some gardening projects make perfect sense in the off-season. Use your imagination and you'll surely come up with lots of great ideas.
Winter Gardening Ideas
Check out my favorite winter gardening ideas!
1. Winter Sowing – Starting a milk jug garden!
This tried-and-true method of gardening in winter is sure to tide you over until spring arrives. Embrace the gardening bug this winter and try your luck at the winter sowing method.
2. Growing Cool Weather Crops Outdoors Still
It's believed that carrots become sweeter when left in the ground into the winter. Check out my post on when to harvest carrots for more tips!
You might also enjoy growing kale, broccoli, and cool herb crops like parsley.
Even potatoes can sometimes do just fine in the cool weather.
If your ground is still workable, you might even plant a few garlic cloves for a late summer or early fall harvest.
3. Plant Propagation Indoors, like attempting to root roses!
Rooting roses from cuttings takes time, but this could be a great winter gardening activity or project to try. Put those Valentine's Day roses to good use!
You can also try propagating other plants indoors, such as houseplants. One of my personal favorites for winter gardening is propagating Christmas cactus!
4. Starting Seeds Indoors!
So many gardeners love planting seeds indoors and the late winter / earliest spring is a fine time to get started with the process. Keep in mind your area's gardening zone and last frost date to make sure you don't plant your seeds too early.
I recommend starting the slow growers first.
My favorite no-mess method for starting seeds indoors is starting seeds in paper towels.
5. Seed Swaps to Increase our Seed Collections!
Swapping seeds is definitely one of the best ways to get through winter as a gardener. Share seeds with those you know and those you don't.
You can find seed swaps on social media or create your own with other gardeners you know.
In the end of January, you might also enjoy celebrating National Seed Swap Day.
6. Making Plant Markers and Garden Labels
It's easy to forget where you planted your dahlias you'll have to dig up to overwinter later, or deciding whether a rogue plant is really an herb you planted or a random weed.
Solve the confusion and make your own painted seashells plant labels or painted rocks!
7. Growing Houseplants in the Meantime
Switching over to houseplants for the winter still lets you enjoy your gardening hobby.
Sure, it is different from traditional outdoor gardening, but you can find many enjoyable aspects of growing houseplants.
8. Growing Grocery Store Fruits from Seed
If there's one thing I love, it's trying to start every kind of store-bought produce from seed!
Here are some fun ideas to try when you are bored indoors and really missing gardening:
Why wait for winter to pass before you grow something?! We hope you enjoy any of these indoor winter gardening projects!
Gardening in Winter to Pass the Time Until Spring
Where we live, I wish outdoor gardening was possible all year long.
Since it isn't, I truly enjoy all the indoor gardening ideas, crafts, and growing experiences.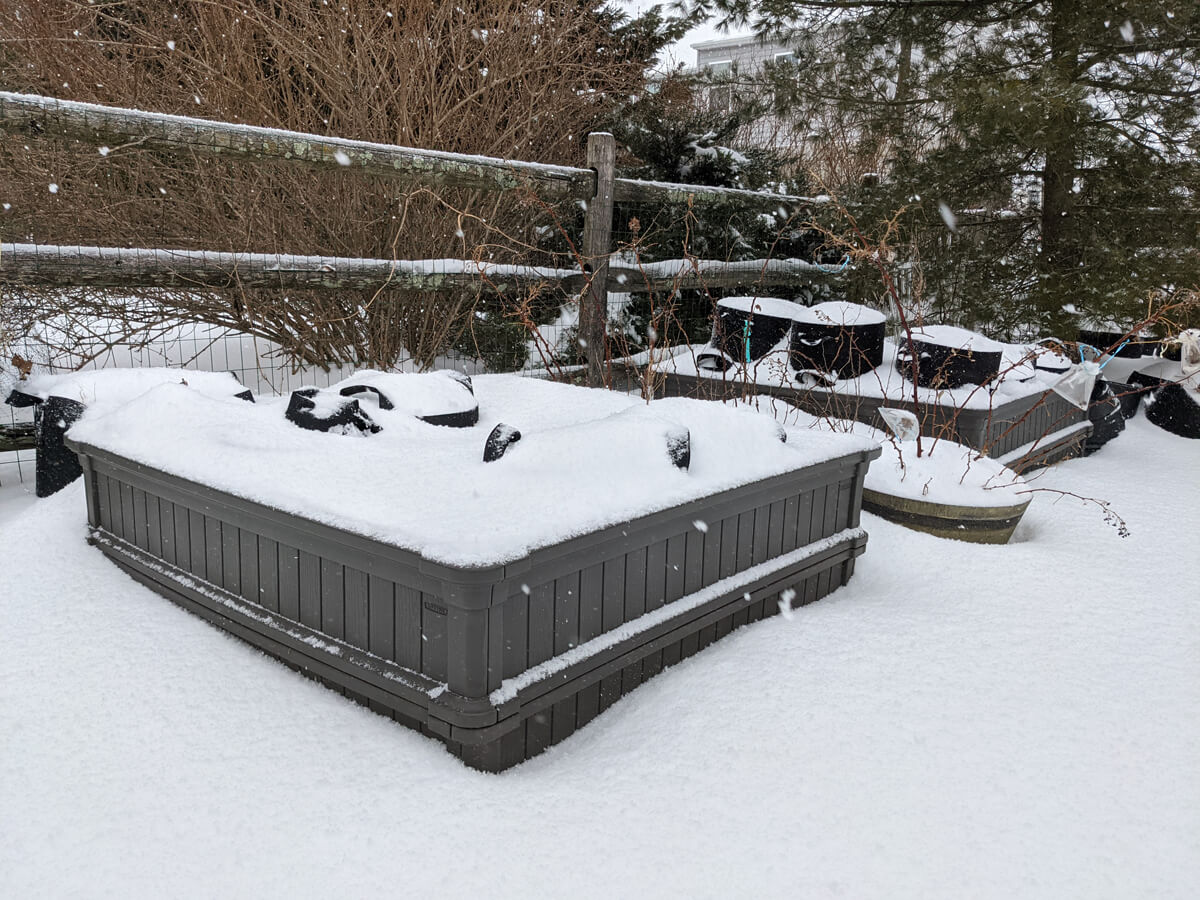 Some awesome gardening gear can make it even easier to enjoy the gardening off season.
Consider treating yourself to a special something to help you make it all the way until spring. 🙂
Our website features affiliate links to products that we personally believe in. If you make a purchase from a link on our site, we may earn a small commission at no cost to you. Thank you! This helps our girls chase their garden dreams! Thanks for your support. (View full affiliate disclaimer at the end of the page.)
These are just a few ideas to get you started! I hope this helps to make the chilly winter a little more bearable as we wait for planting temperatures.
What are your favorite winter gardening ideas, crafts, and projects to tackle?
Let's chat all about them in the comments below. We love hearing from you!
11.01.22 – Updated to add #8 for indoor winter gardening ideas of fruits to start from seed. Updated spacing and headings and title.