Best Irrigation for Vacation Mode Watering: Keep Plants Watered While You're Away
Nobody thinks twice about finding a pet sitter when it's time to go on vacation if the pets can't come along. So of course, finding a plant sitter is an option for watering your garden while on vacation, too, but it isn't the only option for the best irrigation!
Setting up a hose timer with an automatic program to water my plants is probably one of the best tech moves I've made in my garden.
I scrambled like crazy the day before we left for a wedding weekend to get this system all set up. It wasn't perfect, but boy am I glad I did it!
In fact, I loved it so much, I bought another hose timer for my front flowerbed!
Watering your garden while on vacation doesn't have to be a stressful experience. Consider all the versatile options available to you – on Amazon, at Lowe's or Home Depot, Tractor Supply, or even stores like Big Lots!
Our website features affiliate links to products that we personally believe in. If you make a purchase from a link on our site, we may earn a small commission at no cost to you. Thank you! This helps our girls chase their garden dreams! Thanks for your support. (View full affiliate disclaimer at the end of the page.)
Watering Your Garden While on Vacation
I'm going to walk you through my exact vacation watering system for my gardens and flowerbeds. This is not the only option.
I repeat – this is not your only option for watering gardens while away on vacation.
Please keep in mind this is what I am using right now for my specific gardens. It is not my forever plan. It may not work for you the same way as it works for me. Your mileage may vary. Even mine did!
I am so hopeful to get a built-in irrigation system one day. This is not my dream garden yet, so I have time.
Anyway, here's what I did for my garden watering while we were away for the weekend.
(And continuing thereafter because it saves me about an hour or so of watering plants every day!)
Hose Timer – Melnor 4 Output Port Digital Hose End Timer (MSRP $59.98; Item #821145 / Model #73280-L) from Lowe's (link)

Soaker Hose – Element 100-ft SoakerPRO™ Soaker Hose from Tractor Supply (link) I actually have two of these; one for front and one for back.

Flexible Hose – VIENECI Hose 100ft Garden Hose Expandable Hose from Amazon (link)

Zero-G Hose – 5/8 in. x 50 ft. Zero-G Garden Water Hose from Tractor Supply (link)

Aqua Joe Sprinkler – Aqua Joe AJ-MSSBM 4-Pattern Gear Drive Sprinkler, purchased on Amazon (link)

Old School Yellow Sprinkler – I do not recommend this unless yours is in good working order.

Generic Lawn Sprinkler – I will be replacing this at some point. This was just something we had on-hand and I used it out of necessity.
Best Irrigation Idea
Of course, the very best irrigation plans are probably the permanent ones that water your garden for you.
If possible, look into hiring an irrigation service company to install a permanent watering system that works for your spaces.
This may not be economical or feasible in all situations.
As an alternative to a true irrigation system, use a hose timer with rain delay so you can avoid double waterings.
Testing and Troubleshooting Automatic Watering Setups
I highly – make that 10,000% – recommend testing your vacation watering systems and programs before you leave town.
Why go through all the trouble if you aren't sure it's set up right?!
I did test mine, and it still backfired on me in the end! We thought the old school yellow fan-style sprinkler was in the right position and ready to go.
Turns out, we had set up a broken sprinkler on my most important crops! Or at least a malfunctioning sprinkler!
I am almost certain it worked perfectly when we tested it before we left, so I'm not sure what happened. On text while we were away, my friend said everything was bone dry every day by the afternoon!
When we got home, I tested it out in manual mode and found out all it was doing was watering my husband's precious grass in the wrong direction. No fan motion at all!
(facepalm)
Well, thankfully for best friends, all of my plants survived! And now I am on the hunt for a replacement to the broken sprinkler.
Tips: Best Irrigation for Vacation
When you're heading out of town, you certainly want assurance you won't be coming home to dead plants.
Here are some pointers to help you set up the best irrigation plan for while you're away.
Assure Coverage Area – Set up as many hoses and sprinklers as possible to reach all of your gardens.

Set the Timing Accordingly – Manually program the hose timer to run as needed. You may choose once or more per day, depending on your climate and expected weather.

Rain Delay Flexibility – Research the rain delay, if needed.

Backup Plan – Find a friend or neighbor who can check in on your plants here and there.

Quality Control – Check the hose construction and components for food gardens vs. flower gardens. (For example, our soaker hose is not rated for drinking water so I try to avoid using it on any of our fruits, vegetables, or herbs.)

Test, Test, Test! Run the program manually or set the timer for a time when you can watch and see what happens. Make sure the sprinklers point the right way and reach your plants appropriately. Decide how many minutes seems sufficient to adequately water everything and adjust the program.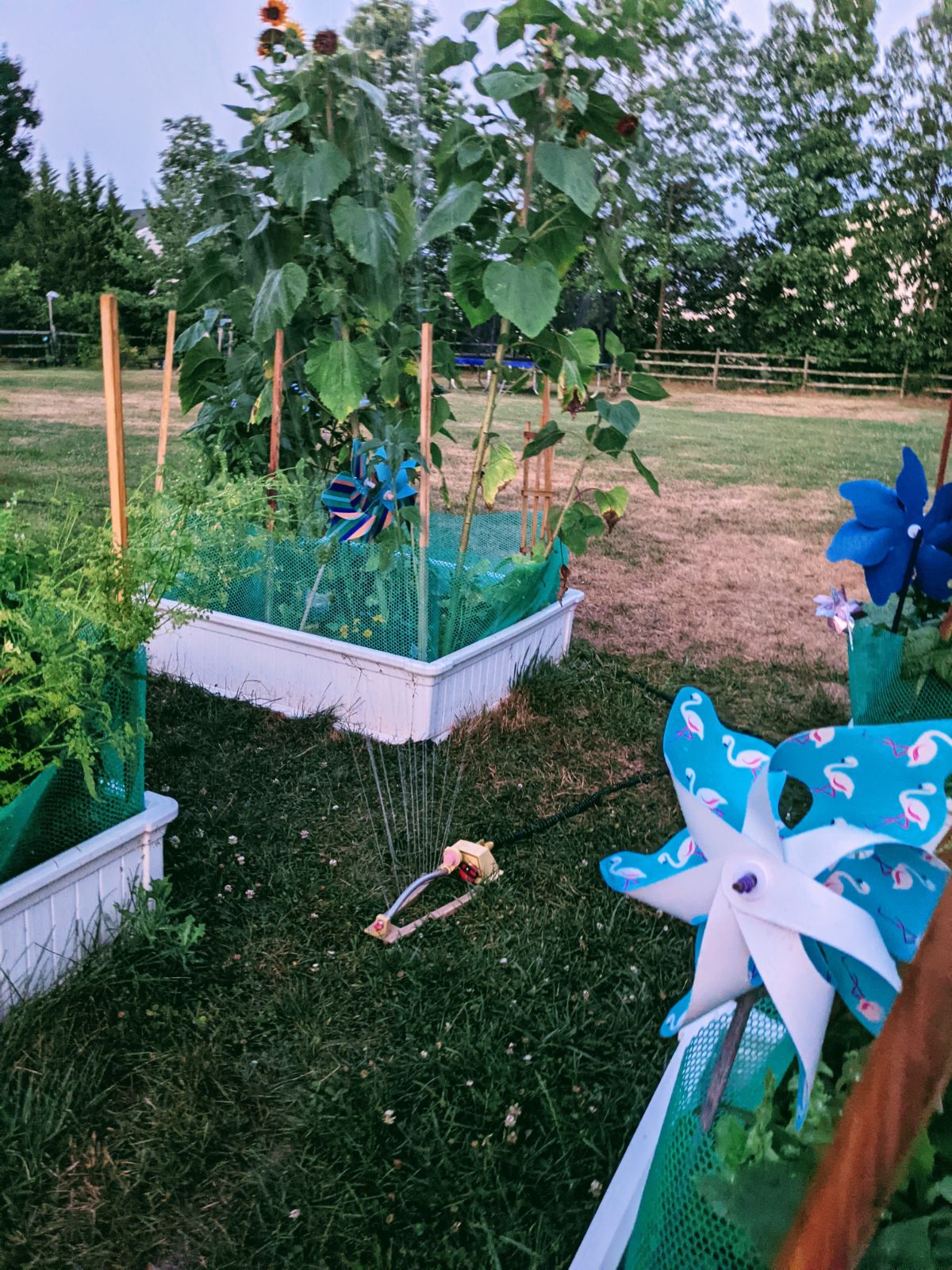 What can I use to water my plants while we're away on vacation?
Modern irrigation technology makes it easy to water your plants while away on vacation. Some of the best products to consider include:
Digital hose timers with multiple hookups
Sprinklers
Soaker hoses
You can also try drip irrigation systems, upside-down wine bottles filled with water, and a good old-fashioned plant sitter.
Perks of Hiring a Plant Sitter
Even though your DIY vacation irrigation system for the garden is probably bomb, it still doesn't hurt to have a friend check in on things.
Gardeners of all ages and abilities know summer drought can swiftly knock down even the most robust plants and crops without proper watering.
Not to mention, some vegetables need to be harvested regularly in order to continue prolific yields. Let someone enjoy what you can't!
So, for these reasons and more, sometimes hiring a house sitter or plant sitter can be the perfect solution. In addition to a vacation mode watering system, of course!
Heck, you might even be able to pay your BFF neighbor in wine or trade weeks that you watch each other's gardens!
By the way, if you enjoyed this post about watering while on vacation, you may also enjoy our posts on:
Happy Gardening!