37 Yellow Perennials | Create a Sunny Garden!
Yellow is the color of happiness, hope, and friendship. Fill your garden with sunny yellow perennials to create a breathtaking display of joyful color.
Perennial flowers grow back every year. Therefore, these plants make an excellent choice for a low-maintenance garden you can enjoy year after year.
Plant some yellow perennials to brighten up your garden with luminous color and bountiful cheer.
If yellow's your favorite color or you simply love seeing yellow in the garden, these blooms are for you!
Top Yellow Perennials for a Bright and Cheery Garden
When you love the color of sunshine, plant these yellow flower bulbs, tubers, and corms for a perennial garden that keeps on giving. Do pay close mind to your gardening zone and whether you'll need to dig up and store certain tender perennials over the winter.
1. Stella de Oro Daylily
A favorite choice in parks and public spaces as well as the home, the yellow daylily Stella de Oro brings a golden pop of color and rich greenery to outdoor spaces. These plants come up year after year without fail and generally bloom continuously throughout the season.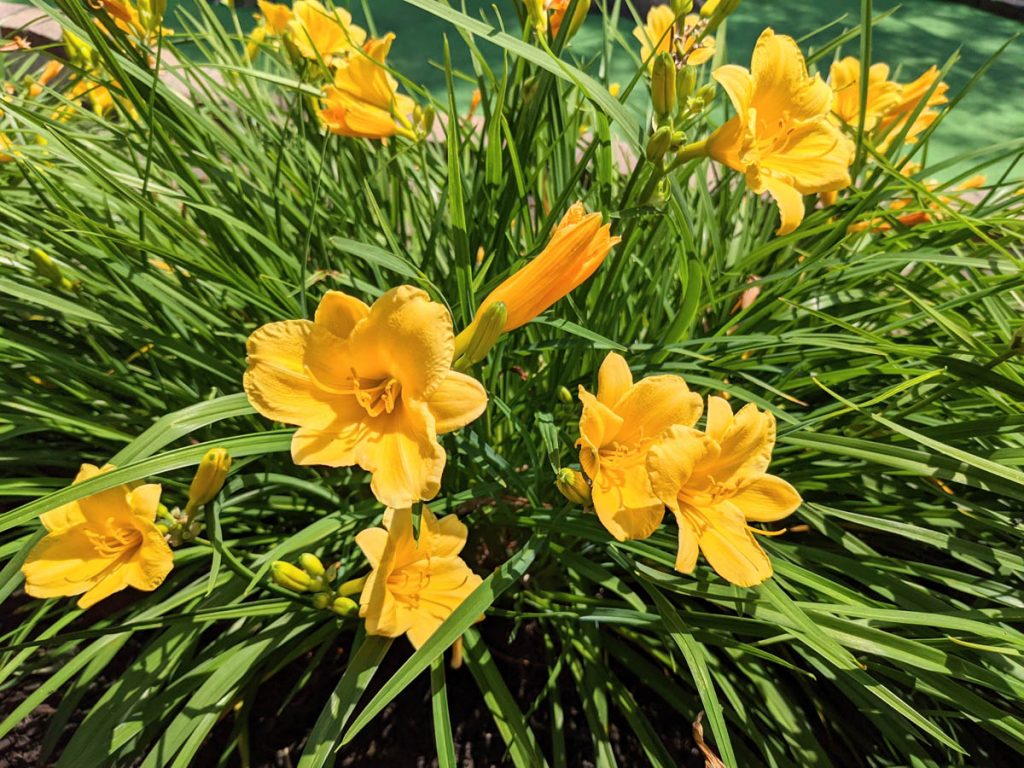 2. Yellow Giant Crocus
Extremely early springtime awakens with the blooming of beautiful giant yellow crocuses. Plant them along rock gardens or let them roam in flower beds and natural yard spaces. Perfect for fall planting!
3. Black Eyed Susan
The black-eyed Susan (Rudbeckia hirta) holds its claim to fame as one of the most notable and memorable wildflowers out there. Stunning golden petals bedecked with dark centers create a lovely display in the perennial garden.
4. Golden Lights Hardy Azalea
Lovely as a landscape plant, the yellow hardy azalea shrub makes a fine choice for adding some yellow to the garden. Above all, decide if you're interested in a long-term planting. With proper care and pruning, you can enjoy your yellow azalea for decades to come.
5. Daffodils
Often the harbinger of Easter and springtime, sunny yellow daffodils come back every year and multiply prolifically. Grow daffodils for yourself and share or sell surplus when you find them overflowing out of their designated spaces.
6. Moonbeam Coreopsis (Tickseed)
Daisy-like Coreopsis verticillata Moonbeam (Tickseed) add a sunny splash of yellow to your favorite flowerbeds and outdoor spaces. The lemony flowers attract butterflies and other pollinators. This plant boasts an extended bloom-time that complements your other yellow perennials in the garden.
7. Coneflower (Echinacea, Sombrero Lemon Yellow)
Likewise, echinacea plants are wonderful perennials in the garden, and the yellow coneflowers are no exception. Grow these very low-maintenance yellow perennials alongside your other echinacea varieties for a gorgeous perennial flowerbed. Coneflowers attract pollinators and provide ample seeds to feed the local birds.
8. Moonshine Yarrow
Yellow yarrow flowers are bursting with tiny, clustered blooms. The fernlike foliage adds a delicate touch to the dainty perennials. During summer, you may notice more of these flowers. Yarrow loves heat and looks truly impressive in mass plantings or borders. Yellow yarrow flowers are hardy in zones 3 through 9.
9. Sun Gold Jumbo Perennial Tulips or Didier's Tulip
Breathtaking, ginormous golden yellow tulips would make a tremendous impact in the garden. Yellow perennials like tulips are timeless and classy no matter where you live or what your gardens look like.
(Just watch out if you have a resident groundhog who may gobble them up!)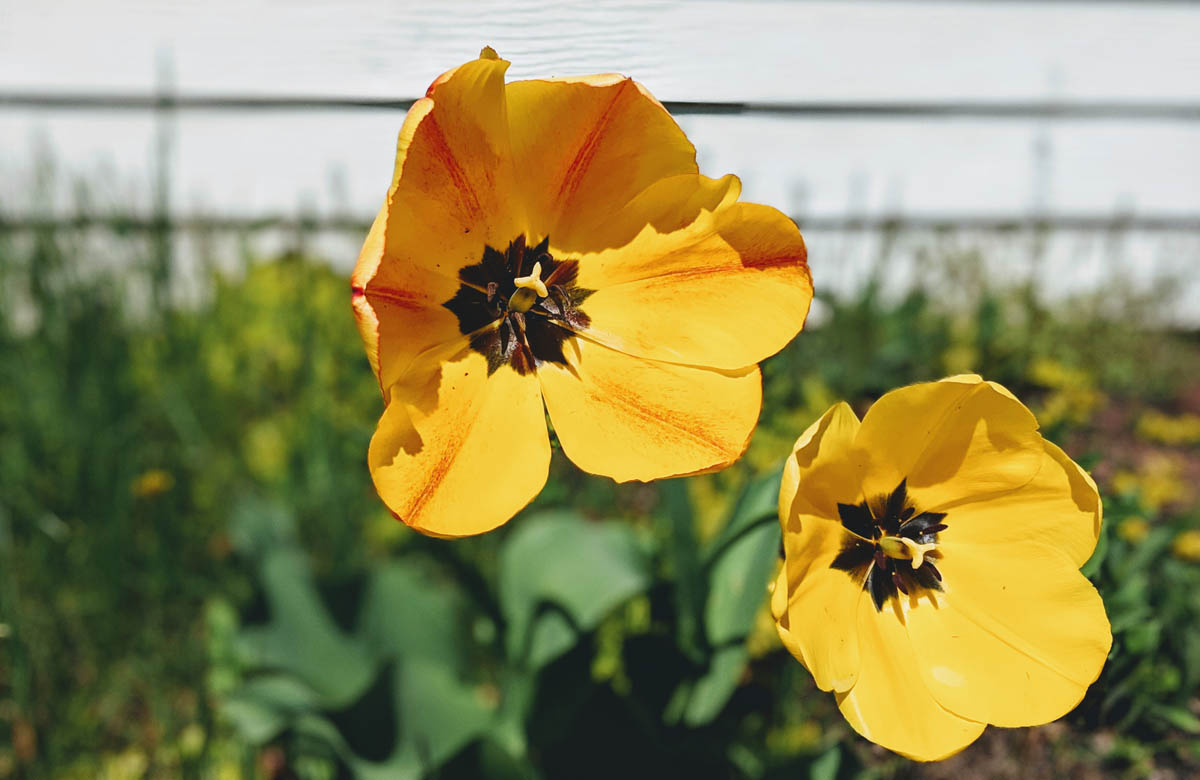 10. Pansy (Yellow Blotch)
This traditional yellow pansy adds remarkable beauty to the flowerbed or container garden. The rich golden hue looks lovely with the purple face. Pansies generally bloom in the cooler season, such as the spring through the early summer and again in the fall.
11. Crocus vernus (Yellow Mammoth)
This is the largest yellow crocus, rich in color and very cold hardy. During early spring, this pretty perennial blooms and will multiply over the years. Crocuses will naturalize and this variety is hardy from zone 3 through 9.
12. Canna, Giant Yellow or Yellow King Humbert
Tropical foliage marks the Yellow King Humbert canna lily or Giant Yellow Canna. These yellow flowers are an exotic and thrilling choice for the garden. Bright yellow blooms accentuate the large monocot leaves. Therefore, this yellow canna is a fine choice for a tropical looking garden in a non-tropical location.
Be sure to dig up your cannas each year if you aren't in hardiness zones 8-11. Some of my red cannas do survive every year tucked next to the house, but it's almost always better safe than sorry.
13. Crocosmia, Tai Pan
Lovely for containers, borders, and cut flowers, Tai Pan Crocosmia brightens up your outdoor spaces. Also known as Swordflower, these pretty perennials are hardy from zones 5 to 9.
14. Helleborus, Wedding Party First Dance
Delightful yellow double flowers feature a hint of lime green and maroon for a stunning display in the garden. These perennial yellow flowers attract pollinators and make a striking display in your perennial garden. Enjoy them as cut flowers as well!
15. Yellow Roses (Julia Child™)
The Julia Child™ rose and other yellow rose varieties are great yellow perennials for the yard and your flowerbeds. Of course, yellow roses often symbolize friendship and happiness. These two traits work beautifully in the garden. A sweet and delicate fragrance accompanies the sunny beauty of these perennial bloomers.
16. Yellow Bearded Iris
Much like its purple cousin, the yellow bearded iris adds a brilliant burst of color to the perennial garden. Irises will continue to multiply over time and the yellow iris is no exception. Enjoy these glamorous yellow perennials year after year.
17. Maximillian Perennial Sunflower
Who wouldn't love a perennial sunflower?! The Maximillian perennial sunflower towers up to 7 feet above with plentiful yellow blooms attracting many pollinators. Extended bloom time sees 2 to 3-inch sunny yellow blooms from mid-summer until the arrival of frost.
18. Yellow Peony (Bartzella Itoh Peony)
The romantic beauty of peonies continues far beyond fragrant pink and white blossoms. Similarly, pillow-soft blooms of the yellow peony would be a stunning choice for yellow perennials in the garden or landscape. These prized flowers often pass down through generations. Plant one now to share with your family and friends over the years.
19. Yellow Loosestrife
Yellow loosestrife (lysimachia punctata) features rich green foliage and stacks of yellow blooms. However, these upright yellow perennials multiply prolifically over time and may take over parts of your garden, so do be aware of this possibility.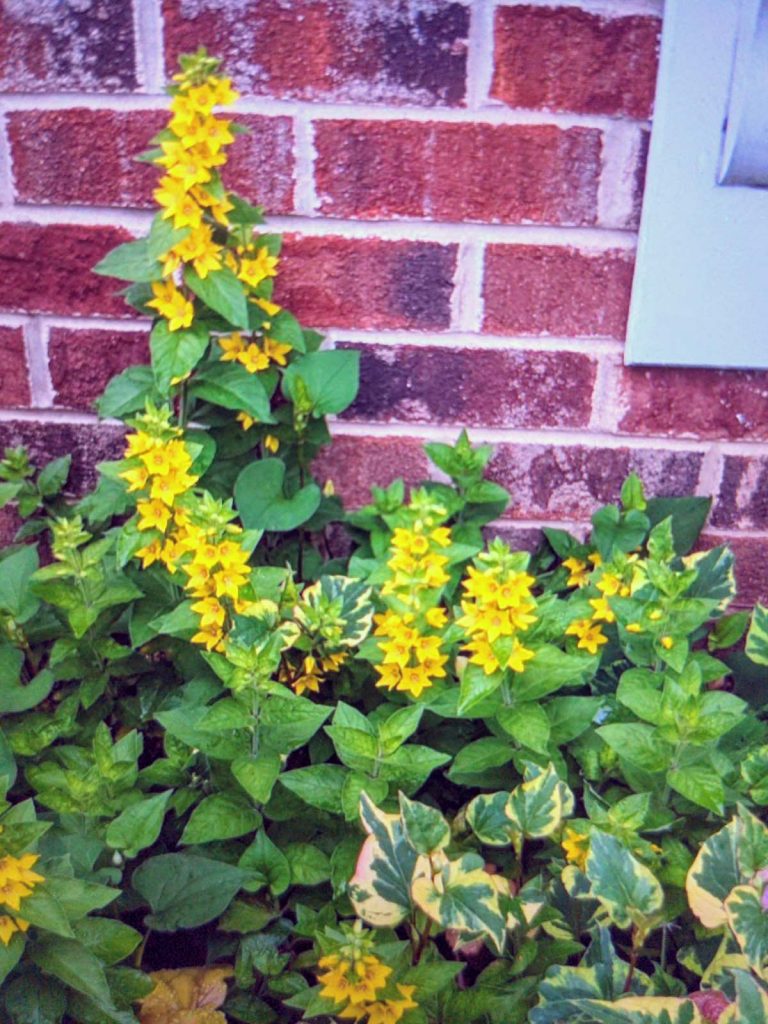 20. Velour Yellow Viola / Perfection Yellow Viola
Sunny yellow viola flowers are perennials with a spring to summer bloom time. Looking like little lion faces, the viola flowers remind me of Johnny Jump-Ups and other pansy type blossoms.
(As it turns out, pansies were in fact derived from violas – learn something new every day!)
21. Gazania Colorado Gold® (Colorado Gold® Treasure Flower)
With lemon-yellow blooms reminiscent of daisies, the Gazania Colorado Gold Treasure flower makes a fine accent in your perennial garden. At just 4 to 6 inches tall, these stunning flowers would look lovely in a rock garden as well.
22. Sedum 'Yellow Brick Road' Stonecrop
Quite a bit different from other types of Sedum, the Yellow Brick Road variety is mat-forming and makes a lovely choice for a low-growing golden glow. Choose this yellow perennial as ground cover or to grow along a terrace or hillside.
23. Evening Primrose – Ozark Sundrops-Oenothera macrocarpa
Sunny yellow blossoms create a burst of happiness for your favorite flowerbeds or corners of the yard. These gorgeous perennials attract bees and boast brightly colored blooms the color of a canary. During the summer, enjoy their nighttime blooms.
24. Yellow Asiatic Lilies
Near and dear to my heart, Asiatic lilies are a fantastic choice of yellow perennial for your garden. Different varieties may bloom at slightly different times, yet yellow Asiatic lilies look just as gorgeous in a vase as they do in the flowerbed.
25. Yellow Lilac Primrose
The yellow Primrose Lilac is among the rarer types of lilacs. The intoxicating fragrance of the yellow lilac wafts through the air in springtime, delighting any who come near enough to catch a whiff. Pollinators enjoy this lilac primrose and it's also a great choice for cutting.
26. Yellow Lupine
Brilliant spikes of flowers set lupines apart from other yellow perennials. Sweet scents and showy blooms appear in late spring to early summer. Hummingbirds and butterflies both find yellow lupines to be attractive and worthwhile plants.
27. Ranunculus
Generally, a springtime bloomer, yellow ranunculus captures a rose-like appearance with its own unique style. Miles of delicate petals adorn these gorgeous, romantic tender perennials.
In some places, ranunculus is grown as an annual. However, you may be able to dig up and overwinter your ranunculus corms indoors if desired.
28. Yellow Gladiolus
Stunning stalks of blossoms work well as a background border in flowerbeds. When grown as a backdrop, yellow gladiolus blossoms brighten up the garden with a breathtaking form that stands apart from most other perennials.
Be aware that hardiness zones may only be zones 8-10. Other locations may need to dig up these sometimes-tender perennials. (For example, my mom's gladiolus plants do come back every year. After some research, we believe this is because they are planted very close to the house and insulated a bit that way.)
29. Banana Cream Daisy (Shasta Daisy)
Another gorgeous yellow bloom, the banana cream Shasta daisy boasts huge, lemony flowers. These plants enjoy a nice, long bloom time throughout the summer. Disease resistance is an added perk to this blissful yellow perennial that's hardy in zones 5-9.
30. Canadian Goldenrod (Solidago canadensis)
Clump-forming Canadian Goldenrod does well in the garden with minimal care. This perennial wildflower adds a golden glow to the garden and is even said to hold some health benefits.
31. Yellow Columbine (Yellow Queen – Aquilegia chrysantha)
Meanwhile, the unique columbine flower looks as if it has a star in the background and a five-petaled flower in front. This yellow perennial adds fantastic dimension to your garden and entices hummingbirds to pay you a visit.
32. Yellow Trumpet Vine
While vines can be invasive, you may enjoy a lovely yellow trumpet vine perennial in the right spaces. Fences, arbors, and some tall walls can be good spots to enjoy the beauty of yellow trumpet vine.
33. 'Hello Yellow' Butterfly Weed (Asclepias tuberosa)
Monarch butterflies can use all the help they can get, so be sure to plant some yellow butterfly weed if you're able. These yellow perennials will come back and keep your local butterfly population happy and cared for.
34. Kelvin Floodlight Dahlia (tender perennial)
Gorgeous yellow dahlias brighten your mood and your garden! Of course, as a tender perennial, dahlias are sometimes grown as annuals in colder gardening zones.
Check out these pale yellow Kelvin Floodlight dinnerplate dahlias I grew for the first time this year in 2021!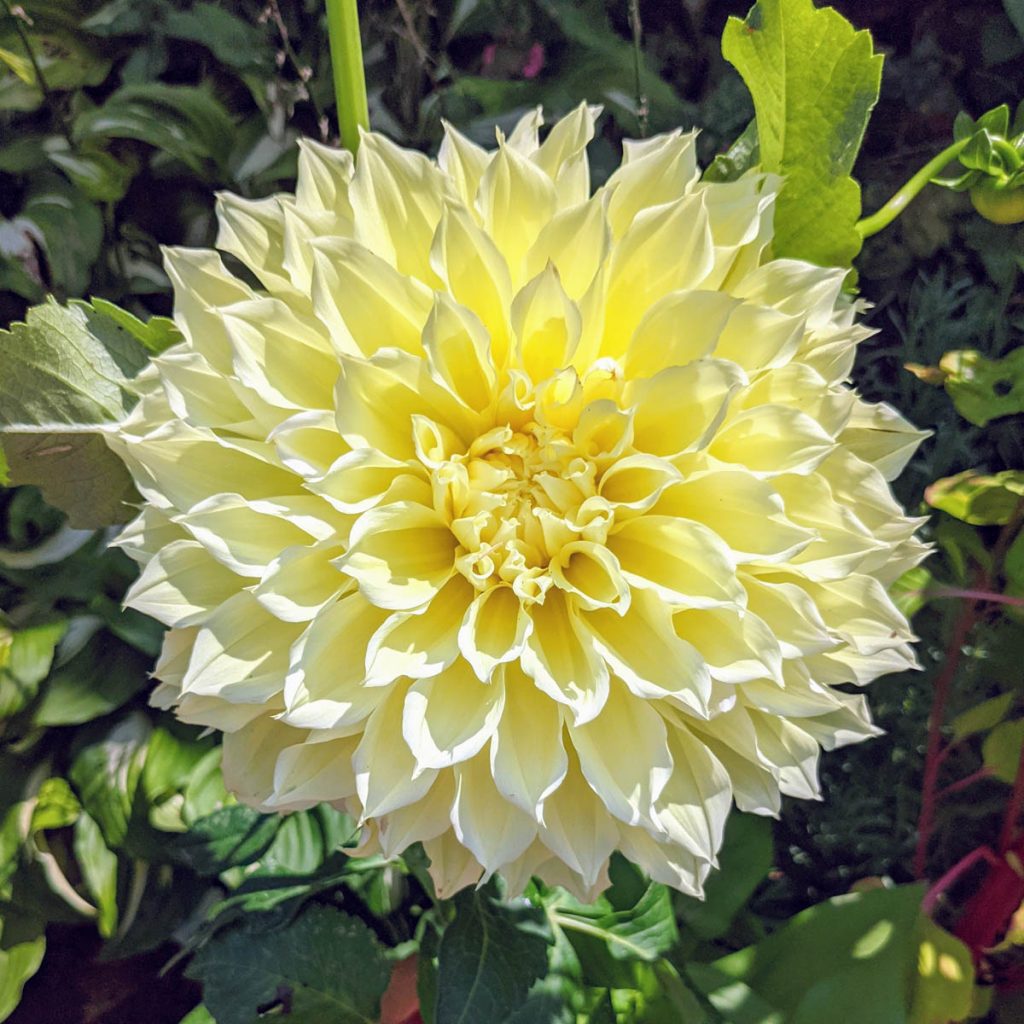 However, that being said, dahlias are some of the most stunning cut flowers I've seen. I highly recommend digging up your dahlia tubers if your zone does not support leaving them outside in the winter.
35. Tigridia (Tiger Flower)
Another tender perennial, Tigridia flowers will need overwintering anywhere colder than zones 8-10. The tiger flower celebrates color and patterns with its unique and exotic looks.
During the late spring, I found Dollar Tree bulbs for Tigridia and grew them for the first time this year. When we planted them in a pot, we finally got to enjoy a lovely yellow blossom!
36. Yellow Rhododendron – Lemon Dream
Flowering perennial shrubs like the yellow rhododendron are a nice, long-term landscape option. When planted around the home, they add a convenient pop of color and structure to the areas surrounding your home. These yellow flowers brighten up your outdoor spaces and add a bit of curb appeal to your home.
37. Yellow Hyacinth
With a fragrance as beautiful as the flower itself, hyacinths always lend grace to the garden come springtime. Individual florets on a main cluster give this flower its characteristic look.
The yellow hyacinth hybrid is a breath of fresh air! It brings a sunny pop of color that's dramatically different from the customary pink, blue/purple, and white hyacinths seen at stores all over come early spring.
Tips on Growing Yellow Perennials
While growing perennials is often relatively low maintenance, it never hurts to consider a few tips and tricks. Try these resources from area cooperative extension services to help guide your gardening journey with perennials.
Choosing Yellow Perennials for Your Garden
When selecting the best yellow perennials to grow, consider a few important factors to help your decision:
Height – Firstly, consider the expected height of your flowers to decide where to plant them for best aesthetic appeal.
Bloom Time – Then, think about the bloom time. Some perennials bloom right at the start of spring. Others bloom in the summer or up to the fall. Before planting, consider the blooming time of your gardens and plant accordingly.
Cold Hardiness – Above all, pay attention to growing zones. Depending on your climate, you may need to dig up some of the yellow perennials. Overwinter them indoors to ensure you can enjoy them again next year.
Spread – Also, keep in mind how wide the plant will get. This can impact how closely you plant anything else nearby.
Self-Propagation – Of course, you can look forward to the future, too! Consider how quickly the yellow perennial plant may multiply over the years. Keep in mind other plants that may be taking up that same space.
Ultimately, if you like yellow flowers, you can create an awesome display of your favorite color in the garden.
Do you have any favorite yellow perennials we missed on this list? Any questions or tips to add?
Above all, definitely share in the comments so we can all have amazing gardens with cheerful yellow blooms!
Happy Gardening!