Hanging Baskets Review: Emerging Green Hanging Planters
Hanging baskets add such a lovely aesthetic and creative approach to gardening. I mean, who doesn't like growing plants in midair?! Ever since I received a set of Emerging Green hanging planters to try out, I've been seeing them everywhere!
Neighbors, friends, and family all seem to enjoy this fun and carefree look. Hanging basket planters on porches, suspended from trees, and blocking birds from entering koi ponds! So many possibilities and wonderful uses for these gorgeous planters!
In full disclosure, I received a lovely set of 3 Emerging Green hanging planters to try out and enjoy in my own gardening adventures. I'm excited to enjoy these beautiful planters for years to come.
While thinking about what to grow in hanging baskets, I started out with flowers like petunias and alyssum. Other annuals like vincas, impatiens, and lantana would also be great choices for these lovely hanging planters.
However, don't stop there. I am totally growing cucamelons in one of my hanging baskets as well!
In case you're in the market for some eco-friendly hanging baskets, I'm glad to share my honest opinion and experience.
What is Emerging Green?
Emerging Green is a small family-owned business focused on providing quality home and gardening products designed with sustainable and eco-friendly materials. Some products in the collection include wooden birdhouses, earth-conscious notebook, and planters, among others.
You can learn more about Emerging Green online at https://www.emerging-green.biz/.
What are the benefits of hanging baskets for planting?
Growing plants in hanging baskets gives you lots of versatility. You can choose sun-loving plants or shade-loving plants, depending on where you hang the basket planters. Hanging baskets lend a lovely aesthetic and they can also be easier to reach than some of the lower-growing garden areas, depending on your comfort and mobility.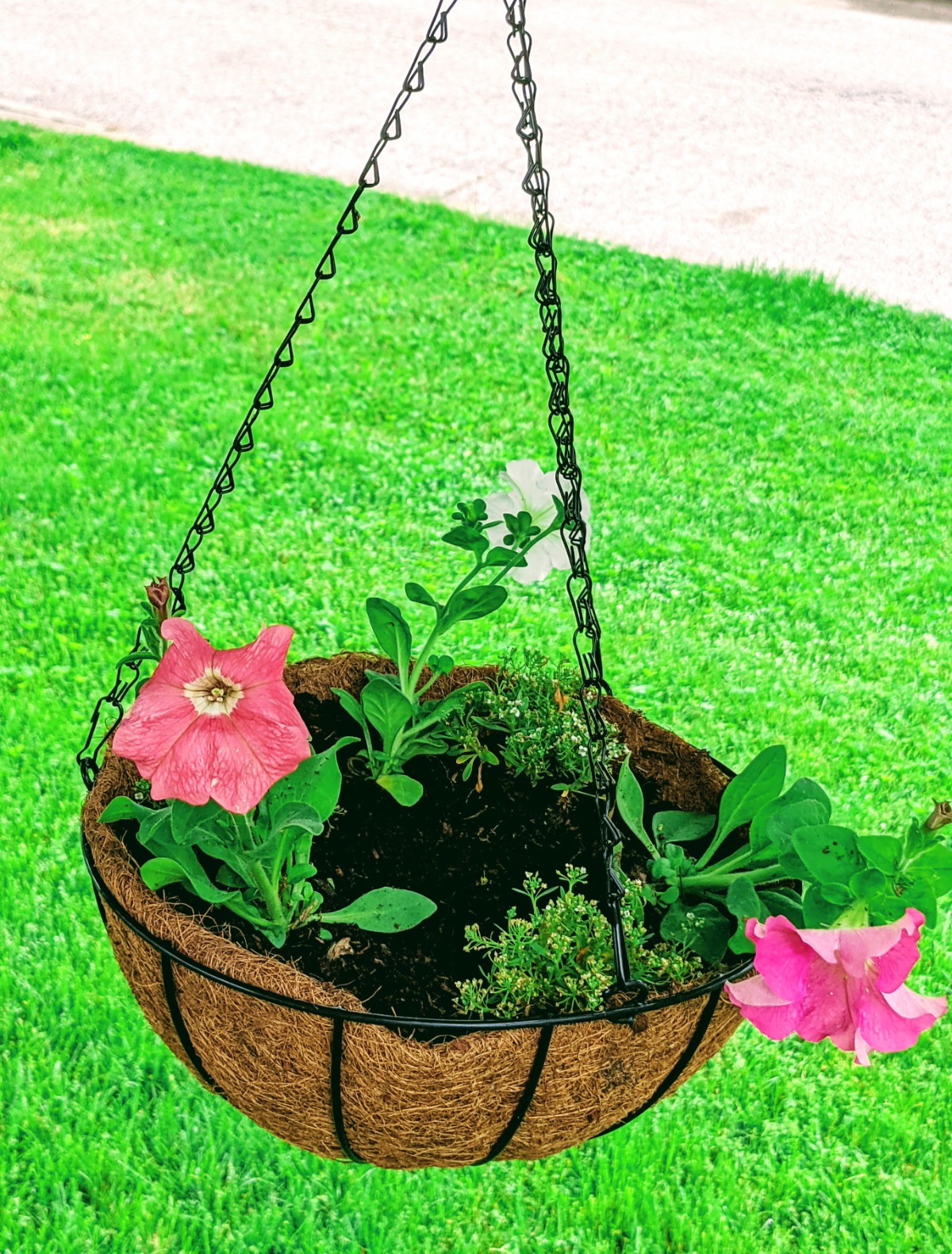 Emerging Green Hanging Planters Review
The hanging basket planters by Emerging Green look so natural and attractive for any environment. They offer a versatile approach to gardening indoors or outside.
Hanging Basket Aesthetic
When they arrived, I loved the planters' rustic look with the brown coco fiber basket, which provides natural drainage.
The nonwoven coconut coir basket allows drainage yet slows water leakage, provided you are watering the plants appropriately.
This sweet design reminds me of a bird's nest, and I've even seen birds hopping around my baskets the week after I first planted them!
The black chains and hook offer a neutral yet classy look that blends or pops well with your existing décor.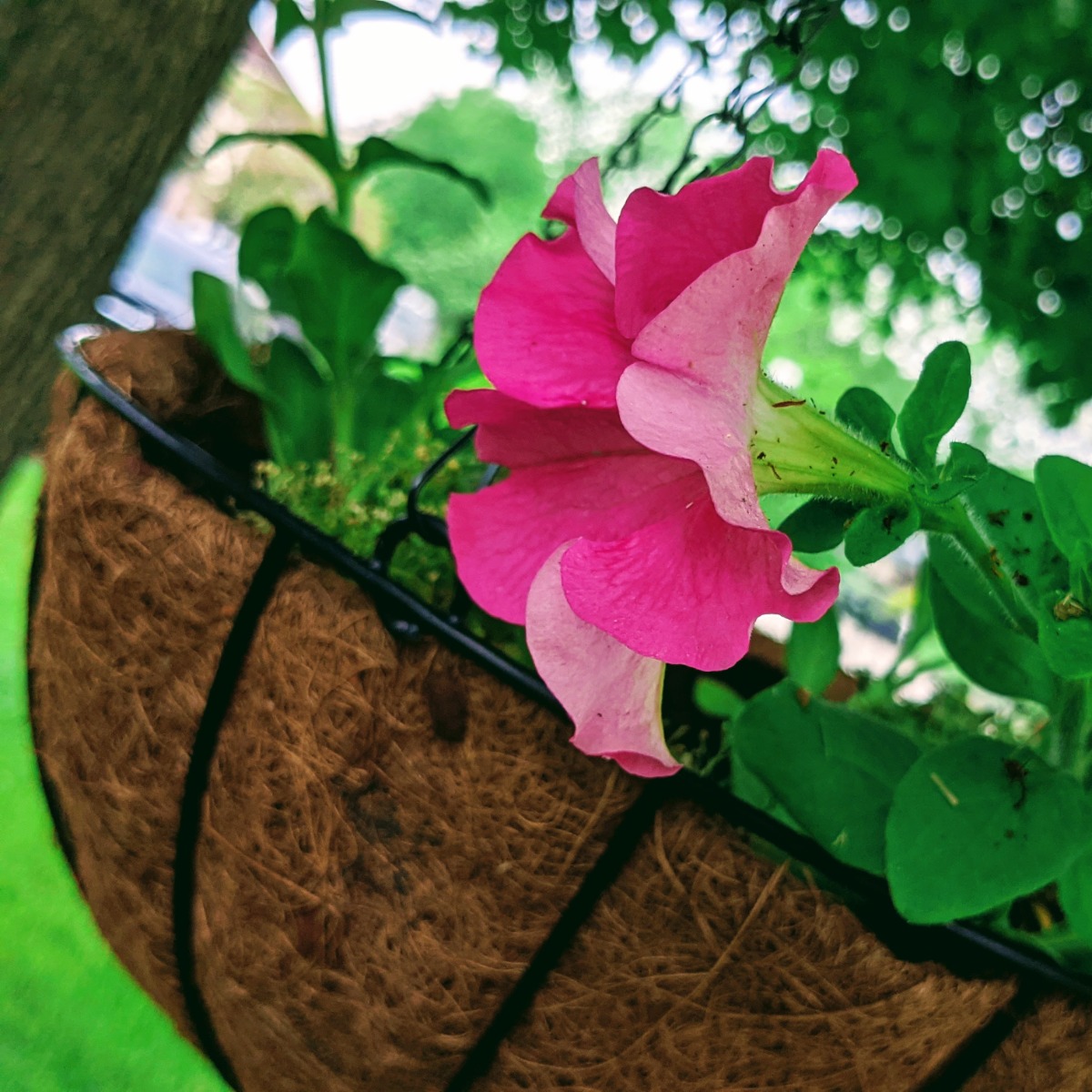 Eco-Friendly Hanging Planters
Emerging Green's hanging baskets feature natural coconut coir liners. The coconut fiber is sustainable and weather resistant for all conditions.
Suitable for Indoor / Outdoor Use
Emerging Green hanging baskets look just as beautiful indoors as outdoors. In fact, I might pot up one of my pothos cuttings for one of my hanging planters!
These basket planters would look great in a sunroom or hanging from the porch. You can hang them from a tree limb as I have, or even off your kids' swing set if they let you.
Plus, shepherd hooks for planter baskets give you the freedom to place hanging basket planters anywhere you like!
Our website features affiliate links to products that we personally believe in. If you make a purchase from a link on our site, we may earn a small commission at no cost to you. Thank you! This helps our girls chase their garden dreams! Thanks for your support. (View full affiliate disclaimer at the end of the page.)
Spacious and Good Size Hanging Planters
The Emerging Green planters feature a 16.5-inch chain and hook combo, giving plenty of clearance for different size plants.
The spacious basket is a full 6 inches deep, allowing for roots to grow nicely inside.
The 12-inch diameter even allows you to grow creative combinations of plants together in the same basket!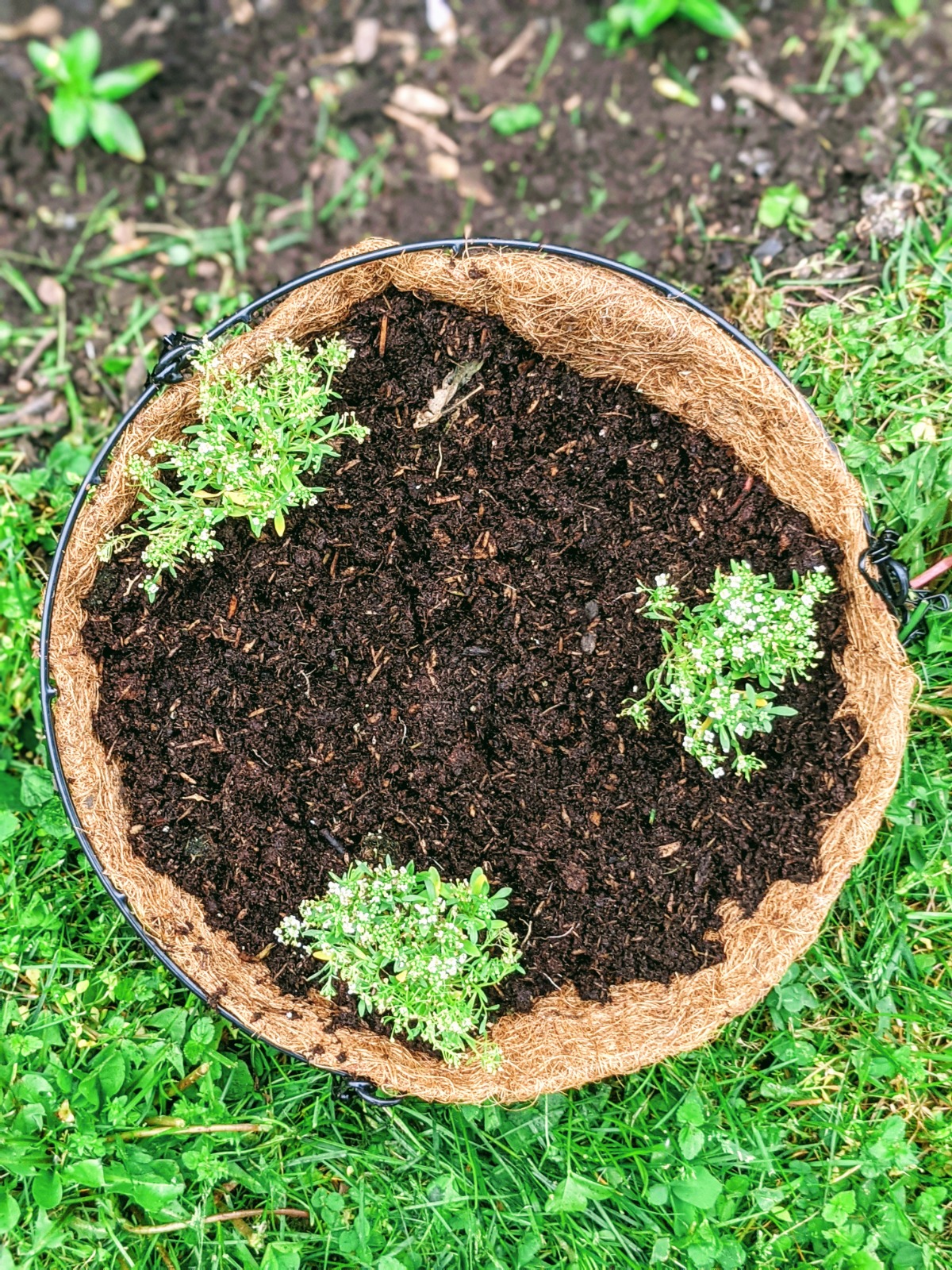 Durability and Ease of Hanging
Rust-resistant chains and hooks on the planters make hanging the baskets a snap. These chains and hooks feature sturdy cast iron topped with an anti-rust coating.
Even if you don't have an existing hook or bar to hang the basket, it's easy to improvise. I use a black S-hook I found at Dollar Tree to hang my basket right on a tree branch in my front yard!
Sidenote: You can even detach the chains with a handy clip if you wish to set the baskets down on a surface as bowl planters instead!
These baskets look awesome and elevate the curb appeal of my home, showing that extra level of care I put into my gardening vibe!
Also, the durable design and quality craftsmanship promise years of use and support for heavy soil and plants. These are a way better deal than the fully-plastic hanging basket planters that come standard with plant purchases at garden centers.
I'm only in my first season of using these hanging planters, but I can already tell the quality is better than those I've found at some local stores. I fully expect them to last for a number of years!
(And, as a bonus, Emerging Green stands behind products with a 12-month warranty!)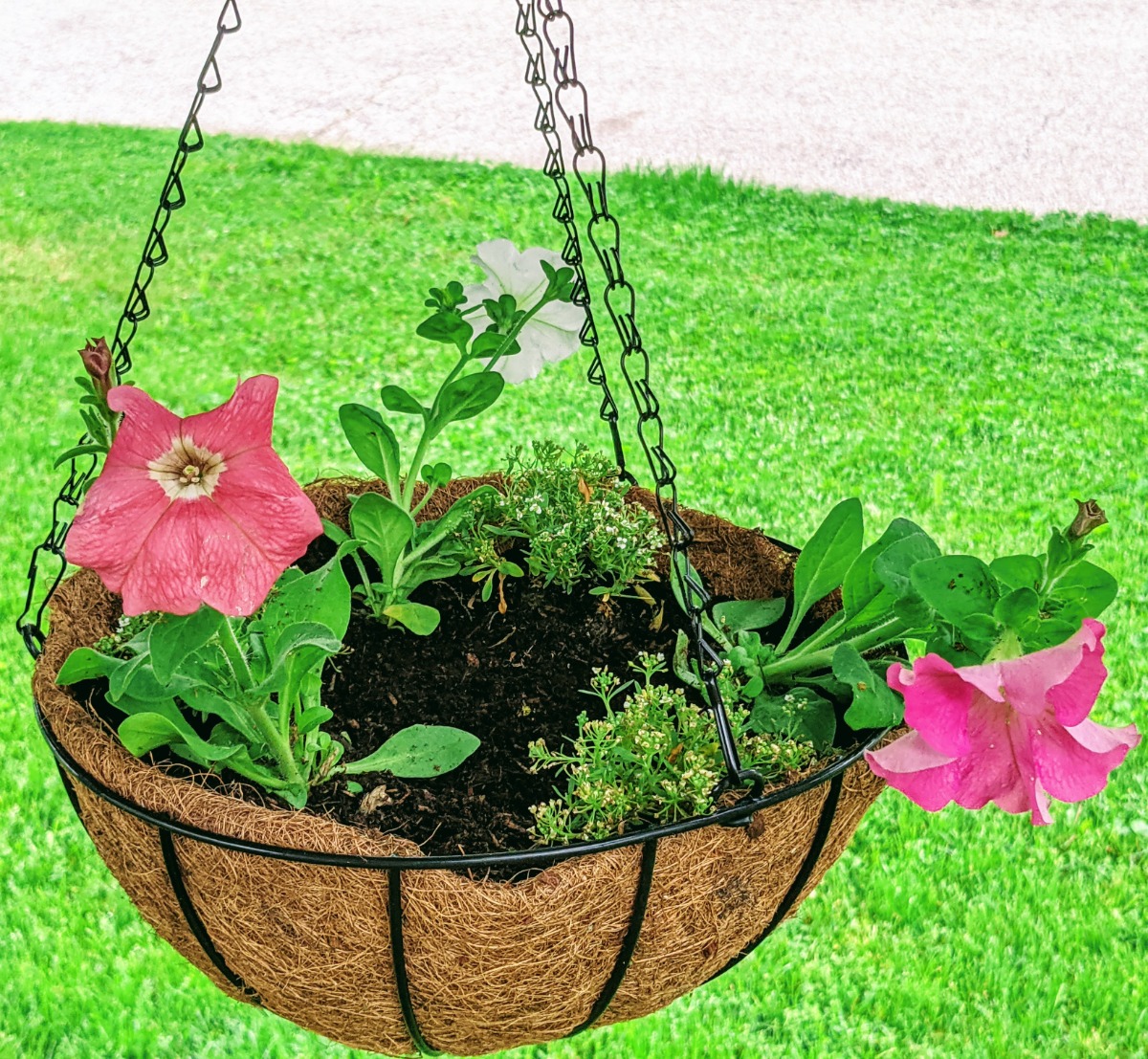 Points to Consider When Choosing a Hanging Basket
Keep these points in mind when looking for the best hanging basket planter:
Quality of Materials
Color of Planter
Desired Location to Hang it
Spaciousness
Hook and Chain Style
Drainage
Final Thoughts: Emerging Green Decorative Hanging Baskets
The boho vibe of these Emerging Green hanging planters has got me in the heartstrings. I am a beach girl at heart and the carefree, blissful vibe helps me create my happy place at home.
I am so happy to enjoy these planters and love them so much more than the plastic hanging baskets I purchased at Ollies last year.
For perspective, those plain plastic hanging planters were about $5.99. You can get these fine hanging baskets with an even more attractive design in a three-pack for only a few dollars more per planter.
The classy look and feel of these hanging baskets empowers me to bring even more beauty to my home and yard.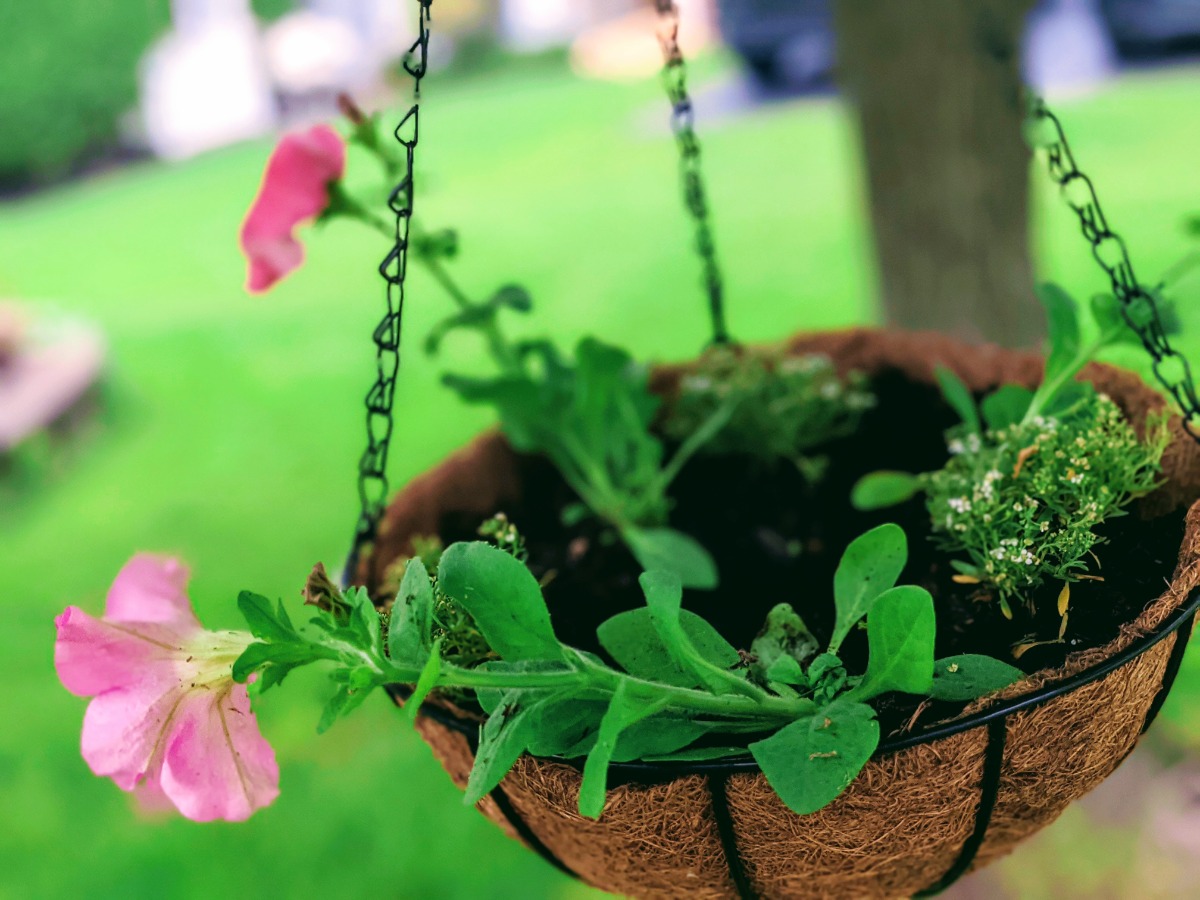 If you love these eco-friendly hanging planters as much as I do, you can score your own at Amazon!
Gardening is such a creative and empowering hobby. You can create stunning combinations and different aesthetics such as flower shape, type, and color with planter styles. Planters like these made with care can truly create a memorable atmosphere.
Happy Gardening!