Growing Asparagus from Seed – Indoor & Outdoor Steps & Tips
Before 2020, I never thought much about growing asparagus from seed. I pictured farmers with many acres growing crowns upon crowns of it. Then, with the pandemic and quarantine, I dove head first into planting any seeds I could get my hands on!
That year, I bought tons of seeds, including Mary Washington asparagus, which I picked out on a whim. Growing asparagus seemed exciting and fun!
Starting asparagus from seed was just as easy as starting any other seeds. Of course, I knew it would be a few years before we could harvest any.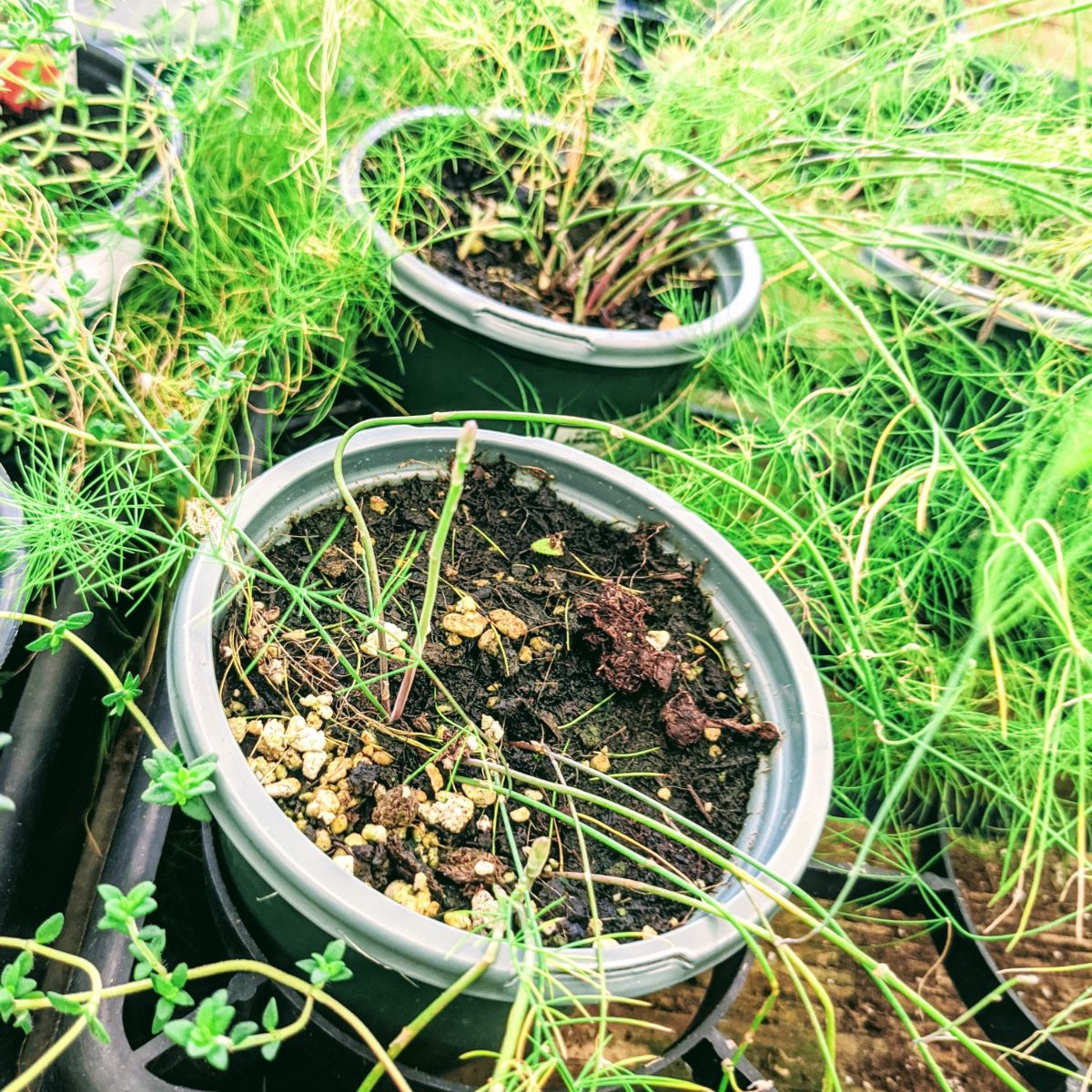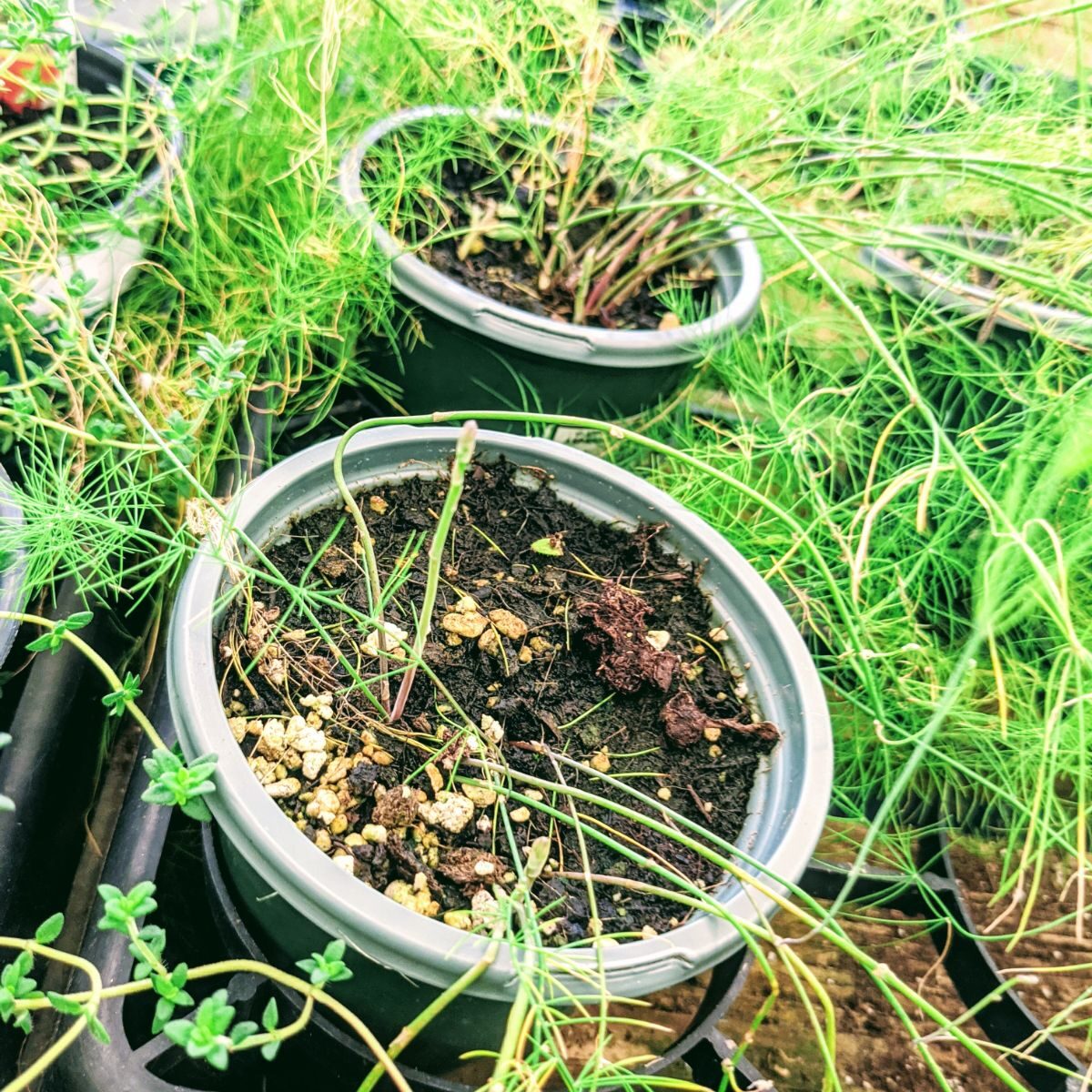 If you haven't tried it yet, you might as well throw some seeds in the ground and see what happens! (The asparagus life cycle is fascinating to me with the ferns before the spears.)
Can you start asparagus from seed?
Yes, you can try starting asparagus from seed indoors several weeks before the last frost in your area! You can also direct sow asparagus seeds outside. Raising asparagus from seed takes a number of years until the spears become large enough to eat.
If you would like to speed up your harvest, try growing asparagus from crowns, instead.
Asparagus grown from seed will begin as ferns until the plants mature. It usually takes about three years from seed to get big enough asparagus spears.
What is the best asparagus seed planting depth?
First-Year Asparagus from Seed
The first year when we tried starting asparagus seeds indoors, the germination rate was fantastic! Many little baby asparagus plants grew from those seeds.
Our asparagus seedlings grew beautifully as teeny-tiny spears that soon turned into asparagus ferns.
When the weather was warm enough, we hardened them off and set about transplanting asparagus seedlings outside.
Knowing how long perennial asparagus lives, I chose a fabric grow bag for its home.
That first year, we grew a Roma tomato plant and some basil in the same container with the asparagus.
Second-Year Asparagus from Seed
In our 2021 garden, we loved seeing slightly bigger asparagus spears and ferns growing.
The spears were so tiny, like a thin crochet hook. But upon looking, you could tell they looked like micro asparagus spears!
This time, we grew Roma tomatoes and zinnias with the asparagus in the same grow bag container.
The asparagus still remained much too small to eat!
Still, the plants worked hard. The asparagus ferns grew out and collected some energy to help feed the crowns beneath the soil.
Third-Year Asparagus from Seed
Finally, in our 2022 garden, many of the asparagus spears are about the thickness of a pencil!
If only the asparagus in the ground would come out!
This year, the Mary Washington spears started out strong, poking their heads through the soil in early April.
My youngest daughter and I counted 7 or 8!
Later in April, some of them appeared to by dying back without ever actually popping all the way out of the ground. (Hoping they are getting enough water!)
I've heard it can be tricky timing your asparagus in the ground popping out.
My plan is to keep checking every other day or so. Hopefully we'll catch it so we can actually enjoy a taste test this year!
Update: 7/15/22 – As it turns out, most of the spears ended up thinner than a pencil after all. We decided to give them one more year before harvesting!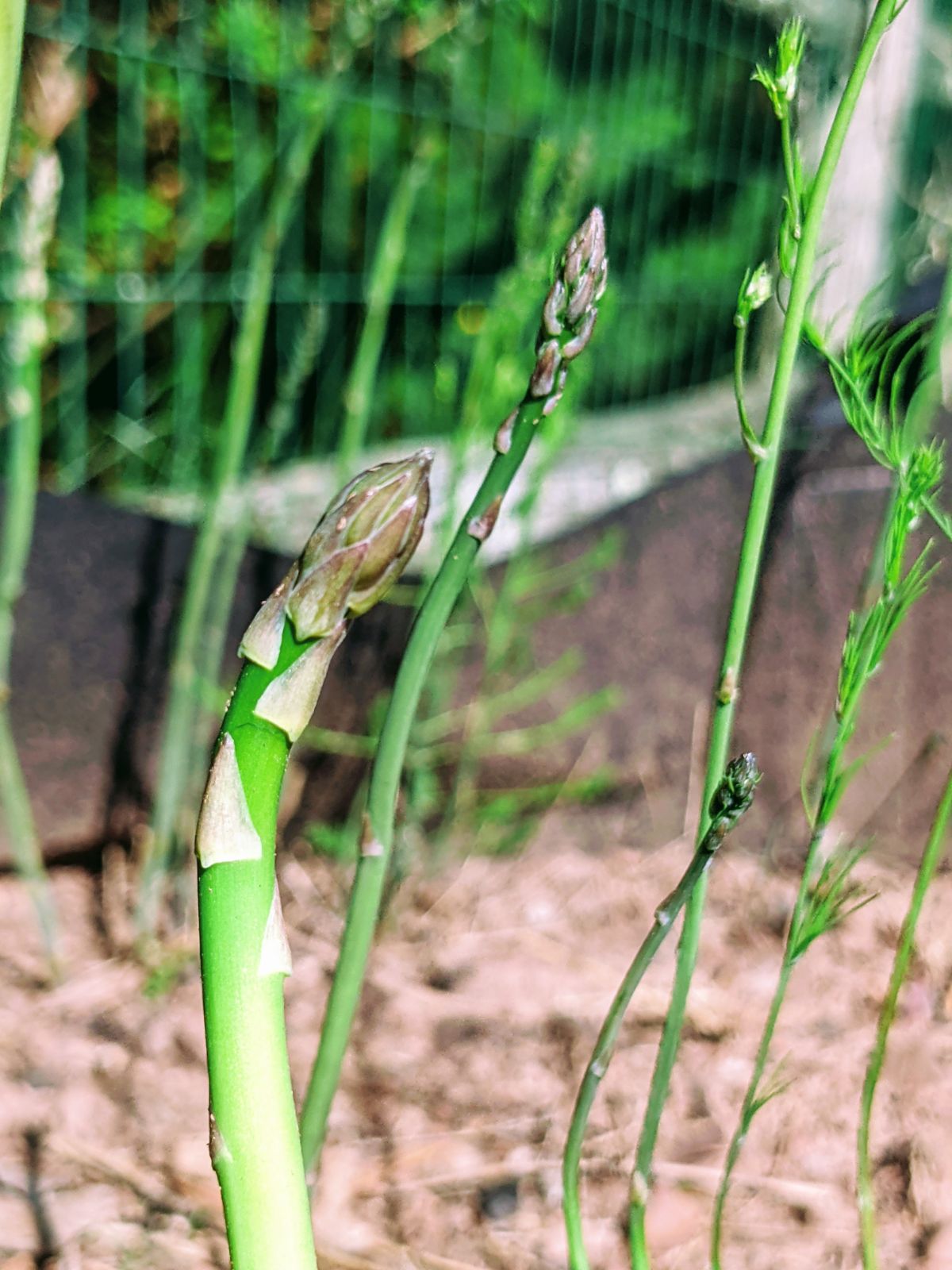 Growing Asparagus Inspiration
The first time I learned much about growing asparagus, it was through a restaurant client of mine. (I did marketing for many years before blogging fulltime.)
The chef felt very passionately about having a garden-to-table style menu. The raised garden beds looked stunning alongside the sprawling Delaware River.
The chef told me asparagus could grow healthy and strong, producing spears for 30 years or more!
The restaurant chose to buy and plant asparagus crowns. That gave them a jump start on the harvesting season.
Personally, I love the journey, so I didn't mind starting asparagus from seed indoors back in 2020.
Now I'm excited to see our own asparagus plants mature!
Tips on Growing Asparagus
Knowing the growing requirements for asparagus can help to ensure healthy and productive plants.
Keep these growing tips in mind when raising asparagus from seed:
Asparagus Water Needs
Your asparagus plants need a good amount of water. Plan to give them 1-2 inches of water during the first few growing seasons. (Watch the weather and account for the rain as well.)
When it's more mature, your asparagus will still need about an inch of water per week.
Asparagus Soil Requirements
Asparagus grows best in a well-draining soil that is neutral to slightly acidic. Sandy or loamy soil works well, but asparagus can also grow in heavy or medium soil as long as it drains well.
The biggest consideration is to avoid standing water, as this can rot the asparagus crowns and roots.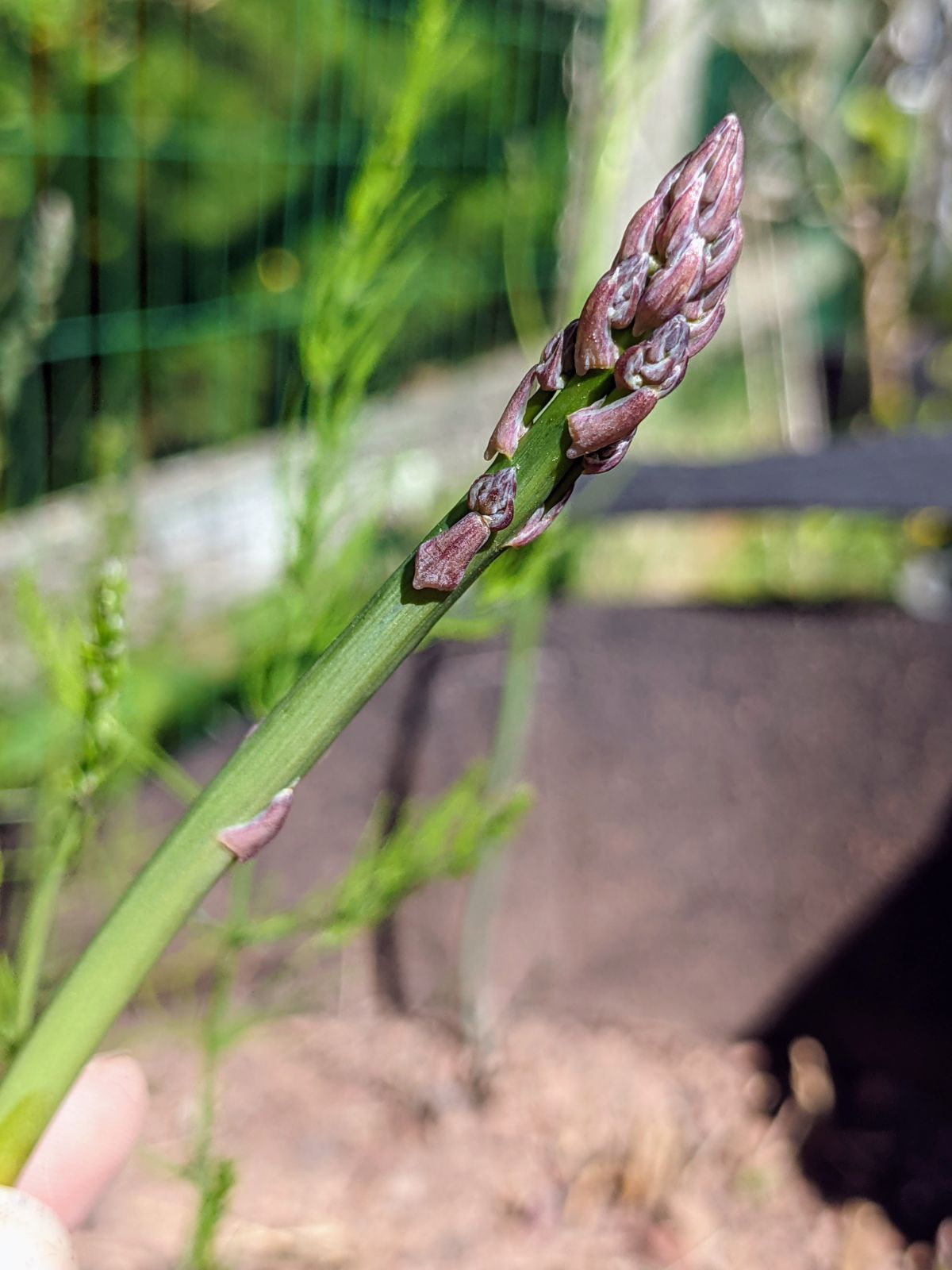 How to Grow Asparagus from Seed Indoors
When growing asparagus from seed, it's important to plan ahead and know where your asparagus will live. As a perennial, asparagus can live and produce for several decades!
Germinating asparagus seeds is just as easy as so many other kinds of seeds. You can simply plant them in soil like anything else.
Follow these steps when planting asparagus seeds indoors:
Prepare an egg carton or other seed starting tray with moist potting mix.

Plant asparagus seeds in each seed cell until you have enough.

Cover each seed with about ¼ to ¾ inch of soil.

Water lightly with a spray bottle on mist setting.

Label the cells with asparagus seeds. Add the date or number of seeds if you wish to track germination time and rate.

Move the seed tray to a sunny location, or ideally, under some grow lights.

Check daily to water again if needed and to watch for signs of growth.
After asparagus seeds germinate and seedlings emerge, you can soon move the plants outdoors to a more permanent location.
First you will need to harden off the seedlings for a successful transplant. Check our sidebar for tips on how to do this.
Sowing Asparagus Seeds Outside
While starting asparagus from seed indoors gets you started early, you can also sow asparagus seeds directly outdoors.
Asparagus seeds prefer warmer soils, so wait until the threat of frost is long gone. In fact, summer temperatures may be most agreeable for germinating asparagus seeds outside.
Plant asparagus seeds about ½ inch deep outside.

Water thoroughly but do not allow water to pool.

Check daily to water again as needed.

Watch for signs of growth!
Growing Asparagus from Seed in Pots
Even if you don't have a huge backyard garden, growing asparagus in containers can be a great plan.
Choose a pot, container, or fabric grow bag that is large enough to accommodate multiple plants.
We grow asparagus in a 20-gallon grow bag in our backyard. When the crowns grow and multiply enough, we will likely divide and expand our crops.
Growing asparagus in raised beds would also give your plants nice longevity. If you have the space and love asparagus, consider dedicating a nice bed for it.
After all, this perennial vegetable can continue to live and produce for 30 years or more if properly maintained. Give it some room to grow!
Container Considerations:
When growing asparagus in pots or containers, be extra vigilant about its moisture requirements.
Check regularly to make sure asparagus gets enough water. Water when the top of the soil dries out.


Ensure your asparagus container has drain holes and that it drains freely. Pooling water can mean the death of your crop.


Plan to expand. Growing asparagus in containers gets your foot in the door of having an asparagus crop. However, your plants will live longer and healthier lives in a raised bed or directly in the ground. Plan to pot up, divide and transplant, or create a dedicated bed in the near future.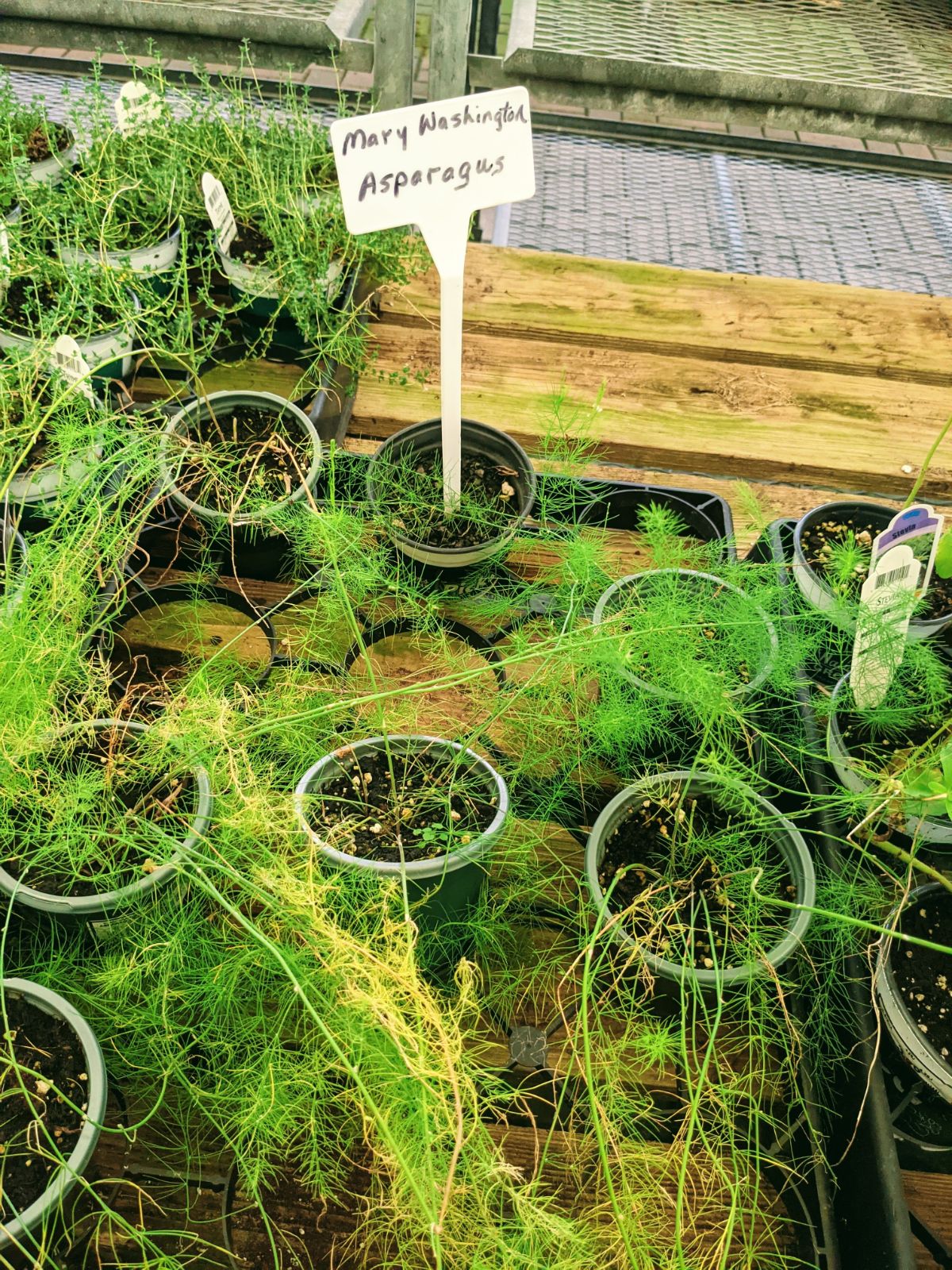 Growing Mary Washington Asparagus from Seed
I've definitely enjoyed my experience growing Mary Washington asparagus from seed so far!
I first planted asparagus seeds indoors back in 2020. This year, 2022, the new growth finally looks like real, actual asparagus spears!
We might even get to try a few!
Will you try planting asparagus from seed? (Or growing from crowns, even?) If you have any questions, tips, or fun asparagus stories, please share them in our comments!
Happy Gardening!