Pictures of Zinnias – My Garden's Best Zinnia Blooms
Zinnias are one of our very favorite flowers to grow! I also enjoy taking pictures of zinnias to keep track of all the gorgeous flowers we've grown. Flower photography is a delightful hobby to enjoy alongside gardening, so I'm doubly happy when I get to dabble in both!
Some zinnia flowers grew completely by surprise as a beautiful act of nature. Others are specially cultivated to yield desirable features, such as ombre colors that blend into each other, humongous blossoms, or a curlier petal shape as with cactus zinnias.
It's almost impossible to choose which zinnias to grow, because so many stunning varieties exist! I hope this post helps you narrow them down.
(I'd love to know what your favorite zinnias are, too!)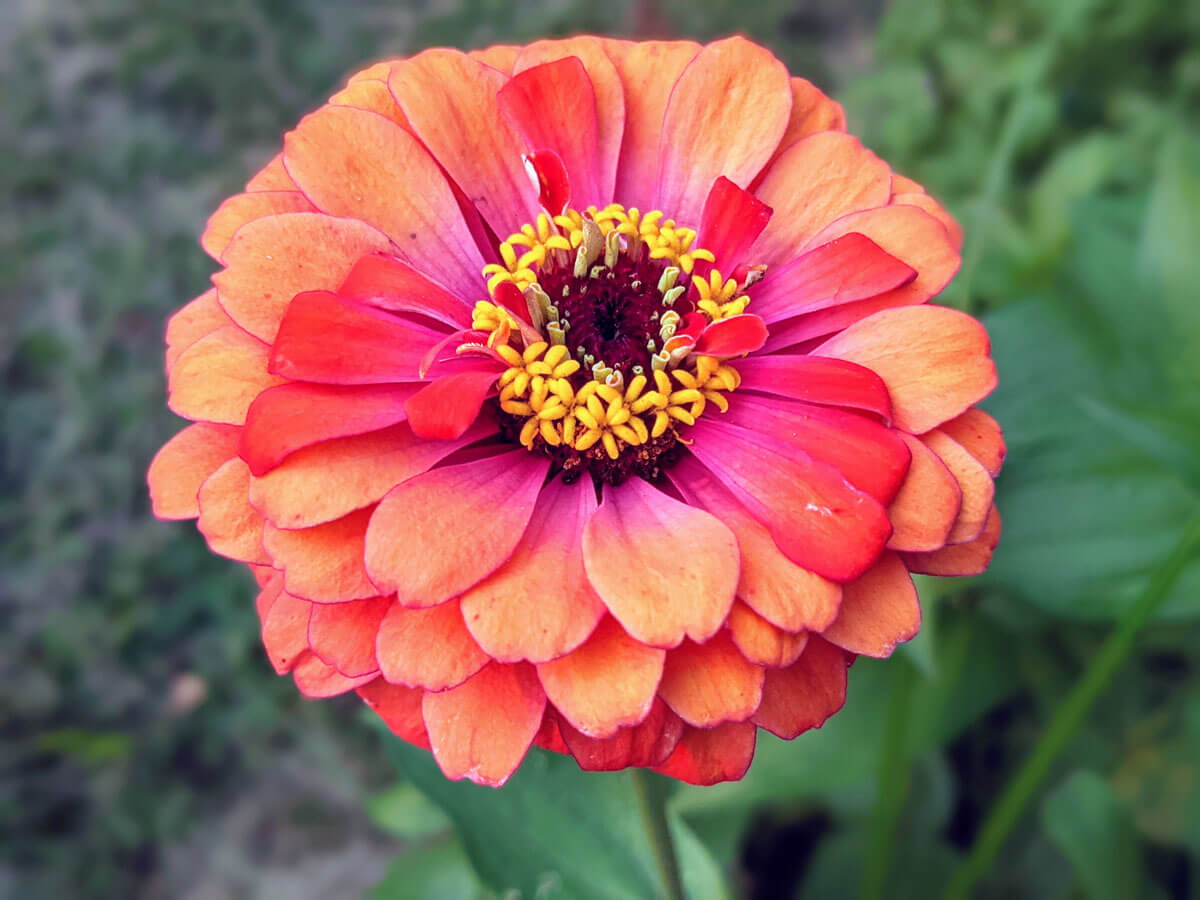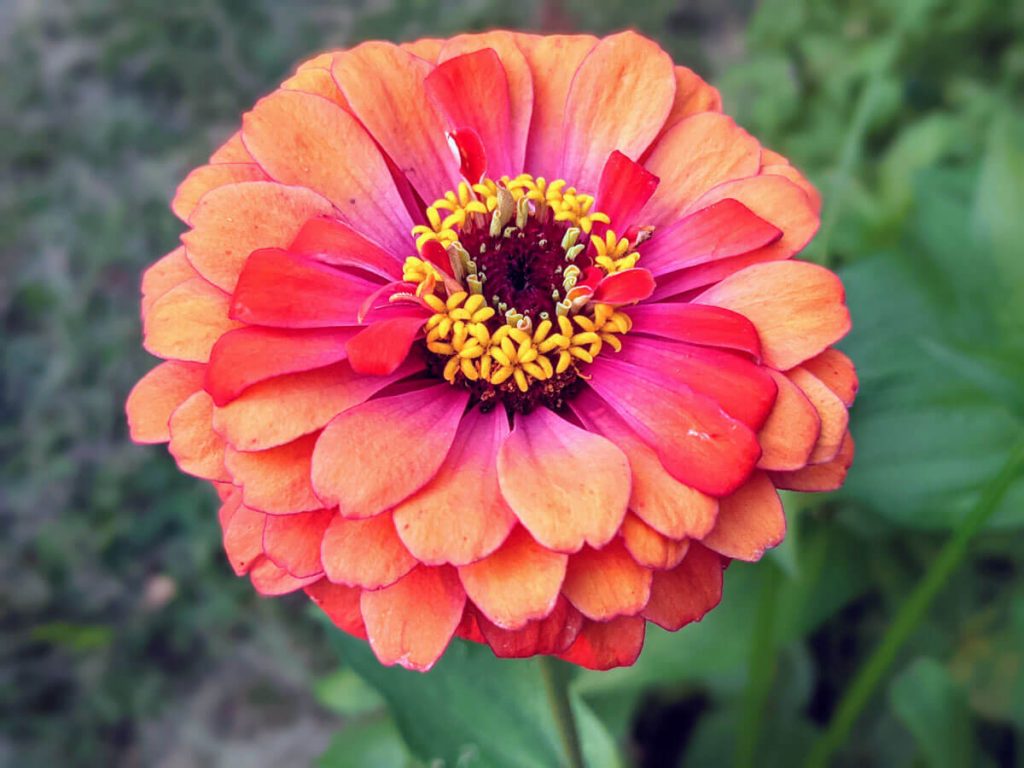 Taking Pictures of Zinnias – a Stress-Free Hobby!
Taking pictures of zinnias allows me to pay attention to what we've grown and plan for what types of zinnias we'll try to grow in the future. But for us, a lot of the beauty is also in the NOT knowing. We love Mother Nature's surprises in the garden!
I'm hoping to begin breeding zinnias next year as an extended hobby. I bought a special storage case so I could take pictures of zinnias, glue or tape them onto the individual containers, and save seeds for specific parent flowers in a clear and organized fashion.
Without further ado, here are some of my all-time favorite pictures of zinnias that we have personally grown in our own garden!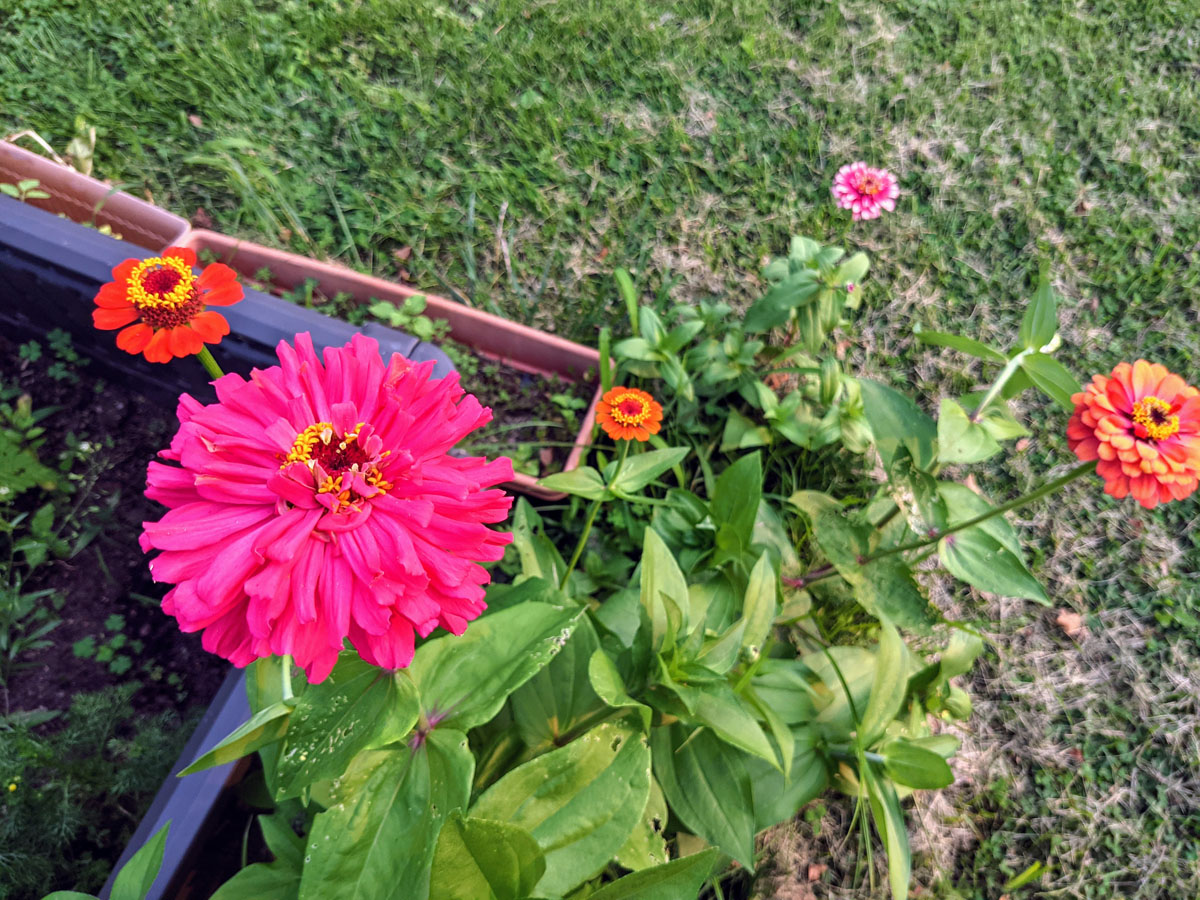 By the way, if you like zinnias, you might also enjoy our post on growing zinnias in the vegetable garden!
Queen Lime Series Zinnias
The queen lime orange, queen red lime zinnias, and queen lime blush are some of my true favorites this growing season. I'd coveted the seeds and wished for them on every seed wish day that came up until I received some in the mail.
Lucky for me, one of my best seed swap friends came through for me. She found the seeds for Queen Lime Orange Zinnias at a market and picked up a packet to share.
Then, my luck continued and I received a small packet of Queen Red Lime Zinnia Seeds in the first big seed swap I joined on Instagram.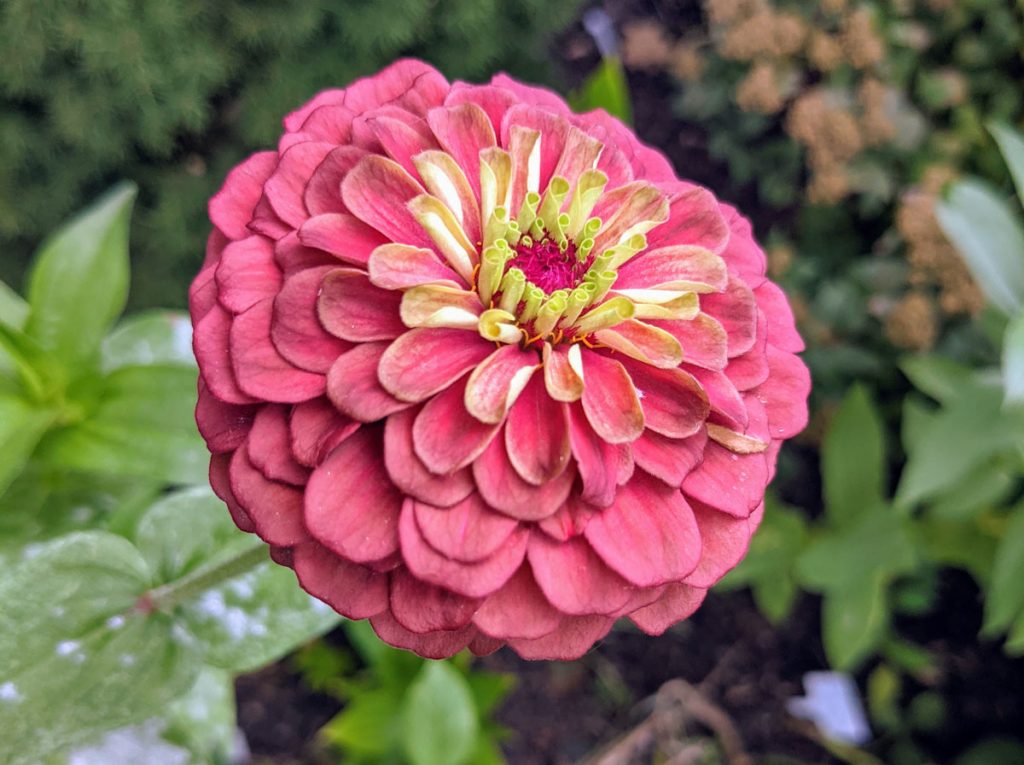 I can't recall where I got the Queen Lime Blush Zinnias, but those are absolutely bursting with plush petals and one of my true favorites, as well.
Zinnia Unicorn Mix
In a stroke of pure luck, I received a small pinch of Zinnia Unicorn Mix seeds, which I believe originated at Floret Flowers. I wasn't sure if any of them grew, at first, but finally, one of the last blossoms to open yielded magical results.
The unicorn mix zinnias began as a blend of pink and orange – my two ultimate favorite colors together. This color combination makes me so happy, especially in a zinnia flower!
Some pink speckles showed on the peachy orange petals – I just love these and hope I am able to grow even more next year. I did make sure to get lots of zinnia photos of this particular bloom in case it was a one-time wonder in my garden.
On Floret's page, the description calls unicorn zinnias a work in progress. However, any gardener would likely love to grow these beauties even if they are still being developed! Humongous bouquet boasts blooms in shades of "raspberry, tangerine, magenta, lemon, apricot, dusty lilac and blush with striking lavender centers," and every combination in between.
Be sure to check out Floret Flowers for the Unicorn Mix Zinnias. They're sold out at the time of this writing, but I am sure going to be watching this page for a restock!
Benary's Giant Zinnias
I cannot resist buying zinnia seeds and did purchase quite a few different varieties this season. Benary's Giant Wine Zinnias are one of my favorites in the really large blossom category.
They seemed to take a little longer to bloom, but I don't know exactly when I planted them compared to the other zinnias.
Peppermint Stick Zinnias (Candy Cane Zinnias)
For Christmas, my mom gave me a huge pack of California Giant zinnias and a regular pack of Candy Cane Zinnias. (I think they are also called peppermint stick zinnias.)
The ones that opened first were truly red and white striped, reminiscent of their namesake for sure!
Then, we had a bunch of yellow and red striped ones open up.
Finally, my daughter's favorite flower opened – a pink and red striped peppermint stick zinnia. I also loved this one so much and hope it gives us some seeds for next year.
Carousel Mix Zinnias
The unexpected beauty of the carousel mix zinnias caught me by surprise. I'd planted a few of these and forgotten all about them until one day I found a bright yellow and pink zinnia in the garden behind my garage.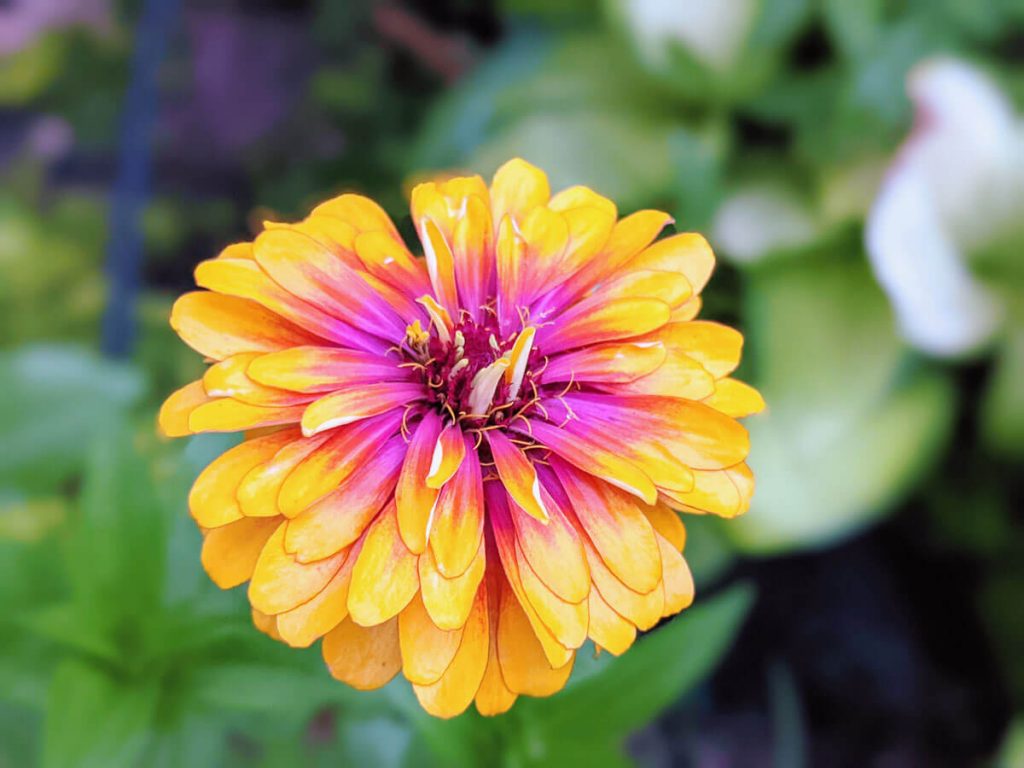 All the carousel mix flowers with blended hues seemed special, so I made sure to take pictures of zinnias from this packet. This yellow and pink flower was one of my favorites, along with an orange flower with pinkish-purple centers.
Mazurkia Zinnias
The Mazurkia zinnias offered a lovely burst of pink and white in the garden. Some blossoms had pinker petals while others had whiter ones. They almost looked like they were dip-dyed!
These were one of my youngest daughter's favorite zinnias.
Envy Green Zinnias
I unfortunately didn't give these green zinnias the spotlight they deserved. So fitting for their name! I planted them late and on the side of the house where they don't get as much attention.
However, they are truly stunning and will be more of a focal point for my zinnia garden next year!
Hot Pink Cactus Zinnia
I had no idea I'd fall so in love with cactus zinnias! In fact, I only planted one cactus zinnia plant this season and it turned out to be one of my very favorite flowers. The hot pink cactus zinnia livens up any bouquet and I can't wait to try growing it again next season.
Goals for Future Pictures of Zinnias
I truly enjoyed photographing zinnias in my garden all summer long. Right now, I am sad to report we've got so much powdery mildew on them, that it's definitely detracted from their beauty a bit.
I'll be researching that for future years to help prolong the beauty.
Here are some of my best tips for taking pictures of zinnias in your garden:
Choose good lighting. Certain daylight hours bring harsh sun while others bring softer illumination. Try to enjoy natural lighting when it is soft rather than harsh.
Try different angles. Take some zinnia pictures from overhead and other shots from out in front. Shoot from different angles to find the true personality of the flowers.
Change perspective as needed. Create illusions with scale and depth as you form zinnia photo opps in your garden.
Stage photos with props. Sometimes a vase, basket, or person can add so much to the photos of zinnias as you're taking them.
Use the zinnia photos you take! Consider attaching miniature photos of zinnias to the seed saving envelope or individual seed containers. Use these photos to help identify the seeds parents.
I could take pictures of zinnias all day! The beauty is amazing and you just never know what you're going to get.
Are you also a diehard zinnia grower in the home garden? Feel free to recommend specific varieties you love in the comments below!
If you are new to growing zinnia flowers, as always, we're also standing by for your questions! We love hearing from you!
Happy Gardening!