7 Strawberry Planter Ideas | Fresh Berries All Season
Finding a strawberry planter that allows ample spacing and airflow can truly improve your berry harvest. Consider these ideas for a bountiful batch of berries!
Sure, you can simply plant strawberry plants directly in the ground, but sometimes they have a mind of their own. They may start taking over!
Providing a strawberry planter for your plants helps to keep them confined to the spaces where you want them to grow.
When choosing a strawberry planter, start with making sure it accommodates all your strawberry plants.
Keep reading for more tips on choosing the best strawberry planter for your backyard pick-your-own garden.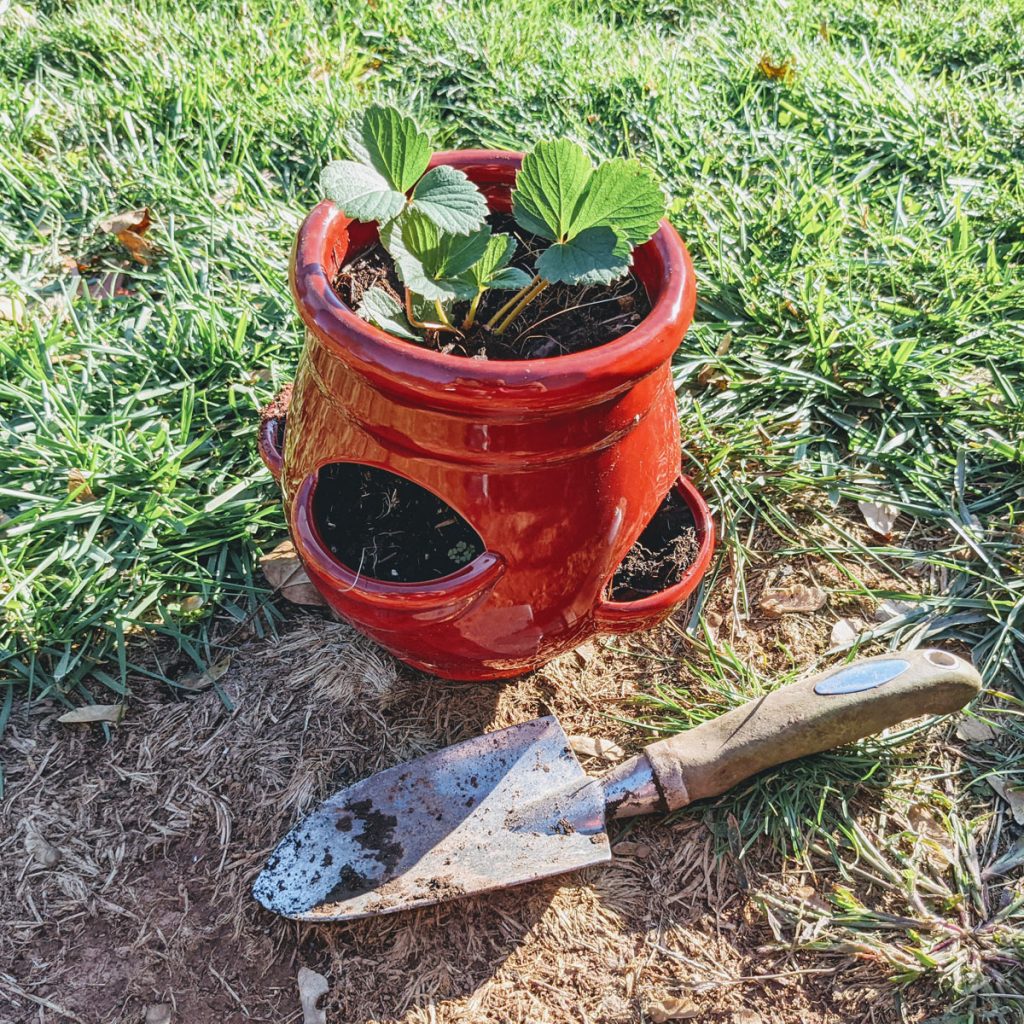 What is a strawberry planter?
A strawberry planter is a flower pot or growing container that usually has multiple openings. Strawberry planters may be made of ceramic, terra cotta, clay, plastic, resin, or other materials. The general idea is that they offer numerous holes to plant the individual strawberry plants.
Why plant in a strawberry planter?
The strawberry planter's openings work well in separating the strawberry plants so they each have their own growing space. These pots make it less likely for weeds to overtake the strawberries, and it also keeps them separate from getting their roots entangled. You'll find some other benefits, as well, which I've outlined below.
Benefits of Strawberry Jars and Containers
A proper strawberry planter offers quite a few benefits when you think about it!
Spacing: Setting up specific spaces for each strawberry plant encourages better root growth and increased fruit production.
Easy Watering: Individual planting holes allows ample opportunities for watering each plant effectively.
Dedicated Location: Having a specific location set aside for your strawberry plants gives them their own space. They'll be less likely to take over your yard, flowerbed, or other veggie and herb patches.
Kid-Friendly Fun: A strawberry planter becomes a favorite garden spot for even the youngest little loves who like helping mom or dad in the garden.
Weed-Deterrent: The smaller holes for strawberry plants provide less surface area for weeds to grow.
You may also wish to grow different varieties of strawberry plants in the same planter. This allows each to have its own space, while it likely produces fruit on different intervals.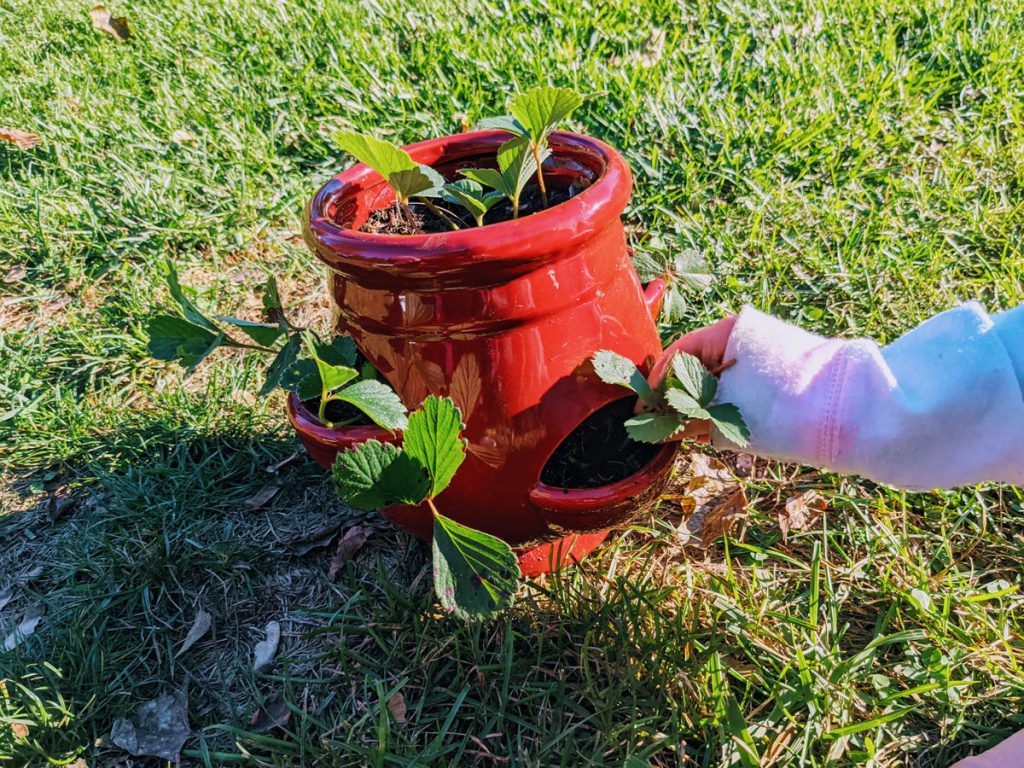 You can find many diverse strawberry planter options available at a wide price range to suit your budget and your needs.
Let's look at a few useful and fun planter styles!
Different Strawberry Planter Ideas
Give your berries the best opportunity to grow to their full potential! Consider these creative strawberry planter ideas for your deck, patio, or container garden.
Urn Style Strawberry Planter with Numerous Openings – One popular strawberry planter style is the urn type. This strawberry jar features multiple openings staggered throughout the container, leaving holes for individual strawberry plants here and there.
Garden Grow Bag – Gaining in popularity, gardening grow bags are useful for many different types of plants. You will even find garden grow bags with numerous openings so you can plant a variety of flowers, herbs, or other small plants.
Large Flower Pot – A large, decorative flower pot would also work nicely as a strawberry planter. A bowl style pot with handles and a drainage hole looks classy with timeless appeal. You may also find modern planters that accommodate strawberries very well.
Raised Bed for Strawberries – Look to a raised garden bed instead of a strawberry planter if you want a large crop! If your kids enjoy strawberries or if you love them for baking, raised beds are totally the way to go.
Rectangular Deck Planter – A rectangular deck box planter works well for strawberries, too. Let the strawberries sprawl out across a 24-inch rectangular planter box for full coverage and hopefully full yield!
Tier Herb and Strawberry Planter Tower – As a popular item in the Dollar Tree gardening section, those useful and versatile tier planters would work great with berries, too. Create a strawberry tower for easy harvesting all season long.
Hanging Fence Strawberry Planter – Expand your growing space with a hanging planter on your fence. A strawberry fence planter allows you to grow fruit where fruit's likely never grown before in your yard! Some soil in a HDPE gardening fence planter is all you need to create a vertical wall of strawberries!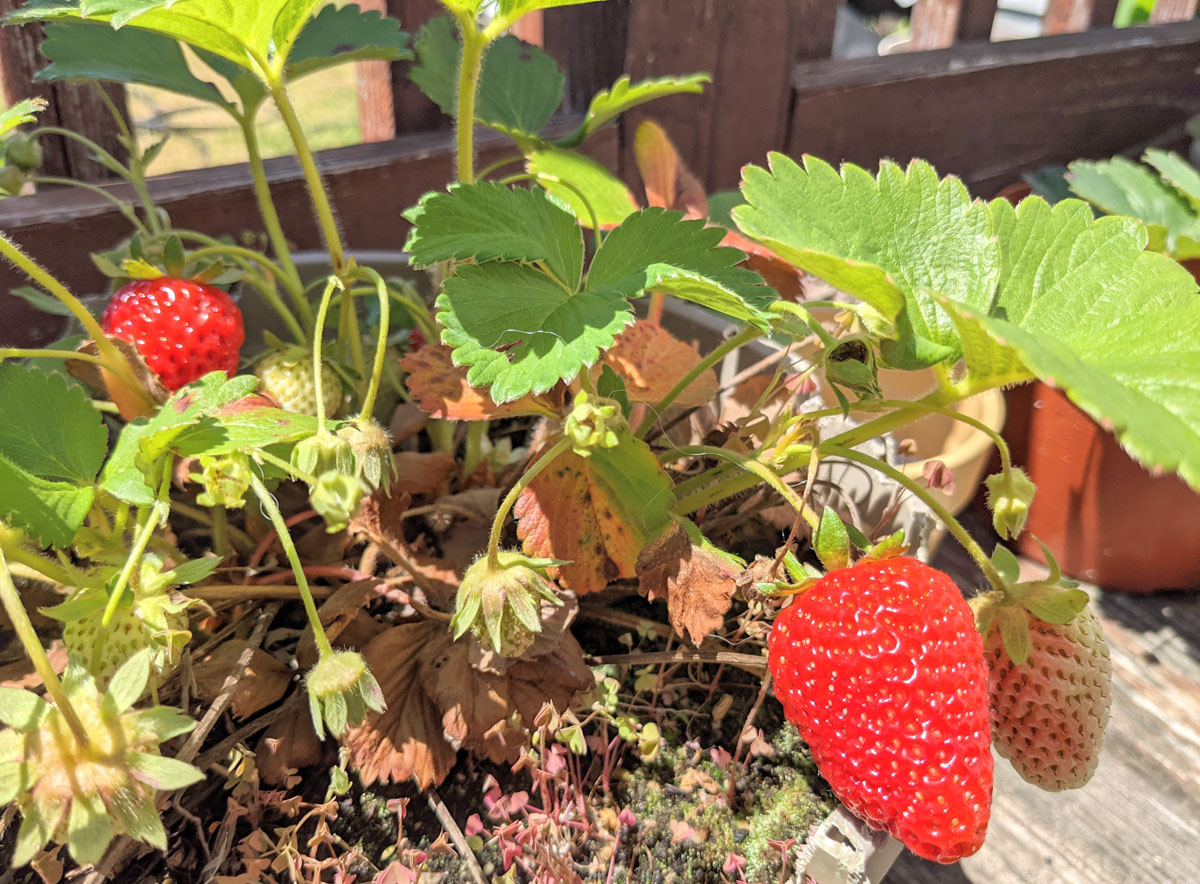 Growing Strawberries in Containers – 6 Tips
When growing strawberries in containers, keep these important tips and tricks in mind!
Consider the variety and its harvest timing. Some berries are June bearing and other are everbearing. Everbearers will produce new berries through the fall, while June bearers' crops are done in the early to mid summer. You may wish to plant a variety of both so you can enjoy berries all season long!
Strawberries don't like wet feet. Generally, most strawberries don't like to sit in water, especially overnight. Work on your watering routine so you don't leave your strawberries' soil wet as the sun's going down. (Obviously with the rain, we can't always control it.)
Monitor for water needs. Most times, the soil may dry more quickly in a container than in the ground. Use a popsicle stick to monitor the soil's moisture and water accordingly.
Prune away dead growth. Sometimes leaves and stems may start to dry out a bit when growing strawberries in containers. If you see some brown, crispy leaves, trim those away to make space for healthy growth.
Protect new fruit from garden pests. You can place organza drawstring bags over the berries while they ripen. This helps to keep squirrels, bunnies, groundhogs, birds, and bugs away from your strawberry harvest!
Pot up the strawberry runners. You may notice baby strawberry plants forming on the vine attached to the main plant. If you see this, propagate strawberries by placing a small pot under the baby plants on the runners.
Few things are as amazing as growing your own fresh fruit. Congrats – you are on your way to happy harvests!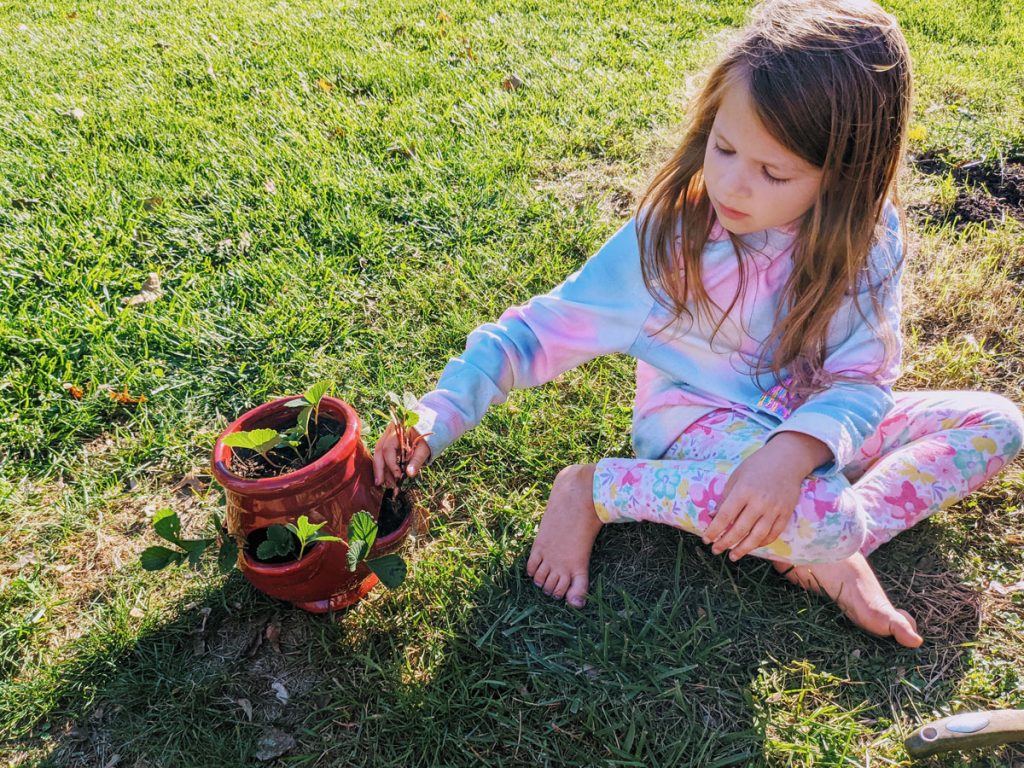 More Berry Growing Fun!
Also, if you prefer to start your strawberries from fruit or seed packets, you can do that too. Check out our post on Planting Strawberry Seeds in Pots!
By the way, these strawberry planter ideas and tips would also work great for growing a white strawberry crop (pineberries) as well!
Do you have a favorite strawberry planter you'd like to share with us? Feel free to post in the comments, ask questions and share tips! We'd love to hear from you.
Happy Gardening!