Moon Garden Ideas: 11 Flowers for Evening Allure
Create a special moon garden — a sort of secret garden — that is only for you, your family, and your closest friends to enjoy.
A lovely nighttime patch of moon garden flowers delightfully blooms with mystery after the day fades away.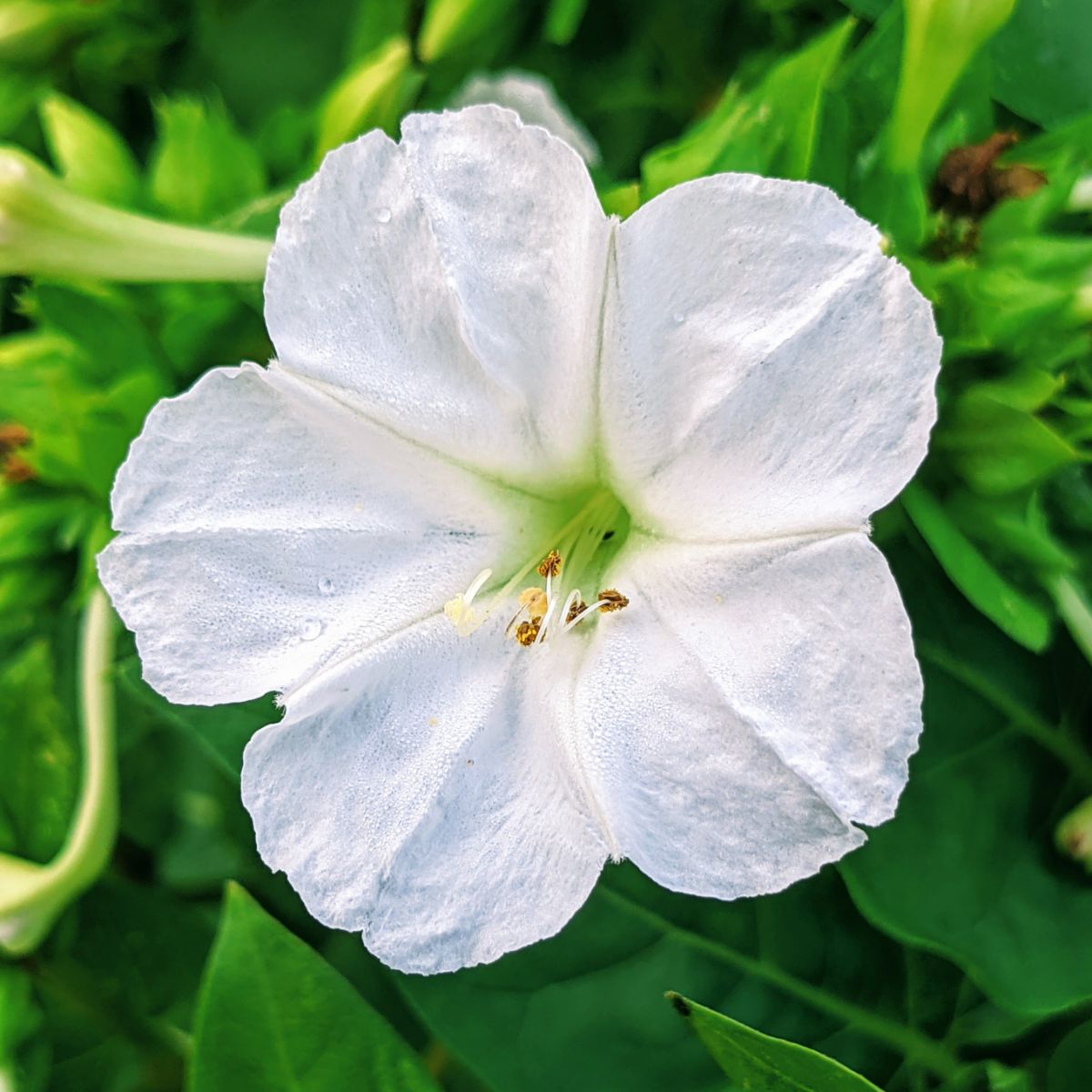 Consider designing your own with beautiful night-blooming moon garden flowers.
Favorite Moon Garden Flowers
Plant night-blooming flowers close together in a small garden plot to create your own moon garden. A moonlit garden offers a peaceful and serene setting for couples or just yourself.
If you have kids, they'll likely love the unique nature of flowers that bloom at night. Invite the kids to help you pick out some moonlight garden flowers to soak up the majestic moonbeams.
Here are some ethereal blooms to consider:
1. Moonflower
Of course, moonflower would be at the top of the list! Tropical white morning glories, or moonflowers, are a night bloomer that boasts a showy white blossom.
These flowers also close when the morning sun arrives, leaving their deepest beauty for the darkest hours.
A lovely fragrance enhances the ambiance of your moonlight garden.
FYI: Moonflowers may not be a good choice for families with small children or pets. The plants and seeds are poisonous. Do not plant near plants grown as a food source.
 2. Four O'Clocks
These beautiful blossoms open around 4 o'clock, thus the name. (Actually, our daughters decided the name must be mistaken, as ours didn't open until 5 o'clock!)
Four o'clocks stay in bloom overnight and close back up when the morning sun strengthens. These flowers ended up being quite prolific for us the first time growing them in 2020 – very impressed.
They left us many four o'clock seeds for next year!
In fact, in 2021, we had quite a few "volunteers" growing, including some that appear to be hybrids between our pink and white Mirabilis jalapa (four o'clocks).
Our girls loved picking the little black "hand grenade" shaped seeds from the plants every few days.
3. Night Phlox
Known as midnight candy, night phlox gives off a sweet, tantalizing fragrance and blooms after dark.
These are a great choice for an area where you'll enjoy the scent in the evening with a glass of wine or tea.
The shapes remind me of snowflakes, most commonly in white or with a hint of maroon.
4. Evening Primrose
These gentle giants can grow as high as five feet tall!
Lovely yellow flowers bloom in the evening with a citrusy scent of lemons.
This wildflower is not as exotic-looking as some of the other flowers, but it can be a nice staple in your landscape if you have some space.
5. White Lilies
One of my favorite flowers, lilies offer showy blooms and pretty much take care of themselves.
They're perennials so they come back every year and multiply on their own as well.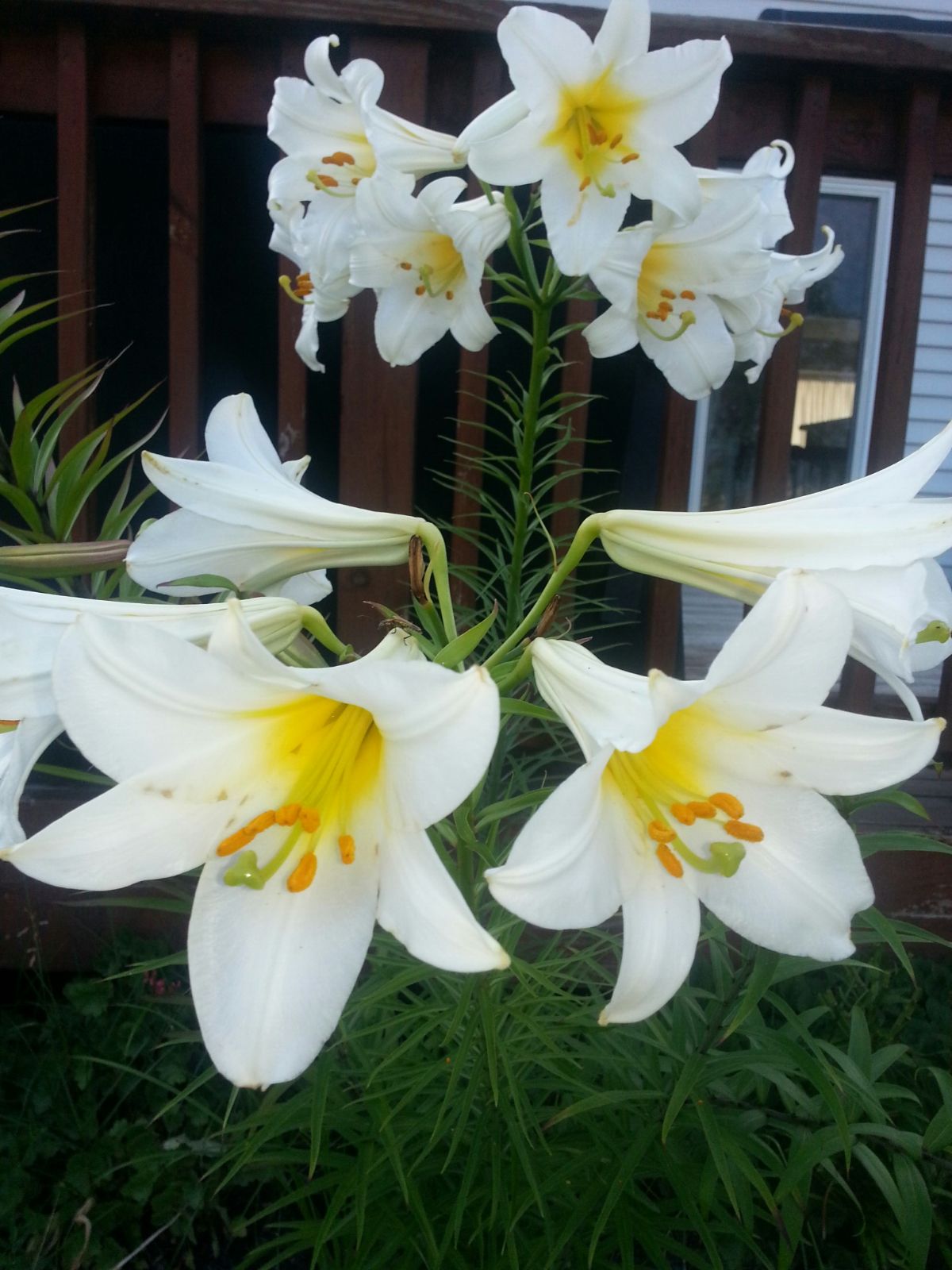 6. Gardenia
Striking white blooms reflect moonbeams beautifully in your garden.
These gorgeous flowers appear on shrubs or trees, so it's best if you have a larger space to devote to gardenias in your midnight garden.
Gardenia flowers boast a strong, sweet fragrance that is perfect for around the home.
7. Wisteria
Wisteria blooming at night is pure magic. The lilac or white flower clusters drape magnificently and create an enchanted canopy over your outdoor living space.
As beautiful as it is, all parts of Wisteria are poisonous.
8. Night-Blooming Jasmine
This plant's humble flowers send far-reaching fragrance through your yard at night.
Container friendly, jasmine plants offer a long bloom season from spring through fall.
All parts of the plant are considered poisonous to humans and animals.
9. Dusty Miller
We used to call this one silver dust as kids. The shimmery sheen of the silver leaves makes a great complement to your other moon garden flowers.
10. Vinca
These favorite annuals look lovely in pink, but I'd choose the white variety for an evening setting.
The dark green leaves contrast beautifully with the stark white blooms.
11. Madagascar Jasmine (Stephanotis Floribunda)
I am partial to this tropical as I had lots of it in my wedding bouquet.
I grew mine as a container plant and you can do the same, unless you live in a climate where it can grow year-round.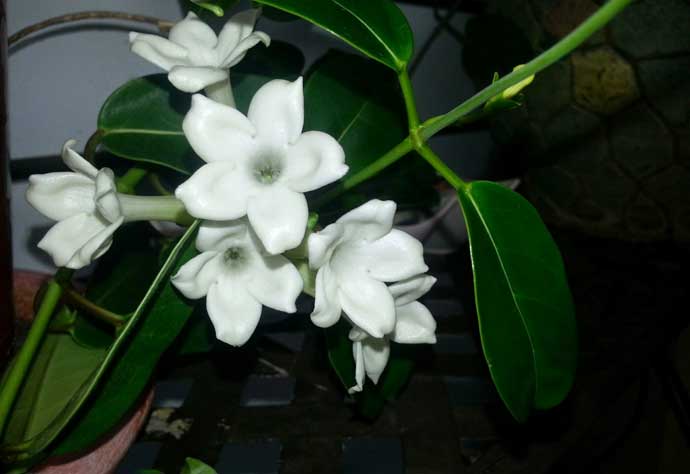 Poisonous Moon Garden Flowers
Through my research, many flowers, plants, and seeds are considered toxic to people and pets.
Some evening-blooming flowers may look lovely in your moon garden; however, they may have toxic parts or properties.
In some cases, the entire plant may be toxic, from root to seed.
Be sure to research before planting anything if you have children or pets who may encounter your flowers.
Some of the toxic flowers include:
Moonflower

Wisteria

Tuberose

Oleander

Calla Lily

Four o'clock flowers

Lily of the Valley

Some varieties of lilies

Datura – This plant is responsible for numerous deaths per year.
Again, please use caution and fully research your flowers before planting anything that could endanger your family or pets.
Consider avoiding plants and flowers with high toxicity.
Enjoying Your Moonlight Garden at Night & Day
You may notice that some of your moonlight garden flowers stay in bloom on gloomy days.
Enjoy this bonus time and be sure to take some incredible photos while you have the chance!
Here are a few more tips for enjoying your mysterious and amazing moon garden.
Water Feature – Consider a small pond, waterfall, or fountain for your moon garden area. You can catch moonbeams and reflections in the most magnificent ways!

Even a bird bath can add to the ambiance of your secret midnight garden.

Garden Decor – Imagine the beauty of your moon garden when you add a meaningful attraction such as a sleeping dragon. Gargoyles also add charm and mystique to your nighttime spaces.

Gazing Globe – A reflective garden sphere brings another element of surprise to your moon garden area. Reflections of the moon and the flowers around the garden elevate an atmosphere that's all your own.

Seating Area – A small sitting area such as a bench or mosaic table and benches could be the perfect spot to enjoy your moon garden at night!

Illumination – Set off your moon garden with beautiful solar lights! These delicate accent lights accentuate your moon garden flowers, creating a peaceful space for you to enjoy in the dark.
The garden at night can be truly magnificent. With some special details, you can enjoy your moon garden in the daytime just as much.
Evening Garden Enjoyment
Whatever you decide to plant, we hope you enjoy your special outdoor space!
Let's chat all about it in the comments below – we'd love to hear about your garden and the flowers you chose for it, or any other moon garden plants! Feel free to ask questions, too!
Our website features affiliate links to products that we personally believe in. If you make a purchase from a link on our site, we may earn a small commission at no cost to you. Thank you! This helps our girls chase their garden dreams! Thanks for your support. (View full affiliate disclaimer at the end of the page.)
10.22.22 – Updated to replace png with jpg. Improved spacing and revised some of the text. Added photo.