Meditation Garden Ideas – Free Garden Self Care Printable
Do you ever find yourself taking more deep breaths than normal? Feeling too busy to enjoy what really matters? Go spend 10 minutes in the garden, they say. Self-care in the garden can work wonders! A meditation garden must be the answer!
Feeling stressed and too busy to spare even those 10 minutes? Then you really need to go out in your garden for an hour. AT LEAST!
And, so do I.
I am guilty of the stress mess more than I care to admit, although I am pretty open and honest about it. Gardening is wonderful outlet for self care for me, and it always has been. I liked to stay busy, and when it comes to that, gardening definitely delivers. 🙂
Largely because I don't know how to relax. I physically have a hard time sitting still. I think I've recently observed my dad being this very same way. The apple doesn't fall far, as they say…
In my opinion, self care is probably the greatest standout of all the benefits of gardening as a hobby.
Followed closely by exercise, mental stimulation, creativity, and of course, various social gardening benefits as well.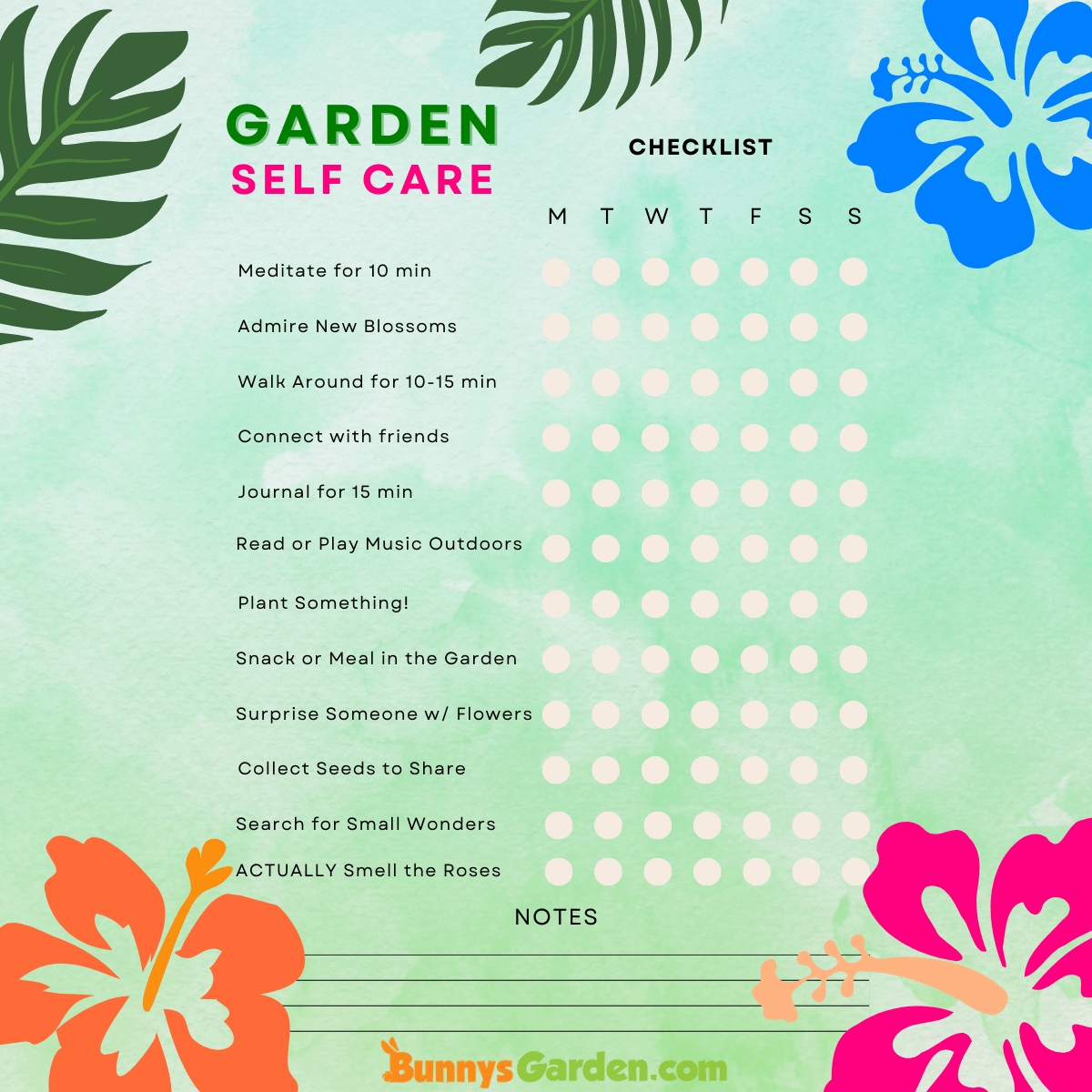 Mindfulness in the Garden
Your very own garden is a wonderful place for meditation. You can simply go sit among your favorite flowers or plants and be alone with your thoughts and your breath.
I am just learning how to slow down. Meditation, the first time I tried it, was beyond painful. I don't know how to stay still with my thoughts! I was jumping out of my skin.
Guided meditations proved easier for me and sometimes just box breathing works best for me.
(I breathe in for a count of 4, hold for a count of 4, breathe out for a count of 4, and hold for a count of 4. This works well for anxiety, too!)
Designing a Meditation Garden Space
If you have the space to devote, consider making your own meditation garden. Even a small corner of your garden can become the perfect, special place to sit and just be.
When building a meditation garden, keep these factors in mind:
Design a special place to sit. This could be a nice, flat stepping stone or a clearing where you can set down a blanket or a yoga mat.


Choose flowers that speak to your soul. Surround your seating area with peaceful flowers or other plants.


Incorporate plants that pique other senses besides sight. Incorporate aromas – fragrant flowers, herbs like basil, or whatever you like – that will enhance your mindfulness in the garden. You can even snack on your fruit or veggies for part of a grounding activity!


Consider outdoor speakers or a Bluetooth speaker to play meditations. You can start simply and effortlessly by leaning on the mindfulness techniques already widely available on YouTube or other apps.


Incorporate a fountain or windchimes for ambiance. The gentle lullabies of the water and wind can absolutely soothe and increase calmness and mindfulness in the garden.
These are just a few tips on creating a mindful garden space. You may fall in love with this special garden space before it's even fully created!
You can look within yourself and find other ways to create the perfect meditation space outdoors in your yard.
Even if you have a nontraditional garden space, such as a balcony garden or terrace garden, you can still create the perfect space.
Simply surround yourself with plants and a serene environment where you can relax, slow down, and get in touch with your inner self.
My Own Connections with Nature in the Garden
By the way, this is a hard topic for me, but a day or so after our beloved dog of 14 years crossed over, I decided to have breakfast in the garden. I couldn't bring myself to do much, but I made a bowl of oatmeal.
Then, I went outside and sat on a stepping stone amid my raised beds where our pup would pace, checking out all the smells and generally enjoying being outdoors.
I tried to eat some oatmeal. The change of scenery actually did help.
Signs from the Universe / Breakfast in the Garden
As I sat, I watched a bunch of bugs crawling in the grass and thought about how I'd recently read a somewhat spiritual post about someone saying they felt connected to insects. I thought to myself, "maybe that's a little odd, I don't feel connected to bugs at all… I know they're living creatures that deserve their own lives too but just don't feel connected…"
And just like that, in the exact moment after the thought flew through my mind, a precious little red ladybug landed on my bare toe.
And of course I was all "Oh Hiiiiiiii! I luuuuuuvvvv youuuuuuu!" Filled with instant positivity, all the good vibes, and a touch of childish surprise at my own instantaneous about-face. I did feel connected to (some) insects, after all.
The sweet ladybug did this funny little dance where she rubbed her face with her arms and spun in a few circles on my toe, kind of like how a dog does before lying down. (And maybe when their face is itchy.) Then she crawled around for a few moments before flying away.
In my grief, I, of course, looked it up online to see if any special meanings existed for ladybugs.
I found some posts that said that a ladybug can be spiritual, like a sign from a guardian angel saying they've got you, or Angels are near. I also saw something that said the ladybug could be appearing with connection to messages from a departed loved one. My mind immediately went to my beloved dog.
Take from this what you will and believe what you will. In my heart and soul, I feel her loving and supportive presence still so strong in the universe that she simply can't be truly gone.
God Bless all the pets and loved ones who've already moved on.
But I digress! You are most definitely here for the free printable garden self care doc, not my silly ladybug story. 🙂
So, here you go!
Free Printable: Garden Self Care Checklist
I hope you've found some value in these ideas for achieving better self care and mindfulness while gardening or hanging out in your garden.
As promised, here are some fun garden meditation ideas, plus other ideas for gardening self care.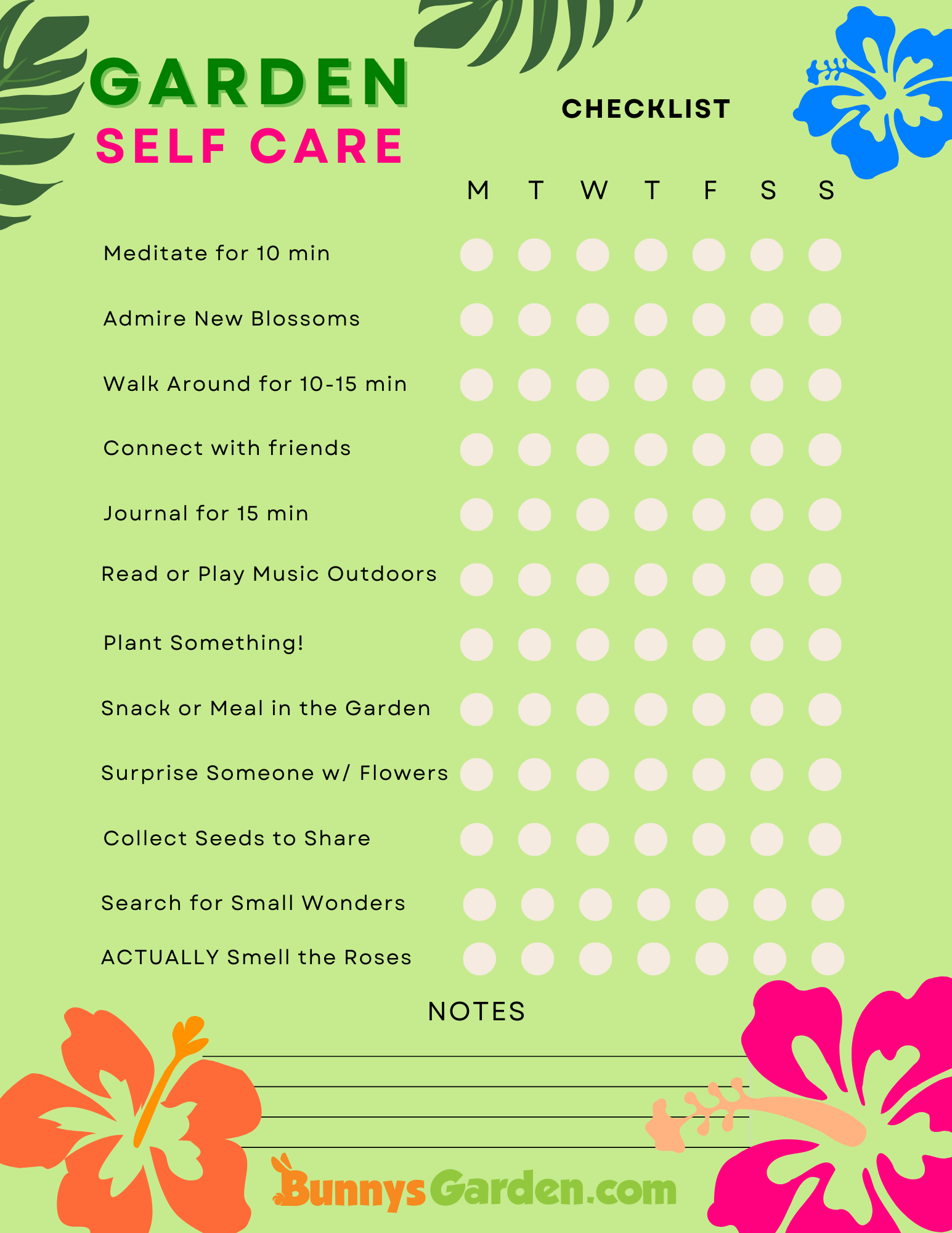 I've compiled 12 fun meditation tasks to try out in the garden. This printable page is yours to download and enjoy. I hope it brings you some more carefree moments ahead!
Free Printable Garden Self Care Checklist – Download
Download either of the free garden mindfulness and self care checklist printables!
Garden Self Care Square – Download the PDF!
Free Printable Garden Self Care Checklist – Download the PDF!
Do you have more garden self care tips and tasks to add to this list? Hit me up in the comments and I'll be sure to update the post and maybe even the printable if we can come up with some new ones!
Happy life, and happy gardening!