How to Harvest Chamomile: Harvesting Chamomile for Tea & Seeds
Harvesting chamomile from your backyard garden is definitely an empowering experience! You can use chamomile for tea or collect the seeds to grow even more next year. Discover how to harvest chamomile for tea and seeds in the simplest of ways!
In our 2021 garden, we grew chamomile beneath our golden Anne raspberry plants. The dainty yellow and white flowers looked so pretty alongside the plump, golden berries.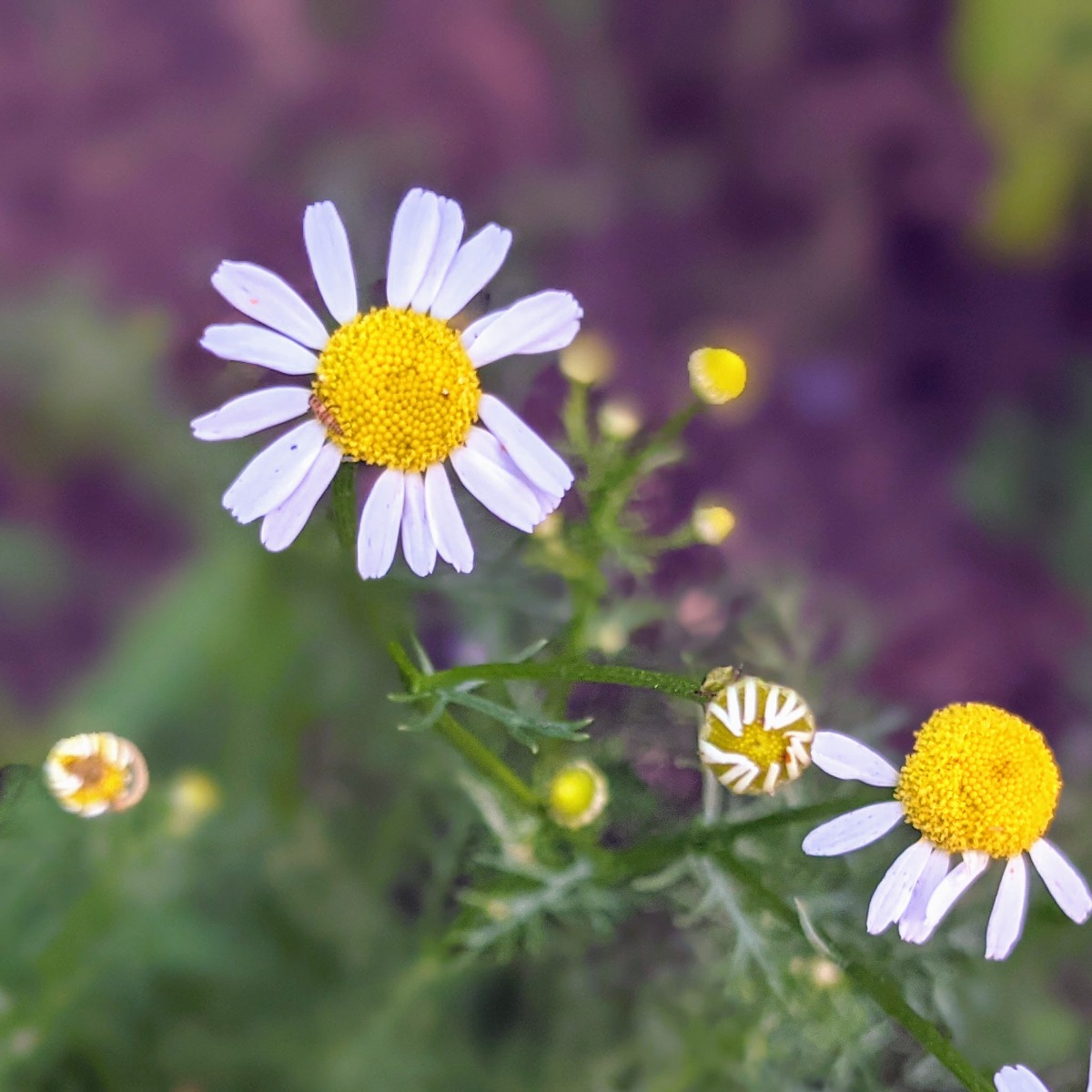 Truth be told, I only set about harvesting chamomile blossoms once or twice. And, I sadly never made them into tea.
There's always hope for this year! Here's a quick and easy guide on how to harvest chamomile seeds and tea.
Which parts of chamomile are used for tea?
Chamomile tea is brewed from the lovely yellow and white chamomile blossoms. All parts of the chamomile flower work for chamomile tea. Consider growing Roman chamomile and German chamomile for your tea harvest.
When do you harvest chamomile for tea?
Chamomile harvest time depends on when the chamomile flowers are blooming. Aim to harvest chamomile for tea when the blossoms are in full bloom. The white petals spread out beautifully and haven't fallen yet.
When is the best time of day to harvest chamomile?
Plan to harvest chamomile blossoms in the morning. The oils and flavors will be strongest at this time. Wait until the dew dries and the blossoms are dry on their stems before harvesting.
When does chamomile bloom?
When planted from seed, chamomile may bloom between 6 and 10 weeks after the seeds sprout. Chamomile in full sun may bloom on the earlier end. If you pick chamomile regularly, its daisy-like flowers can bloom continuously all summer.
How to Harvest Chamomile for Tea
Harvesting chamomile for tea is a snap! Follow these simple steps to collect chamomile blossoms for use in tea.
Check your garden for chamomile in bloom.
Use gardening shears / flower scissors to gently snip chamomile blossoms at the stem, right below the flowers. You can also pinch the chamomile flowers to free them from the stem.
Set the flowers in a rectangular tray, a plastic colander, or other convenient container when picking chamomile for tea.
Keep all parts of the white petals and yellow dome of the chamomile flowers intact.
Once you are done harvesting chamomile for tea, bring the picked blossoms indoors for drying and storage.
If you are a serious chamomile grower, you can also invest in a chamomile rake! This cool garden gadget would surely speed up harvesting times!
We also loved cutting a few stems of chamomile for a vase with our calendula. The stunning pops of yellow looked so cheerful in a short glass with water.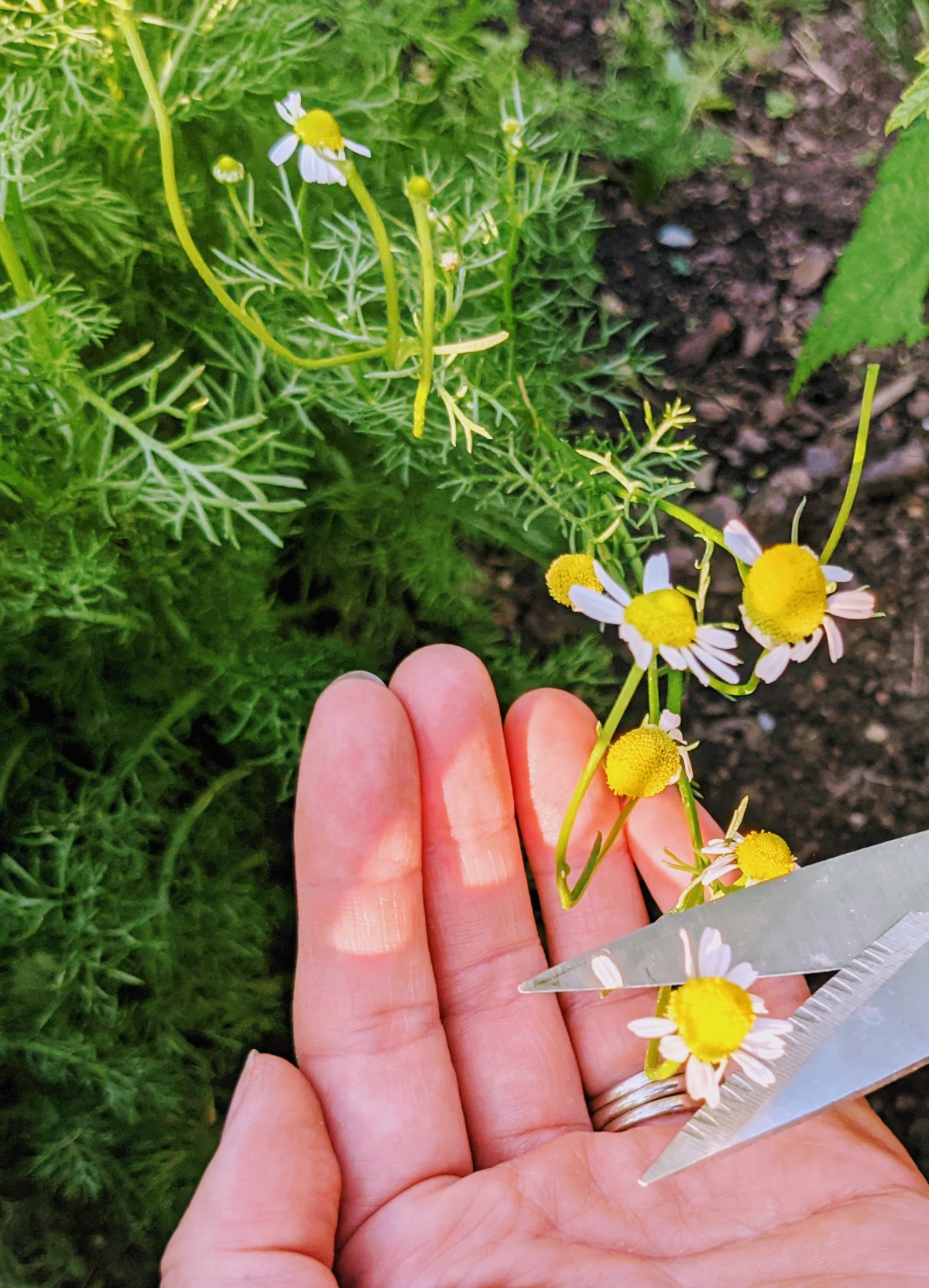 How to Harvest Chamomile Seeds
Harvesting chamomile seeds is a valuable effort when you want to grow more chamomile again next year!
Follow these tips on how to collect chamomile seeds and save them for future planting.
After harvesting chamomile for tea until you have enough, leave a few blossoms on the plant to form seeds.
Look at all the chamomile blossoms to find some with visible seeds. Sometimes the seeds begin to separate from the blossoms.
Hold a container like a small plastic applesauce cup under the chamomile seed heads.
Gently use your thumb to free the seeds from the chamomile flowers. Let the seeds drop into the plastic cup.
Bring the seeds indoors for drying and storage.
Chamomile seeds are tiny! You might even have some chamomile reseeding itself for next year, depending on your diligence at harvesting.
Drying & Storing Chamomile Seeds
After harvesting, allow the seeds to dry in the cup for a few days to a week. Stir them around the cup to make sure all sides dry evenly.
Once the seeds are sufficiently dried, you can transfer them to a zip-seal baggie. Label them with the type of chamomile and the harvest date for future planting.
Harvesting and Drying Chamomile for Tea
It couldn't be much easier to harvest chamomile for tea! But once you've harvested it, what do you do with it?!
Now it's time to dry chamomile and store it for tea.
For best results, you may want to use a dehydrator if you have one. This helps you to speed up the drying process. Use the mesh liner to keep all parts of the chamomile safe and available for use as tea.
It may take a full day for the chamomile blossoms to dry all the way.
Without a dehydrator, dry chamomile on a clean screen or mesh tray. Turn the flowers from time to time, ensuring all parts dry equally and completely.
Once the chamomile blossoms are dry, you can store them in a glass mason jar or other container of your choice.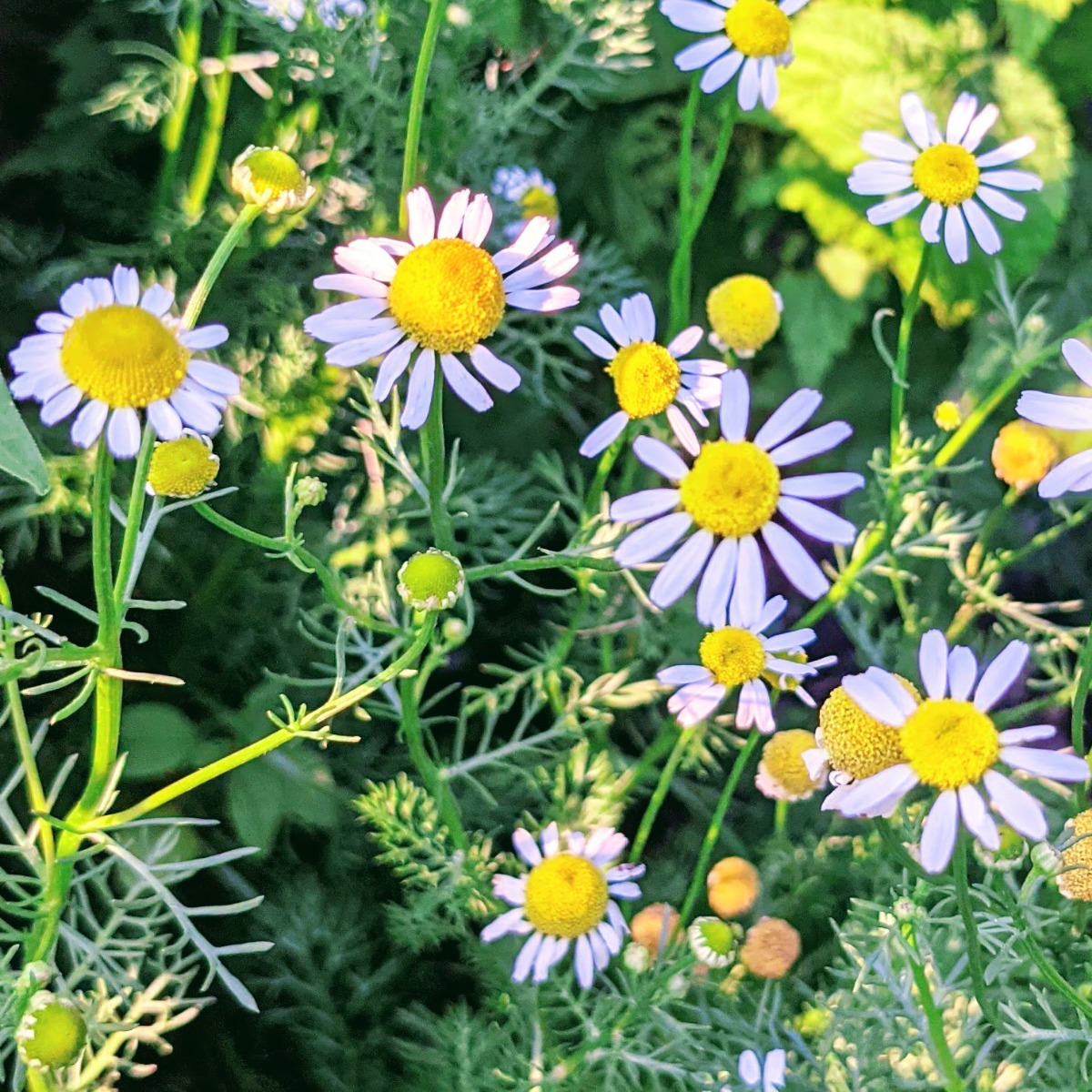 Do you have any other tips for harvesting chamomile for tea, saving chamomile seeds, or drying the blossoms?
Feel free to hit us up in the comments with questions or your own stories on this fun harvest.
Happy Gardening!