Grilled Summer Squash Recipe
There's nothing like delicious grilled summer squash, seasoned to perfection. This mild vegetable works well with so many different dinners—salmon, chicken, pork, steak—and more. Try this super simple and very quick grilled summer squash recipe for a new family favorite side dish!
Few things are as satisfying in gardening as enjoying the fruits and vegetables of your labor! Our family truly enjoys growing summer squash and zucchini—as long as the vine borers leave them alone. This year was tough!
Summer squash on the grill takes only moments to prepare. Most of the time is just slicing! Season simply yet effectively for a tasty veggie you'll enjoy just as much for leftovers as the day you make it (if not more!).

Easy Grilled Summer Squash
Yellow straightneck or crookneck squash is so delicate, tasty, and mild that even your kids have hope of loving it! Toss yellow summer squash together with zucchini for a colorful addition to your dinner plate.
The star of this recipe is the McCormick Garlic Pepper Seasoning. This spice jar is worth its cost and makes the dish so delish.
We get ours at Weis Market.
For consistent results, it's also important to be sure you have your tools on hand, especially your grill basket or grill wok.
This grilled summer squash recipe (and leftovers) are one of my long-standing favorites for summer veggies.
I plan to continue making these during the winter months, too, as long as we can find squash at that time, or freeze some of our harvest!
Tools:
Frying pan for leftovers
Roasted Squash in the Oven
If your plans to grill are foiled by a storm or running out of gas, you can easily switch to roasting your summer squash! Simply follow the same steps – coat with olive oil and the garlic pepper seasoning. Toss and place in a Pyrex pan. Roast in your oven at about 375 degrees for 15 minutes or until desired doneness. I also toss in some carrots for a burst of color and more flavor.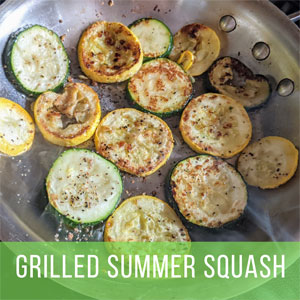 Grilled Summer Squash Recipe
This grilled summer squash brings just the right blend of flavors for a delicious accompaniment no matter what the season. Enjoy this yellow squash and zucchini recipe that is perfect for dinner or leftovers during the week.
Ingredients
1

tbsp

olive oil

3/4

tbsp

McCormick Garlic Pepper Seasoning

(or similar garlic pepper seasoning)

1

Summer Squash, yellow

(straight-neck or crookneck)

1

Green Zucchini
Instructions
Grilled Summer Squash Recipe
Slice the summer squash and zucchini into circles of desired thickness.

Place into a glass bowl and drizzle with olive oil. Toss to coat.

Sprinkle McCormick California Style Garlic Pepper Seasoning generously. Toss to coat again.

Spread squash and zucchini rounds out on a vegetable grill basket or grill wok.

Grill about the same time as your entrée (chicken, salmon, burgers, steak, etc.).

If possible, toss once while on the grill. Allow some slices to get a little more well done for added flavor profile.

Remove the grilled squash from heat with the rest of your meal.

Pour the squash into a serving bowl or platter and move the grill pan aside.

Enjoy! Add more seasoning if desired.
LEFTOVERS: Reheating Grilled Summer Squash to Perfection
Lightly coat a frying pan on medium-high heat with olive oil.

Get the pan hot and spread out a thin layer of the grilled summer squash and zucchini. The idea here is to sear it!

Set a timer for a minute or two and check for doneness. You want a little bit of sear marks on the bottom of the slices before you flip them over.

Once veggies are seared on the bottom, flip them over and continue to sear the other side.

Once both sides are done, remove from heat and enjoy!
Notes
Arguably, most foods are better the first time around. I love leftovers more than most, but some foods just aren't as good the next day. With grilled summer squash and zucchini, I beg to differ. If you follow my recipe, you will find it just as tasty during the week, if not more so when you reheat leftover grilled summer squash!
Grilled Yellow Squash and Zucchini
We love making grilled squash and zucchini in a grill basket on my husband's Weber grill. We lightly coat with a bit of olive oil and sprinkle on some McCormick Garlic Pepper – absolutely delicious!
I plan to freeze summer squash and zucchini slices so we can enjoy them sheet pan style over the winter. It won't be the same, but it ought to tide us over until summer grilling season again!
By the way, if you are looking for more delicious ideas for the grill, check out some grill recipes over at SimpleGrillRecipes.com. You can find chicken, beef, seafood (my favorite!), sauces, and more!
Do you have any other favorite ways to use up your summer squash harvest?! Let's chat in the comments – we love hearing from you!
08.19.22 – Edited to add final section and grill food ideas, along with updating to blocks and increasing image size where possible.