Garlic Rosemary Chicken – 4 Ways, Because Food Is Love
I learned from my grandparents at a very young age that food is love. My grandfather's Garlic Rosemary Chicken is my favorite homecooked meal of all time—it's delicious and 1,000% made with love—and I hope you'll give it a try.
My grandfather and grandmother would make his world-famous (in my world, anyway) "Grandpop's Chicken," as we called it, from the time I was probably barely talking to still to this day. Nothing compares to this rosemary garlic roasted chicken.
He'd tirelessly chop and mince the garlic to perfection. And the fresh rosemary. Oh, the smells emanating from that kitchen. I wish I had a time machine to take a quantum leap back to my childhood just to smell those smells and feel that love all around once again.
Bless her heart, my grandmother… she was always busy in the kitchen making food with love. One of the things I loved the most, is that they often did all of this, together.
Whatever one of them worked on, it seemed the other had all the complementary bases covered, especially with the garlic rosemary chicken. At least that's how I remember it.
They were working together to create a meal for their family, with love. This garlic rosemary chicken is the most love-filled recipe I've ever experienced and enjoyed. If you have a special recipe like this, I'd love to hear about it in the comments below.
What does "food is love" mean?
The phrase "food is love" embodies a warm sentiment of nurturing and providing for one's family or loved ones with nourishing food made with love. When food is made with love, the cook thoughtfully prepares a meal or dish as a way of caring for special people in his or her life.
Here are some examples of how food is love:
Making special meals for your family
Enjoying time catching up with family over dinnertime together
Spending time in the kitchen cooking together
Handing down family recipes across the generations
Sending homecooked meals back to college with your older kids
Bringing homemade soup to a sick friend or neighbor
Making food for someone who's recently come home from the hospital or going through a tough time (ex: meal train)
These are just a few things that come to mind when pondering how food is love. I'm sure there are dozens more!
Do garlic and rosemary go together?
Rosemary and garlic go together wonderfully, especially in Italian cuisine. Pair garlic and rosemary in savory dishes with chicken, turkey, pork, or beef. You may also enjoy garlic and rosemary potatoes or a bread dipping oil featuring this delicious combination.
Timing & Prep for Roasted Garlic Rosemary Chicken
When you plan on making rosemary garlic roasted chicken, be sure you have a nice chunk of time available for cooking and food prep.
Garlic Rosemary Chicken Prep:
You'll need to set aside time to:
Mince the garlic.
Mince the rosemary.
Remove skin from the chicken, if desired. My grandfather kept it on, to keep the chicken juicy!
Marinate! Set chicken in the fridge to marinate for at least one hour before cooking. You can marinate up to 24 hours, depending on your needs!
I tell you all of this so you can be fully aware of the time commitment. No one expects peeling and mincing garlic and rosemary to take over an hour, but with this recipe, it does.
Culinary Blast from the Past
Truly, you don't want to do what I did in the summer after college with some friends on a trip to the shore.
We'd decided the girls were going to cook the first night once we got there. I had my heart set on my grandfather's garlic and rosemary roast chicken. After a lengthy grocery store trip buying all the fresh ingredients, we got to chopping garlic and mincing rosemary.
The guys whined about being hungry, but in my heart and soul, I knew how good this dinner would be. (Truthfully, they probably would've been happy with Eggo waffles at that point.)
Besides, how long could it take making a baked chicken with rosemary and garlic?!
Finally, around 11 p.m., the rosemary garlic baked chicken thighs and drumsticks came out of the oven. At this point, the young men were so hungry, I don't even think they tasted the food when it hit their palates!
While the food was made with love and the very best intentions, the ill-planned timing robbed us of the warm and fuzzy moments enjoying it.
My thoughts now that I'm older – Who cooks super crazy course meals like that on right-out-of-college vacation anyway?!
Moral of the story – make this food when you can set aside a chunk of time allowing you to relax and breathe as you chop and mince garlic and rosemary, plus time to marinate.
TIP: You can get away making this fresh rosemary chicken recipe without marinating it, but flavors may not be as strong.
Once you know you have enough time ahead of you, let's get started on this delicious garlic and rosemary chicken!
The Secret to Garlic Rosemary Chicken Thighs and Legs
When making Rosemary Garlic Roasted Chicken just like my grandfather's, a few little details are super important.
At least I am convinced there's a secret to it as I strive to recreate the meal as delicious as it was when he and my grandmother made it.
The secret is, you must use fresh garlic.
The secret is, you must use fresh rosemary. (In this case, you must disregard my post about rosemary substitute ideas. This recipe simply will not work if you don't have real rosemary. At least in my humble opinion.)
It must be extra-virgin olive oil, right?
No, the secret is you must marinate it for exactly 4 hours and 37 and a half minutes.
It's not browning like theirs did… maybe the secret is you've got to broil it on low for the last five or ten minutes…
No, it's none of this.
Truly, the secret ingredient is love.
Crispy Chicken Thighs with Garlic and Rosemary
In my world, almost nothing can beat my Grandpop's Crispy Chicken Thighs with Garlic and Rosemary. He also made the chicken legs with the same exact flavoring, but I think the thighs were my favorite, since there's more to them.
When making oven roasted chicken thighs with rosemary and garlic, you can leave the skin on or take it off.
You can choose skinless boneless thighs or chicken thighs with the bone still intact.
Heck, you can even throw out the idea of making chicken thighs with garlic and rosemary and go straight to chicken drumsticks, or boneless skinless chicken breast. You can even marinate a whole bird with this recipe! I'll be sure to include tips for those adaptations below.
But for now, let's focus on the Crispy Chicken Thighs with Garlic and Rosemary, because those are my favorite.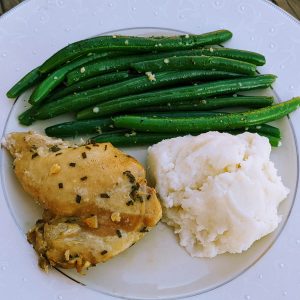 Garlic Rosemary Chicken Recipe – "Grandfather's Chicken"
Here is my grandfather's chicken recipe in all its glory, to the best that I can remember.
I hope you enjoy this fresh rosemary chicken recipe as muchas I do.
Ingredients
12

Bone-in or Boneless Chicken Thighs

(you may also use other cuts of chicken)

14

Large Cloves of Garlic

minced (one clove per piece of chicken, plus extra)

1.5

tbsp

Fresh Rosemary

minced

2

tbsp

Olive Oil

Extra Virgin

1/2

tsp

Paprika

(a light dusting)

1/2

tsp

Salt

(to taste)

1/2

tsp

Pepper

(to taste)
Instructions
Mince the garlic into small bits. You should have AT LEAST one clove per piece of chicken, plus some extra. Set aside.

Remove rosemary leaves from the stems and mince fresh rosemary leaves into small pieces. Set aside.

Trim any fat from chicken thighs and place them into a gallon-sized zip-seal baggie.

Drizzle extra virgin olive oil over the chicken. Close the zip-top and move the chicken around to distribute the oil across all the chicken in the bag.

Next, add freshly minced garlic. You should have at least one clove per piece of chicken. Work to distribute the garlic evenly across the chicken.

Sprinkle in 1.5 tablespoons of freshly minced rosemary. Evenly distribute this across the chicken in the bag as well.

Close the top and set the chicken in the refrigerator to marinate. My grandparents marinated it for just one hour before cooking. I've also left the rosemary garlic chicken thighs in the fridge to marinate for up to 24 hours! Delicious every time.

After marinating, space out the chicken in a glass baking dish. Top off with more minced garlic and rosemary in any areas that look bare. (You'll be able to tell.)

Add a light sprinkling of paprika, salt, and pepper, to taste. (These are not the most important ingredients and I've made the recipe without one or the other at any given point in time.)

Cover with foil and bake at 375 degrees, turning over once. Depending on the size of your chicken and how tightly you pack the pan, cooking times may vary. For my needs, I find that one hour is usually pretty close for chicken drumsticks and thighs.

Check chicken with a meat thermometer. The rosemary boneless chicken thighs are done when it's lightly browned and reaches 165-170 degrees internally.
Notes
* Note: I've cooked the chicken at 375 degrees and also at 400 degrees. However you usually prefer to cook chicken thighs is just fine. They should brown a bit as they finish cooking. 
I share this recipe with a warm yet heavy heart because we lost my grandmother, my last living grandparent, on January 10, 2022. I'm so grateful we had her as long as we did! I hope those 92½ genes are coursing through my veins, too.
As many times as I've tried making this garlic rosemary chicken, no matter what I do, it is never even close to as good as the real thing. 
And I know this is because–the secret ingredient is Love. And I do always put love into my own meals and recipes, but there's just something very different about eating food that was made for you with love.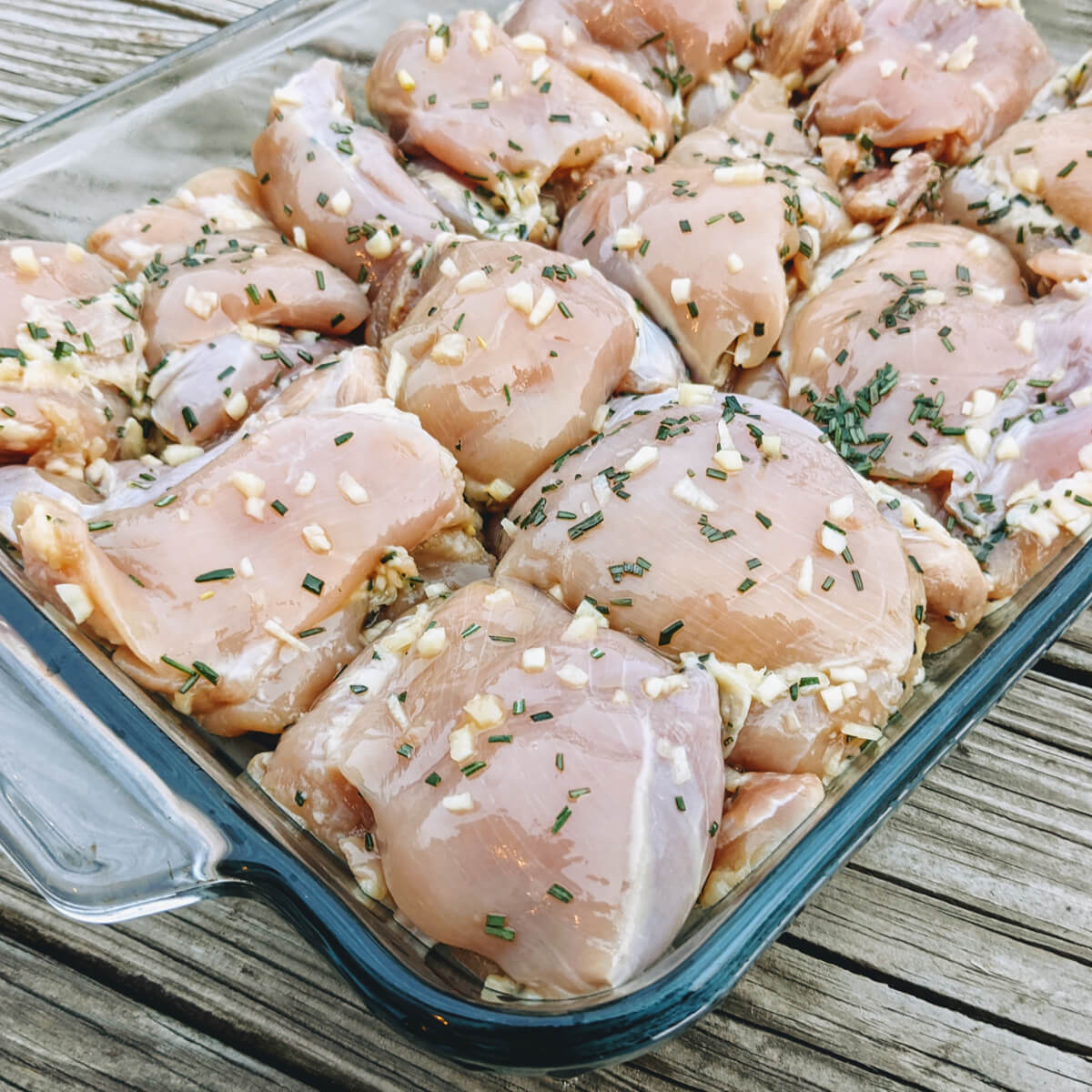 So, please make this rosemary garlic roasted chicken recipe for someone you love!
I spent two days making this recipe and about a full week working on the post, and probably sent my dad 30 texts, double-checking on things, because this chicken is that important to me.
If you have any feedback or reviews, please kindly share them in the comments and I will do my best to make any updates or answer any questions.
I want you to love this chicken as much as I do!
4-Way Recipe Adaptations
Because I love this recipe so much, I often adapt it to use other kinds of chicken, or even other types of meat, like pork!
I wouldn't be doing my Italian Kate thing if I didn't at least give you a quick overview of how to adjust the recipe for other cuts of chicken.
Here goes…
Baked Rosemary Garlic Chicken Drumsticks
I am pretty sure my earliest taste of Grandpop's Chicken was a rosemary garlic chicken drumstick. This chicken is delicious warm or cold, morning, noon, or night. (So are the thighs!)
Eat it as a snack, enjoy it for breakfast when you haven't thought that far ahead yet.
Here's all you need to know to switch the recipe to make chicken drumsticks.
Use all of the same measurements in the recipe above for rosemary garlic chicken thighs.
Marinate for the same duration you prefer – at least one hour, but up to 24 hours.
Bake at 400 degrees under foil for about 30 minutes. Remove the foil and turn over the chicken drumsticks.
The chicken should brown a bit over the next 20-30 minutes. Use a meat thermometer to check doneness.

You can also sacrifice a piece and cut it open to check! The more chicken you pack into a pan, the longer it will take for all the chicken to cook.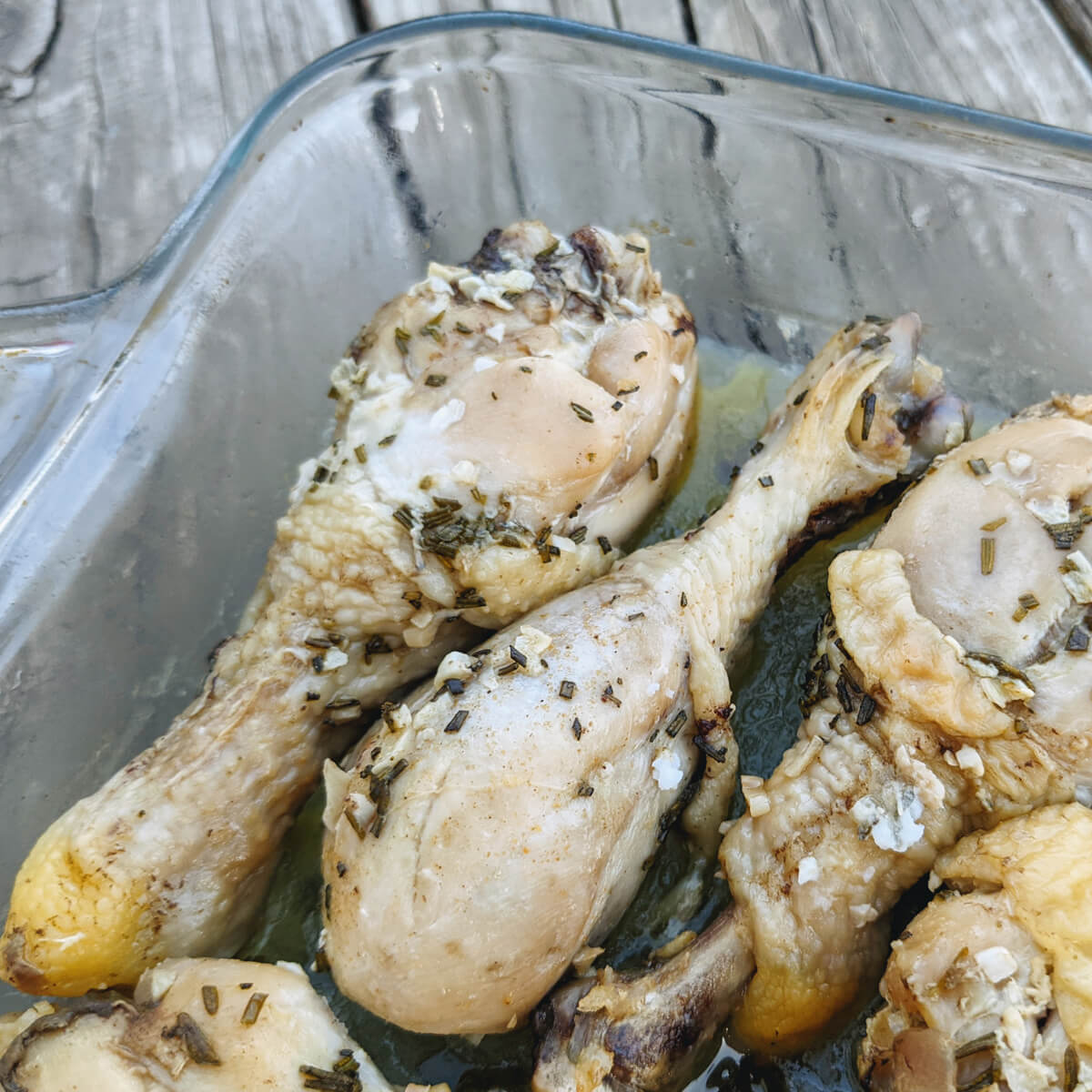 Rosemary garlic chicken drummies are easy kid food too, especially as leftovers. I truly feel the taste is just as good on day 2 and day 3 as the night you make this chicken!
Adapt the Recipe: Garlic Rosemary Chicken Breast
My husband is a bit pickier than the rest of us in some cases. He doesn't care for chicken on the bone, so I often make his version as a boneless rosemary garlic chicken breast.
No, I know, I am not a short order cook. But I do like cooking, so sometimes I don't mind. Today I forgot and he enjoyed the boneless chicken thighs just fine, thankfully.
Garlic and rosemary chicken breast is definitely delicious, but it isn't what I grew up eating. I still love it, but my girls and I tend to prefer the dark meat. It is absolutely worth making and I do still enjoy it either way.
Here's my adaptation on how to make boneless rosemary garlic chicken breast baked in the oven just as easily as the chicken thighs and drumsticks. (If not easier!)
Butterfly or filet the chicken breast in half so it is thinner.

Place all the chicken breast fillets into a one-gallon plastic zip-seal baggie.

Add extra virgin olive oil and move the chicken around to fully coat it.

Add minced garlic and minced rosemary. (It should still be at least one clove of garlic per piece of chicken.) Again, move around the chicken until it is fully coated.

Close the bag and place it in the refrigerator to marinate for at least one hour based on your available timing.

When it's time to bake the garlic rosemary chicken breasts, remove them from the bag and space them out flat in a rectangular glass baking dish.

Sprinkle salt and pepper as desired and add more minced garlic or rosemary if any pieces look bare.

Bake about 15 minutes at 375 degrees on the first side.

Remove from oven, flip pieces over, and continue baking until done, about 5 to 10 more minutes. (Cooking time may vary depending on the thickness of your chicken fillets.)
Roasted Whole Chicken with Garlic and Rosemary
When you make your next roast chicken, try using these same ingredients to season it!
Mince up a ton of garlic, at least 3-4 tablespoons, to taste.

Mince up about 2 tablespoons of rosemary.

Rub extra virgin olive oil on the bird.

Distribute minced fresh garlic evenly over all parts of the whole chicken.

Sprinkle fresh minced rosemary across the whole bird. You may need to flip it over or have someone help lift it for you.

Add paprika, salt, and pepper to taste.

Add a few whole cloves of garlic and a whole sprig of fresh rosemary inside the cavity of the bird. (You may also add lemons if you wish.)

Roast as you would any roasted chicken.
You can also use a combination of garlic and rosemary for other delicious entrees, like roasted pork or pork loin in a crockpot. Marinated flank steak is also delicious with a rosemary garlic marinade.
What sides go well with Garlic Rosemary Chicken?
Vegetables and potatoes both pair wonderfully with rosemary garlic roasted chicken. Here are some suggestions for sides to accompany this dish:
Garlic Butter Green Beans – Consider making sautéed green beans with garlic, butter, salt, and pepper.

Rosemary Garlic Potatoes – One of the best combinations is garlic rosemary chicken and potatoes. Season the potatoes with the same minced garlic and rosemary you use for the chicken and add salt and pepper to taste.

Garlic Mashed Potatoes – Make redskin mashed potatoes a little on the chunkier side and infuse with garlic sautéed in butter until fragrant and tender. Add salt and pepper to taste. (For an easier method, try using garlic powder and salt if you aren't up for simmering the garlic in butter.)

Garlic Buttered Pasta – Sautee some minced garlic in butter and pour over pasta. Add fresh minced parsley and flaked or shredded parmesan cheese.

Steamed Broccoli – Add garlic butter to freshly steamed broccoli florets. Then add salt and pepper to taste.

Homemade Biscuits or Dinner Rolls – Your favorite dinner rolls or biscuits would also go great with garlic rosemary chicken. (No judging if you grab for the Pillsbury Crescent Rolls. We do those sometimes, too!)
Celebrate Garlic!
I love garlic so much I never really need a reason to remind me to use it. However, you may wish to make a point to cook with garlic for National Garlic Day.
Garlic lovers unite! National Garlic Day takes place each year on April 19. It's the perfect time to make your favorite recipes with garlic or to celebrate this wonderful food in your own way. On Garlic Day, consider including your kids in whatever you do as well.
Not everyone remembers these little-known food holidays, so it could be a blast cooking together, gardening together, or just catching up to talk about what you did.
Recognizing the value and importance of garlic is a worthwhile effort, especially on Garlic Day. And, especially if your family enjoys garlic.
Besides, preparing and serving food made with garlic expands your children's palates.
My 7-year-old daughter now recognizes the aroma of garlic on impact! Even in a simple sauté!
This garlic chicken with rosemary is my all-time favorite meal. It's healthy, delicious, and made with love. And food is love. I hope you make this special recipe for someone you love. Feel free to let me know what you think in the comments below!
In honor of both my grandparents, I am growing my own rosemary and garlic every year. I look forward to a hopeful July harvest when I can make my Grandpop's Garlic Rosemary Chicken from scratch using my own homegrown ingredients.
01.19.20 – Updated to add photos of my grandparents.
10.05.23 – Updated spacing. Added Celebrate Garlic section with reference and link to National Garlic Day.