How to Tell If a Pineapple Is Ripe | 5 Tips
Knowing how to tell if a pineapple is ripe may be a hidden talent for some. For others, like me, I rely on a few tricks.
First, I should clarify. By knowing how to tell if a pineapple is ripe, I actually mean, knowing if a pineapple is ready to eat. We love those juicy, yellow pineapple chunks that taste like the flavors of Maui, Hawaii. (heart eyes)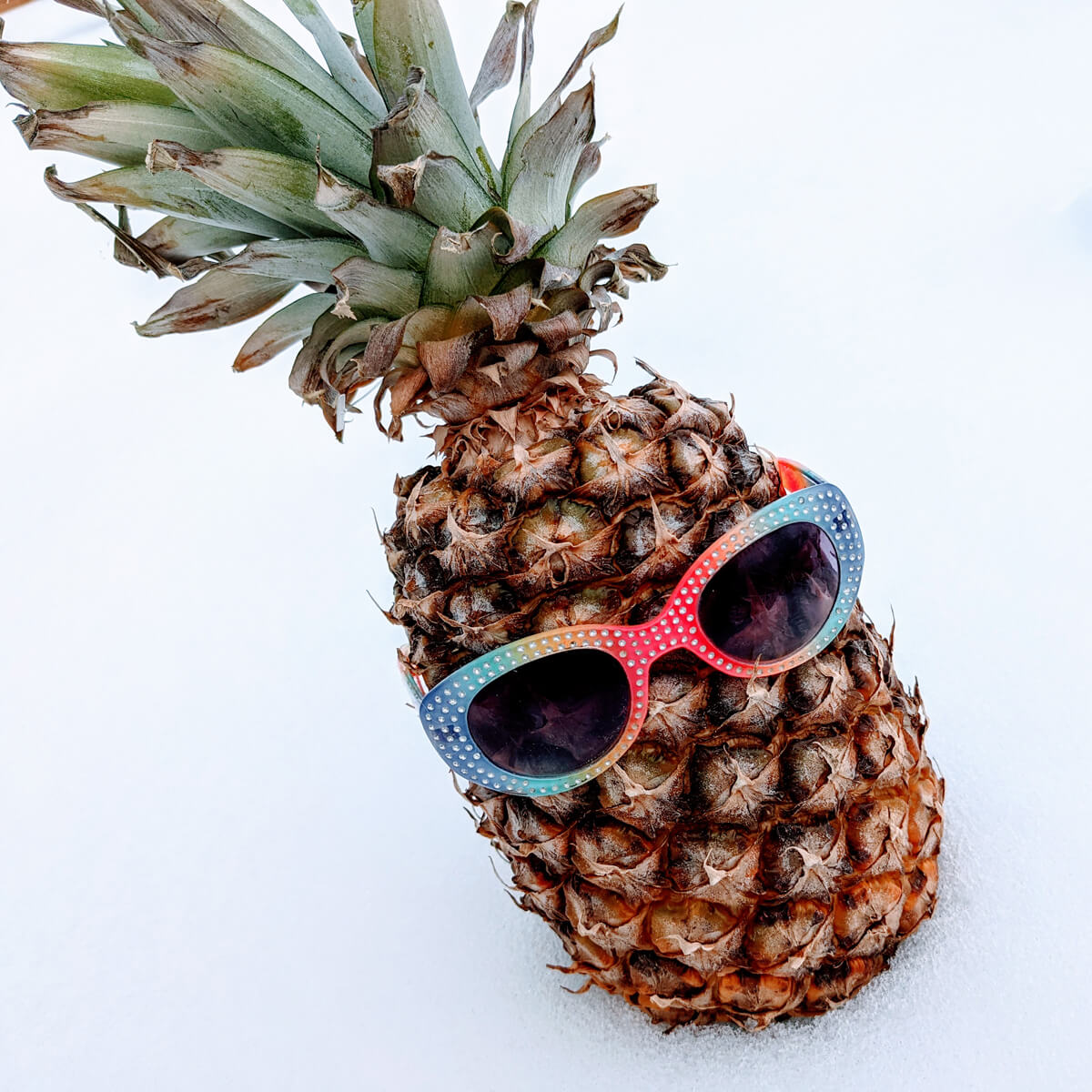 Every once in a while, we've cut open a pineapple that is still too firm and tart, not at all sweet. Well, I've got a trick for you to try so you can know when a pineapple is ripe and ready to eat!
But first, let's explore a little more about ripe pineapples!
Does pineapple continue to ripen after being cut?
Technically, pineapple farmers pick pineapples when they are already ripe. The pineapple fruit will soften after it's picked. Also, the flavors may become richer after picking pineapples, but the fruit itself doesn't truly "ripen" after the fact.
What color is a ripe pineapple?
Ripe pineapples are greenish yellow in color. Pineapples with more yellow coloring on the rind are likely riper, sweeter, and softer. The exterior of the pineapple continues to change color with age, becoming brown and dry the longer it goes uneaten.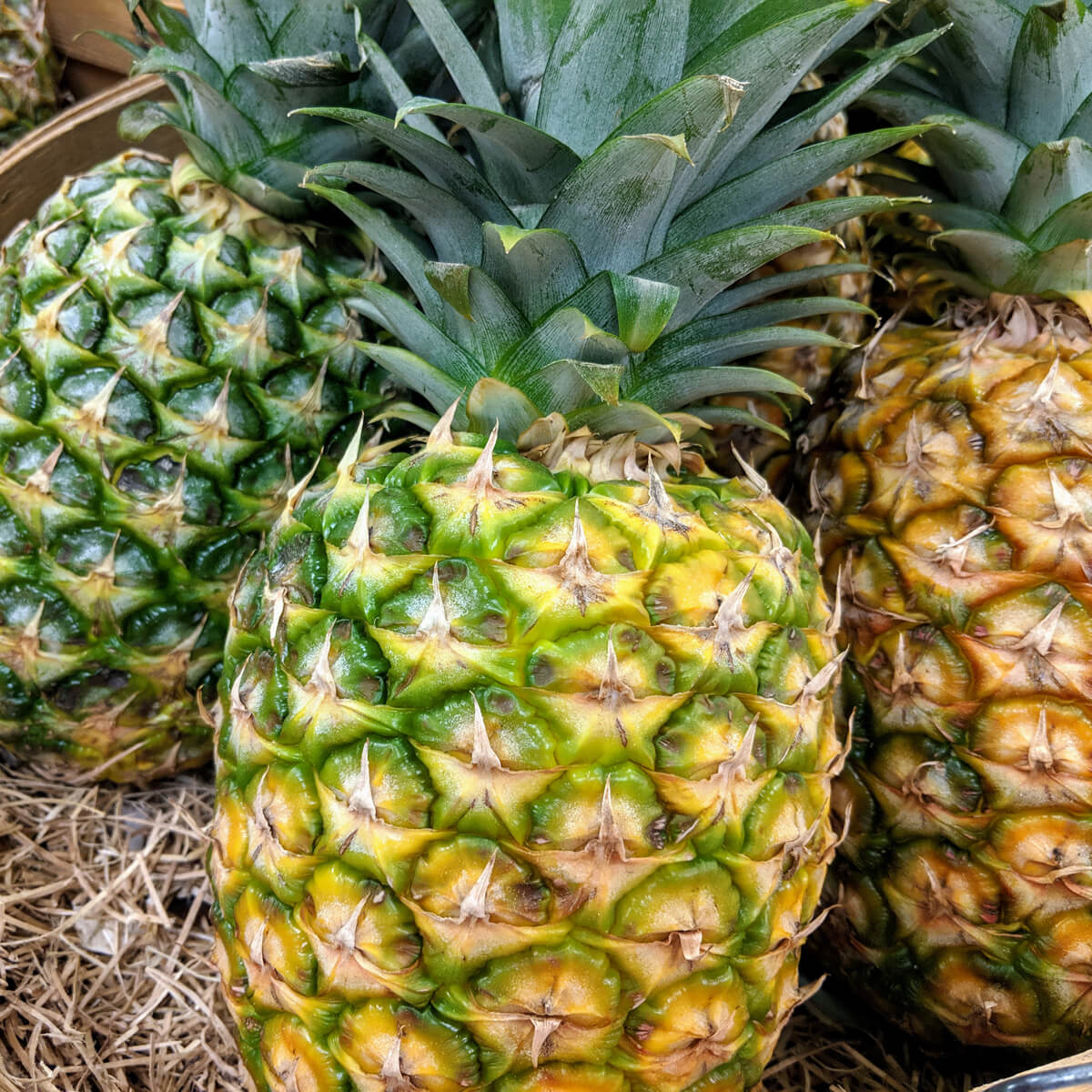 How do you know when a pineapple is ripe?
Use your senses to figure out if a pineapple is ripe. Ripe pineapples look golden generally. They are firm with a bit of give if squeezed hard. You can even smell the deliciousness of a truly ripe pineapple!
How to Tell If a Pineapple Is Ripe
It's important to determine if a pineapple is ripe prior to picking one or purchasing one. Consider these tips to help you estimate a pineapple's ripeness.
Sniff Test! So much better than the baby sniff test. Lol. Simply pick up the pineapple and smell it from the very center of the bottom. If you can smell tropical bliss on a sunny Hawaiian beach, you're home free.
Squeeze Test – Give the pineapple a little squeeze and see if you can feel any softness or give beneath the firm and hard exterior.
Color Test – Look for a pineapple that is more golden in color rather than mostly green. This may not be 100% accurate every time, but it's a good indicator in many cases. Once cut, the darker yellow fruit is sweeter and softer while the pale yellow fruit is firmer and more tart.
Tug Test – I haven't totally vetted this one, but rumor has it that you can pull a frond out of the top to test pineapple ripeness. Can anyone confirm or deny?
Taste Test – When all else fails, cut it open and give it a whirl!
Even if your pineapple isn't perfectly ripe, I've found that most cases it does still sweeten up a bit over time in the fridge.
Enjoying Ripe Pineapples
Now that you know how to tell if a pineapple is ripe, I hope you only ever have the most delicious pineapples from now on.
Right now, I have a few pineapple tops growing in my kitchen and I hope one day they will produce their own pineapples!
(Of course, by then I will stress out about picking them. That seems so much more stressful than picking a pineapple at the grocery store!)
More on that later!
I hope I answered any questions you had about how to know if a pineapple is ripe. Please share any remaining questions or tips you might have in the comments below.
I always respond and I love hearing from you!