Growing Leaf Lettuce in Pots (9 Helpful Tips)
One of the most rewarding and easy plants we grew in our backyard garden was loose leaf lettuce. Growing leaf lettuce in pots works well because you can basically do it anywhere you have space for a flower pot or planter!
We put ours right on our deck. For the most part, the critters left it alone, too!
Don't delay – the sooner you plant some lettuce seeds, the sooner you can enjoy fresh salad for lunch!
Let's get started!
Benefits of Growing Leaf Lettuce in Pots
Some gardens are certainly bigger than others! We're always wanting more growing space over here – at least I am! Thankfully, growing leaf lettuce in containers offers quite a few benefits no matter what your garden allotment looks like!
Growing loose leaf lettuce in containers offers quite a few advantages:
Any Size Will Do – Garden size doesn't matter so much, even with an apartment or deck garden. Grow as much lettuce as you can, but even a small pot will do.
Quick Harvest – Some lettuce varieties take only 4 weeks to reach maturity. Look for three-inch lettuce leaves, but you can enjoy them even while small for a tiny taste.
Easy Eating – Lettuce can go right from the plant to your tummy! No cooking involved – simply enjoy.
Prolific Seeds – One lettuce plant produced more seeds than we'd ever use in the following season.
Shallow Roots – Lettuce plant roots don't grow too deep. This makes lettuce seeds ideal for your shorter, shallower pots and planters.
On-Demand Harvest – Cut or pinch and come again to enjoy lettuce all throughout the week!
How to Germinate Lettuce Seeds
Lettuce seedlings tend to thrive best when direct sown. In fact, many types of lettuce will self-seed for the following season. To germinate lettuce seeds, scatter seeds on top of soil or potting mix in the desired container. Lightly scratch seeds into the soil as they need light to germinate. Water and wait!
Your lettuce seedlings should germinate within about a week. Water them after planting and regularly throughout the week. Check for new growth each time you check to see if the seeds need watering.
We scattered some gourmet loose leaf lettuce seeds in their own planters and in pots with other plants as well!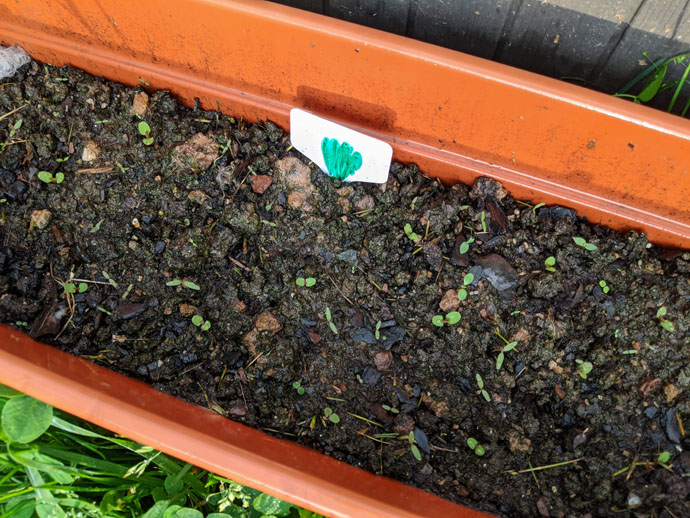 How Deep Do Lettuce Roots Grow?
Lettuce roots grow relatively close to the soil surface. For this reason, growing leaf lettuce in pots that are shallow is just as effective as deeper pots, but saves you some space!
Use shallow rectangular planters that are at least 4 inches deep to ensure your lettuce has enough space for its roots. You can try three different rectangular planters with a different variety of lettuce in each. That worked very well for us!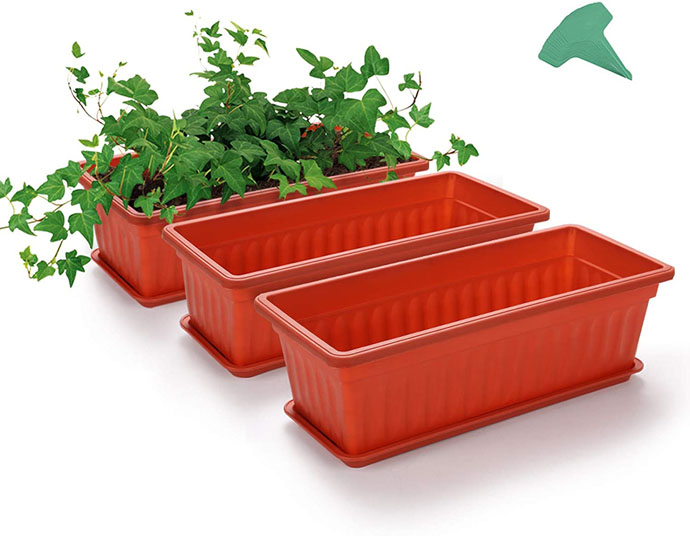 How Fast Does Lettuce Grow?
In proper conditions, lettuce grows quickly. You may find loose leaf lettuce plants can grow from seed to harvest in about 4 weeks. Other lettuce varieties such as romaine and iceberg may take between 55 and 80 days until maturity.
However, you can still harvest individual lettuce leaves from these varieties if desired!
Choosing a Lettuce Planter
Consider different types of lettuce planters to suit your needs! Will you grow lettuce inside, too, or just outside?
Here are a few styles to consider:
Lettuce Bowl Planter – A Corinthian Bowl Planter can be a stunning and sophisticated choice for indoor and outdoor lettuce plants.
Stackable Tier Planter – Tier planters were all the rage this summer, and our Dollar Tree's gardening aisle sold out way before we got there to look for a set. Luckily, you can find lots of fine quality tier planting sets for sale online.
Rectangular Window Box Planter – Classic and easy to find, a traditional window box planter works very well for growing multiple kinds of lettuce.
Since we already had one, I went ahead with a rectangular window box style planter for lettuce this summer. In the future, I hope to try something fancier like the Corinthian bowl planter!
Our website features affiliate links to products that we personally believe in. If you make a purchase from a link on our site, we may earn a small commission at no cost to you. This helps our girls chase their garden dreams! Thanks for your support. (View full affiliate disclaimer at the end of the page.)
How to Water Lettuce
Water lettuce down by the roots, using caution to avoid wetting the lettuce leaves directly. A watering can with a narrow nozzle may work best. Check the soil to see if it is becoming dry. You may also notice lettuce leaves begin to wilt when its watering needs aren't being met.
Growing lettuce in pots may require more frequent watering than growing directly in the ground. Be sure to monitor the outside temperature and rainfall for effective watering.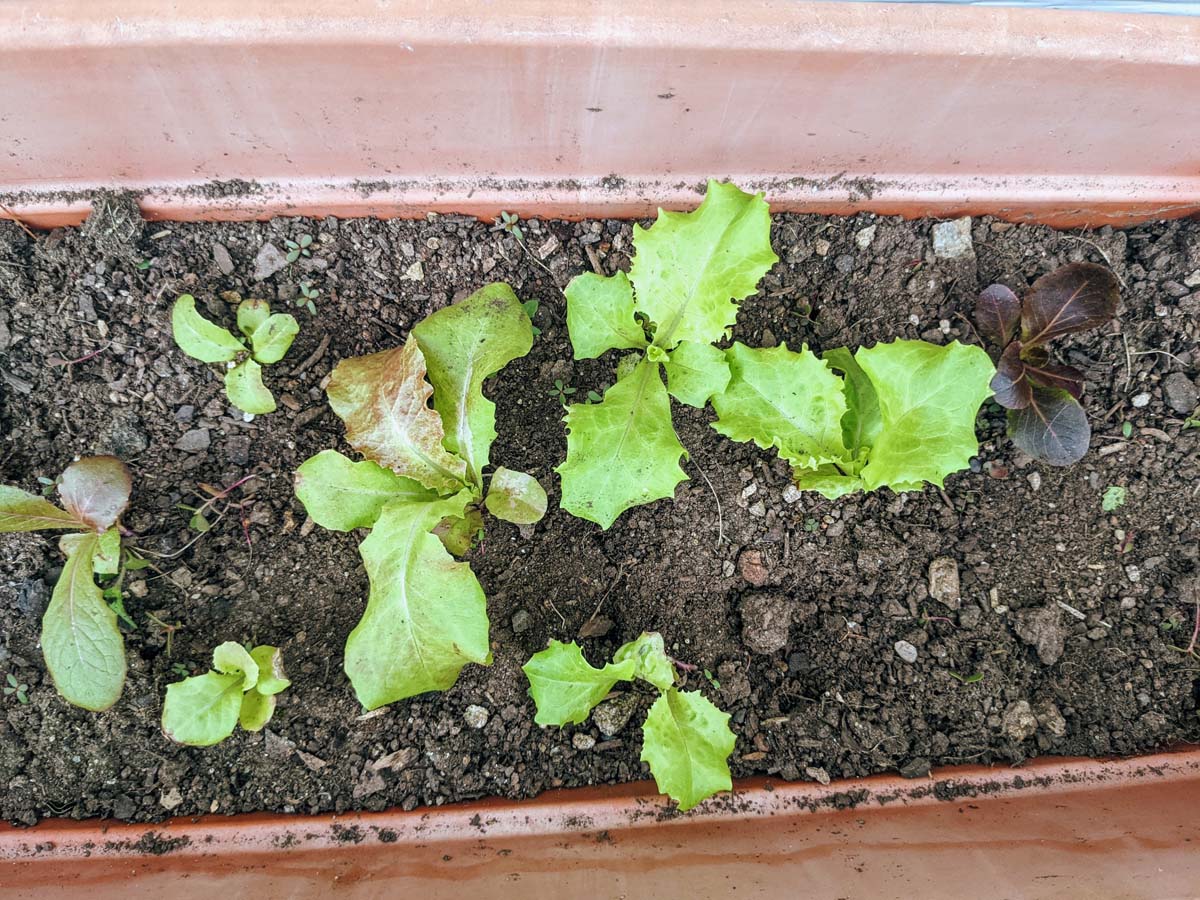 Lettuce in Summer
When the temperatures get too hot, lettuce tends to bolt. This means the lettuce plant produces flower stems, which soon go to seed. If at all possible, keep your lettuce from bolting to extend your harvest season.
How to Keep Lettuce from Bolting
Lettuce is known to bolt – or go to seed – when the summers get hot. Keeping lettuce in the shade during the hottest months can help to keep the temperatures down, prolonging the lettuce growing season and delaying bolting. Growing leaf lettuce in pots offers the flexibility to move plants out of direct heat in an effort to keep lettuce from bolting.
We thought it prudent to scatter some lettuce seeds under our Roma tomatoes in hopes the toms would shade the lettuce in the heat of the summer.
Unfortunately, our lettuce still bolted in July, if my memory serves me. It gets pretty hot here in zone 6b in the mid to late summer.
Succession Planting Lettuce
Next time around, we're going to focus on succession planting lettuce. The lettuce grows so quickly that we really should have done that the first time!
We'll likely plant lettuce seeds in early to mid-August to give us a nice fall crop. Fingers crossed for a long lettuce season!
Harvesting Red Leaf Lettuce, Green Leaf, and Gourmet Loose Leaf Lettuce
We grew a mix of gourmet loose leaf lettuces. The mix included fancy red leaf lettuce, green leaf, and other fancy mixed lettuce leaves.
The super-fast harvest potential of this gourmet mix proved very enticing to my young daughters. The eldest in particular was very excited to harvest her own lunch salad directly from pots on our deck!
Picking Leaf Lettuce
The same process worked well for harvesting red leaf, green leaf, and fancy gourmet lettuce from our planters. Remember to take only about 1/8 of the plant at a time to ensure you have a continuous yield.
Here are the steps we used to harvest leaf lettuce:
Choose the lettuce leaf you wish to harvest. Start with the outer leaves, as those tend to be the biggest.
Pinch the leaf lettuce at the bottom of the plant.
Gently pinch and tear the leaf away from the plant.
Drop the lettuce in your harvest colander or basket and repeat!
TIP: Pick lettuce during the cooler part of the day. Rinse and spin or shake before use to remove any aphids or other tiny insects.
Cutting Leaf Lettuce
If you feel more comfortable cutting leaf lettuce instead of picking it, that's just fine, too.
Grab your favorite garden shears or scissors and choose a leaf to cut.
Hold the scissors in one hand, the leaf in the other, and begin cutting the leaf lettuce starting down by the base of the plant. Cut first from the outer leaves.
Drop your cut lettuce into your harvest basket and keep going until you have a salad!
Storing Green Leaf Lettuce and Other Fresh Lettuce
After harvesting leaf lettuce, give it a good rinse. Aphids and other pests may be lurking and blending into the green hues. Place the lettuce in a salad spinner or gently shake the leaves and allow them to dry in a colander. When lettuce is fully dry, wrap it in a paper towel and tuck it into a bag or container. Store leaf lettuce in the refrigerator, preferably in the crisper.
TIP: One time our fridge was rather full and I had to stick our lettuce in the top section, above the milk. Do not do this! Our lettuce suffered from too cold a temperature and ended up partially freezing.
This also happened in a YETI cooler too close to the ice pack on a long trip to vacation. Keep lettuce from freezing!
If You Like Lettuce: You might also want to try growing Kale! Check out our post on Kale Germination Time & Tips!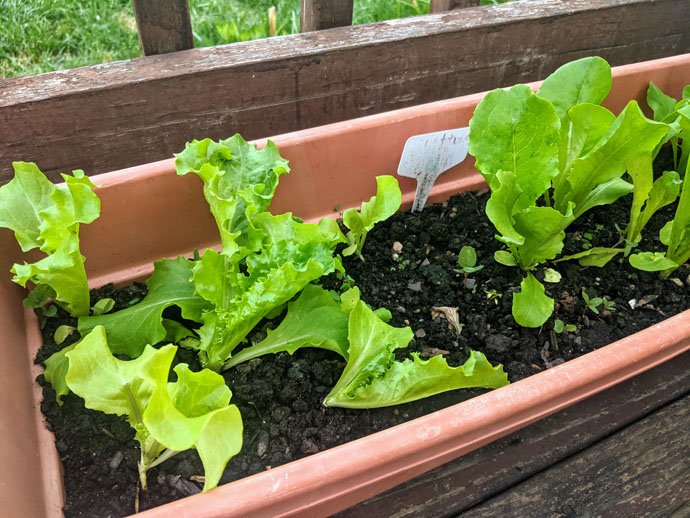 Final Thoughts: Growing Leaf Lettuce in Pots
For us, lettuce ended up being one of the easiest vegetables to grow in containers on our deck. We had a great harvest for salad and burgers throughout much of the summer!
Even if you don't have a lot of space, even if you don't have a lot of time, lettuce is an easy veggie to grow and enjoy!
Highly recommend growing leaf lettuce in pots for beginner gardeners through seasoned pros. It's such a rewarding and delicious crop to grow.
What kind of lettuce are you planning to grow in your garden? Let's grow together in the comments below.
And if you know anyone else who would like this post, please be sure to share the link or spread the love on social media!
09.28.2021 – Edited to add photo of mixed leaf lettuce in planter and section on lettuce planters.