Transplanting Iris Bulbs: Dividing Irises for New Spaces
Irises are a lovely flowering perennial that blooms boldly and beautifully in the garden. Because they multiply quite a bit on their own, you can try dividing irises to share with friends. Transplanting iris bulbs is a relatively easy garden task for all experience levels.
I've done just this with my dear friend, who now has a stunning cluster of yellow irises in her front garden. These all started from a small, single clump I shared when we were both early homeowners!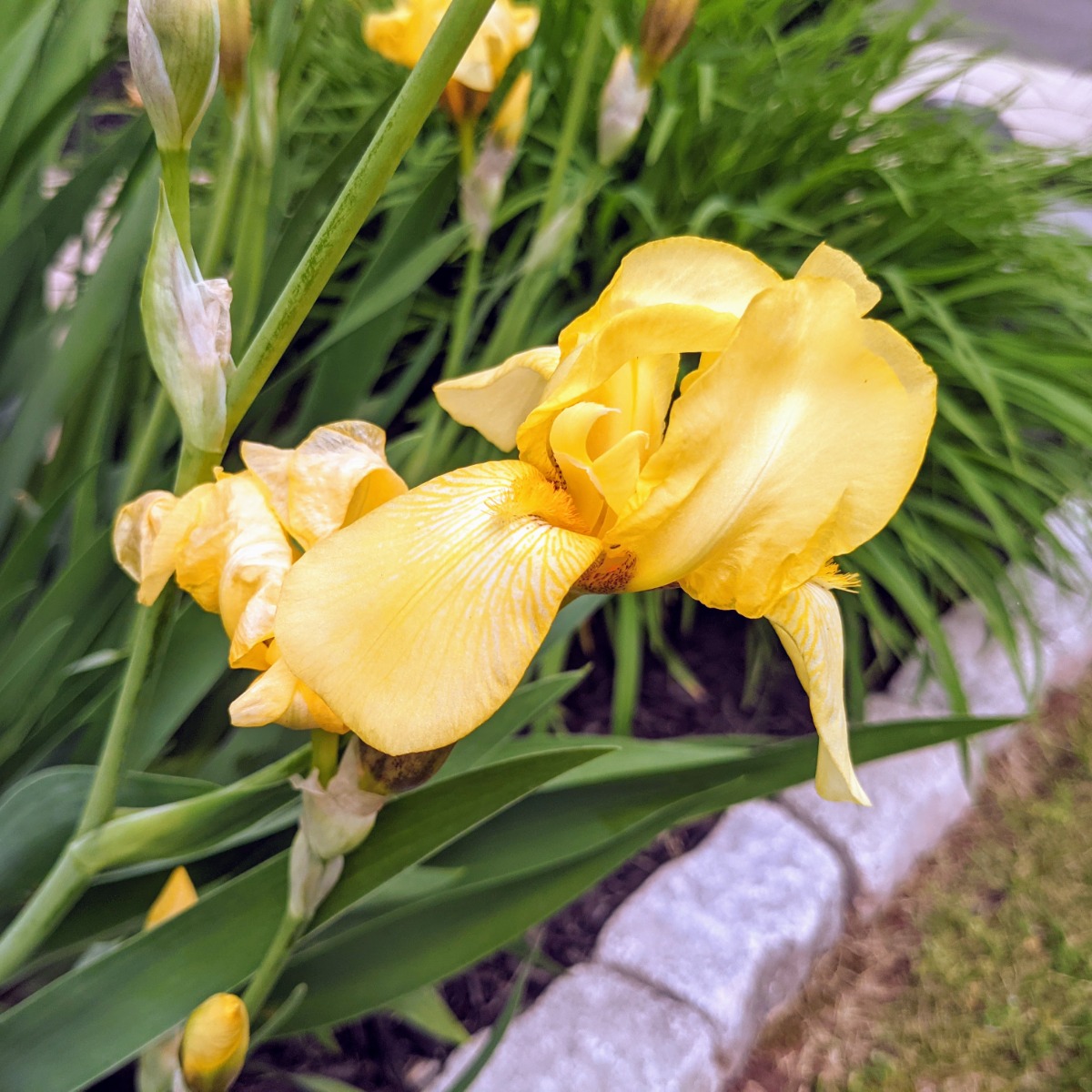 My mom always called her purple irises flags and I never knew why. Apparently certain irises are actually called flag irises, including the pale purple ones she always had.
I have lots of my mom's flag irises and purple bearded irises growing as well!
Every other year or so, I spend some time splitting and replanting irises in different parts of my garden. It helps to spread the beauty even further!
When is the best time to divide irises?
The best time for dividing irises is in the mid to late summer after they've started going dormant. When blooming is done, wait just a bit longer for the best chances of a successful iris division.
According to Penn State Extension, you should plan on splitting irises every 3 to 5 years. If you notice the irises aren't blooming as much, it may be a good time to divide and separate irises.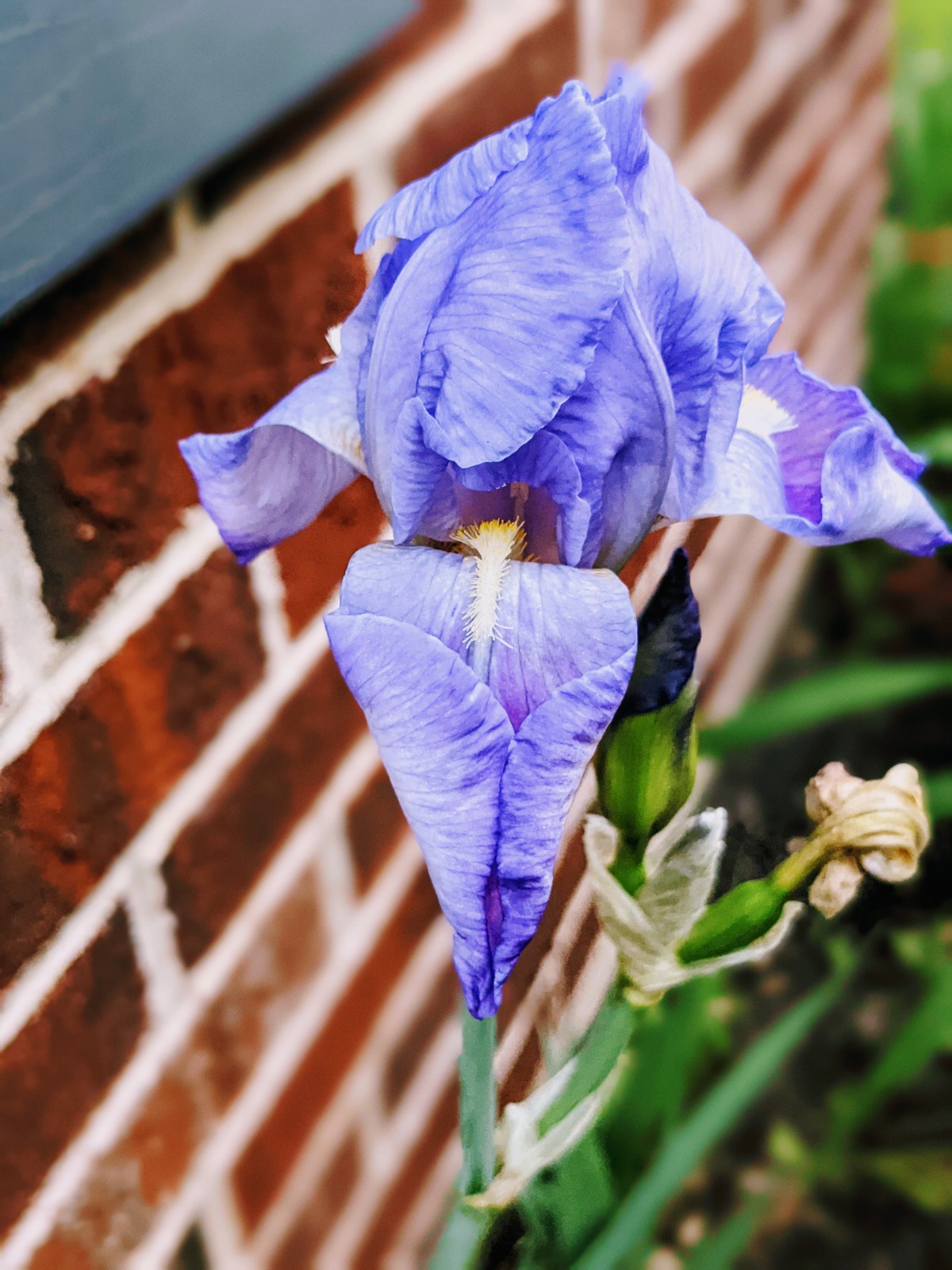 Can I try dividing irises in spring?
It is not advisable to divide irises in the spring. Dividing iris rhizomes in spring may result in a season without blooms, or limited flowering.
That being said, your perennial irises should come back and bloom again for you in future years.
If springtime is your only option, such as if you're moving to a new home, go ahead and proceed with moving irises from your existing garden to your new one. You should definitely take your plants with you if you can!
Is dividing irises in fall okay?
When dividing irises in fall, your mileage may vary depending on your grow zone. Warmer regions may be fine, although you want to avoid dividing and transplanting irises in winter.
Generally, transplanting iris in late summer is the best plan, so aim to dig up irises in August or September.
October may be pushing it, but better late than never. Look at the forecast and try to make sure the bulbs have time to acclimate before temperatures plummet.
Can I dig up iris bulbs now?
The time of year is important to consider when digging and transplanting irises. Plan to dig and separate irises in the end of summer or early fall. If it's spring, and you must, you can dig iris bulbs but they may not flower. Avoid digging irises in winter as the plants may not transplant or survive as well during this time of year.
When should you transplant irises?
Transplanting irises sometime between late July and the end of September is best. You can probably get away with transplanting irises in fall as well, depending on temperatures.
Transplanting iris in spring may risk the blooming season. Do not transplant irises in the winter.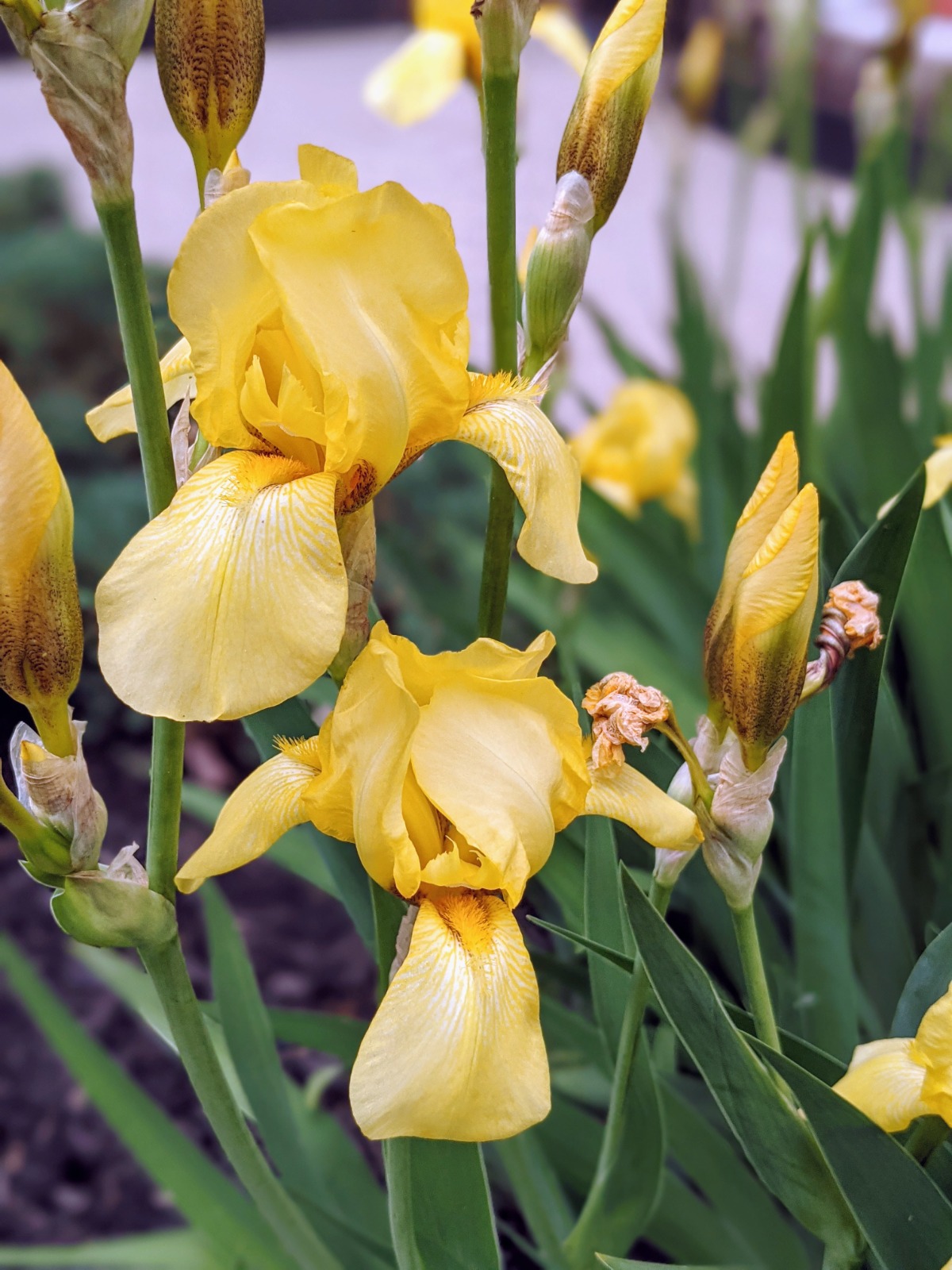 Thinning Iris Beds
Keep your plants in great shape by thinning iris beds once every 3 to 5 years.
Thinning beds is a two-step process. First, you need to focus on separating irises, reducing the number of rhizomes in a given area.
Next, you'll focus on replanting iris bulbs in a new location or giving away irises to friends or neighbors. You can also try selling extra iris bulbs locally!
Here's a step-by-step guide to dividing and transplanting iris bulbs.
How to Divide Irises
Wait until late summer to begin dividing iris bulbs when possible.
Many times, you can dig up irises in individual clumps. Sometimes they are stuck together, but most of the time you can separate irises as you dig them.
Hold the green foliage of an iris plant in your nondominant hand.

Use a hand spade / trowel to gently dig under and all around the iris rhizome.

Gently use the trowel to dig down and then pop up the bulb to free it from the soil with roots intact.

Set aside each iris rhizome that you wish to transplant.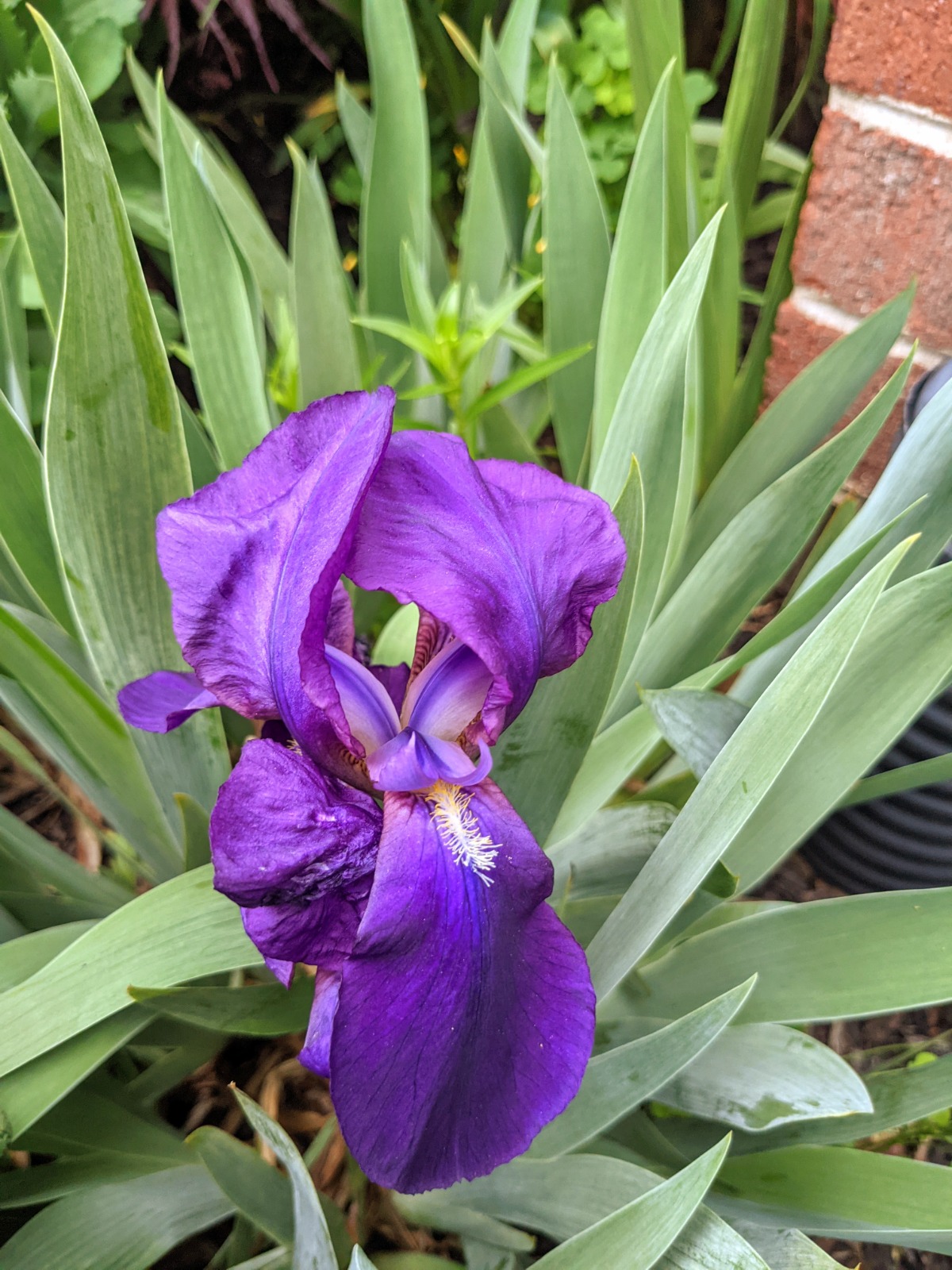 How to Transplant Irises
After separating irises that you wish to move elsewhere, follow these steps to replant the bulbs.
Keep in mind that iris rhizomes prefer to be close to the surface for best blooming!
Trim back the leaves of the irises so they can focus on root development.

Dig a small hole about 4 inches deep in a new location in the garden.

Build up a small mound of soil in the center.

Place the iris bulb in the center on top of the mound. The top part of the bulb should be exposed above the soil line.

Drape the roots down the sides of the soil mound.

Cover the roots and rhizome with soil, filling the planting hole.

Repeat this process for all the irises you're transplanting. You can plant irises one at a time or in groups of 3 to 5 if desired.

When done, water the iris bulbs adequately.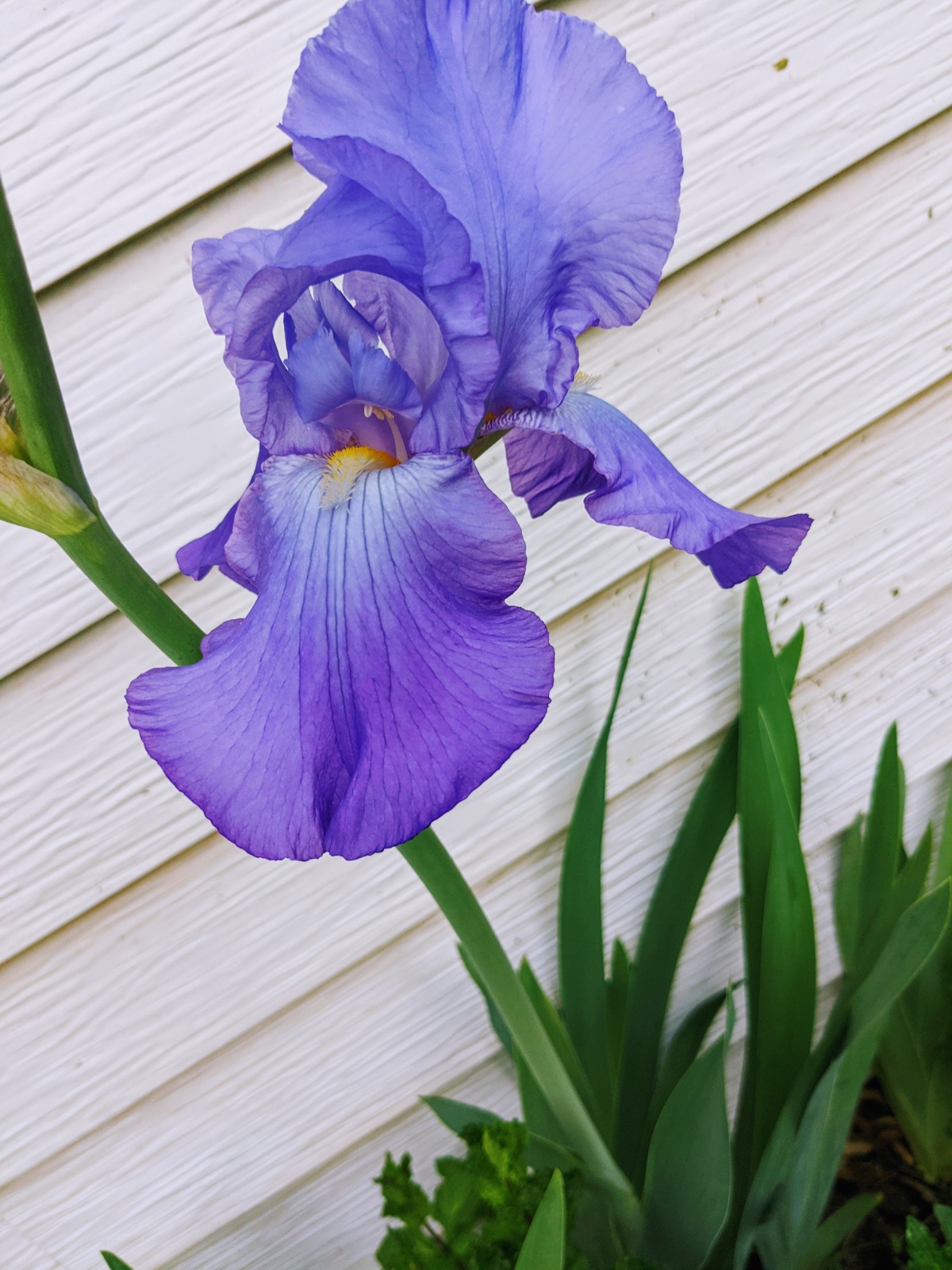 Transplanting Irises & Sharing
Sharing irises with friends, neighbors, and family is a great way to spread the beauty all over, year after year.
These steps should work well when dividing and transplanting bearded iris, flag irises, and others.
Even if you don't follow the steps or timelines exactly, don't stress about it! Irises are pretty resilient and should do just fine for the most part.
Do you have any questions on transplanting irises or any stories or tips to share? Feel free to shout out in the comments – we love hearing from you!
Happy Gardening!