Things to Plant in August in Pennsylvania Zone 6b
It's crazy how quickly the summertime flies by every year. Now that things are winding down, we're looking for things to plant in August in Pennsylvania Zone 6b where we live.
If you are also looking for plants to grow in August, you've come to the right place. I am searching high and low for the best options for gardening in August.
We didn't quite keep up with our dreams of succession planting lettuce due to a shortage of time and space, but I'm committed to getting in a few different types of lettuce for a fall crop.
Other salad greens will also be on our list for things to plant in August.
This is just the beginning, though!
Keep reading for a long list of plants to grow in August in Pennsylvania Zone 6b and beyond.
Vegetables to Plant in August
Planting another round of vegetables in August keeps that great gardening vibe going strong all summer long.
Try these vegetables to plant in August in PA Zone 6b:
Arugula – Full-size and ready for harvest in just 4 to 7 weeks, arugula is a great choice for a fall crop.

Beets – Quick-growing beets may be ready for harvest in just 7 to 8 weeks. Enjoy them with your fall braises!

Bok Choy – At just 45 days to harvest, bok choy is a unique veggie choice for your fall garden.

Broccoli – With 80 to 100 days of growing time before harvest, broccoli is a cool-weather crop and should do very well in your fall to winter garden.

Golden Cross Cabbage – Quite possibly the quickest around, 45-day Golden Cross mini cabbage grows swiftly enough for you to harvest before the fall frosts and freezes.

Carrots – Relatively tolerant of the cooler weather, carrots are usually ready to harvest in 70 to 80 days. Consider a winter crop under row covers!

Cauliflower – The variety you grow determines the time to maturity, but cauliflower generally takes 50 to 100 days until harvest.

Cucumbers – If you've got 50 to 70 days ahead of your first frost date, try growing another round of cucumbers. With less time, see if you can grab some starts at the local garden center.

Green Beans – After your summer crop finishes up, have a nice fall crop of green beans ready to go. Your delicious harvest is just 45 to 60 days away.

Kale – If you can defeat the cabbage white butterfly, a kale harvest takes just 55 to 75 days.

Lettuce – Enjoyable even as tender young leaves, lettuce is a quick grower that does well in cooler weather. Expect to enjoy leaf lettuce in as little as 30 days or other varieties in 6 to 8 weeks. (Meanwhile, iceberg takes between 55 and 90 days.)

Peas – Another cool-weather crop, peas require about 60 to 70 days until harvest.

Potatoes – Enjoy the freshest home-grown potatoes in just 60 to 90 days! I've also found potatoes to be relatively cold tolerant.

Pickling Cucumbers – In as short as 50 to 65 days, you can start stocking your fridge with pickles for the fall and winter season!

Radishes – One of the quickest growers, radishes mature in just 22 to 70 days, depending on the type.

Spinach – At just 37-45 days to harvest, spinach is a

Squash (early) – At 45-60 days till harvest, squash is a good choice for late summer plantings. You also beat the vine borer's mating season, which is awesome news!

Swiss Chard – About 50 to 60 days should leave you with some Swiss chard to harvest.

Turnips – Requiring only 40 to 55 days to harvest, you can pick and store turnips for those winter roasts and stews.
Herbs to Plant in August
Enhance your kitchen herb garden for improved culinary flavors. Enjoy growing herbs you can plant in August and enjoy harvesting all year long.
(When you bring them inside for the winter, of course!)
Try planting these herb seeds in August:
Basil – Plan to harvest some delicious fresh basil in 50 to 60 days from planting. I've harvested a little even sooner than that, so basil is definitely on our list of things to plant in August. Some of our favorite types of basil to try:

Chamomile – Harvest chamomile for tea or medicinal use after as little as 6 to 8 weeks.

Chervil – Known as French parsley, chervil is ready to harvest in just 6 to 8 weeks.

Cilantro / Coriander – Harvest cilantro just three to four weeks after planting from seed. Coriander seeds may also be
ready for a fall harvest.

Parsley – Enjoy a parsley harvest in the fall after about 70 to 90 days. Even if you don't get enough to harvest by then, bring your pot inside to grow herbs over the winter!
Flowers to Plant in Late Summer
Consider a few nice flowers to plant in August as well. This way you can keep your cutting garden going throughout the fall until frost.
Consider these fast-growing cutting garden flowers:
Cosmos – These vigorous flowers take about 7 weeks to bloom and will give you a continuous flush of color all season long until frost.

Johnny Jump-ups – These tiny yet adorable flowers self-seed and will be likely to come back next year. They're also fairly quick to bloom!

Marigolds – Taking just 45 to 50 days to bloom, marigolds as companion plants are a popular choice for your summer and fall garden.

Nasturtiums – Offering many benefits in the garden, nasturtiums are edible and also work well as a trap crop for squash bugs and other garden pests. Nasturtiums can flower in just 35 to 52 days, making them a wonderful choice for an August planting in Zone 6b.

Zinnias – One of our favorites, zinnias offer a wide array of color and they're fast blooming to boot. Some gardeners say they've enjoyed first bloom in as little as six weeks!
Besides planting flowers from seed, now is a great time to check all the clearance racks at your favorite garden centers.
I scored a bunch of plants at Lowes on clearance last week, including some perennials we'll get to enjoy year after year.
Let us know where you score your best flower clearance finds in the comments!
Tips for Gardening in August
Gardening all summer brings so many joys. When the end of the summer approaches, keep these tips in mind for gardening in August.
Shade cool-weather crops from excessive heat.

Start sensitive plants indoors if possible.

Deadhead flowers for continuous blooms, except for those where you wish to save seeds.

Monitor for drought and check garden beds and containers daily for watering needs.

Consider growing herbs in containers. In a few months, you can easily bring your herbs indoors before frost to enjoy fresh culinary use all year long.
By the way, if you're reading this a little early, you might also enjoy my other post on What Can You Plant in July.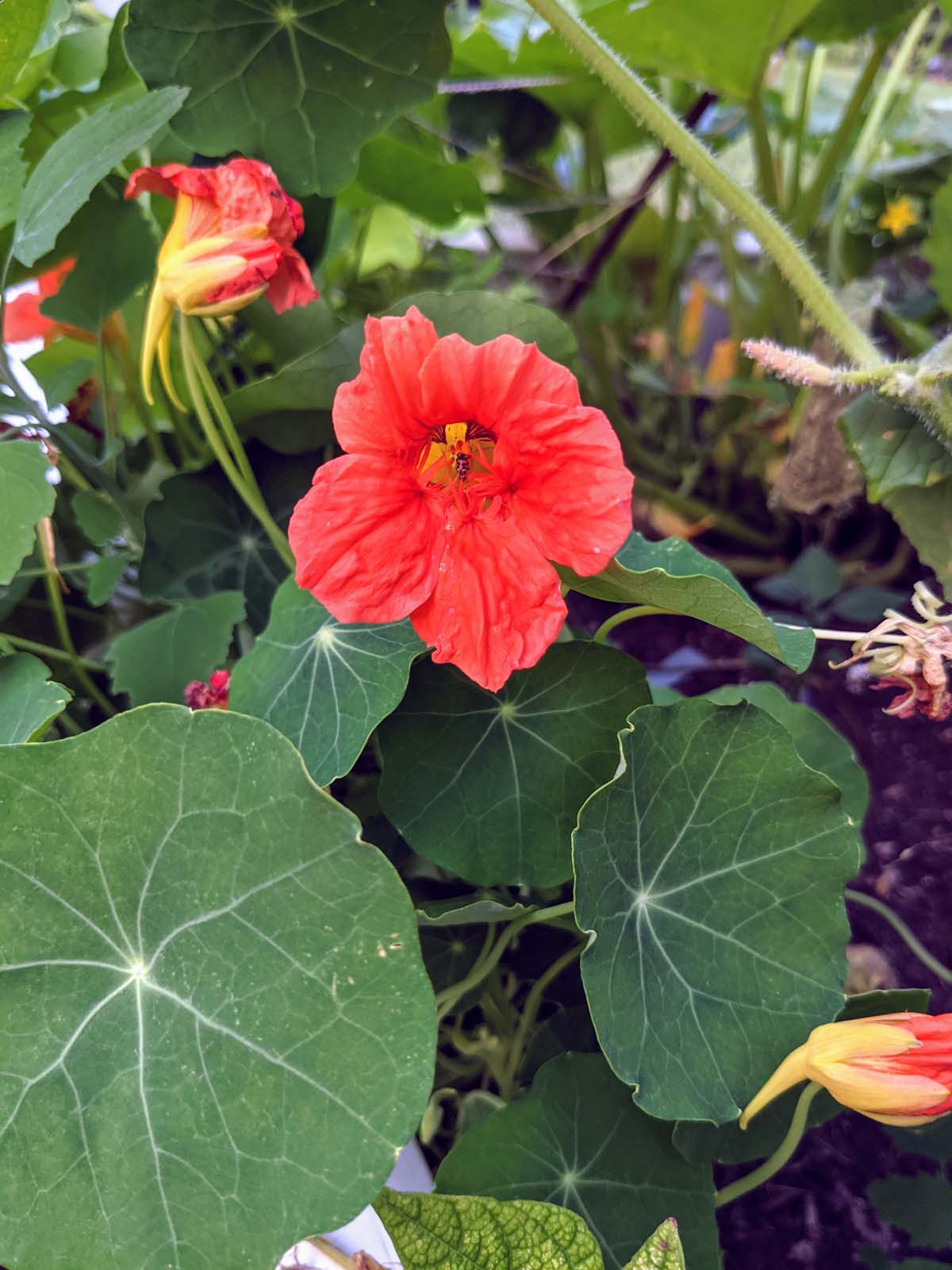 Our website features affiliate links to products that we personally believe in. If you make a purchase from a link on our site, we may earn a small commission at no cost to you. Thank you! This helps our girls chase their garden dreams! Thanks for your support. (View full affiliate disclaimer at the end of the page.)
Final Thoughts: Things to Plant in August
Planting from seed is so gratifying! Especially when you go for multiple rounds of planting throughout the growing season.
Gardening in August is pretty much prime time. (Of course, you can still find things to plant in September, and October Garden Tasks to do, too!)
If you want to speed things up, you can buy starter plants from your favorite nursery or garden center. This helps to cut down on the time until harvest and maturity.
What are your favorite things to plant in August? Let us know what you're planting! Are you going for any plants that didn't make this list?
Hit us up in the comments to chat, ask questions, or share tips and more plants to grow in August.
Happy Gardening!
10.22.22 – Updated to replace png with jpg. Bolded headings and improved spacing and added product links.