Poultry Seasoning Substitute Ideas | 5 Easy Swaps!
Uh oh, did you run out of seasoning? If you need a poultry seasoning substitute, you're in luck, because you're fully capable of making your own spice blend!
Few foods are as comforting as roast chicken, turkey, or poultry in general. Poultry dishes tend to be healthy choices for your family meal plan as well!
When you run out of poultry seasoning, don't be alarmed. This tasty blend of seasonings makes cooking convenient, but there's more than one way to roast a bird.
Consider these tips on creating or finding a poultry seasoning substitute. My biggest tip is to make your own blend!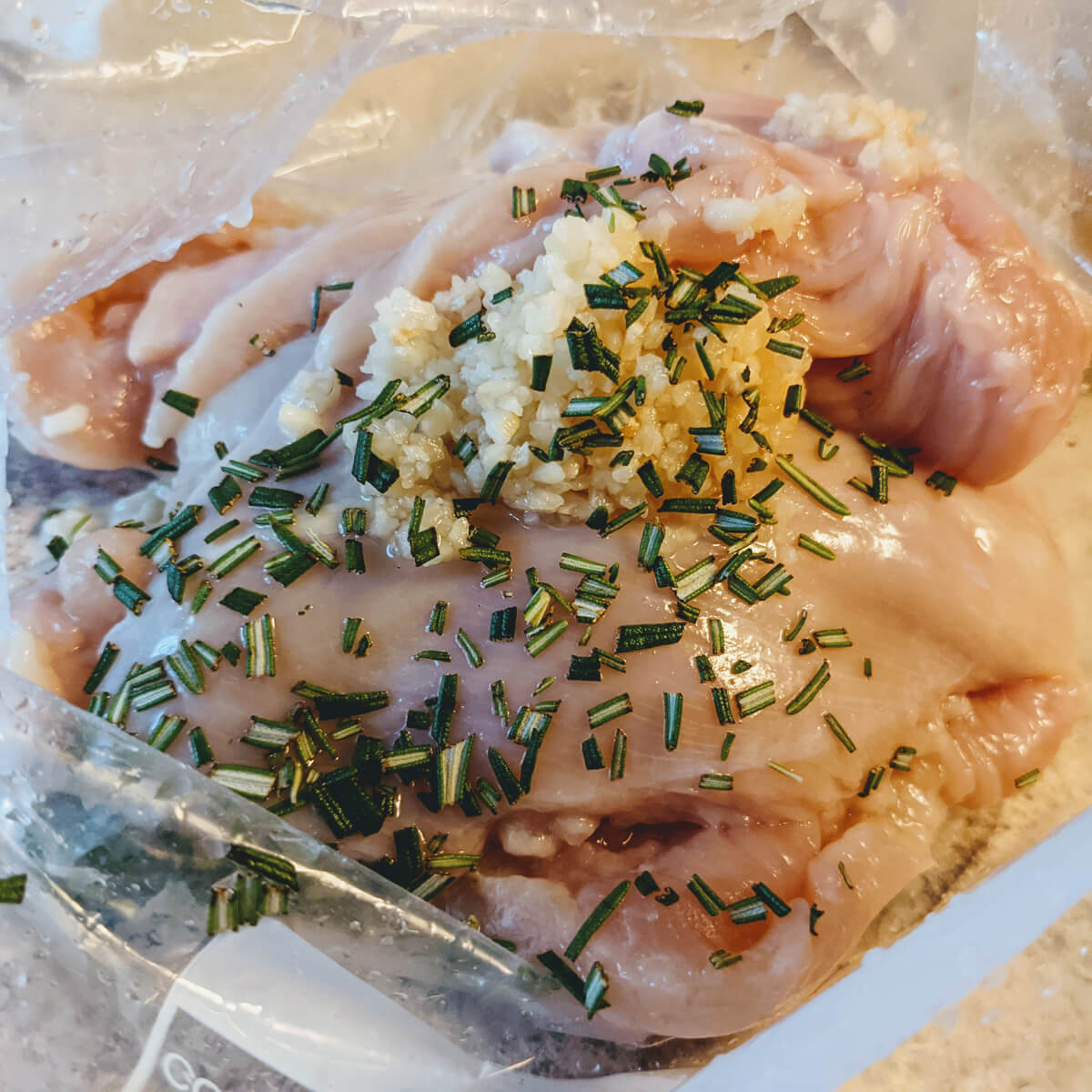 What's Poultry Seasoning Used For?
Poultry seasoning is used to add flavor to various meat entrees such as chicken, turkey, and game birds. This seasoning blend may also pair well with lamb, veal, pork, meatloaf, fish, and an assortment of sides and accompaniments. The poultry seasoning also mixes nicely into the breading for fried chicken. Consider using poultry seasoning in marinades and dressings, sauces, breads, stuffing, and even veggies.
What Is in Poultry Seasoning?
Poultry seasoning typically contains dried thyme and sage in the greatest quantities, followed by other herbs and spices such as rosemary, black pepper, marjoram, and nutmeg.
Best Poultry Seasoning Substitute Ideas
Finding the best poultry seasoning substitute ideas begins with thinking about what food you're making. Keep your dish in mind along with the cuisine or culture where it originated.
A lot of times with a seasoning blend, you have a little wiggle room to substitute for missing ingredients without majorly altering the dish.
Or, you CAN totally change the flavor of the dish. I mean, who's stopping you?! Chicken is so forgiving. When in doubt, just make rosemary garlic roasted chicken! (My "Grandpop's chicken" is one of my favorite meals ever since I was a young girl!)
Consider these suggestions for a substitution for poultry seasoning:
Ready Made Mixes
Herb de Provence – Boasting such ingredients as basil, marjoram, oregano, rosemary, thyme, tarragon, savory, and bay leaf, herb de Provence works well on roasted chicken, lamb, fish, vegetables, and more. Feel free to swap this seasoning blend as a sub for poultry seasoning.
Italian Seasoning – Italian seasoning tastes great as an alternative to poultry seasoning on your roast chicken, turkey, and other dishes. Most of the time, the Italian seasoning blend features basil, oregano, rosemary, thyme, and marjoram, although you may find some variation from one brand to the next.
Za'atar Seasoning – Za'atar seasoning brings together the savory flavors of herbs along with toasted and tangy keynotes. This spice generally contains dried oregano, thyme, and/or marjoram, plus sumac and toasted sesame seeds. Together these flavors range from savory to tangy, toasted, earthy, and beyond. Consider whether this is the flavor profile you're going for before choosing Za'atar as a substitute for poultry seasoning.
These herb mixes are likely the easiest type of alternative to poultry seasoning you may find. However, they certainly aren't the only option.
Bouquet Garni for Poultry
A fresh or dried bouquet garni brings together a special blend of herbs for your cooking needs. This sophisticated seasoning option generally contains parsley and thyme as well as bay leaf.
Bouquet garni tends to be an effective flavoring option for soups and stews, marinades, casseroles, and other hearty dishes.
Although the original style doesn't include the same mix as poultry seasoning typically does, you can still put together your own herb bouquet for dinner.
Make your own garnished bouquet with herbs from your garden, fresh herbs from the grocery store, or buy a bouquet garni at one of the specialty food stores that may carry it.
DIY Poultry Seasoning Blend
Making poultry seasoning can be so much more fulfilling than looking for an alternative.
Follow these tips and suggestions to make your own poultry seasoning blend.
Just remember, every dish is different and you might appreciate some flavors within certain recipes more than others. Try the sniff test or taste test to help your process!
Ratios – When making poultry seasoning on your own, you don't have to use the same exact herbs and ratios as the original poultry seasoning from your spice rack.
Restocking – If you're whipping up a dry poultry seasoning blend, consider bottling it up for future use. This helps cut your time down in the event that you'd find yourself making poultry seasoning again. Restock your spice rack instead!
DIY Poultry Seasoning – If you do wish to come close with a DIY poultry spice mix, try including these ingredients:
I am not a big nutmeg fan so I will probably minimize or completely omit nutmeg from the poultry seasoning substitute. I may also swap oregano in for marjoram as I tend to have more oregano on hand.
What would your dream poultry seasoning be?
Personally, I love some olive oil, fresh minced garlic, fresh chopped rosemary, and a little salt and pepper! That's my "Grandpop's Chicken" – a beloved family dish my grandfather used to make for me.
I have such fond memories of food prep from watching him painstakingly and lovingly chop each fresh garlic clove. I think it's why I love cooking so much!
For some dishes, like roasted chicken, it's hard to go wrong with a savory blend of herbs. When you spend enough time in the kitchen, you may find it super easy to choose a replacement for poultry seasoning.
Substitute for Poultry Seasoning No Sage
If you have no sage (or just don't like it) and need a poultry seasoning substitute, consider mixing together the other ingredients. It's so easy to make a marinade, dry rub, or seasoning mix for poultry!
Measure out some thyme, rosemary, black pepper, marjoram, and nutmeg. You may wish to increase the amount of thyme since you're omitting sage. Or leave out the nutmeg. It's all up to you and your flavor preferences!
Play around with the seasonings a bit and try to get a good sniff and a taste test to confirm your poultry seasoning substitute. Once the food is cooked and served, you'll know if you nailed it or need to replace your empty bottle of poultry seasoning!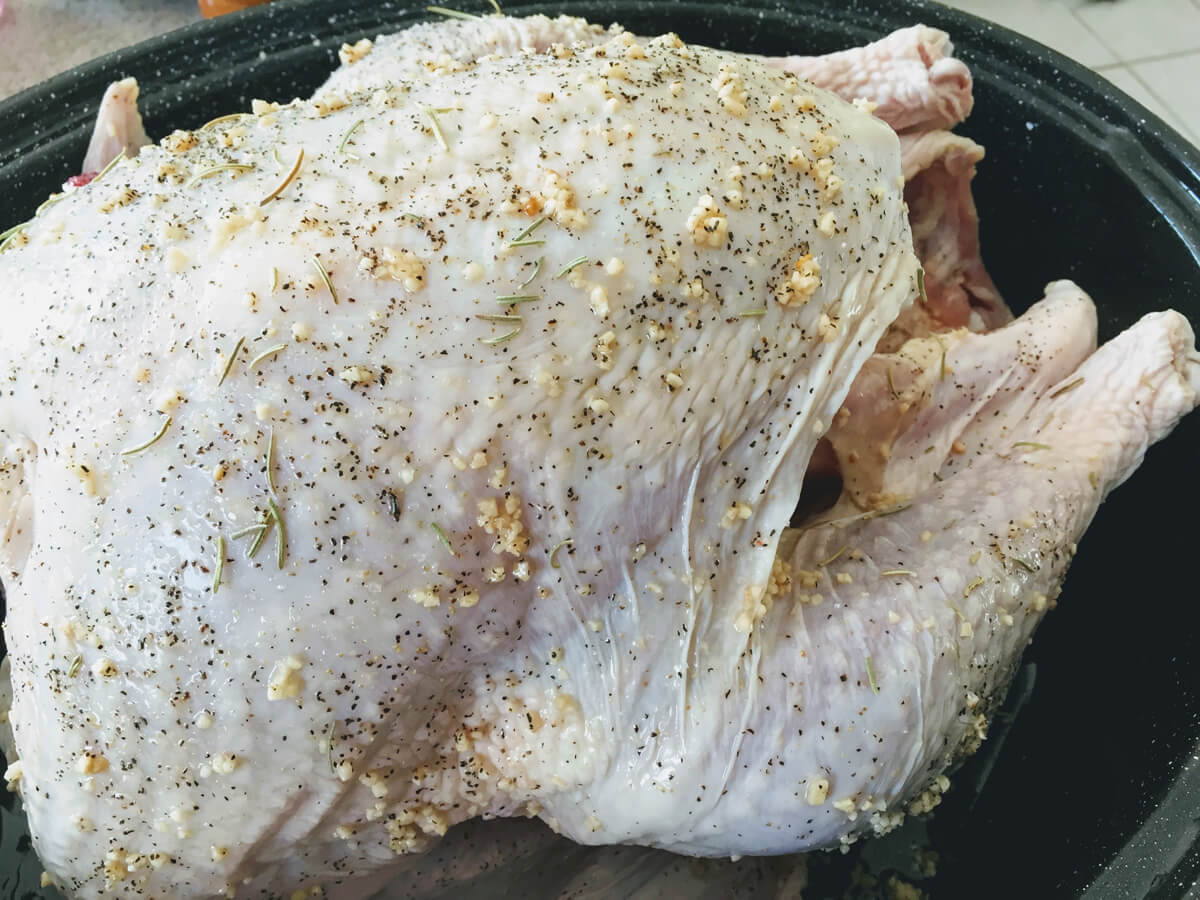 Final Thoughts: Poultry Seasoning Substitute
When searching for a substitute for poultry seasoning ingredients, sometimes it IS best to reinvent the wheel. Simply whip up your own homemade poultry seasoning blend for a quick and easy substitution.
Of course, if you don't have all of the ingredients, you still may need a suitable poultry seasoning alternative. If this is the case, take a look at what you DO have and make the best of it.
(Or if you're still not sure, go make an impromptu grocery run! We don't judge!)
With a little practice, it can be so easy to make your own poultry seasoning, not to mention other seasoning blends! Familiarize yourself with different herbs and spices and the sky is the limit.
Do you use poultry seasoning regularly? If so, do you prefer store-bought or homemade? Feel free to share tips or questions in the comments below!
By the way, if you enjoy experimenting with herb substitutions, you might also enjoy our other posts in this series!
If you like our ideas and tips, please share!
If you have more suggestions or any questions, hit us up in the comments, too. We love hearing from you!