7 Parsley Substitute Ideas for Fish, Meat & More
We've all been there. You come up with the perfect menu, side dish, or accompaniment and suddenly realize that you ran out of (or never bought!) one of the key ingredients. Time for a parsley substitute!
Finding a parsley replacement may sound easy, but it takes a little creativity to keep your recipes intact. One recipe may rely on the color of parsley while another enjoys just the right flavor.
I can't tell you how many times I've driven to the store to get parsley for our fresh, homemade garlic knots! The knots just aren't the same without minced Italian parsley.
In my humble opinion, there is no parsley substitute good enough for garlic knots – not even dried parsley! (Although I *have* used dried parsley and would consider basil or oregano if push came to shove.)
Of course, I am a perfectionist in the kitchen and tend to go overboard cooking at times. So, give me a pass on this one recipe please. J
And for everything else, let's kick around some parsley substitute ideas!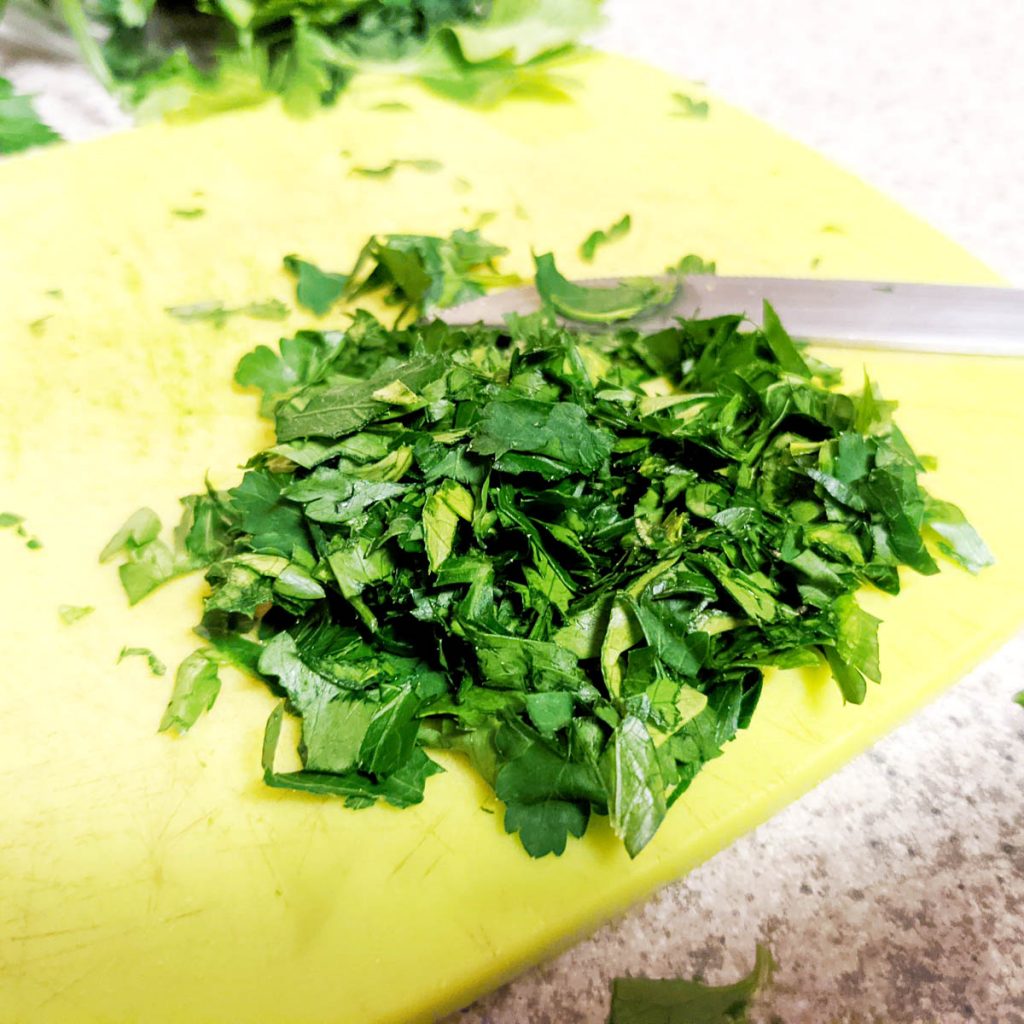 What Is a Good Replacement for Parsley?
Depending on the recipe, you can find a good replacement for parsley in basil, thyme, and other herbs and veggie scraps.
Let's take a look at the efficacy of a substitute for parsley one recipe or menu item at a time.
Parsley Substitutions
These dishes often call for parsley. Choose a specific parsley alternative as-needed.
Meatloaf
Choosing a parsley substitute in meatloaf may come down to your personal taste preferences. Truth be told, you can get away with making meatloaf without parsley.
The horror! Just kidding. Do you use oatmeal or breadcrumbs? Some breadcrumbs actually have parsley in the mix. (We use oatmeal, but don't always add parsley to our meatloaf and it STILL rocks!)
Before you decide, try making meatloaf mix, leave half plain and use a parsley substitute for the other half. Bake them both and see which your family likes better!
Lasagna
Italian herbs like basil and oregano add unmistakable flavor to your homemade lasagna.
Other red sauce Italian dishes like meatballs, veal or chicken parmesan, and the gravy itself would benefit from basil and oregano as a parsley alternative OR in addition to parsley.
Salmon
We've found it to be quite easy to swap a parsley substitute for salmon. When hubby grills up some salmon, I mix up a delicious herb butter.
Rubbed sage is the star here and we don't even use parsley with this dish. A little Himalayan pink salt, fresh ground pepper, butter, and lemon juice complete the marinade.
Sometimes I even add some minced basil! Either way, grilled salmon always tastes delicious.
So, swap sage for the missing parsley in salmon dishes!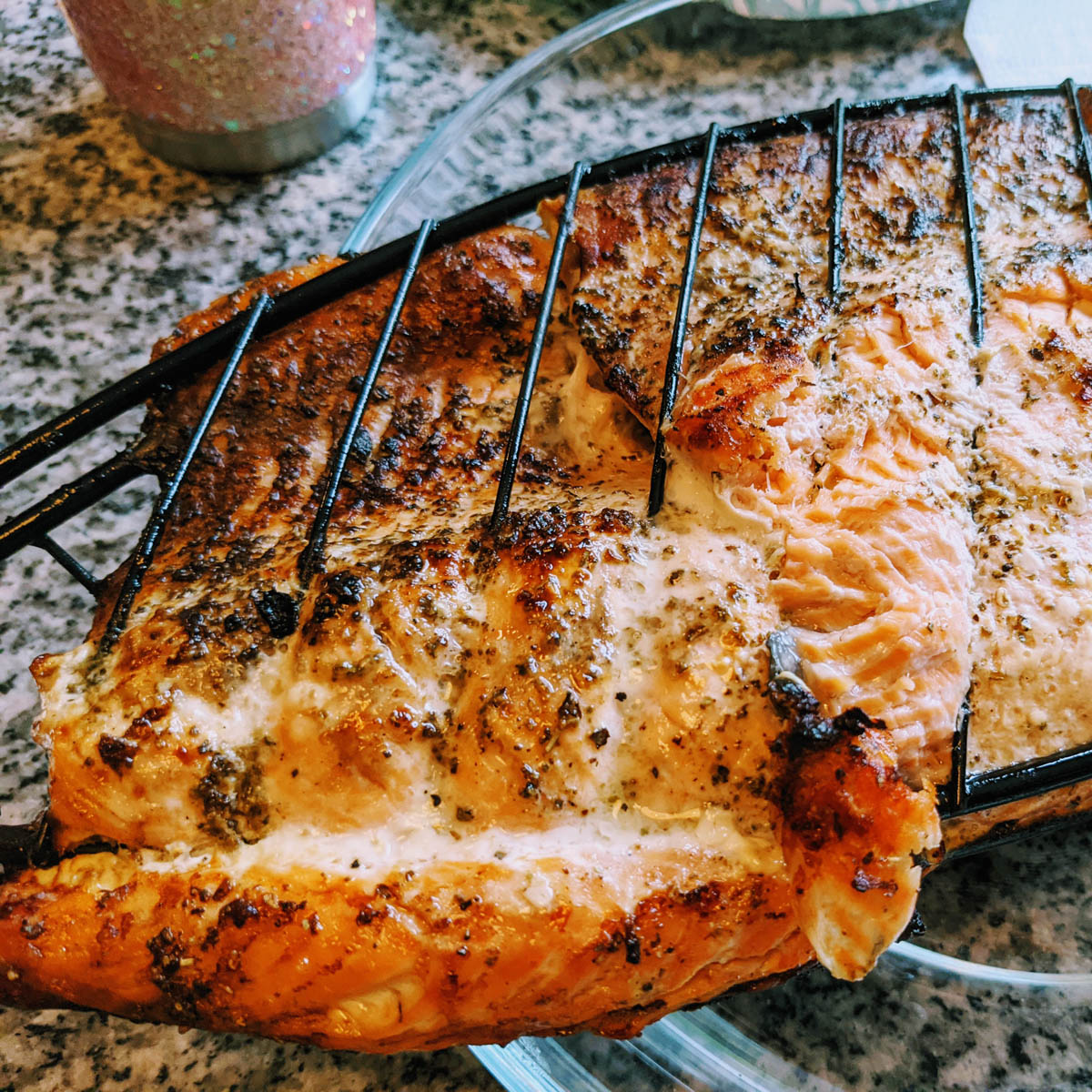 Dried Parsley Substitute for Fresh
The most obvious swap is to substitute dried parsley for fresh. Most of us probably do this without a second thought.
(Unless it's a subtle disappointment when you remember just how good fresh parsley can be in some recipes!)
Still, dried parsley can save dinner. Consider whether the muted flavor yet still-green color of dried parsley gets the job done.
A dried parsley substitute for fresh does change the recipe slightly, but you may be the only one who notices.
(Just leave my garlic knots out of this!)
Also, a dried parsley substitute that could work in place of the flakes may be dried oregano, dried basil, or dried sage.
Fresh Parsley Substitute
Choosing a substitute for fresh parsley may seem daunting but it's really not that bad.
If dried parsley as a replacement is a no-go, you still have plenty of options.
Chervil – Popular in French cuisine, chervil is related to and makes a fine sub for parsley. Taste notes call chervil's flavor a blend of parsley and tarragon. Because the flavor is milder, you can add chervil at the very end so it doesn't lose its flavor during the cooking process.
Chives – Most recipes work well with chives as a parsley sub. Both fresh and dried chives offer a taste that pairs well with many recipes and adds beta carotene to the dish.
Cilantro – With a different flavor yet a similar look, cilantro may work as a parsley substitute in certain cuisines. Try it with Mexican, Vietnamese or Thai food in place of parsley. Remember the flavor is different, so in many cases less is more.
Minced Carrot Greens – In some recipes, fresh minced carrot greens add a similar appearance and a flavor that sits somewhere between carrots and parsley itself. Some say the tops can be bitter, so do a little taste test first.
Chopped Fresh Basil – Fresh basil chopped finely can work well as a parsley replacement. Remember that basil boasts a strong aroma and a little bit goes a long way. Consider the flavor profile of your recipe and how basil will blend in or stand alone.
Minced Sage – Fresh sage finely minced works especially well in seafood and poultry dishes. Consider using fresh sage as a substitute for fresh parsley. (Rubbed sage and dried sage could also work!)
Oregano – Especially valued in Italian dishes, fresh or dried oregano can add a robust note to the flavor profile. It also adds just the right hint of green.
Parsley Garnish Alternatives
If using parsley purely for garnish, such as the popular curly parsley, consider these replacement ideas:
Carrot Greens
Celery Greens
Cilantro
Of course, it's a garnish! Decorate the plate with an orchid or a nasturtium, if you like! Both are edible!
Final Thoughts: Parsley Substitute Ideas
Luckily, you can choose a substitute for parsley on an as-needed, case-by-case basis. It seems there's no one-size-fits-all replacement for parsley, but you have a lot of choices to consider.
When in doubt, taste a little pinch of whatever you're planning to sub for parsley and see how the flavor presents.
(BTW – You can find out more about growing and cooking with herbs in that section of our site! You may also like our post on Thyme Substitute Ideas.)
Of course, you can also drive to the store every time you need parsley.
But what's the fun in that? Where's your spirit of adventure?!
Annnd… I recommend growing your own parsley plant if you find yourself doing that too often!
Simply pick up a pack of parsley seeds! Then you can start a small kitchen herb garden or pot up some parsley fresh for picking right outside on your deck.
You can even grow parsley indoors under lights if you like. Keeping this wonderful herb on hand means you'll never need to go without your favorite recipes.
Of course, it takes time to grow parsley and that doesn't help you right now. In the meantime, be sure to try these parsley substitute ideas and let us know what you think in the comments!
We'd love to hear from you if you have any other ideas for a parsley substitute as well.