Transplanting Basil Seedlings or Nursery Plant Starts
Basil is a rather forgiving plant, and fortunately it's quite an easy task transplanting basil seedlings and nursery starts into the garden. I'm happy to share my favorite tips on how to transplant basil plants successfully so you can move right onto the next gardening task.
There's so much to love about basil! The fragrance, the flavor, and how quickly it grows are among this garden favorite's top qualities.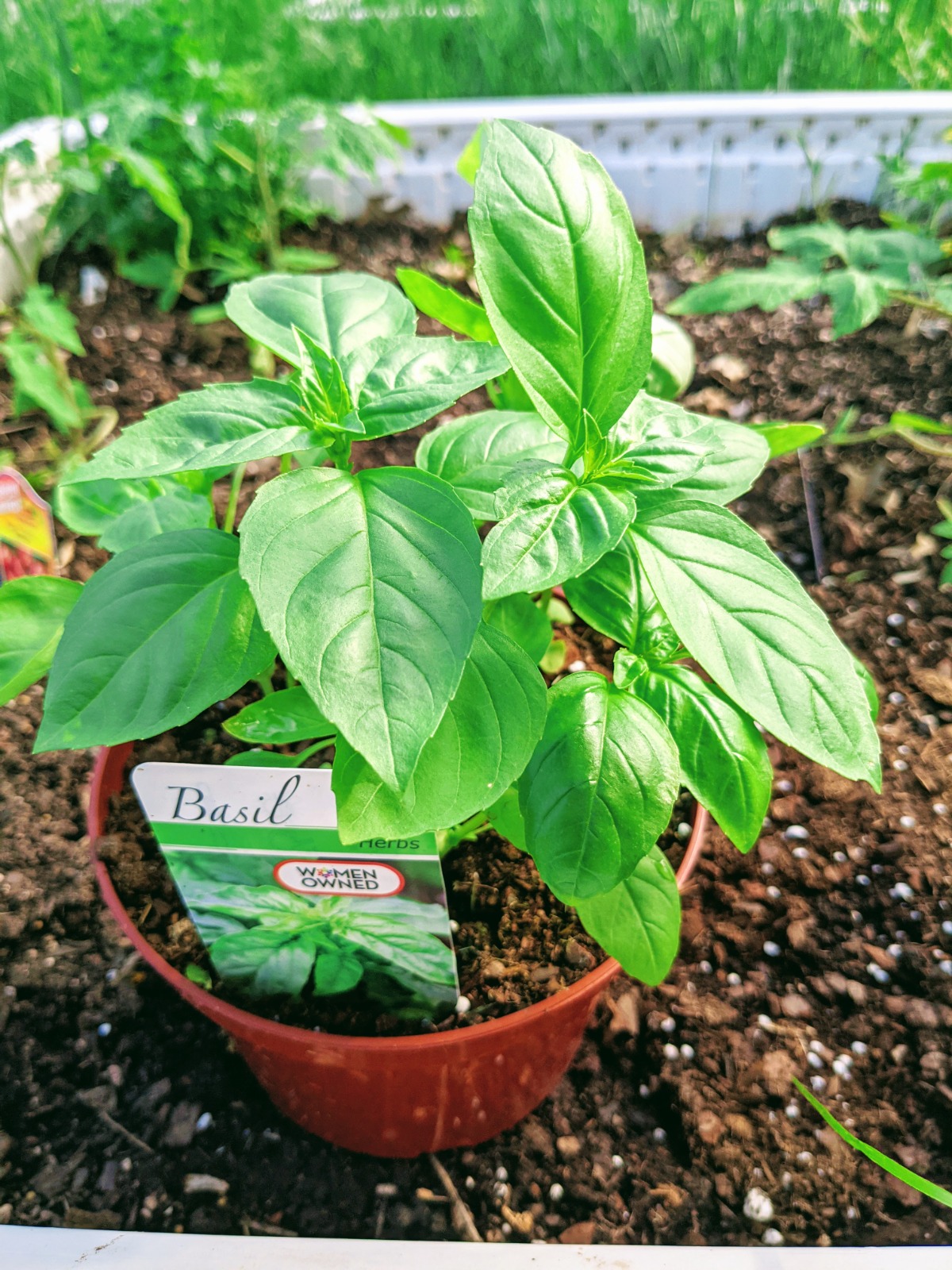 Basil plants transplant well from seedlings or nursery starts as well. It's so easy you may not even need my article to help you, but I'll share my favorite tips just in case!
Here's my own approach for transplanting basil in the garden.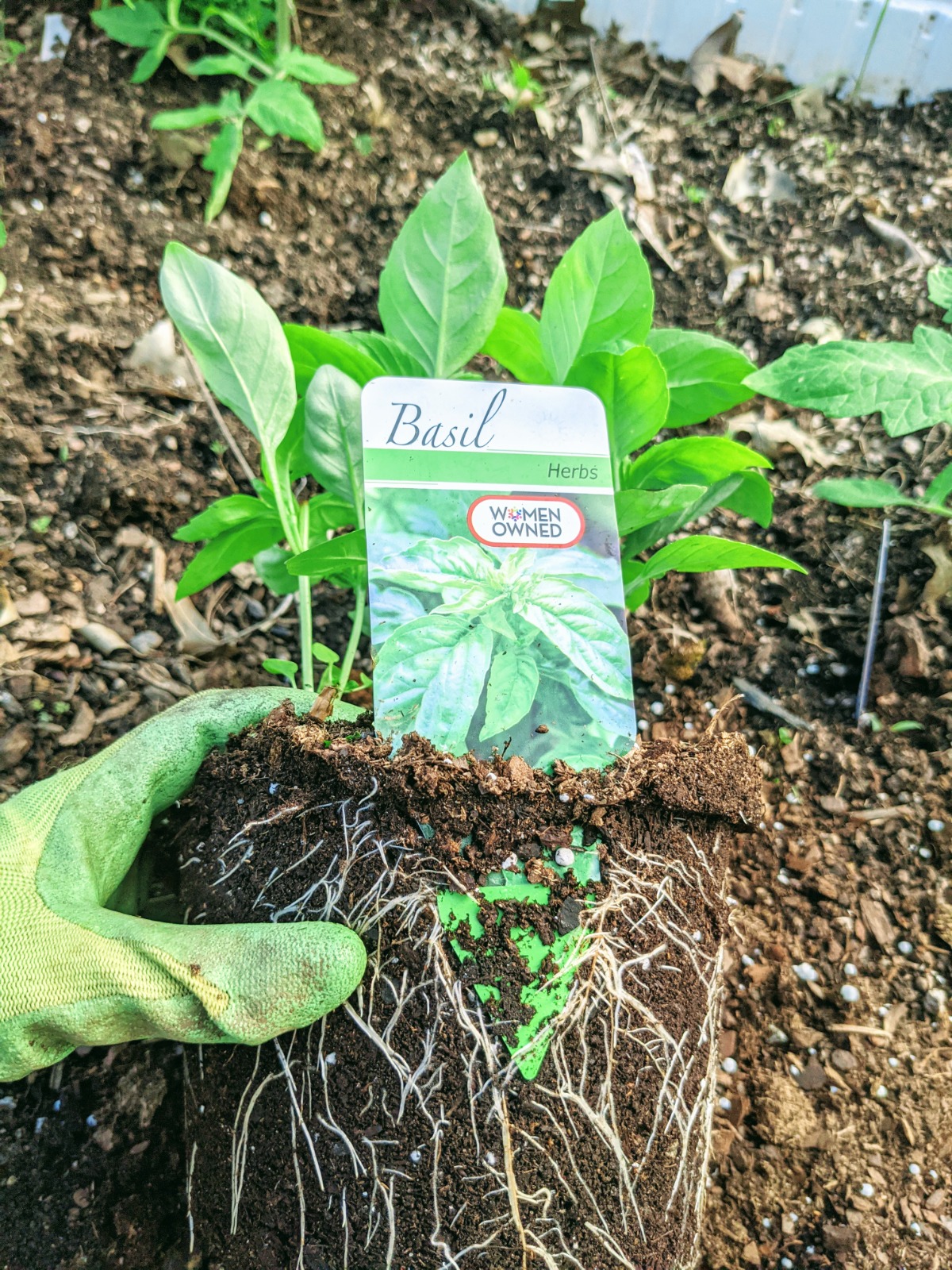 When to Transplant Basil Seedlings
Wait until the danger of frost passes before transplanting basil outside. You can try replanting basil seedlings after they have their first true leaves or anytime thereafter.
If you aren't replanting basil outdoors right away, be sure to keep the plants in a sunny window or under grow lights until you are ready.
In the meantime, you should also gradually introduce the basil starts to the outdoors in a process called "hardening off."
How to Transplant Basil Seedlings & Plants
New basil plants are so exciting! Just think of all that pesto, bruschetta, and other yummy uses in the kitchen. I don't know about you, but I can hardly wait.
Planting basil is surely rewarding, and planting basil plants is just as easy as sowing basil seeds in my opinion, if not even easier.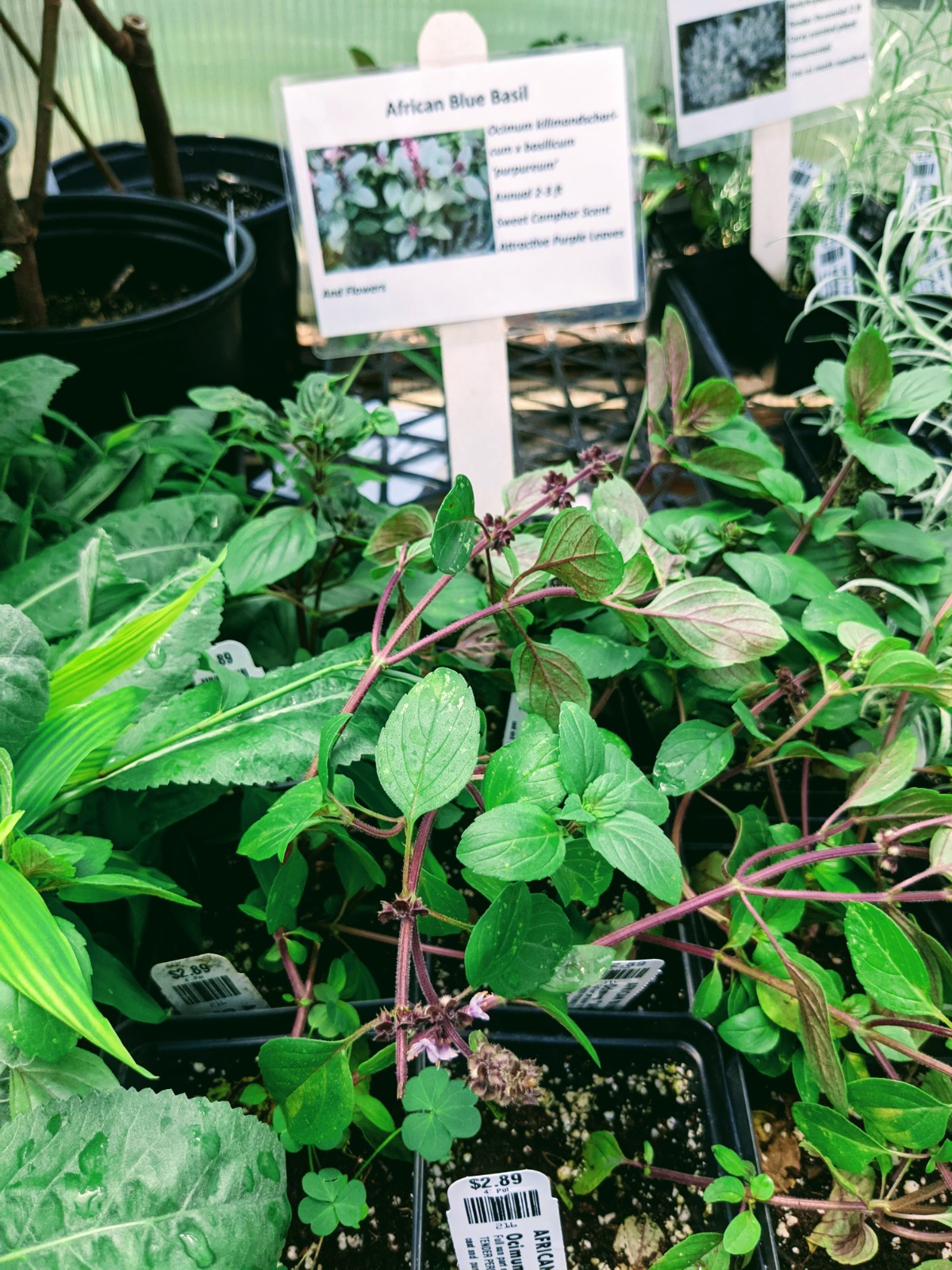 Here's how to replant basil outdoors from seedlings and nursery starts.
Choose a space in your garden that works well for basil. Great companions include tomatoes, peppers, asparagus, and others.

Dig a small hole for the basil plant. Make the hole at least the size of the root ball, but larger is fine too.

Gently remove the basil plant from the nursery pot or other container. You might find it easier to gently squeeze the sides of the pot to release the plant.

Lift the plant out of the pot and set it into the planting hole. Make sure the surface of the soil reaches the base of the basil plant.

Refill the planting hole and pat down. Lightly press the soil down to ensure the basil transplant is firmly situated in its new home.

Water the newly transplanted basil plant. That's it! Give your plant some water and a few kind words. (:
All of this to say – choose a space, dig a hole, take the plant out of the pot, put it in the hole, cover it up to the base of the plant and water it!
And now we dream of delicious Italian dinners and other yummy food!
PRO TIP – By the way, if you are transplanting a large basil plant start, now is a good time to pinch some basil leaves away and use them in the kitchen!
Regularly harvesting from your basil plants helps to keep them from flowering and going to seed too early!
Tips for Success When Transplanting Basil Seedlings & Starts
Keep these tips in mind when you're transplanting basil plants and seedlings into your garden.
Make sure to harden off basil seedlings before transplant. If you started your basil seeds indoors, you'll need to transition them from the indoor climate to the outdoors.

Choose a cloudy day or a cooler day when replanting basil plant starts. This helps to minimize stress to the plants.

Water replanted basil after transplanting. Use care to help the plants acclimate to their new space by providing water as well. I generally delay watering the plants I'm transplanting just a bit so they come neatly out of their containers, and then I water as soon as I transplant.

Don't sweat it. Most of the time, replanting basil plant starts and seedlings is successful even if you don't feel you know what you're doing! This resilient plant usually rolls with it and quickly starts thriving in a bigger space.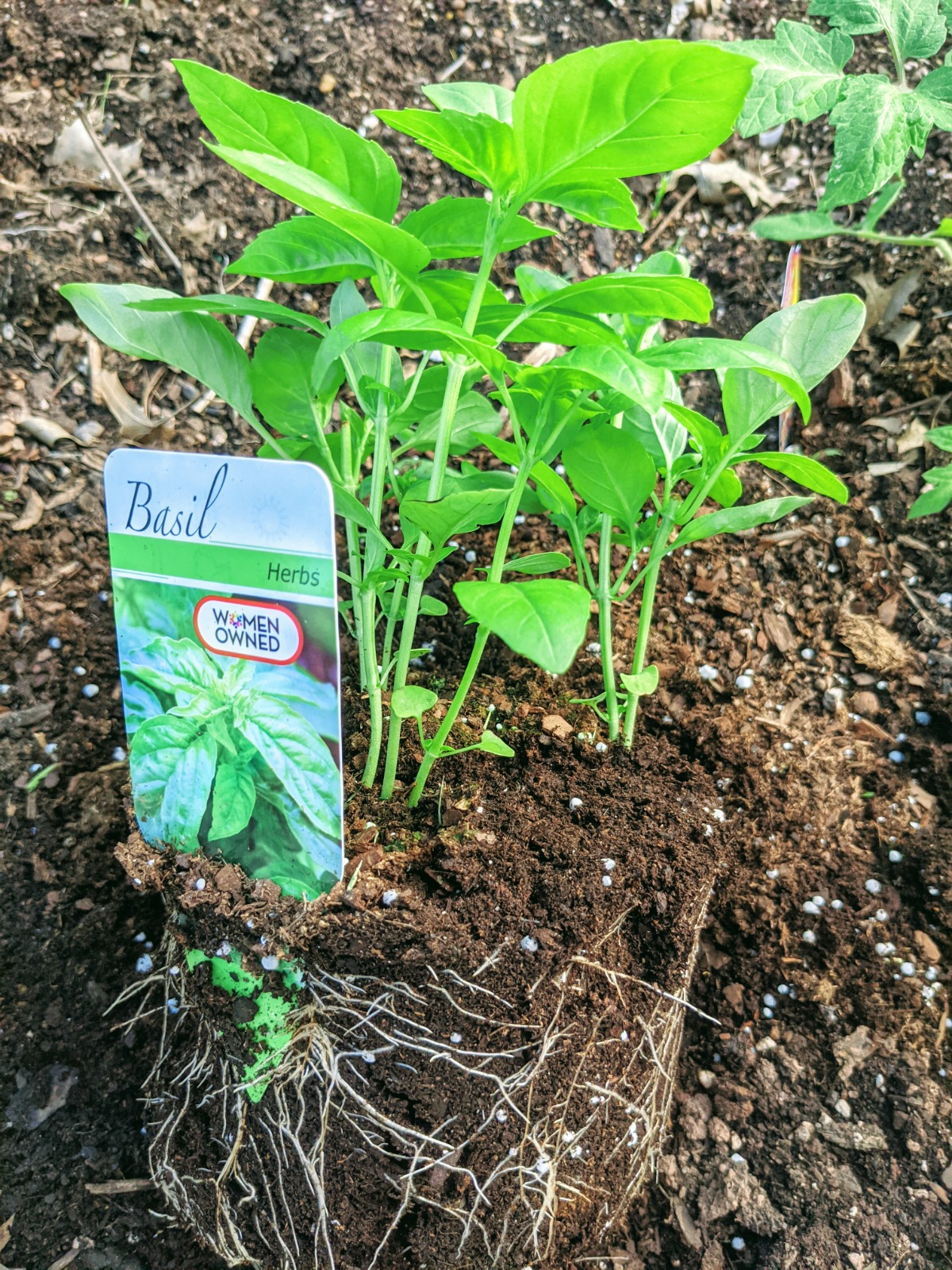 By the way, if you love basil, make sure you also learn how to harvest basil seeds so you can get an early start on your planting next season!
For even more fun with this fragrant herb, try propagating basil from cuttings!
Do you have any questions about replanting basil plant starts or seedlings? Hit us up in the comments and also feel free to share any other tips you know on transplanting basil seedlings and plants.
We love hearing from you!
Happy Gardening!
07.28.23 – Updated to add link to harvesting basil seeds and propagating basil.