Concord Grapes – Growing a Concord Grape Vine
Remember the intoxicating smell of Welch's grape juice or old-time grape jelly? That's the beauty and wonder of concord grapes in all their glory. Growing a concord grape vine in your backyard allows you to make these delightful concoctions yourself, as well!
It's a lovely hobby to grow your own backyard orchard, or vineyard. Some concord grape vines add rich flavor and healthy nutrients to your family's disposal.
And, if you get really good, you might even be able to make some concord grape wine. That's on my list for a future project to try.
I've been growing concord grapes since before I even had kids. While I still have a lot to learn, I've created this post to share with you what I already know, and to add new learnings as we go.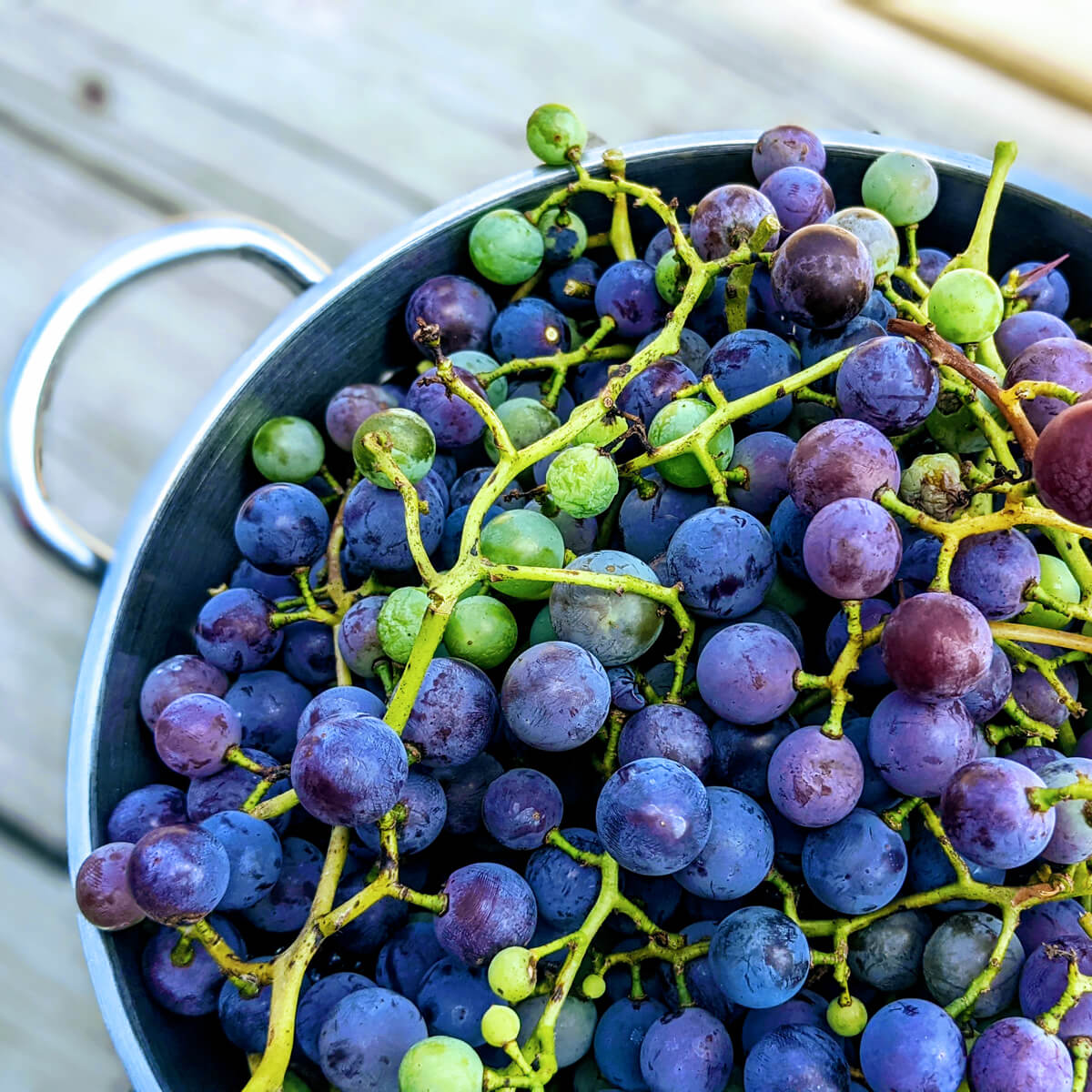 Let's get started learning all about growing this awesome fruit and tips for the best concord grape crops.
What are concord grapes?
Concord grapes are dark purple, almost-black and prized for their rich flavor. A popular cultivar, these grapes come from the Vitis labrusca species and are sometimes also called fox grape. Growers enjoy using this variety in making grape juice, wine, or simply enjoying these grapes for fresh eating.
What are concord grapes good for?
Some of the most popular things to do with concord grapes may include:
Making grape juice
Making concord wine
Trying a grape jelly or jam recipe
Baking concord grape pies
Enjoying them as a fresh snack
Making frozen grape slushes (remove seeds first!)
These are just a few ideas – do you have more?
Do concord grapes ripen after picking?
Concord grapes do not continue to ripen once picked. For pest results, do a taste test with a few grapes before harvesting the whole batch.
Best Concord Grape Growing Tips
Growing concord grape vine plants in your backyard can be a truly rewarding experience. For best results, keep these tips in mind.
Support – Be sure your concord grape vine has a trellis, arbor, or fence to climb. The grape vine should naturally acclimate to a good support system.
Seeds – Keep in mind that some grape varieties are not seedless. The grapes we're growing are seeded. One day it would be nice to grow some seedless grapes.
Cross-Pollination – Consider growing a few varieties of grapes to improve the grapes pollination rate. I've heard any different kinds of grapes will improve your crop's success.
Pruning –Grape vines generally do well with some very late winter or very early spring pruning, before the buds form. (Check a resource like Grapes.Extension.org) If you're pruning concord grapes, might as well try to propagate the branches you've cut. Let us know how it goes or reach out with questions!
Ripeness – Taste one grape before picking the whole crop. You might even smell the grapey fragrance from several feet away when concord grapes are ripe.
Protection – You can put thin organza drawstring bags over your grapes and other berries to protect them from the critters!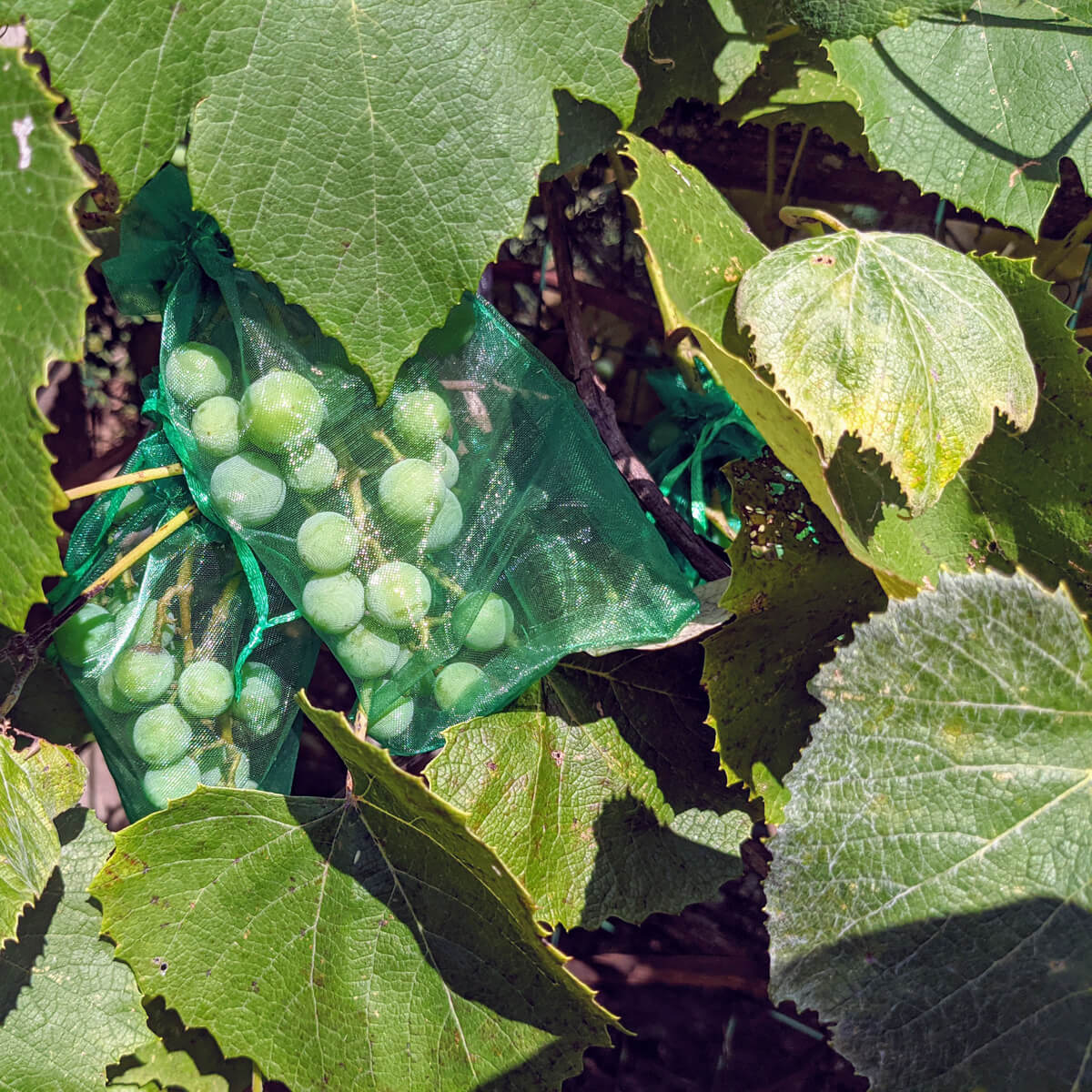 Do you grow concord grapes or is this your first time growing them? Do you have any questions or maybe some awesome tips to share?
Please shout out in the comments below – we always love hearing from you!
And as always, sharing is caring – if you know someone who would find this post helpful or interesting, please share away!
Happy Gardening!