How to Plant Garlic – Learning How to Grow Garlic from a Clove
As a popular culinary ingredient, garlic (Allium sativum) is so useful in the kitchen! Learning how to plant garlic – and more specifically, how to grow garlic from a clove – will have you cooking with homegrown ingredients in no time!
I decided to plant garlic cloves in the fall so I am looking forward to a July harvest, hopefully. Even if you're reading this post during a different time of year, you can still learn how to plant garlic and grow some anyway.
Planting garlic from a clove was so easy and only took a moment or two. Really, there's no reason not to try it.
Follow along as I explain exactly how to grow garlic from a clove, as I'm doing.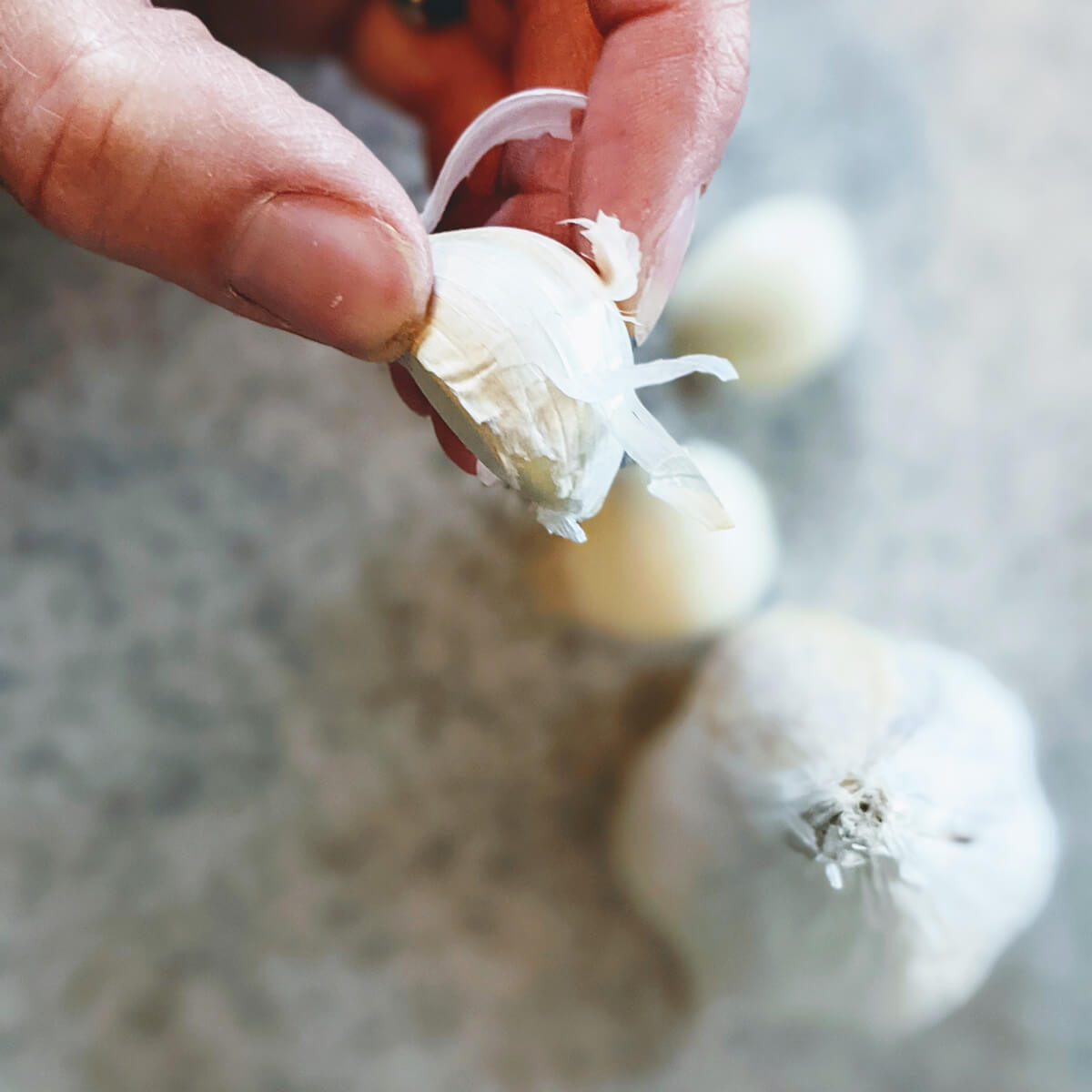 When to Plant Garlic
Knowing when to plant garlic can help you improve and optimize your harvest. Planting garlic in fall allows the garlic bulb plenty of time to grow and develop. You can plant it in the fall anytime you can still work the soil. Aim for about 4-6 weeks before the ground totally freezes.
For a slightly later harvest, you can also plant garlic cloves in winter if your soil isn't frozen yet. You can also plant in containers.
How does garlic grow?
When you plant a clove, it eventually sprouts and green foliage grows from the center of the clove. New roots form at the base of the clove. As garlic grows, new cloves form to create the full garlic bulb. Eventually, the greens grow upward and little bulbils may form in the top. These can produce even more garlic if they drop to the soil.
Can you plant garlic in the spring?
Generally, the best time to plant garlic is in the fall. If you plant garlic in the spring, it may only grow a single bulb and not individual cloves, depending on your growing season. That's okay! It's still delicious.
Where does garlic grow?
Garlic grows nicely in the garden or in pots. The garlic plant itself originated in Central Asia, but today it is grown and enjoyed all over the world. You can grow garlic in containers or pots, raised beds, or directly in the ground. Consider different garlic companion plants to choose the best place in your garden for growing garlic.
How to Plant Garlic Cloves
Learning how to grow garlic from a clove is not difficult! In fact, I probably spent fewer than five minutes planting garlic at home for the first time!
Follow these steps to discover how to plant garlic from a clove.
Peel a few cloves away from the garlic. (Research suggests it's personal preference whether to peel the cloves or not. It is not required.)
Dig a small hole that is at least 3 inches deep, or as deep as 5 inches. If planting more than one clove, space them out at least 4 to 6 inches apart.
Plant garlic cloves one per hole, pointy side up.
Fill the hole up again with soil.
Top with a few inches of mulch, if desired.
Water the ground where you planted garlic until it is evenly moist.
Watch for growth in just a few weeks! Avoid letting the soil dry out during this time.
Discovering How to Plant Garlic
Growing something new is always fun and exciting! Now that you know how to plant garlic cloves to grow a whole bulb, will you join me in this exciting gardening adventure? 2022 is my first year growing garlic and I can't wait to experience the whole process!
I should also mention, since I am new to growing garlic, I simply planted organic garlic cloves I purchased from the store. Some gardeners say only to use garlic sold for the purpose of growing.
I'm gardening with reckless abandon, what can I say?! I guess time will tell how this works out, but if it makes you feel better, you can buy special garlic for planting.
Or you can be like me and just plant anything you buy from the grocery store or otherwise. 😉
(shrug)
Either way, I wish you the best harvest and look forward to sharing my journey as I have updates for you!
By the way, here is my garlic growing as of December 16, 2021. I am so excited to see its continued growth!
Have you tried growing garlic from a clove?
Do you have tips to share or questions you want to ask?
We love hearing from you in the comments, so please reach out!
Happy Gardening!
How to plant garlic bulbs