Growing Broccoli from Seed – Tips on Starting Broccoli Indoors
Growing broccoli from seed indoors gives you a jump start on its long growing season. This cool-weather crop is delicious raw or cooked and it starts readily from seed. Starting broccoli from seed is worth a try, especially if you're planting other seeds as well.
It only takes a few moments to plant broccoli seeds. I've grown them a few times but have yet to actually make it to a harvest!
That's on account of the dreaded cabbage white butterfly. My new trick is to hide a plant or two under plant covers so we can actually enjoy a broccoli harvest!
This year I am trying to grow broccoli under raised bed covers from Aldi. I am hopeful this will keep the pests at bay.
When to Start Broccoli Seeds Indoors
Get a jump start on your seed sowing by planting broccoli indoors. You can sow seeds for broccoli plants inside about 5 to 7 weeks ahead of the last frost date. You can also direct sow broccoli in your garden about 2 weeks before the expected last frost.
How to Plant Broccoli Seeds
Growing your own broccoli plants is a rewarding experience, particularly if you can avoid the cabbage worms.
When planting broccoli from seed, gather seed starting trays or egg cartons, potting mix, broccoli seeds, and a pen or marker to label your seeds.
(You can also direct sow broccoli – it is one of the beloved cold crops!)
Planting Broccoli Seeds Step-by-Step
Learning how to plant broccoli seeds is easy! Once you have your materials, just follow these simple steps.
Fill your seed starting trays most of the way with potting mix.

Choose the broccoli varieties you plan to grow and take a few seeds out of the packets.

Gently make small holes in each seed cell and plant 2 or 3 seeds each. Plant broccoli seeds about ½-inch deep.

Label each cell with broccoli seeds accordingly.

Water the seeds thoroughly.

Place the seed try under grow lights when you are finished planting.

Monitor the seed trays for signs of growth and water needs in the coming days and weeks.
Broccoli Growing Tips and Tricks
Here are a few tips that may make starting broccoli indoors even easier!
Keep grow lights close overhead of the seedlings. This helps prevent them from getting leggy.

Harden off broccoli seedlings before planting outdoors. Avoid giving your young broccoli plants sunburn by gradually introducing them to the outdoor elements and natural sunlight.

Plan ahead for some broccoli pest control. The green cabbage worms blend in almost perfectly with broccoli and other brassicas.

Try multiple plantings of broccoli. You can also grow a fall crop of broccoli. Start broccoli indoors in the mid to late summer for a second harvest later in the year.
FAQ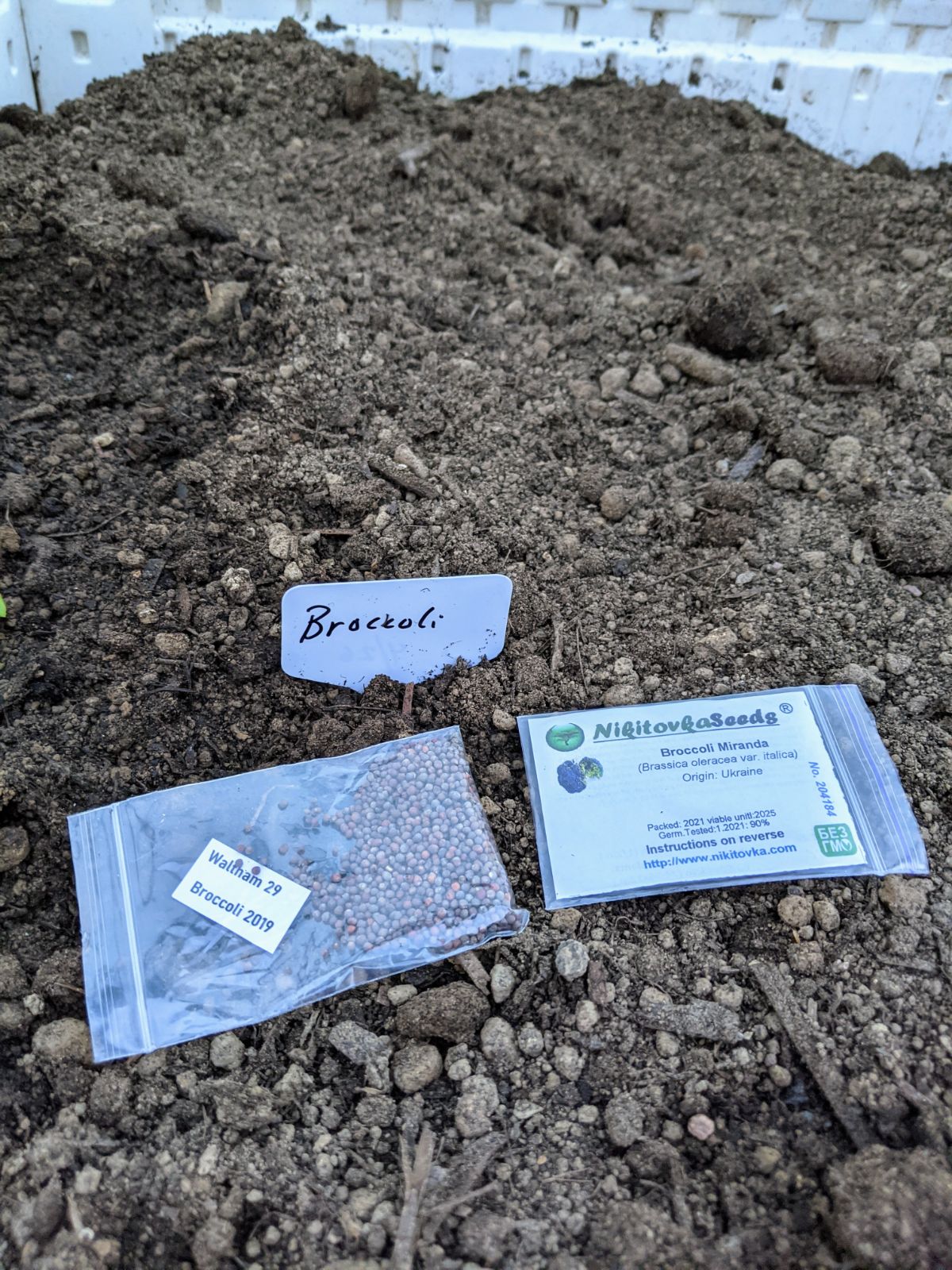 Join Us in Growing Broccoli from Seed!
Our family loves broccoli and I am truly hoping we can outwork the pests this year. Germinating broccoli seeds is the easy part – getting it to harvest time proved to be the most difficult for us.
Do you have any questions about starting broccoli from seed? Also feel free to share any great tips on growing this amazing and healthy vegetable.
We'd love to hear from you in the comments below! We always respond and love hearing from you guys.
Happy Gardening!
05.09.23 – Updated to add new broccoli seedling photos and featured image, and converted questions to FAQ with schema.