Picking Strawberries Tips – How to Pick Strawberries
Teaching kids how to pick strawberries – or learning for the first time ourselves – is a useful skill to have on hand if you love gardening and fresh-picked fruit! Picking strawberries is fun and results in so many delicious possibilities.
Nothing like fresh strawberries!
It's such a joy to pluck strawberries straight from the plant to enjoy immediately or harvest for later.
Most of the strawberries we grow don't even make it inside the house.
(We are working hard on a pick-your-own backyard for the girls!)
When to Pick Strawberries
It's best to pick strawberries when the berries are fully red. Before the berries emerge, you'll see white flowers with yellow centers. The flowers become small strawberries that are whitish to very pale green. The strawberries will gradually turn from white to pink and then fully red.
Here in Pennsylvania zone 6b, our strawberries usually begin to ripen for picking in May. We'll enjoy picking them from May through early June. Some strawberry plants may be everbearing, giving two harvests – one in the spring and one in the fall.
Day-neutral strawberries may be even more fun to pick, as they can set fruit all summer until the fall's first hard frost.
How to Know If Strawberries Are Good
When picking strawberries, be sure to check if the berries are good. First, they should be ripe and mostly if not fully red. You should also check for mushy spots and bruises, odd discolorations, insects, and buggy holes. (In the photo below, you can see my dad picked a few that may be a little past their prime.)
If you've already got strawberries in your fridge and want to know if they are good, take a good look. If you don't notice anything growing on them and they still seem fairly firm, they should be fine. The color and texture may change when berries are past their prime.
Preparations for Strawberry Picking
Before you go pick strawberries, check the weather and make sure the farm has berries available for picking that day. You may also need to make a reservation due to Covid-19 protocols.
If you plan on picking strawberries with kids, it definitely helps to be organized and go into it with a plan.
Pack these berry picking essentials to make sure your fun outdoor activity goes off without a hitch.
Sunscreen
Sunglasses / Hats
Bottled water
Hand sanitizer
Masks
Basket for berries
Wallet to pay
You'll want to dress your kids for the weather, so check the expected temperature ahead of time.
Also plan to put everyone in shoes that are easy to clean in case you find the fields extra muddy!
Clogs, rain boots, and even old sneakers work pretty well. (I prefer the ones you can hit with the hose, though.)
How to Pick Strawberries
It's so rewarding to pick strawberries, no matter if you grow your own berries at home or visit a strawberry patch. Learning how to pick strawberries is simple to do and easy to remember.
First, gather a basket, colander, or container for your fresh-picked strawberries.
Inspect the strawberry plants to find berries that are fully red.

TIP: If you are at a commercial strawberry patch that charges you per pound, look for imperfections in addition to coloring. (Try to avoid buggy holes.)

When you find a berry that you want to pick, hold the berry in one hand and the stem part of the plant in the other.
Gently twist the berry a bit and pull, while still holding the plant to avoid damaging it.
You can also pinch the stem a bit with your thumbnail as you're pulling.
The berry should smoothly come free into your palm. Place it carefully into your basket or fruit picking container.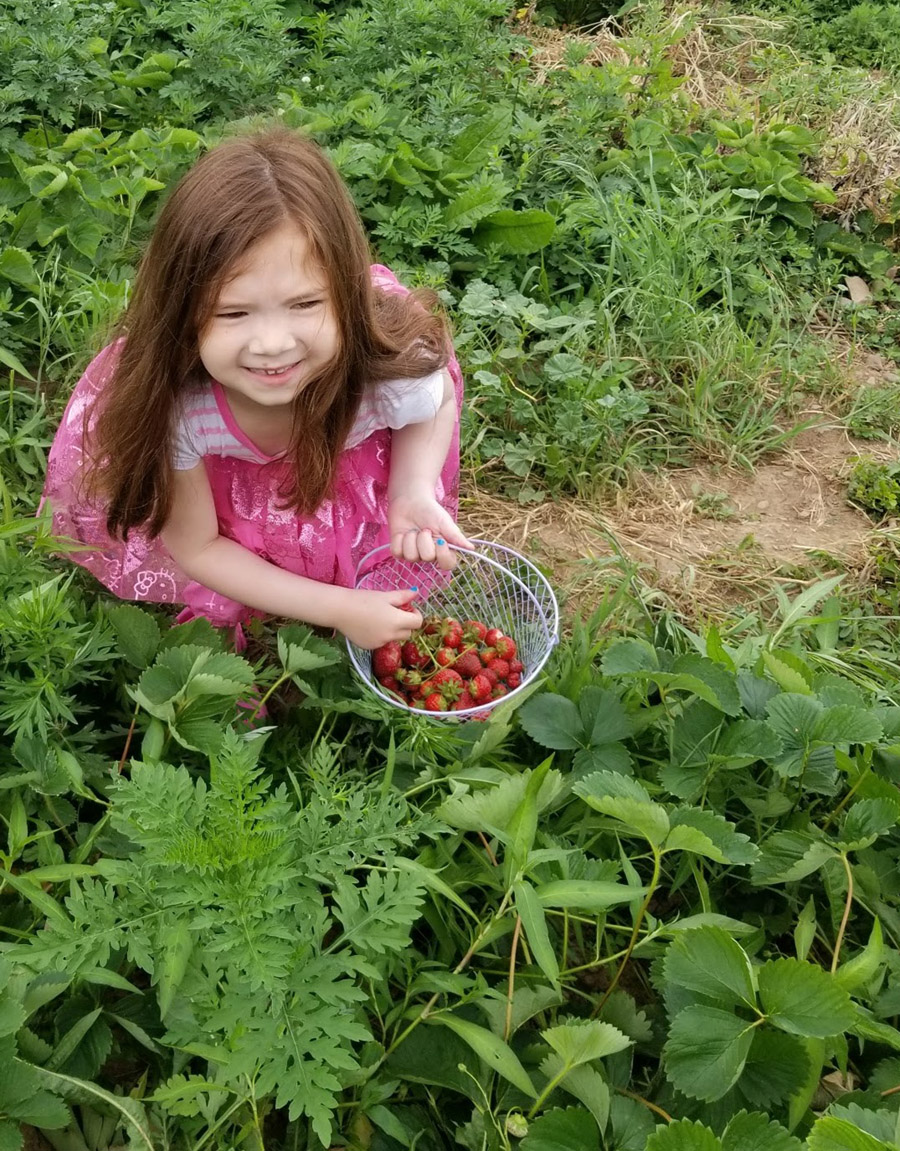 Picking Strawberries: Final Thoughts
Fresh-picked strawberries taste amazing and I wish we could enjoy them all year long.
There's nothing like picking strawberries in your own backyard! Of course, it's practically just as much fun to go to a strawberry patch to pick berries there.
We've been strawberry picking with kids at least twice – once or twice in Pennsylvania and once in New Jersey. The fresh-picked berries are so good and always remind me how I wish I had an orchard.
If I ever come into some real money, an orchard is right up there on my wish list after a beach house (where I will also be planting fruit. Lol).
Speaking of – did you know you can grow strawberries from seeds in pots?!
Oh! I almost forgot – depending where you live, you may need to check everyone for ticks after going strawberry picking. This is a given here in Pennsylvania as we have deer ticks in our region.
Do you grow your own strawberries or pick them from a local farm? Any favorite tips? Love to chat in the comments!