Hisea Women's Mid-Calf Rubber Garden Boots Review
My footwear choices in the garden fluctuate between amazing garden boots, flipflops, or, frankly, whatever I'm wearing at the time – because let's be honest, who can resist peeking at the garden! 🙂 (Even in rain!)
But when we are talking about really, actually getting work done out there – and I mean getting dirty!! – comfy, warm, waterproof garden boots are the only choice in my mind.
I am delighted to share with you my review this pair of Women's Mid-Calf Rubber Garden Boots by HISEA. I received these gardening boots for the purpose of review (valued at $54.99).
This post is sponsored by HISEA but the opinions and experiences shared are my own.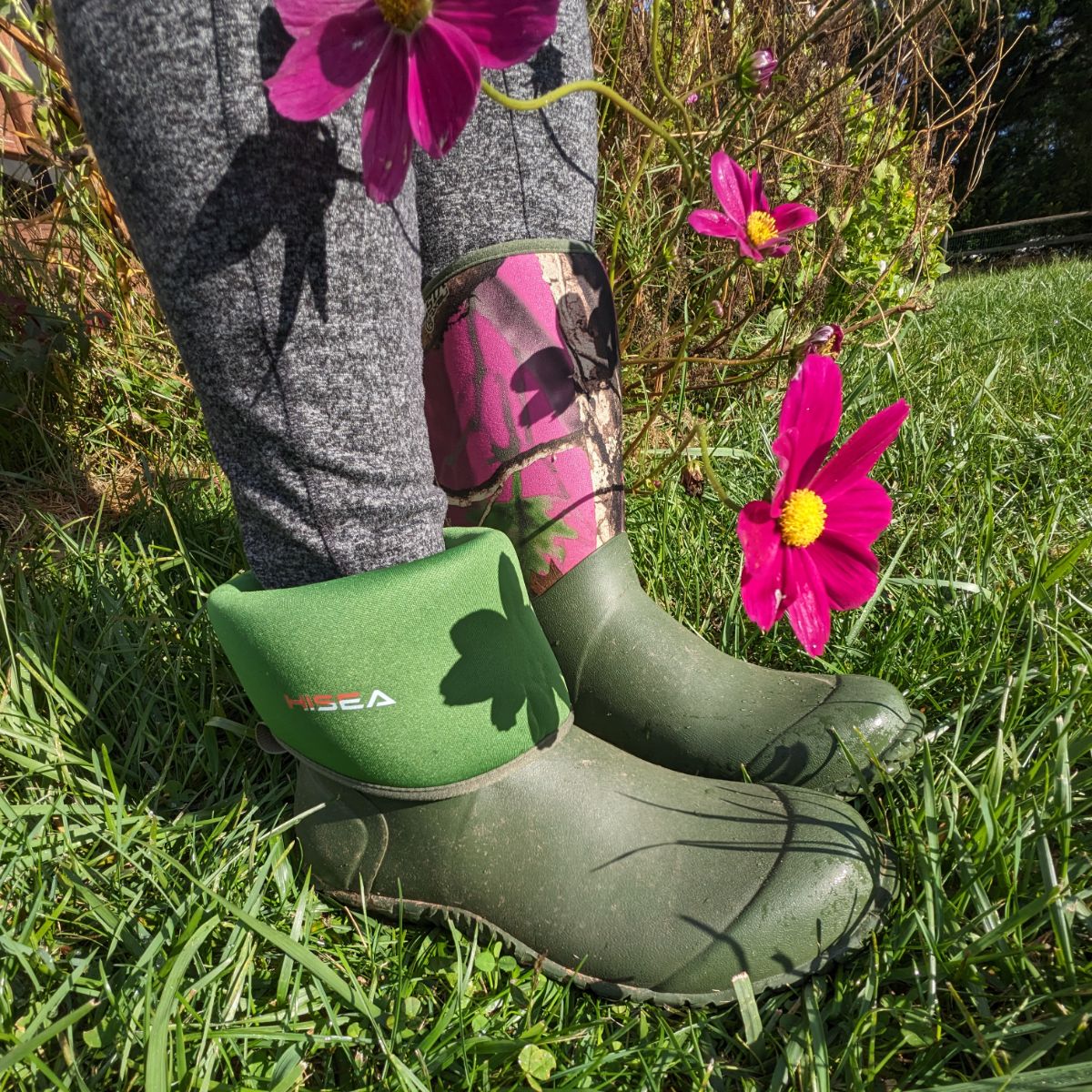 HISEA Garden Boots Review
I've taken the past few weeks to test out the HISEA Mid-Calf Rubber Garden Boots in different conditions so that I could give you the full rundown.
First Impression
First things first – okay, first impression – how cute are these! I love that HISEA's garden boots don't sacrifice style for function and comfort. Besides that, I love that the boots add color and patterns like the pink with "real tree camo" / "mossy oak" type design.
I really like the detail as well as the comfortable fit. They are a tiny bit big on me, but I am in-between sizes. With the right socks, they are just fine!
I took some time to browse other styles besides the ones I received and you really can't go wrong! The red and black are just too cute, and the rose pattern inside the boot is just so pretty for a gardener!
Speaking of…
Surprise Feature – Convertible Gardening Boots!
By the way, did you know the coolest thing I've discovered about these boots?! You can actually fold the top down into more of an ankle boot!
This works out perfectly on those warmer days when you don't need the extra warmth or wind protection.
Key Features
I am overall pretty impressed with these garden boots! I've worn them enough times to be sure of their comfort. Here are some other features to keep in mind when shopping for boots for gardening:
Waterproof – Exciting for gardeners, the waterproof garden boots let you tackle your watering, gardening in the rain, and general mud-trekking with style and dry feet. I worked in a rain storm, I trudged through the mud, and the boots rocked!
Sturdy Steps – The rubber sole on these boots provides awesome stability in the elements. I was just out cleaning up my tomato vines in a muddy mess from all the rain, and the rubber garden boots did not disappoint. In fact, I had very sturdy steps all across the mud without any slips.
Mess Protection – I found that I was able to truly keep the mess at bay with these boots! They are easy to clean and even after wearing them directly after my husband mowed the lawn, the cut grass just fell off the boots once dry.
Airy & Breathable – These are not stuffy boots that will make your feet sweat! (at least mine didn't!) The breathable fabric and relaxed design make these boots comfortable for longtime wear and extended gardening chores.
Convertible Design – I was pretty excited to learn that you can roll down the top of the boot to make it more of an ankle cut, showing off the design from the inside boot liner. Depending on the nature of your outdoor chores, you may find a preference for one style or the other, or both!
Real-Life Testing
I wore these boots off and on for a few weeks to give you my complete and honest impression.
Casual Gardening Use
First, I wore them to casually check on my flowers and vegetables in the garden. They were comfortable and sturdy.
Easy on. Easy off.
I sat them right by the sliding door so I can go out to the garden at a moment's notice.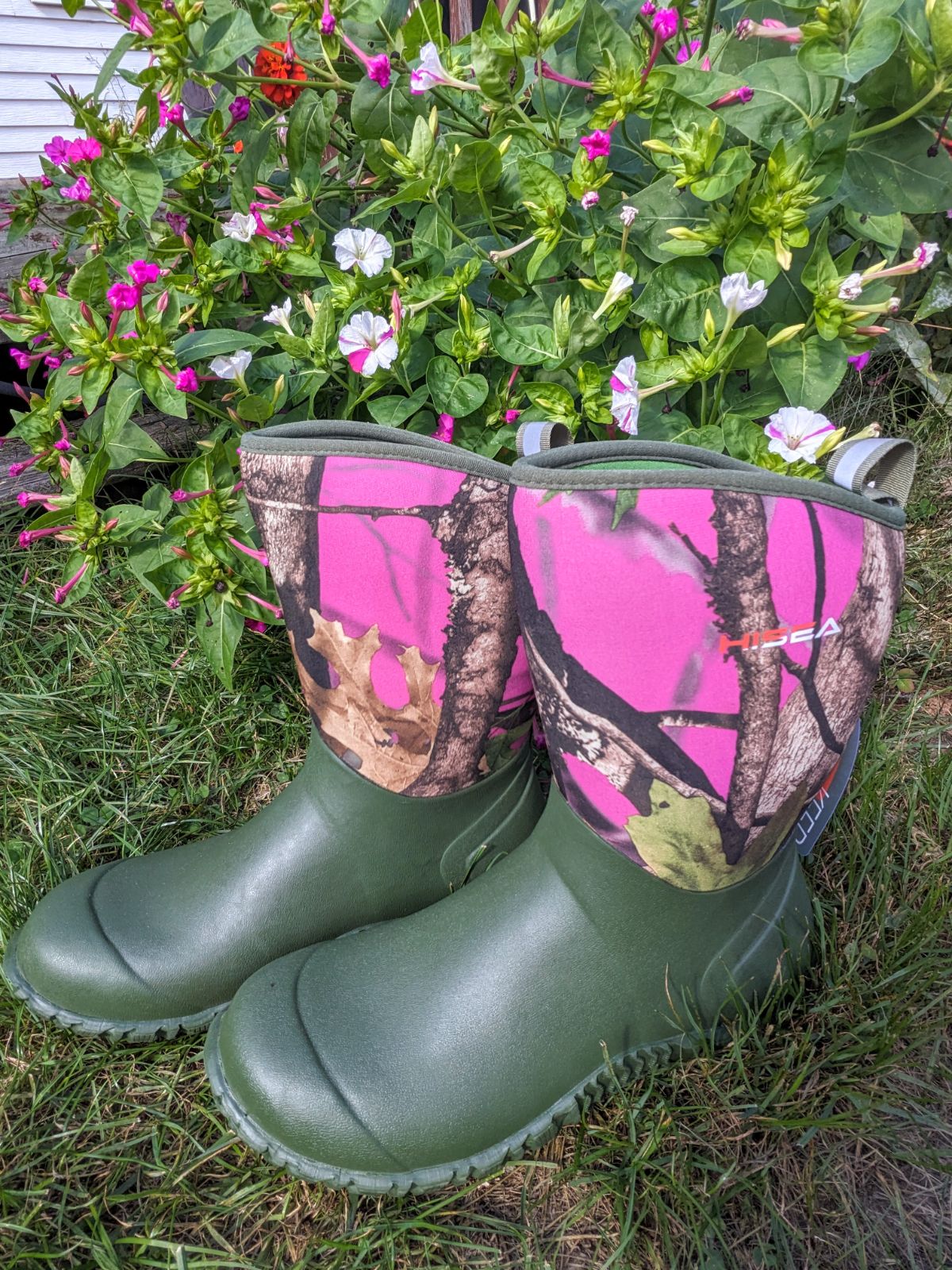 Apple Picking Boots
I also wore these boots to our favorite apple picking orchard early in October. Picking apples is one of my absolute FAVORITE traditions with my girls.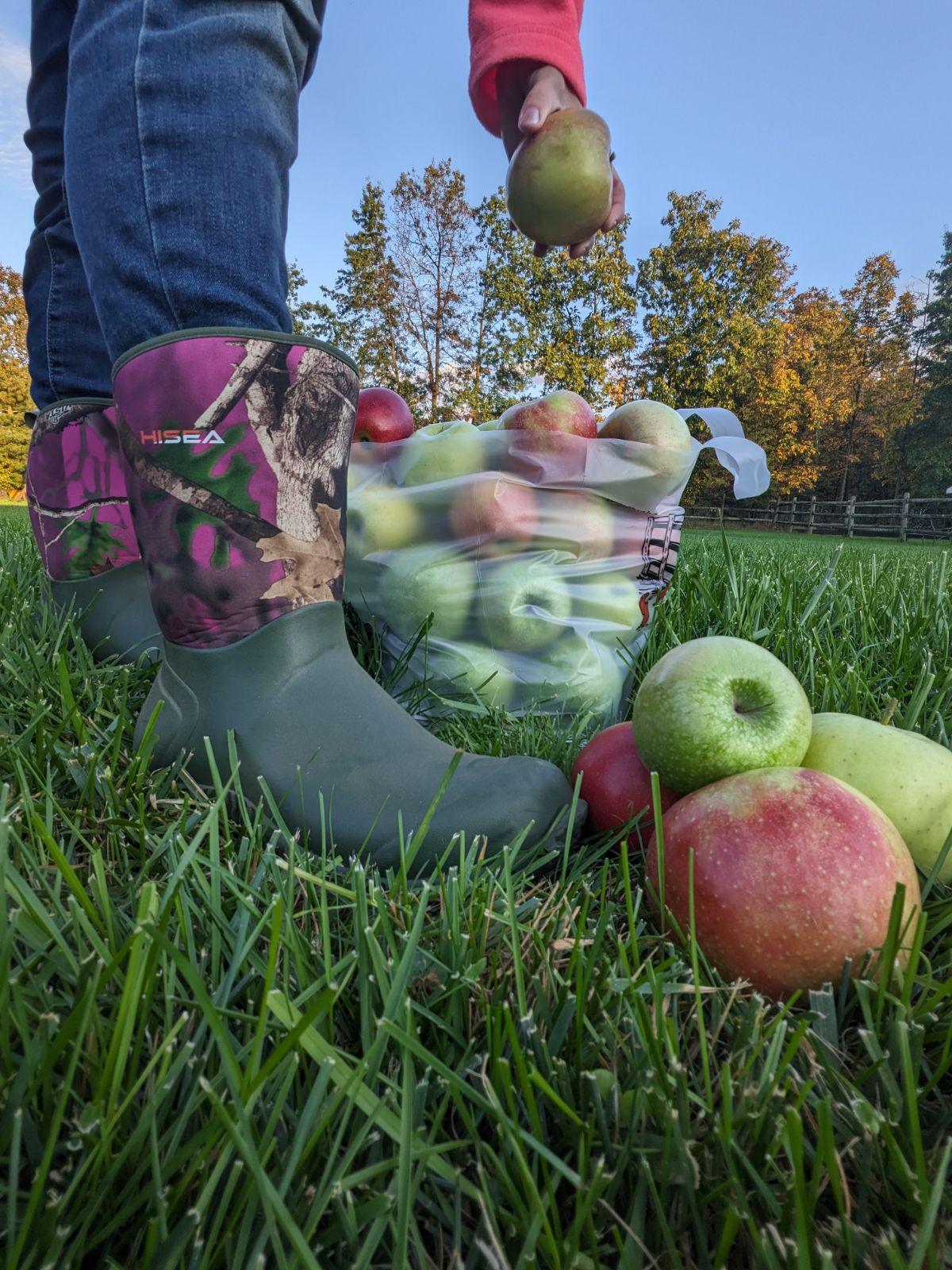 Going over hilly terrain littered with fallen apples and brush, I couldn't have chosen better outdoorsy footwear.
The rubber soles held up expertly to the chunks of apples we walked over without so much as a backward glance.
My clothes and socks stayed perfectly clean. I also covered a lot of ground comfortably without any soreness or complaints.
Garden Cleanup Boots
For me, these boots earned my deepest loyalty when I was working on my fall cleanup in the garden.
I'm pretty embarrassed to share what kind of mess I was dealing with but let's just say it was a mud pit surrounded by fallen tomato vines.
And that mess didn't stand a chance!
These boots got me through all the mud and dying vines like a champ!
I never slipped and honestly, the boots weren't nearly as muddy as I expected when it was all done.
HISEA Boots Sizing
I do want to mention that these boots are available in whole sizes. I wasn't sure what to get, but hopefully this will help you.
I am normally a 7.5 in shoes and boots, so I ordered an 8 to be on the safe side. They are roomy but they work. I did not compare a size 7, but these work for me with a nice pair of cushy socks.
For best results, check the size chart and measure for the exact boot you are looking to buy.
HISEA Garden Boots vs. Hunter Rain Boots
For the past, let's say, decade, I've worn Hunter green rain boots out in my garden. It's all I've had. They're great in the summer, but leave a lot to be desired in the colder months. While they are virtually indestructible, there's no padding. And, time after time, the cold destroys my toes!
I love that the HISEA gardening boots offer a comfy neoprene type liner. This adds warmth as well as comfort while you're out there standing on your feet or kneeling in the garden all day!
While I've seen my Hunter rain boots through years of gardens, I'm delighted to learn that HISEA offers a lifetime warranty on their boots!
To be honest, I doubt I'll need it because these boots seem expertly made and very durable. I'm wearing them a lot lately and appreciate the convenience they're lending to my adventures in the garden!
HISEA Garden Boots Coupon & Final Thoughts
For the amount of time I spent out in my garden, I need quality, comfortable footwear. To date, I've wandered out there in flipflops to check plants or bring in an harvest, but when I really get the dirty work done, it's time for boots that can hold up to the task.
After testing HISEA garden boots for the past few weeks, I am confident that they meet my needs in the garden. I also believe the price point is economical for the great quality, comfort, style, and warranty.
I invite you to shop HISEA's Women's Garden Boots collections so you can enjoy the same comfort and convenience for your own gardening adventures!
Please be sure to use this HISEA coupon that is exclusive to Bunny's Garden readers.
Exclusive Bunny's Garden Coupon for HISEA:
15% Off Discount code: Bunnysgarden
Happy Gardening!