Celebrating Our Dog's 10th Birthday – Dog Eating Cake!
Our border collie Moko is a beloved family member, and she knows it! It's only right that she's represented on our blog, too, albeit quite a bit later than we intended. Get ready for a dog eating cake! For her 10th birthday (isn't that like, 70, in dog years?!), the girls and I made her a homemade dog birthday cake with liver. So we have this really cute post about our dog eating cake and celebrating a decade of being the best pup ever!
Moko is a trained border collie who's starred in quite a few commercials. She loves playing Frisbee and fetch and swimming in the lake when we go on vacation. She HATES fireworks and thunderstorms, and we actually have a "ThunderShirt" for her to wear during those stressful times. She's so smart and can do at least 30 different tricks on command. She sometimes looks at us, cocking her head to the side, when she really wants to understand something.
We love this dog to the moon and back. I'm pretty sure we'd do anything for her. So, for her 10th birthday in 2019, her human siblings and I made her a doggie 10th birthday cake. So cute!
10th Dog Birthday Celebration: Dog Cake
We first whipped up some kind of liver cake for her. I wish I could remember what we put in it, but I know we bought containers of chicken livers from the grocery store to use. We mixed in some eggs and maybe a little flour to bind it all together. I wish I could remember the recipe. I think we just decided to wing it though.
The tough thing with that is that we didn't know how long to cook it!
And liver cake doesn't come out cleanly on a toothpick like regular cake!
Well, our dog didn't care. She LOVED her liver cake and looked forward to it that night and several days after. She was definitely going nuts in the house while it was cooking because she knew the smell from when we made homemade liver dog treats a few years prior.
Well, anyway, we did our own dog cake frosting – it may have been a copout but I know she was allowed to have it since our vet told us yogurt was okay in the past. We simply frosted her dog liver cake with some plain yogurt!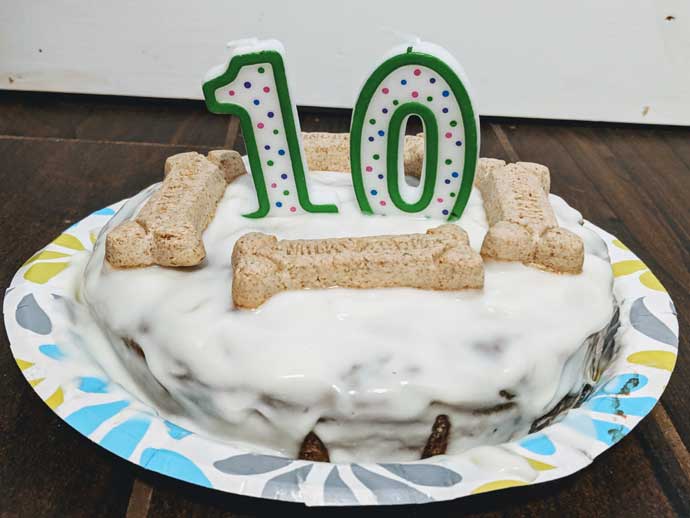 Finally, the girls decorated it. It wouldn't be complete without the Milkbones!
Video: Dog Eating Cake
Well, here's the culmination of the dog birthday cake! Our Moko dog with cake!
She wasn't so sure about it at first, but we know she eventually loved it. The liver cake was kind of gross to store in the fridge, but that's what we did afterwards.
I hope you enjoyed this video of our daughter singing Happy Birthday and our dog eating cake! (homemade liver cake for dogs, that is!)
Dog Eating Birthday Cake
Are you here because you want your dog to eat birthday cake? Make sure it is a dog kind of cake! If you want to serve your dog a birthday cake, I highly recommend making one that is made with liver or other dog friendly ingredients. Do not attempt to feed your pet regular birthday cake. Especially chocolate, as chocolate tends to be poisonous for dogs.
Did Your Dog Eat Cake?
If you are here because you're worried after your dog ate some real birthday cake – not one made for dogs – I would recommend giving your vet a call just in case. You can monitor for GI symptoms like vomiting and diarrhea, but a chocolate cake could be more problematic. It never hurts to give your vet or local emergency vet a call for advice!
***
If you liked this article, stay tuned for more posts about Moko, our best pal. In the meantime, be sure to check our other posts on Bunny's Garden!